Where to Stay in Christchurch – A Guide to "The Garden City"
Christchurch, known in Maori as Ōtautahi, is the largest city in New Zealand's South Island and the Canterbury Region seat. Located on the island's east coast, on the Avon River / Ōtakaro, Christchurch is famous for its colonial buildings, museums and parks. In this post, we will explore the best areas to stay in Christchurch, NZ.
The main cultural attractions in Christchurch's centre include the Canterbury Museum, Christchurch Botanic Gardens, Hagley Park North, the Bridge of Remembrance, Quake City, the Christchurch Tramway, Christchurch Art Gallery Te Puna o Waiwhetū and Riverside Market. See accommodation in Christchurch City Centre.
Nature lovers will probably enjoy the many wildlife areas and sanctuaries located in and around Christchurch, like the Willowbank Wildlife Reserve and the Orana Wildlife Park.
A few kilometres east of Christchurch lie the coastal suburbs of Sumner and New Brighton, offering a relaxed atmosphere, beaches, and several hiking options. See accommodation in Sumner.
Other must-see attractions in Christchurch include the International Antarctic Centre, Christchurch Gondola and the Ferrymead Heritage Park.
Due to its location, Christchurch has a temperate oceanic climate with mild summers and cool winters. In January, at the height of summer, temperatures typically range between 12 and 22 ºC. Meanwhile, in August, average temperatures hover between 2 and 12 °C. The best time to visit Christchurch is from spring to autumn (October through June), as temperatures are still pleasant enough to enjoy outdoor activities during these seasons.
To get to Christchurch by air, the city is served by the Christchurch Airport. Located 12 km northwest of the CBD, this airport offers domestic connections to New Zealand's main cities, frequent short and medium-haul international connections to Australia and a handful of long-haul flights to Asia and the Middle East.
There are no regular intercity train services connecting Christchurch. That said, KiwiRail operates two scenic train services, namely the TranzAlpine and Coastal Pacific, from Christchurch Railway Station to Greymouth and Picton, respectively.
To get to the city by bus, several long-distance bus companies offer intercity travel to several South Island cities including Picton, Queenstown, Greymouth and Invercargill. See bus routes, schedules & fares.
When it comes to moving around the city, Christchurch's public transport system consists of an efficient and well-developed local bus network. For sightseeing, You can also hitch a ride on the Christchurch Tram.
There are also taxis and mobile apps available. Christchurch's inner city is pedestrian-friendly, but cars are still the best way to reach the city's outlying suburbs. You can rent a cheap car here.
The best area to stay in Christchurch is the Central Business District. This lively central neighbourhood is home to the city's main cultural attractions and museums, the best nightlife, restaurants and top accommodation options. See accommodation in Christchurch CBD.
Other great areas to keep in mind when choosing the best location in Christchurch include Merivale, Riccarton and the outer seaside suburb of Sumner.
Keep reading to find more about the best areas to stay in Christchurch, NZ.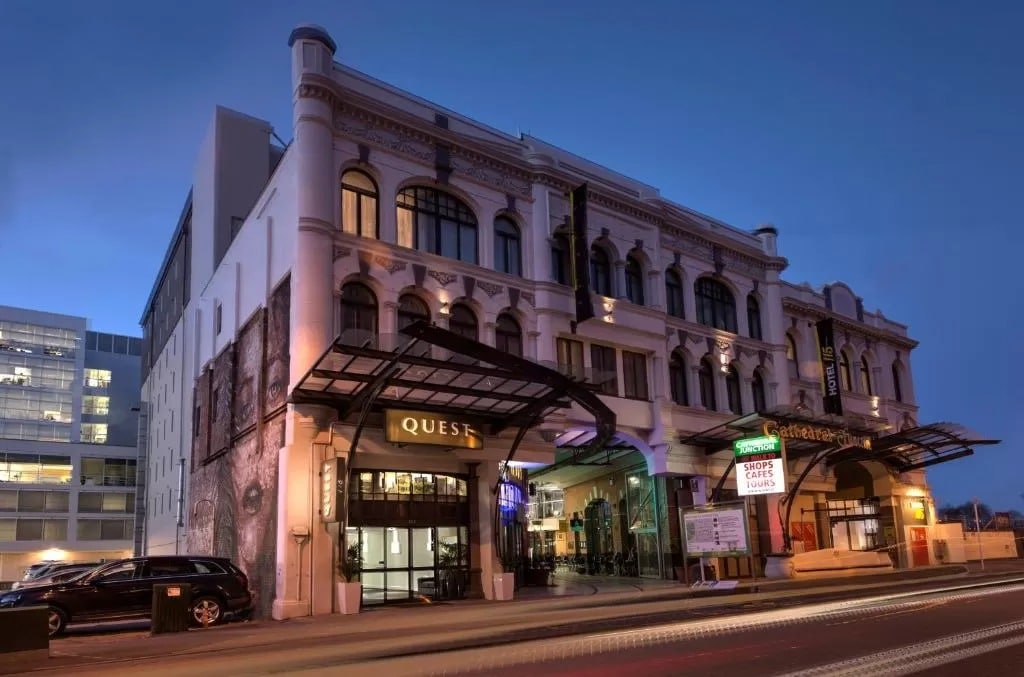 ---
Best Location in Christchurch, New Zealand: A Quick Guide
Below, you'll find a list of the best areas to stay in Christchurch according to your travel style. Keep on reading below to find more information on each particular suburb.
---
Best Hotels in Christchurch, NZ by Theme
Got something specific in mind? Here's a list of some of the top hotels in Christchurch. No matter your reason for visiting the city, we can help you decide!
---
The Best Areas to Stay in Christchurch, NZ
1. Recommended area: Christchurch City-Centre
The Central Business District or CBD is one of the largest and busiest areas in Christchurch.
The so-called "Inner City" is made up of some of the most important avenues in Christchurch, such as Bealey Avenue, Fitzgerald Avenue, Moorhouse Avenue, and Deans Avenue.
This district was one of the most affected by the earthquakes of 2010 and 2011. So, nowadays, the area stands out for its modern architecture, ffice complexes and business-type hotels.
Christchurch City Centre mixes restaurants, cafes, nightclubs and shops with residential areas such as Inner City East, Inner City West, Avon Loop, Moa Neighborhood and Victoria.
Cathedral Square is the heart of the district and the most popular attraction of the city. Here, you'll find historic sites such as Christchurch's speakers' corner and Christchurch Cathedral.
Every corner of the City Centre has bus stops. Taxis are a good transport alternative, and the tram is used only for sightseeing tours. Yet, this is also a pedestrian-friendly area.
Christchurch City Centre is the best area to stay in Christchurch sightseeing and nightlife.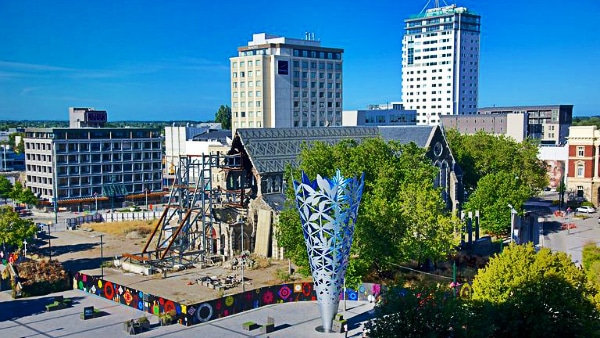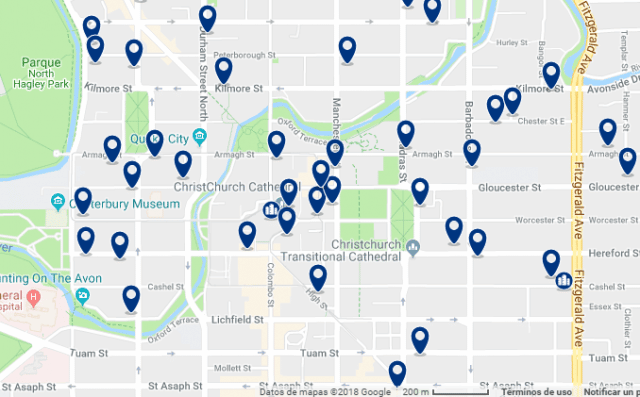 Why is this a recommended area to stay:
Central location
Bars, restaurants and shops
Best area for sightseeing
Connected by public transport
Great nightlife
Pedestrian-friendly
---
2. Merivale
Merivale is located north of downtown Christchurch, near Hagley Park and Heaton Street, Papanui Road, Harper, Bealey, and Rossall Street avenues.
This lovely district boasts residential areas with parks.
In the centre of the district, you'll find the Merivale Mall, with boutiques and brand stores.
To move to other areas, you can use Rosell Street, the busiest bus stop in Merivale.
Merivale is one of the best areas to stay in Christchurch, thanks to its mix of business-type hotels and the famous "mile of the motels" that is ideal for a cheap stay in Christchurch.
---
3. Riccarton
Riccarton is located west of downtown Christchurch, and it is known as the university district.
Some of the most important educational institutions in the city are located in Riccarton, such as Christchurch Girl School, Wharenui, St 'Teresa's School and further west is the renowned University of Canterbury.
Among the attractions of this area is the large shopping complex Westfield Riccarton, with restaurants, many shops and theatres.
The area stands out for having tons of Chinese food restaurants, coffees and cheap hotels.
The district is 10 minutes from the City Centre and its main avenue, Riccarton Rd, is well-connected by bus stops.
Riccarton is one of the best areas to stay in Christchurch since it is near the centre but offers cheaper accommodation.
---
4. Sumner
Sumner is a coastal district located southeast of Christchurch, a bit far from the city centre.
In this area, everything revolves around Sumner Beach, which is suitable for swimming and surfing.
But the breathtaking scenery of Sumner, which combines mountains, beaches and a dormant volcano, is more than enough to stay in this area.
Other things to do when staying in Sumner include mountain bike rides, Cave Rock climbs, beach campsites, visiting the botanical gardens and tourist tours in the Sumner steam train.
Near the parks, there are many bus stops to move to the city centre or to other areas of Christchurch.
Sumner does not have a lot of luxury hotels, but it does have apartments and hostels near the beach, so it is one of the best areas to stay in Christchurch.
---
Read this in other languages