Where to stay in Vancouver – A Guide to the Great City in the Canadian West Coast
Vancouver is a city located on the west coast of Canada, on the Pacific Ocean. This amazing place is known for having the best quality of life in North America, for its breathtaking natural backdrop and for being one of the financial and entrepreneural hotspots in the country. In this post, we will discover the best areas to stay in Vancouver, BC.
The main tourist attractions in Vancouver include Stanley Park, a lush green space located on a peninsula near the city centre, Granville Island Public Market, Grouse Mountain and Kitsilano Beach.
When it comes to climate, Vancouver's seaside location means this city has one of the mildest climates in Canada. Officially classified as a moderate oceanic climate, summers in the city (June – September) tend to be warm and dry, with high temperatures of around 22ºC, while winters (December – March) are cold and rainy. The good news is that temperatures rarely ever drop below 0ºC in the winter months. Summer is definitely the best time to visit Vancouver.
Vancouver boasts a very efficient public transportation system, consisting of buses, trolleybuses and the SkyTrain service, with its three lines connecting most of the city. On the other hand, the Seabus connects North Vancouver with the Downtown area.
That said, in order to reach the breathtaking natural wonders outside Vancouver, you may also choose to rent a car in the city.
The Vancouver International Airport (YVR) is the main gateway to the city and is located 12km from downtown. It is one of the most important airports in Canada and offers direct links to domestic destinations, most major US cities and several long-haul services to Asia and Europe.
When it comes to the best areas to stay in Vancouver, the Downtown district has the widest offer of entertainment options, cheap hotels and public transport connections. See accommodation in Downtown Vancouver.
Here's a guide with the best areas to stay in Vancouver, Canada.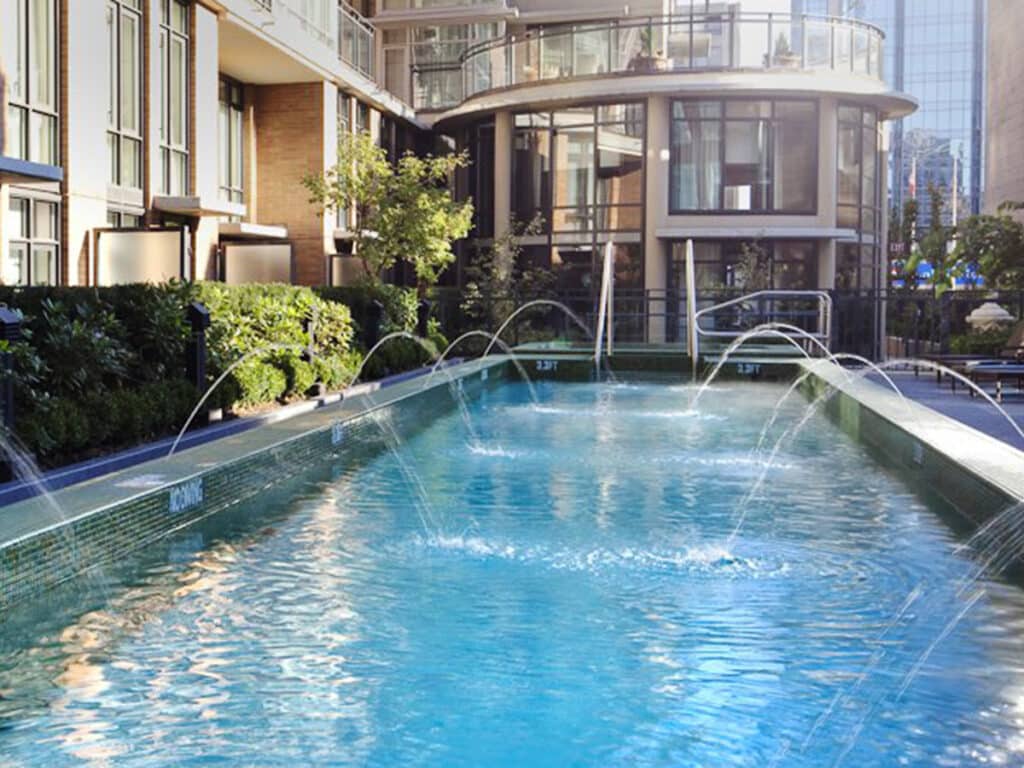 The Best Areas to Stay in Vancouver, British Columbia
1. Our favourite area: Downtown Vancouver & Gastown
Central Vancouver is hands down the best area to stay in Vancouver to experience the city to the fullest.
Gastown, Vancouver's oldest area grew around a single tavern founded back in 1867. Today, the district retains some of its historic charm, Victorian architecture, and a vibrant fashion and gastronomic.
On the other hand, Downtown is known for being Vancouver's main business district, filled with tall skyscrapers and office towers.
The City Center is also the best area to stay for nightlife and also where most of the attractions of the city are located.
Those staying in Downtown and Gastown can easily move around the city using SkyTrain's transport services. In addition, buses and taxis connect it to other neighbourhoods.
The Downtown district is one of the best areas to stay in Vancouver during a visit to this Canadian city, thanks to its wide variety of hotels and attractions for all types of visitors.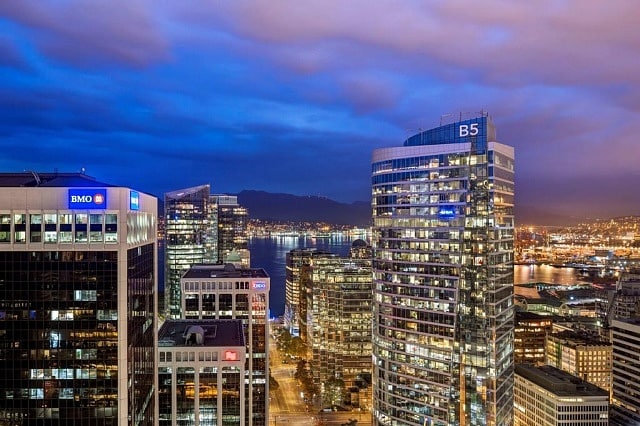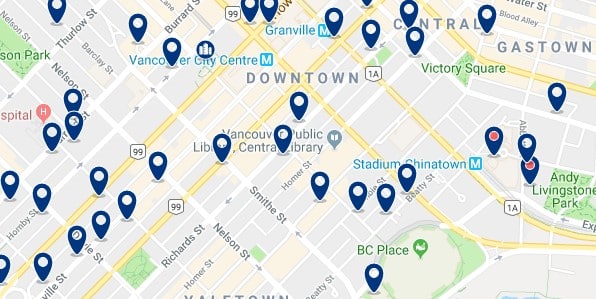 Why is this a recommended area to stay in Vancouver:
Heart of the city
Great restaurants
Best area for sightseeing
Best area to stay without a car
Great public transport connections
---
2. West End
West End is a neighbourhood of Vancouver that is unsurprisingly located west of the City Centre.
Its very central location makes it one of the easiest neighbourhoods for visitors to discover.
The West End is home to some of the most popular beaches in town, such as English Bay Beach and Sunset Beach.
The West End district is also home to a vibrant LGBT community. Centring around Davie Village, Vancouver's gay area offers a wealth of fun nightlife options such as bars, pubs, clubs, and restaurants with a fabulous atmosphere.
Robson Street, a popular shopping street in Vancouver, is also located in the West End.
Vancouver's West End is another of the best areas to stay in Vancouver thanks to its lively atmosphere.
---
3. South Vancouver
South Vancouver is known for being a residential area and for housing some of the oldest and most prestigious neighbourhoods in the city.
The main attractions in South Vancouver are the VanDusen Gardens, the Jewish Museum and Archives of British Columbia, and Fraser River Park, with its spectacular views and recreational spaces.
In the southwest of Vancouver, you'll find Dunbar, the main shopping area in this district, full of shops.
South Vancouver is one of the best areas to stay in Vancouver for those travellers looking for peace and quiet during their stay.
In addition, this area offers accommodation of all kinds and for all budgets; from budget B&Bs to luxury options.
---
4. Kitsilano
The Kitsilano neighbourhood is located on the west side of Vancouver, on the south coast of English Bay.
Kitsilano is home to many important festivals such as the Vancouver International Children's Festival, the Bard on the Beach Shakespeare Festival and the Celebration of Light, with its incredible fireworks
This area is also home to two main commercial areas: West 4th Avenue and West Broadway, known for their retail stores and a great variety of restaurants and popular markets.
Some points of interest found in Kitsilano are the Burrard Bridge, Kitsilano Beach and the Macmillan Space Centre, located in the Vancouver Museum.
Kitsilano is another of the best areas to stay in Vancouver because it offers fun activities to do in Vancouver.
---
5. North Vancouver
This residential neighbourhood is known for its upper-middle-class feel. It offers luxury houses and mansions.
The sites of interest in North Vancouver are the Capilano suspension bridge and Grouse Mountain ski hill (which can be reached by cable car) and other places where you can practice activities such as hiking, fishing and cycling.
North Vancouver has bus routes that operate throughout the district, mainly from Lonsdale Quay to different areas of the city.
This area is ideal for travellers who love adventure sports and outdoor activities. Staying in North Vancouver allows you to connect with nature, away from the hustle and bustle of the city.
North Vancouver is one of the best areas to stay in Vancouver thanks to its location, transport connections and luxury hotels.
---
Read this in other languages