Where to Stay in Miami – A Guide to the Big City of Florida
Miami is one of the biggest cities in the United States, as well as an tourism, commerce, and entertainment center in Florida.
This city is located southeast of Florida, on the shores of the North Atlantic ocean.
Miami is known, among other things, because of its large Hispanic community, beaches, shopping centers and nightlife.
The weather in Miami is hot and humid, with high temperatures during most of the year. On the other hand, winter is mild and allows you to explore the city easily.
Transportation in Miami is usually scarce and some attractions are far away from each other, so the best option is to rent a car to move between its districts.
However, Downtown Miami is connected through Metromover and the Metrorail system.
When it comes to accommodation, Miami has it all, from luxury hotels to pensions located in Art Deco buildings.
Choosing between the best areas to stay in Miami depends on the reason behind the trip. If you want to be close to the malls and the clubs, staying in Downtown Miami is the best option (See accommodation in Downtown Miami). On the other hand, the South Beach area is recommended for beach lovers (See accommodation in South Beach).
Here's a guide with the best areas to stay in Miami, Florida.
The Best Areas to Stay in Miami, Florida
1. Our Favorite Area: South Beach
The South Beach area is located in Miami Beach, a few minutes drive from Downtown Miami.
South Beach is one of the best areas to stay in Miami because of its luxury hotels with ocean views, nightlife and, of course, its beaches.
In this area, you'll find the renowned Art Deco District, where there is a large number of buildings of the early twentieth century.
In South Beach, there's also Ocean Drive, one of the main streets of Miami Beach, where you will find some of the most exclusive hotels and restaurants in the city.
To move through this area, there are several bus stops available along Washington Avenue.
At night, South Beach becomes the center of Miami's nightlife, with bars and clubs playing all kinds of music, from Latin genres to hip hop and electronic music.
South Beach is recommended as the best area to stay in Miami during the summer or to do outdoor activities on its beaches.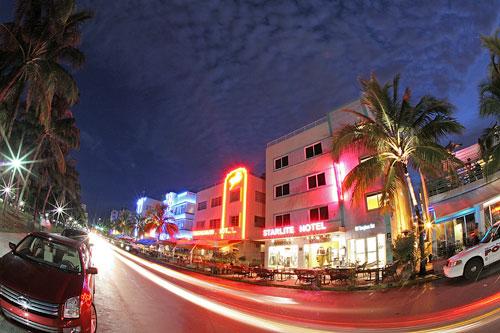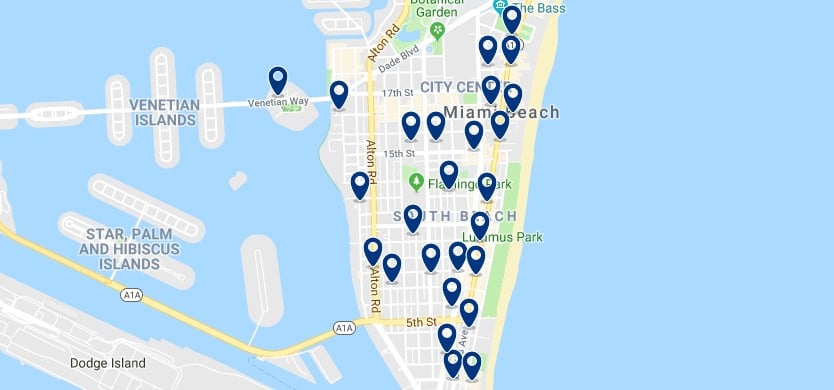 Why is this a recommended area to stay in Miami, Florida:
Beach areea
Miami's gay area
Art Deco District
Best area to stay without a car
Best area for nightlife
Best area for sightseeing
---
2. Coconut Grove
Coconut Grove is a ten-minute drive from Downtown Miami and is an area of beaches, restaurants, and art.
Among the attractions to see in Coconut Grove, there is the Vizcaya Museum and its gardens. In addition, there are always important events in this area such as the Coconut Art Festival.
Coconut Grove is a luxury area, with upscale hotels that are among the favorites of celebrities.
Public transport is scarce in this area, so it is recommended to stay in Coconut Grove with a car.
Other places to see in Coconut Grove include the Cocowalk shopping center.
In addition, Peacock Park, one of the most beautiful parks in Miami, is located in Coconut Grove, where you can get views of the boats, play tennis or baseball and even listen to live jazz in its cafes.
Coconut Grove is one of the best areas to stay in Miami because of its luxury hotels and attractions.
---
3. Downtown Miami
Downtown Miami is the best area to stay in Miami for business because of its office complexes and skyscrapers that give a modern atmosphere to the area.
The best hotels in Miami are located in the Downtown area.
This neighborhood is near the Port of Miami, so it is a recommended area for travelers who want to take a cruise or attend yacht parties.
Another benefit of staying in Downtown Miami is that it hosts the Freedom Tower and the American Airlines Arena, where concerts and shows take place during the year.
Moving through Downtown Miami is possible through the Metromover, a system of elevated trains that run through the district.
Downtown Miami is also one of the best areas to stay in Miami for those who want to discover the city's nightlife.
---
4. Design District
The Design District, as is name implies, is an area dedicated to fashion, with an innovative environment full of shops, as well as avant-garde architecture.
The Design District is located north of Downtown Miami, about 40 minutes by car.
This luxury area is home to some of the most renowned brands and companies in the fashion, design and art industry.
Here, you can either attend fashion shows or see exhibitions in the art galleries of the area. Furthermore, the Design District has many bars for nightlife lovers.
The best way to move through this area as well as to other neighborhoods of Miami is by car.
An art center worthy of a visit in the area is the Fly's Eye Dome, a landmark designed by Buckminster Fuller where contemporary art is displayed.
This is one of the best areas to stay in Miami for those who are passionate about fashion, design, decoration, and architecture.
---
5. Little Havana
Little Havana is known for being the preferred area for many Spanish-speaking people to stay or to live in Miami.
This lively neighborhood houses Latin American art galleries, restaurants with exotic flavors and terraces where you can enjoy drinks and the popular Cuban cigars.
The activities in this district range from playing dominoes with professionals in its parks to watching independent and classic films in the Tower Theater.
Being a lively area, known for its music and culture, the nightclubs in Little Havana are positioned among the best in Miami, with live Latin music, salsa contests and more.
Life in Little Havana revolves around Calle Ocho, full of artisans, Cuban restaurants and shops, all wrapped in a vibrant atmosphere.
Other attractions in this area include the Historical Museum of South Florida and the Vizcaya Museum and Gardens. In addition, it is located near Downtown Miami.
Little Havana is recommended as one of the best areas to stay in Miami if you want to know a different facet of this city of Florida. Also, accommodation in this area is usually cheaper.
---
6. Near the Airport
The Miami International Airport (MIA) is the second busiest airport in the United States, with international and domestic flights.
Since it is an important gateway to the United States, it is also one of the best areas to stay in Miami, Florida.
Although there are not many attractions in this area, it is a good place to stay in Miami for short stays or for travelers who make a layover in the city.
This area has good connections with other districts through public transport, and there are also several car rental places.
---
Read this in other languages