Where to Stay in Frankfurt – Accommodation Guide to the European Business Capital
Since medieval times, Frankfurt has been one of the most important cities in Germany. It is thought of as a concrete jungle, due to its tall skyscrapers and unique architecture for a European city.
Frankfurt, however, still preserves some old facades that hint to its rich history and culture.
Due to its highrises and being located right on the banks of the Main river, Germans affectionately refer to Frankfurt as "Mainhattan".
It houses the European Central Bank and Europe's busiest stock exchange, making it one of the most important financial powerhouses in the world. A combination of tradition and innovation, Frankfurt is a city for business (read more about where to stay in Frankfurt for business travellers).
However, this city is also great for pleasure, and shopping. A cosmopolitan, avant-garde, and fun place to suit all tastes and needs.
For many travelers, Frankfurt is the gateway to Germany or even Europe; thanks to the importance of its airport, the main site of operations for the largest German airline, Lufthansa.
It is the fifth most important city in Germany by population, the largest and most populated city in its State (Hessen), the central core of the Rhine-Main region, one of the most productive and dynamic of Germany and home to important exhibitions, fairs and international shows, such as the Frankfurt Motor Show, the largest of its kind, or the Book Fair, the most important in the world.
Frankfurt, has an excellent transport system, it has several metro lines (U -Bahn)) and commuter trains (S-Bahn) or regional trains.
The city is interesting enough to spend a day of days visiting the corners of the historic center, marveling at its skyscrapers or shopping until dropping in one of its many shopping centers.
However, not everything is concrete here. Frankfurt is also a very green city is spotted and surrounded by parks and green areas, the so-called "green belt" of Frankfurt includes a large pine forest and several manicured parks and green spaces.
As for the best areas to stay, the historic city center offers streets with medieval charm and most of Frankfurt's tourist attractions (see hotels in Frankfurt's historic center).
Below, a guide with the best areas to stay in Frankfurt.
Best Areas to Stay in Frankfurt
1. Our favourite area: Frankfurt's Business District (Innenstadt)
Innenstadt is part of the central business district of Frankfurt, made up of some of the most expensive commercial streets in Germany, it is ideal for a luxury holiday.
Innenstadt is located just north of Altstadt. It includes several Frankfurt sights such as Zeil street and Hauptwache and Konstablerwache squares.
Innenstadt is home to Frankfurt's financial area is located. Here, you can find a wide range of accommodation; In addition, it is near the historic center where clothing stores, cafes and restaurants are concentrated.
This area's landmarks include the Börsenplatz, where the Neo-Renaissance style Frankfurt Stock Exchange is located.
Next to it, you can find the Frankfurter Volksbank tower, which houses the Popular Bank of Frankfurt.
Nearby there's another Frankfurt iconic skyscraper, the Nextower, which is 135 meters high and has 32 floors.
Innenstadt is very well connected by metro and you can walk practically everywhere.
It is the best area to stay in Frankfurt for business travelers, due to its commercial and financial nature.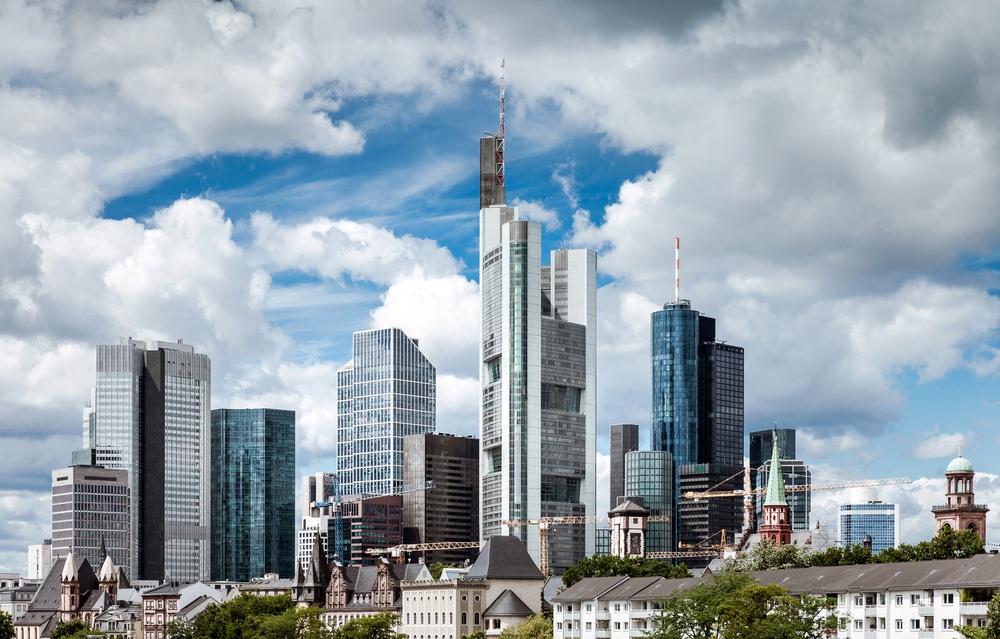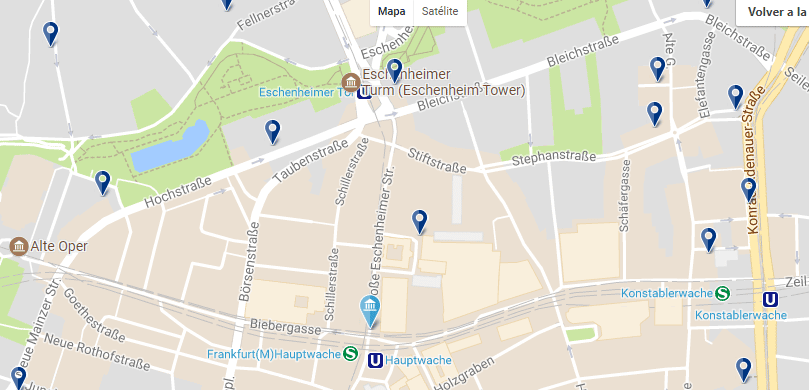 Why is this a recommended area to stay in Frankfurt am Main:
Very central
Sophisticated hotels
Best area for business travelers
Great metro connections
Great area for tourists
Business-type hotels
---
2. Frankfurt Old Town (Zentrum-Aldstadt)
Frankfurt's Old Town is considered one of the best areas to stay in Frankfurt, although it is a small district, has the best accommodation options.
This district was partly destroyed by Allied air strikes during World War II, although (for the most part rebuilt) medieval buildings can still be found in the entire area.
Frankfurt's Old Town is home to the beautiful Alte Oper, an old opera house, and an iconic building in the city.
Zentrum-Aldtstad is built around Römer Platz, inhabited since Roman times. This is the most cosmopolitan area of ​the city.
It is also considered one of the best-connected areas in Frankfurt thanks to its numerous metro stops and its proximity to the central station.
Another great thing about Altstadt is that it has the most pleasant squares and coffee shops where you can enjoy a great coffee or beer.
Hotels in this area tend to have slightly higher rates than the rest of the city, but it is well worth staying here, both for a business or leisure visit.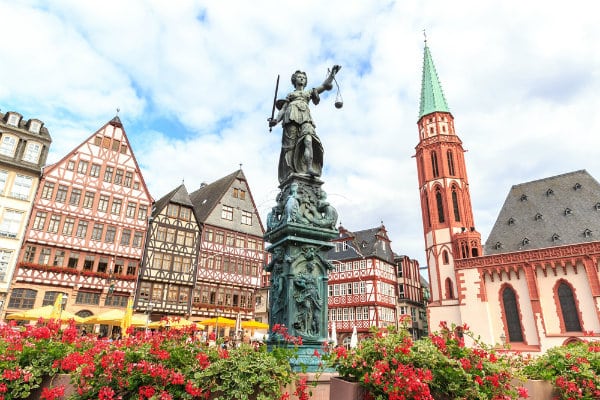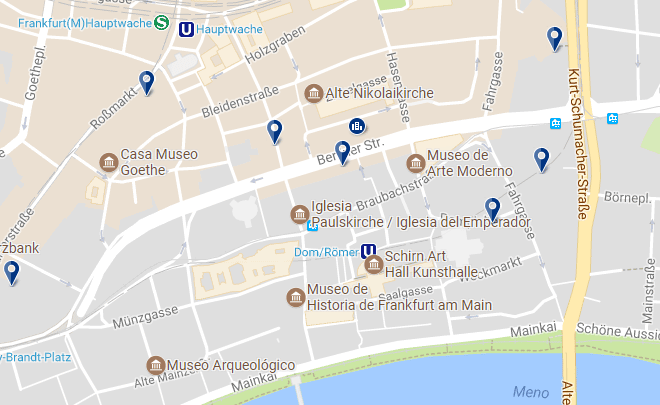 Why is this a recommended area to stay in Frankfurt-am-Main:
Heart of the city
Lots of hotels
Best area to stay for tourism
Train and metro stops
Tourist attractions
Entertainment options
---
3. Bahnhofsviertel
This district is located in the center of Frankfurt, and you can access walking to almost every corner of the Zentrum from here.
It is advisable to have some caution when going through its streets at night, due to its abundant and somewhat sleazy nightlife.
Bahnhofsviertel means "Central Train Station District" and it's one of the most peculiar districts of all Frankfurt. It is home to Frankfurt's nightlife and red-light district.
Urban casinos, brothels, clubs, bars are everywhere here.
It is worth mentioning that Bahnhofsviertel is probably the best-connected area of ​​Frankfurt due to housing Hauptbahnhof, the busiest transport hub in Germany, with interurban connections, the airport train and to almost every city imaginable in Germany, Belgium, Holland, and France.
Bahnhofsviertel also has what are probably the cheapest hotels in Frankfurt, hence it is one of the favorites with tourists and one of the best districts to stay in Frankfurt.
The economic activity is mainly focused on retail sales, there is also a variety of restaurants, fast food and grocery stores.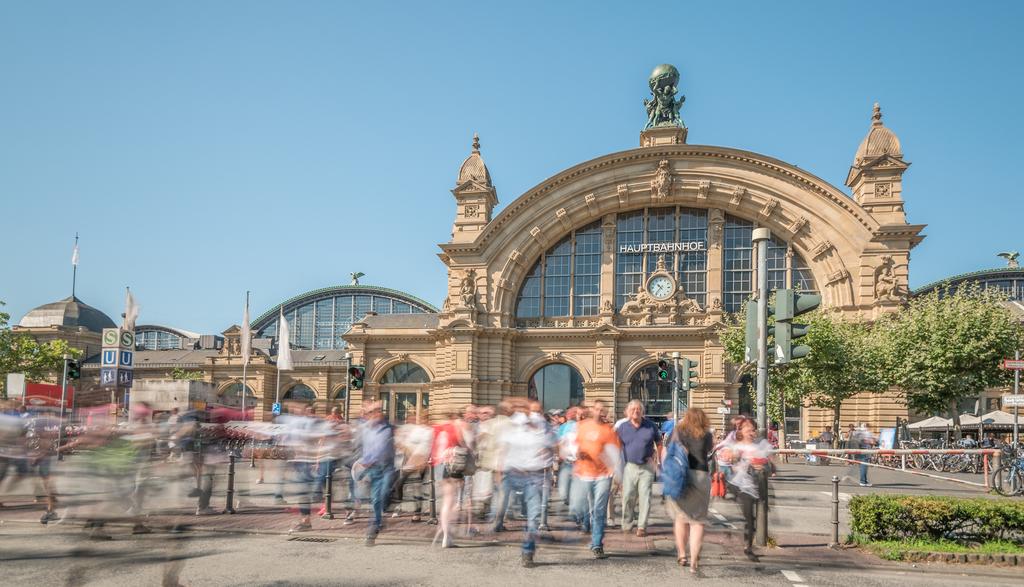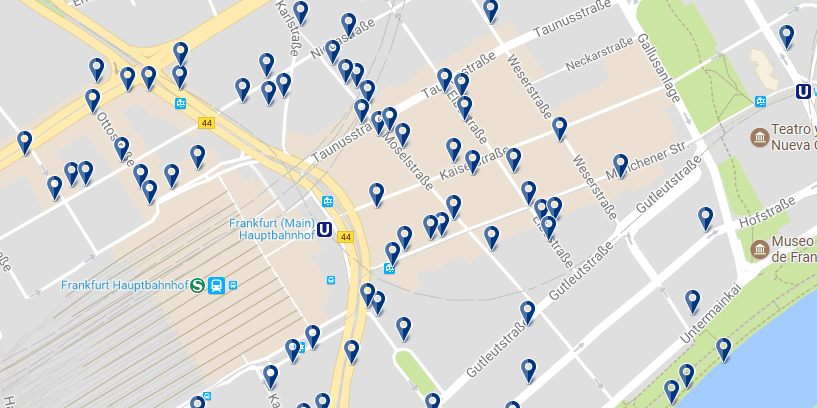 Why is this a recommended area to stay in Frankfurt, Germany:
Cheap hotels
Lots of restaurants
Lots of nightlife
Excellent public transport connections
Accessible on foot
Shopping
---
4. Near Frankfurt International Airport (FRA)
Frankfurt has one of the most important airports in Europe, Frankfurt International Airport (FRA). From here, thousands of daily flights depart and arrive from all over the world.
FRA is the main hub of the German airline Lufthansa.
The area around Frankfurt Airport is considered one of the most convenient to stay in Frankfurt. Hauptbanhof is 25 minutes on S-Bahn from here.
This is also the best area to stay for a long stopover in Frankfurt.
The size and importance of the airport mean that in its surroundings you can find a large number of accommodation options to suit all budgets and tastes.
It is easily accessible by car, taxi, train, or bus since it has an extensive transport network.
There are two railway stations at the airport: one for suburban or regional trains and one for long-distance trains (including ICE).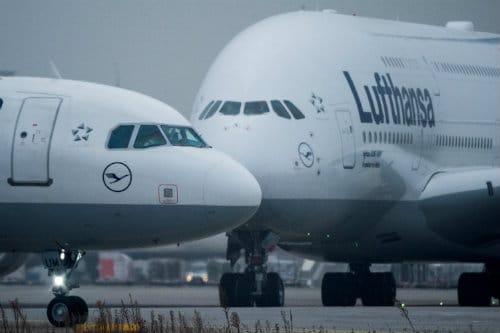 Why is this a recommended area to stay in FFM:
Easy access to the city
Lots of accommodation options
ICE train station
---
5. Gallusviertel (Messe Frankfurt)
Gallusviertel is located directly north of Haputbanhof. It spans to the west towards Griesheim, to the north with the exhibition center and Rebstockpark and to the south with the railroad tracks.
It is an important transport and business hub, particularly around Mainzer Landstraße.
It is one of the largest and most important neighborhoods in Frankfurt.
It is connected by the suburban train (S-Bahn), Gallusviertel is a district characterized by being home to several industrial and artisanal companies.
It houses the editorial office of Frankfurter Allgemeine Zeitung, the most important international newspaper in Germany.
Here you can find sights such as the Gallus Theater, within the old Adlerwerke in Kleyerstrasse, which offers a stage for both permanent cultural groups as well as artists and independent companies.
Gallusviertel, is one of the best neighborhoods to stay in Frankfurt for business travelers as it is very close to the Frankfurt fairgrounds (Messe Frankfurt) and since it is an industrial area, it has a large number of business hotels and some cheap accommodation.
---
6. Gutleutviertel
Gutleutviertel is located in a strategic point of the city, next to the Main river, to the west of Frankfurt city cnter and next to Haputbanhof; it extends beyond the Peace Bridge to Wiesenhüttenstraße, where the Banhofsviertel begins, an advantage of staing here is having connection to different destinations within the city.
This port district used to be an area outside the city walls, where the undesirable infrastructure of the city, leper hospitals, brothels and popular markets were located.
After the Frankfurt medieval walls were eliminated, Gutleutviertel remained a very low-income and working class district, with great amount of industrial buildings.
Today, Gutleutviertel is characterized by having administrative, office and service industries, although it has also become a desirable area to live in Frankfurt, as it has a large number of residential and commercial complexes and a vibrant alternative scene.
This district has experienced recent changes, such as new shopping centers and a whole range of new restaurants and residences being established there.
---
Read this in other languages
|ES| Dónde alojarse en Frankfurt, Alemania
More on Frankfurt
|Business Travel| Where to stay in Frankfurt for business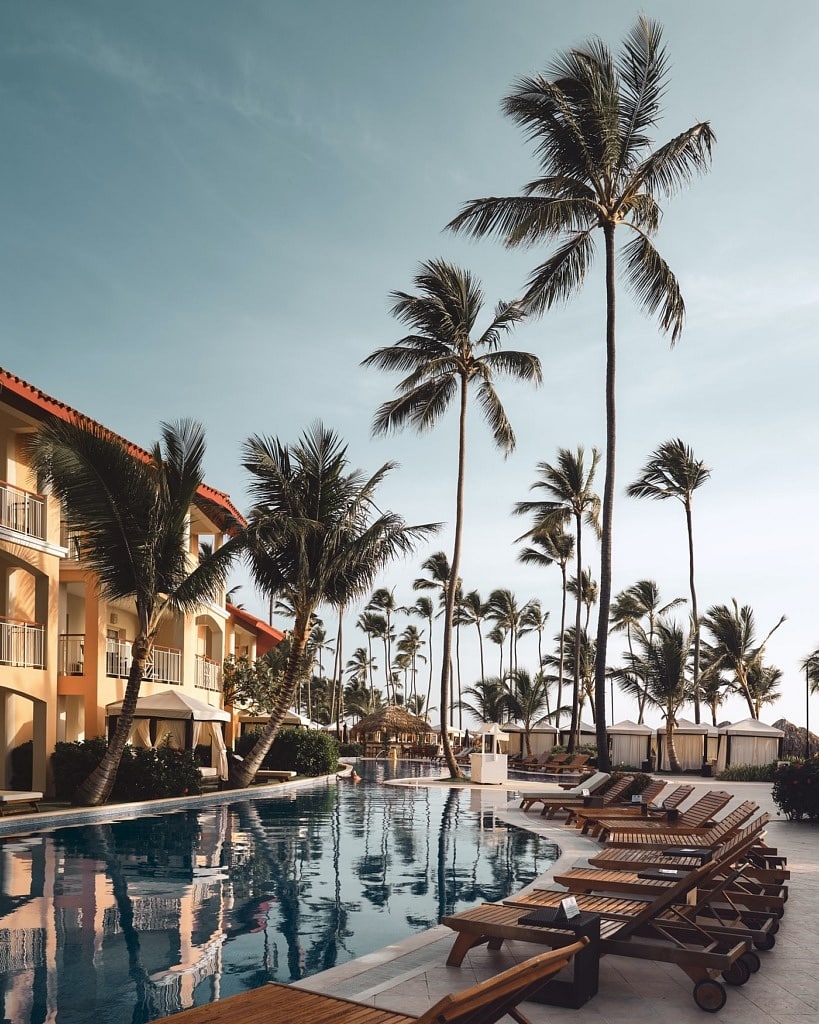 Where to stay in other cities