Where to Stay in Oslo – A Guide to the Capital of Norway
Oslo is the capital of Norway and a luxury European city, with attractions that are visited by adventurers, art lovers, and travellers looking to enjoy a nightlife like no other.
The weather in Oslo is defined by its long winters and snow. However, if you want to enjoy a pleasant climate during your stay, the best time to travel to Oslo is from June to August.
This city is popular for being home to world-famous museums, with paintings such as "The Scream" by Edvard Munch, neighbourhoods with a picturesque and unique atmosphere, opera, cafes and more.
The means of transport in Oslo are divided between metro, trains, taxis and buses (recommended for weekends).
In addition, some areas such as the Sentrum can easily be explored on foot.
To reach areas outside Oslo and the Gardermoen airport, it is common to use the tram.
Being the most important airport in Norway, located north of the City Centre or Sentrum, the Gardenmoen has national and international flights.
Oslo has a fairly high standard of living, which is why it is considered a luxury city with exclusive and expensive accommodation.
When visiting Oslo, you can get to know places like the Opera and the Oslo Folk Museum, full of old houses and farms that come alive during the summer with their visitors and animals.
Other attractions include Ekebergparken Park, Sørenga and its luxurious residential complexes and apartments, Karl Johans gate shopping street, the National Theatre and more.
The best area to stay in Oslo is the Sentrum, for its tourist attractions and proximity to bustling neighbourhoods like Akker Brygge, where nightlife is very vibrant. See accommodation in Oslo City Centre
Here's a guide with the best areas to stay in Oslo, Norway.
The best areas to stay in Oslo, Norway
1. Our favourite area: Sentrum (City Centre)
The main area in the city of Oslo is the Sentrum, located between the neighbourhoods of Frogner and Gamle Oslo.
This lively district is full of historic and important buildings such as the modern Oslo Opera House and the National Museum, with a collection of works by Edvard Munch.
In this neighbourhood, you'll find the Karl Johans Gate Street, with hundreds of restaurants, pubs and designer shops to enjoy fun and shopping during your stay in Oslo.
For history lovers, there is Kvadraturen, which houses some of the oldest buildings in the city, as well as museums and art galleries.
Another point in favour of the Sentrum is the largest shopping centres in the city, such as Oslo City, Byporten, Paléet and Steen & Strøm.
Accommodations in Oslo are usually luxury and high-cost, especially in the Sentrum, so it is convenient to book in advance.
The Sentrum or Oslo City Centre can be explored on foot, but it also has variety of public transport to travel to other areas, be it buses, taxis or the metro.
Sentrum is, undoubtedly, the best area to stay in Oslo for its attractions, to enjoy the nightlife, museums, galleries and cultural entertainment.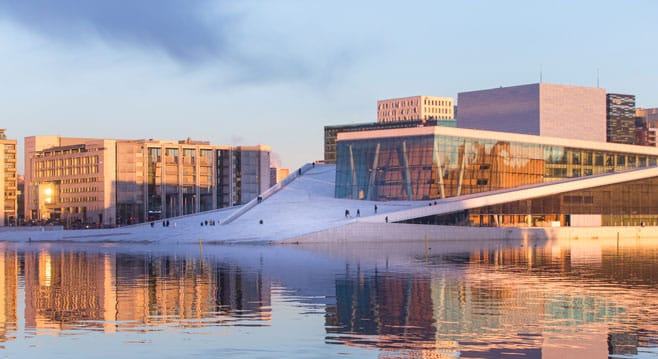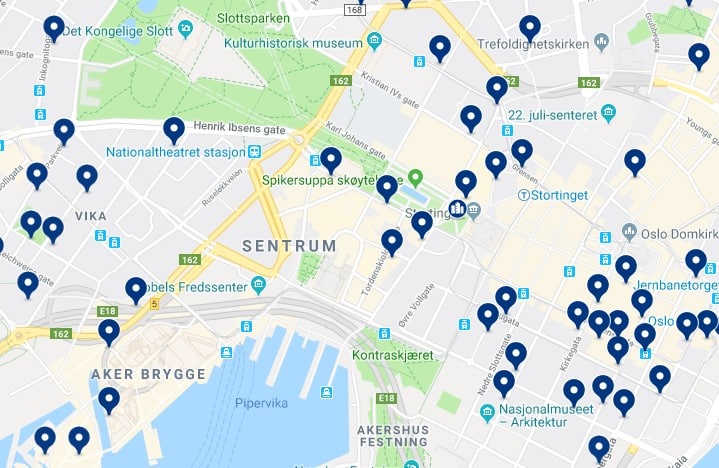 Why is this a recommended area to stay in Oslo, Norway:
Best area for sightseeing
Oslo Opera House
Best area for shopping
Historical buildings
Best area for business travellers
Great variety of accommodation
---
2. Gamle Oslo
Gamle Oslo or Old Oslo is a district located to the east and a few minutes from the Centre of Oslo.
Its name is due to the historical ruins found in this picturesque area.
In addition, it stands out thanks to its cheap restaurants, as well as the Middle Eastern and Asian stores that are located in some neighbourhoods in this district such as Gamlebyen, southern Tøyen and Grønland.
Gamle Oslo is the cheapest area to stay in Oslo, with pocket-friendly hotels that are still close to the attractions of the Sentrum.
Like other areas of Oslo, Gamle Oslo is well-connected by public transport.
The entertainment at Gamle Oslo ranges from visits to the Botanical Garden to festivals such as the Oya Festival, celebrating the connection with nature.
Another attraction to visit in Gamle Oslo is Grønland Street, with a bohemian and multicultural atmosphere that makes this one of the best areas to stay in Oslo for young travellers.
---
3. Majorstuen
The Majorstuen neighbourhood is located west of Oslo, near Vigeland Park and the Frogner district.
Majorstuen is one of the luxury areas of Oslo, so accommodation costs tend to be more expensive than in other parts of the city, especially in high season.
This area is located 10 minutes by car from the city centre. In addition, it has the best public transport connections in the city because 6 subway lines, three lines of the metro, Tram and five bus lines go through this neighbourhood.
Majorstuen has an important commercial street in Norway, the Bogstadsveien street, full of shops, restaurants and connected to the gardens of the Royal Castle.
Those staying in Majorstuen can enjoy visits to the Colosseum Kino, the Vigenlandsparken and the Bymuseet.
Majorstuen is one of the best areas to stay in Oslo, for its good connections with other districts and areas of the city.
---
4. Grünerløkka
One of the most popular neighbourhoods in Oslo is, without a doubt, Grünerløkka.
To the south of Grünerløkka, you'll find the Museum in honour of Edvard Munch. In addition, the district is adorned by tree-lined streets, full of vintage shops and parks.
Within Grünerløkka, there are some popular galleries in the city such as RAM Galleri and S9, which exhibitions of local artists.
The area enjoys hundreds of coffee shops where artisanal coffee is popular.
Grünerløkka is considered the hipster area of Oslo and can be easily explored on foot, although it also has bicycle lanes and public transport connections with other districts.
Grünerløkka is among the best areas to stay in Oslo if you want to know a different facet of the capital of Norway.
---
5. Frogner
Frogner is known as one of the most exclusive neighbourhoods in Oslo, with hundreds of fancy restaurants, wine tasting venues and renowned shops.
The Frogner district is located northwest of Aker Brygge and is one of the best areas to stay in Oslo.
This area is home to most embassies in Oslo, as well as museums, parks and sculptures that are well worth a visit.
During the winter, Frogner has an ice rink to enjoy with family or friends.
This neighbourhood is known for its beautiful streets, houses, cafes and pleasant atmosphere.
In addition, Frogner enjoys proximity to other districts, either by car or through public transport.
Frogner is one of the best areas to stay in Oslo if you are looking for tranquillity during your stay, although the cost of accommodation here tends to be higher.
---
Read this in other languages