Where to Stay in Port Elizabeth – A Guide to the Great Port of South Africa
Port Elizabeth is home o some of the best beaches in South Africa and the most important port city in the country. This town is also called "The Friendly City" and it's regarded as the "official" gateway to the scenic Eastern Cape Province, 750 km east of Cape Town. In this post, we will discover the best areas to stay in Port Elizabeth.
Considered the water sports capital of South Africa, Port Elizabeth's main attractions are the beaches along Nelson Mandela Bay. Nelson Mandela Bay is considered a first-class destination for dolphin watching and it is also home to the largest breeding colony of the African Penguin.
Among the most popular beaches in the Port Elizabeth region, you can find Kings Beach, Hobie Beach, Humewood Beach, Pollock Beach, and Denville Beach.
Port Elizabeth is also close to one of South Africa's most famous national parks, Addo Elephant National Park, home to 450 elephants and other endangered species.
The best time to visit Port Elizabeth is during the summer, between the months of December and March when the number of international tourists decreases and the weather is pleasantly sunny.
Its main air terminal, Port Elizabeth Airport, is located five minutes from the Central Business District, near the beach and other important areas in the city. This airport offers mainly domestic flights.
The railway connections and an effective bus system facilitate moving to and through the city.
Among the best areas to stay in Port Elizabeth, Summerstrand offers the best entertainment options and a wide range of hotels near the beach. See accommodation in Summerstrand.
Here's a guide with the best areas to stay in Port Elizabeth, South Africa.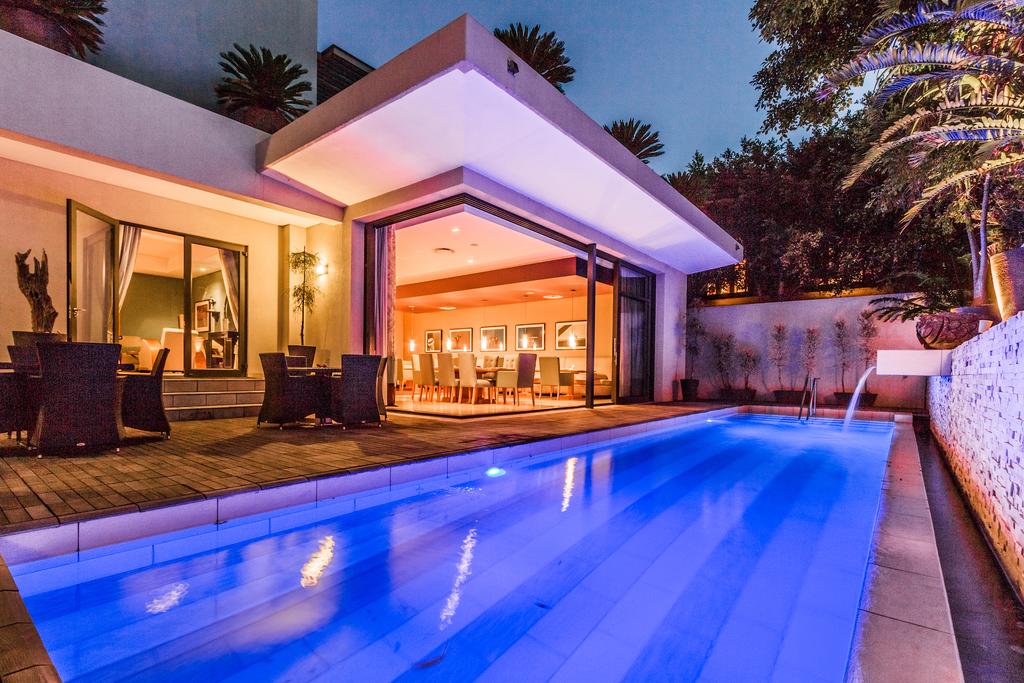 The Best Areas to Stay in Port Elizabeth, South Africa
1. Our favourite area: Summerstrand
Summerstrand is an elegant and luxurious district south of central Port Elizabeth.
It is located near some of the most attractive beaches in the city.
Some of its outstanding beaches are Hobie Beach (home of the Splash Festival), Pollock Beach (for water sports), and the Donkin Heritage Trail.
Summerstrand is the main entertainment and leisure centre in town.
Here, you can find the Boardwalk Casino Resort. This leisure complex comprises shops, artificial lakes, lighted gardens, and live music.
Other popular attractions in the area include the Oceanarium, the Humewood golf course, the University of Technology, and the Summerstrand Village shopping centre.
Summerstrand is the best area to stay in Port Elizabeth thanks to its varied entertainment options, luxurious hotels, and privileged seaside location.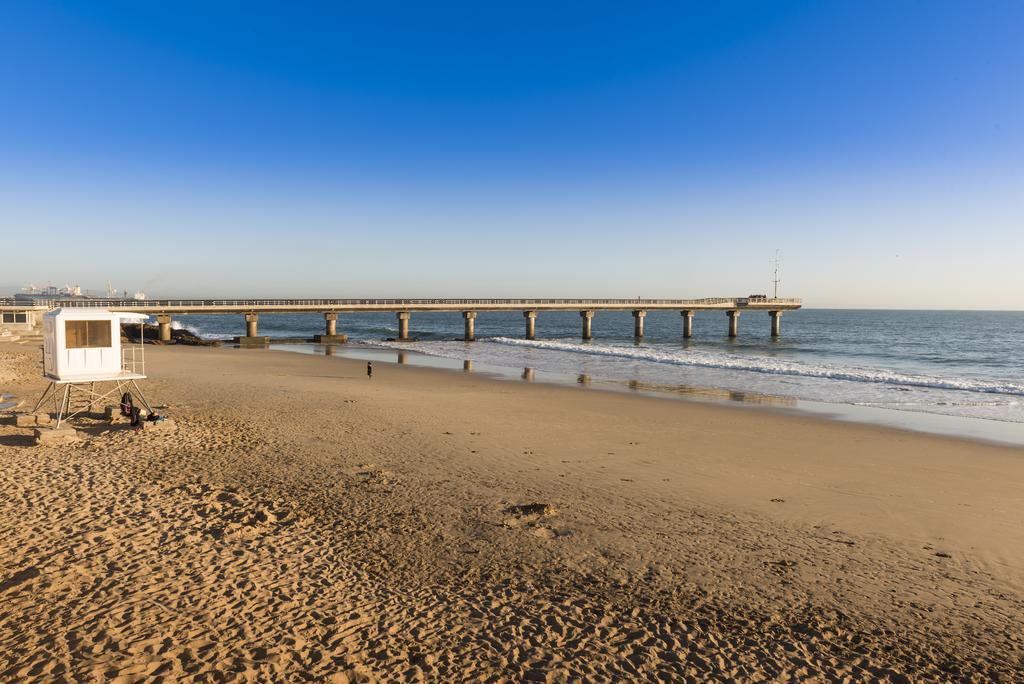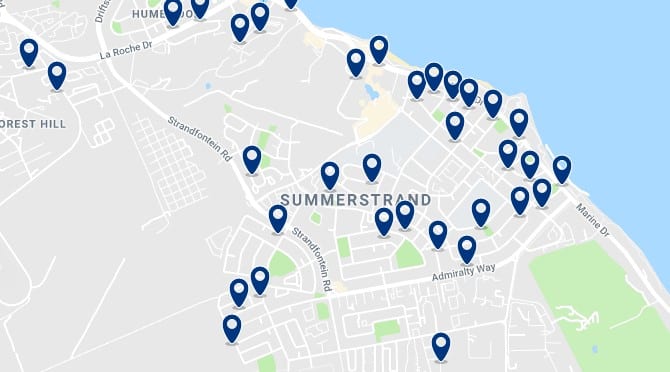 Why is this a recommended area to stay in Port Elizabeth:
Beach area
Best area for sightseeing
Boardwalk Casino
Great variety of hotels
Good area for nightlife
Near the airport
---
2. Walmer
Walmer is located north of Port Elizabeth, just a 5-minute drive from the airport, and 10 minutes from the beaches.
Walmer is mostly an upmarket, family-oriented suburb, with several places of interest and a more laid-back atmosphere than Summerstrand or the CBD.
Its shopping centre, Walmer Park Shopping Centre, has more than 140 stores, cafes, and restaurants.
In addition, the area is home to the Walmer Country Club, ideal for golf enthusiasts.
Walmer is ideal for walking, picnicking, or for those seeking a quiet and family-friendly atmosphere.
The nearest train stations are Emerald Hill, Valley Station and Bog Farm, located to the south of the area.
Walmer is among the best areas to stay in Port Elizabeth if you are looking for tranquillity.
It hosts several important chain hotels and well-equipped independently-owned apartments.
---
3. Pollock Beach
Pollock Beach is north of Summerstrand, near Marine Drive and 10th Avenue.
Pollock Beach is known for having some of the tallest waves in South Africa, making it one of the best areas to stay in Port Elizabeth for surfers and water sports enthusiasts.
Staying near this beach allows you to enjoy the summer events and watch some of Port Elizabeth's best sunsets.
The area is opposite Marine Drive, the highway that leads to the city centre. Therefore, Pollock Beach is a great area to stay in Port Elizabeth with a car, whether yours or a rental.
Accommodation in this area is made up of resorts and upmarket hotels, there are also some luxury apartments with swimming pools.
---
4. Bluewater Bay
Bluewater Bay is one of the beaches of North Port Elizabeth, famous for its white sand and for offering contact with nature.
Dolphin watching is one of the main activities in Bluewater Bay, as are kayak and yacht rides or diving.
This area is also near the Addo Elephant Park, home to many African elephants, 5 whales, exotic sharks, and other animal species.
This area is a bit far from the city centre, so it's a best fit for travellers with a car.
Bluewater Bay is the best area to stay in Port Elizabeth to enjoy dolphin watching and discover the natural side of Port Elizabeth.
To stay in this area, there are many options, from 3-star hotels to B&Bs and fairly affordable apartments close to the beach.
---
Read this in other languages