Where to Stay in Puebla – A Guide to this Mexican City
Puebla de Zaragoza, commonly known simply as Puebla is a city in central Mexico. Located southeast of Mexico City Puebla is a World Heritage Site famous its rich colonial architecture. In this post, we will explore the best areas to stay in Puebla, Mexico.
Other than for its colonial heritage, Puebla is also renowned for its varied gastronomy, which includes chiles en nogada and mole poblano, and its traditional Talavera pottery.
The main attractions in Puebla's Historic City Center include Catedral de Puebla, The Museo Amparo, Santo Domingo Church, Biblioteca Palafoxiana, Zócalo Square, Mercado El Parián, Museo Casa de Alfeñique and the Artist Quarter. See accommodation in Puebla Historic City Center.
The Zona Arqueológica de Cholula, located 10 km (6 mi) west of the City Center, is home to the "Great Pyramid of Cholula," a huge archaeological complex that includes the largest pyramid in the Americas. See accommodation near the Great Pyramid of Cholula.
Other impressive archaeological sites in the region include Cacaxtla Archaeological Site, Xochitecatl, and Cantona.
If you're traveling with kids, Puebla is also home to several family-friendly attractions like the Estrella de Puebla observation wheel, Parque Ecológico, Museo de la Evolución Puebla, and Paseo De Los Gigantes Park. Likewise, outdoor enthusiasts and nature lovers will enjoy the many natural wonders around Puebla, including La Malinche National Park and Izta-Popo Zoquiapan National Park.
Due to its location in the heart of Mexico, Puebla has a subtropical highland climate. In the winter, temperatures usually hover between 5 and 23 ºC. Meanwhile, summers are warmer, with temperatures ranging from 13 to 29 ºC. Because of its constantly pleasant temperature, Puebla is an ideal tourist destination year-round. However, most of the rains take place in the summer and fall, so the best time to visit Puebla is during the spring (March-June) when it's warm enough to enjoy outdoor activities without having to worry about the rain.
To get to Puebla by air, the city is best reached through Puebla International Airport. This airport offers domestic connections and a few international operations, mainly to Texas and the US South. Much busier and 100 km (60 mi) away, Mexico City International Airport offers domestic connections to every corner of Mexico, as well as a wide range of international flights to the US, Canada, Latin America and Europe.
Puebla is also well-connected by long-distance buses to the rest of Mexico. See long-distance bus routes, schedules & fares.
Local transportation in Puebla consists of several bus lines that connect the city's outlying districts as far as Mexico City. The City Center is very pedestrian-friendly, and there are also taxi services available. You can also rent a cheap car during your stay.
The best area to stay in Puebla is the Historic City Center. This old district, a UNESCO World Heritage Site, is home to the city's main cultural attractions, as well as some of Puebla's best restaurants, nightlife, and shops. It is also where the best boutique hotels are located. See accommodation in Puebla City Center.
Other great options to consider when choosing the best location in Puebla include the business-oriented areas of Angelópolis and Finsa.
Keep reading to find out more about the best areas to stay in Puebla.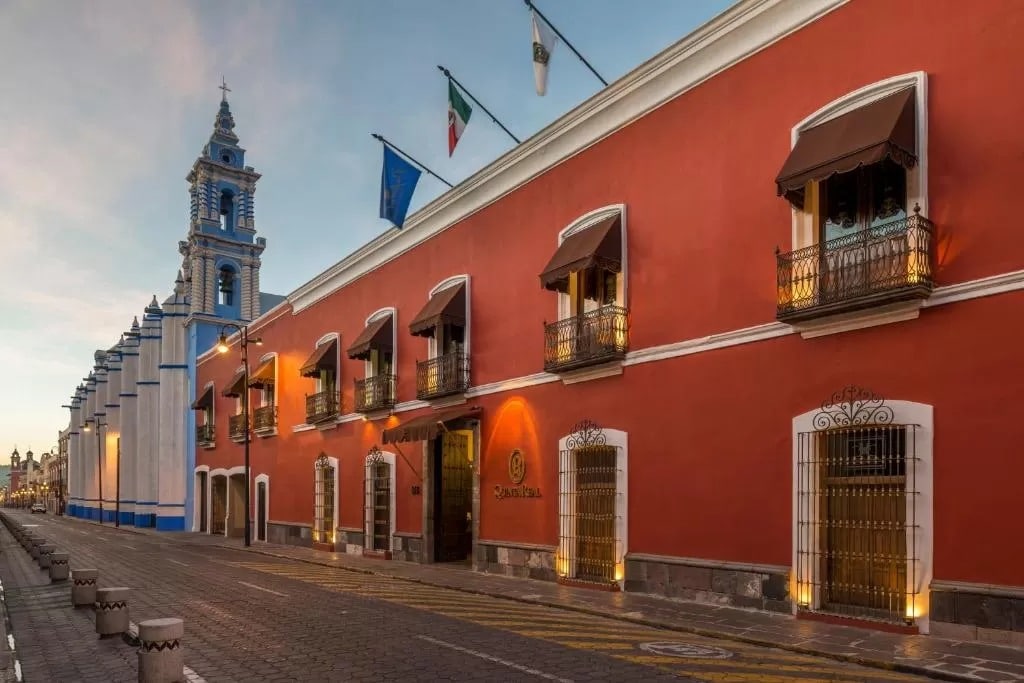 ---
Best Location in Puebla, Mexico: A Quick Guide
Below, you'll find a list of the best areas to stay in Puebla depending on your travel style and what you may be planning to do during your trip. Keep reading below to find all the specific information you need about each particular area mentioned here.
---
Best Hotels in Puebla, Mexico by Theme
Something more specific in mind? Here's a list of some of the best hotels in Puebla. No matter your reason for visiting the city or style, you'll find it here!
---
The Best Areas to Stay in Puebla City, Mexico
1. Recommended area: Puebla Historic City Center
The Historic Center of Puebla is at the foot of the Popocatepetl volcano and offers the best views of the city.
In this area, there are some monuments declared as World Heritage Sites.
The City Center is home to about 70 historic churches and thousands of colonial buildings decorated with bricks and tiles.
Here, you'll find the Cathedral of Puebla, the largest in Latin America, and the Chapel of the Rosary, of Mexican Baroque style, internally covered with gold. Another attraction in this area is the Museum of the Revolution.
Almost the entire movement in Puebla revolves around the Zocalo, the main square where visitors and locals gather, as it is the historical, cultural, political and religious epicenter of the city.
Also, this area has lively bars to enjoy the nightlife of Puebla.
The City Center is the best area to stay in Puebla, as it brings together most of the boutique hotels that, in addition to comfort, combine design and history for an unforgettable stay.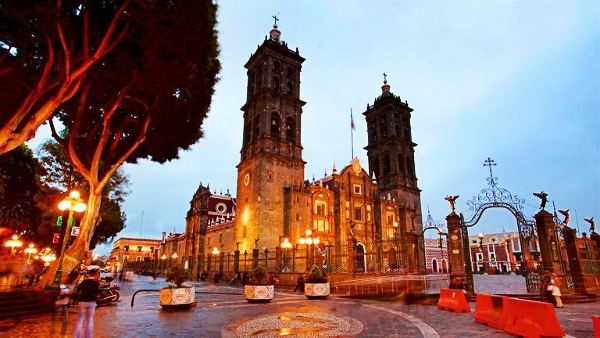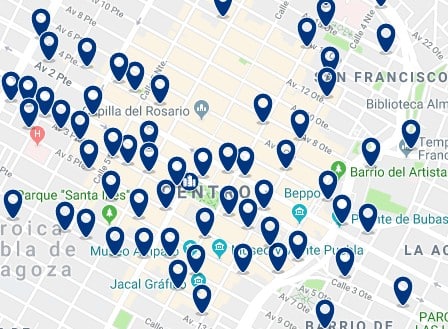 Why is this a recommended area to stay in Puebla, MX:
Heart of the city
Boutique-type hotels
Best area for sightseeing
Great food
Great views of the Popocatepetl volcano
Good bars
---
2. Angelópolis
Angelópolis is the financial, commercial and business area of Puebla par excellence, creating an interesting contrast with some colonies and towns around its perimeter.
The main panoramic views over Angelópolis can be seen from its skyscrapers, full of opulent residential complexes, cultural centers, parks, and shopping centers.
The Angelópolis Shopping Center is also located in this area, a commercial and services center with shops, cinemas, and restaurants.
The Natyvo Tower, located next to the Vía Atlixcáyotl, is known as the tallest building in the area and is a modern tower with a shopping center and offices from which excellent views can be seen.
Here is the popular Estrella de Puebla, an observation wheel that is located inside the Linear Park and is the largest in the world.
Angelópolis is also among the best areas to stay in Puebla, whether for business or pleasure, with comfortable, well-equipped hotels at affordable costs.
---
3. Finsa
Finsa is an industrial area dedicated to the textile, automotive and, currently, computer programming fields.
It is known as the financial district of Puebla, a business emporium constituted by industrial parks with world-famous brands in the automotive industry, including Volkswagen, Audi, Nissan, among others.
Finsa is at the end of the Ecological Peripheral Ring of Puebla, on federal highway 119D, better known as the Puebla-Tlaxcalaen highway.
Finsa is considered a purely business district in whose surroundings there is a good network of comfortable and affordable hotels to meet the demand of visitors who choose the area for work purposes. Therefore, it is a recommended area to stay in Puebla.
---
Read this in other languages