Where to Stay in Cuenca – A Guide to this Ecuadorian City
Cuenca, officially Santa Ana de los Ríos de Cuenca, is a city in Ecuador. Located in a valley in the south of the Ecuadorian Andes, Cuenca is famous for its well-preserved colonial-era Historic City Center, its riverfront promenade, and Panama hats. In this post, we will explore the best areas to stay in Cuenca, Ecuador.
Cuenca's Historic City Center, a UNESCO World Heritage Site, is one of the best examples of Spanish-Reinassance and colonial architecture in the Americas. Some of its main attractions include the blue-domed Cathedral of the Immaculate Conception, Calderón Park, Economuseo Municipal Casa del Sombrero, Mercado 9 de Octubre, Museo Municipal de Arte Moderno, Plaza Civica, and Iglesia de San Alfonso. See accommodation in the City Center.
Other important tourist sights in Cuenca, Ecuador, include the Pumapungo Archaeological Park and Museum, Puente Roto (The Broken Bridge), the Museum of Aboriginal Cultures, and El Paraíso Park.
For outdoor lovers, Cuenca is the main gateway to explore some incredible national parks and nature preserves like Parque Nacional Cajas, Amaru Zoológico Bioparque, Cerro Cabogana, and Laguna Llaviucu.
Due to its high-altitude location in the Ecuadorian Andes, Cuenca has a subtropical highland climate. Temperatures are constantly pleasant throughout the year and range between 13 and 22 ºC. March, April, and May are the wettest months. Because of its constantly pleasant temperatures, Cuenca can be considered an ideal travel destination year-round. That said, the best time to visit Cuenca is during the dry season (June through August), as rains are less frequent and you can enjoy outdoor activities.
To get to Cuenca by air, the city is served by the Mariscal Lamar International Airport. Located in central Cuenca, 2 km from the Historic Center, this small airport offers daily connections to Quito.
Cuenca is also very well-connected by long-distance buses to the rest of Ecuador and Peru. See long-distance bus routes, schedules & fares.
To move around the city, Cuenca has an efficient public transportation system consisting of a 10-km-long light rail line, several bus lines, and taxi services. Additionally, the Historic City Center is very pedestrian-friendly.
The best area to stay in Cuenca is the Historic City Center. This UNESCO World Heritage Site is home to Cuenca's best colonial architecture, museums, cultural attractions, nightlife, and restaurants. Centro also offers the best boutique hotels in town. See accommodation in Cuenca City Center.
Keep reading to find out more about the best location in Cuenca for tourists.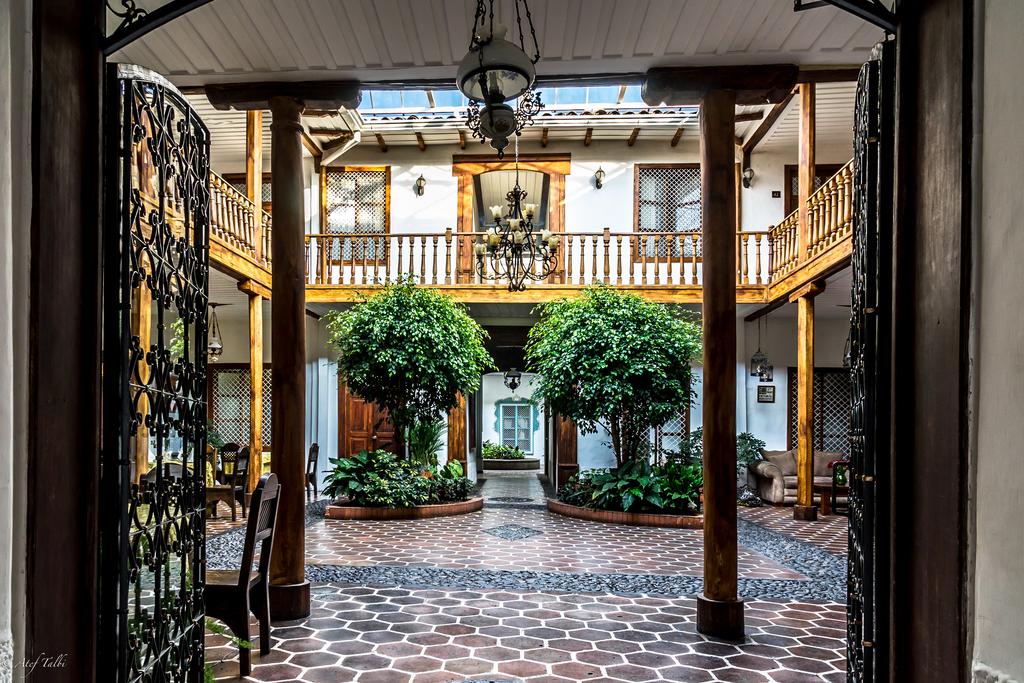 The Best Areas to Stay in Cuenca, Ecuador
1. Recommended area: Cuenca Historic City Center
Cuenca's Historic City Center is located north of the Tomebamba River.
This historic area is centered around Calderón Park, the city's foundation place by the Spanish in 1557.
The Historic Center of Santa Ana de los Ríos de Cuenca UNESCO World Heritage Site comprises "the territory that was occupied by the town of Cuenca until the first half of the 20th century, as well as the archaeological site of Pumapungo and the corridors that include the ancient access routes to the town".
Like many Spanish cities in the Americas, Cuenca's City Center has an orthogonal town plan.
This area is home to 18th and 19th-century palaces, two cathedrals, several smaller churches, parks, and public buildings.
Other than gorgeous colonial and republican architecture, Cuenca's City Center offers several cultural and tourist attractions including the Municipal Museum of Modern Art, Museo de las Madres Conceptas, Remigio Crespo Toral Museum, Museo de Historia de la Medicina, and Museo de las Culturas Aborígenes.
Long before the Spanish set foot in present-day Ecuador, this valley was inhabited by the Inca-Canari people. The Pumapungo Archaeological Site, located south of the colonial city center, is one of the most important Inca ruins north of Peru.
Centro Histórico is home to the main commercial and nightlife areas in this Ecuadorian town. Calle Larga, spanning 15 blocks, is full of shops, craft markets, live music venues, cafés, art galleries, bars, and nightclubs.
The best way to move around Centro Histórico is on foot. That said, Cuenca's light rail system crosses the city's Old Town east to west through Mariscar Lamar and Gran Colombia streets. Additionally, the area is served by bus lines and taxis.
The accommodation offer in Cuenca's City Center is very wide. Here, you can find everything from the cheapest hostels and posadas to the most luxurious boutique hotels, many located in refurbished colonial structures.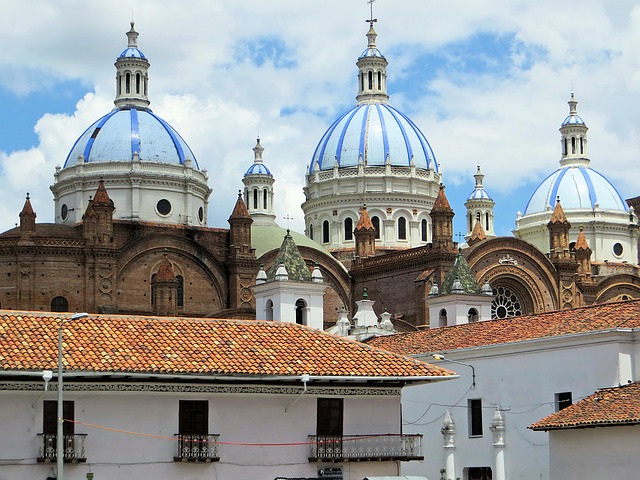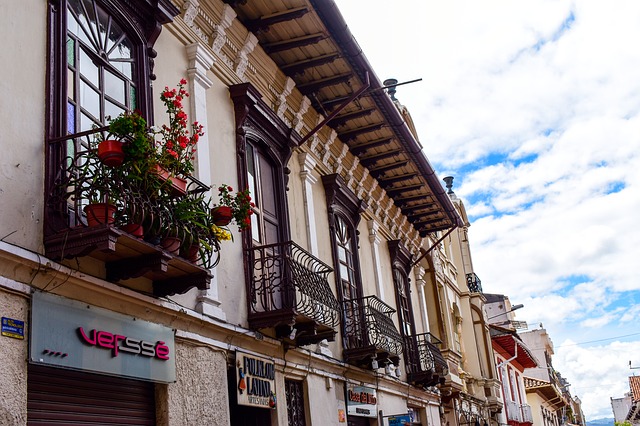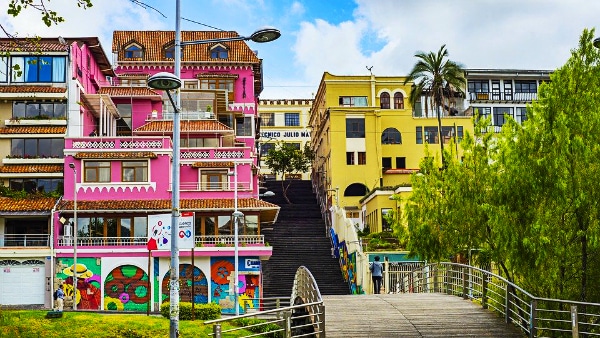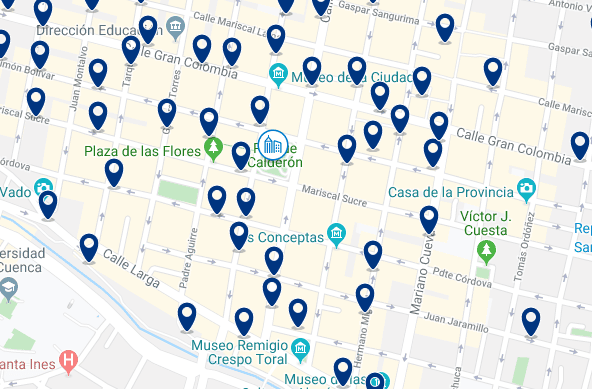 Why is this a recommended area to stay in Cuenca, Ecuador:
Best area for nightlife
Museums and galleries
Best area for sightseeing
---
2. Near Mariscal Lamar International Airport
Mariscal Lamar International Airport is the main air terminal of the city, located northeast of Cuenca, between the Elia Liut and España avenues.
The surroundings of the airport offer a quiet, residential, and family-friendly environment, very different from Cuenca's center.
It is an area with many parks such as Tosi Park, Alborada Park, Miraflores Park, and the popular Plaza Abdon Calderón.
The main bus terminal of the city is a 12-minute walk from the airport, on España Avenue. From there, you can reach every corner of Cuenca and long-distance buses to other cities in Ecuador and Peru.
The airport operates daily flights to Quito.
The airport is the best area to stay in Cuenca, Ecuador, for weekend trips, during a layover, or for business travelers.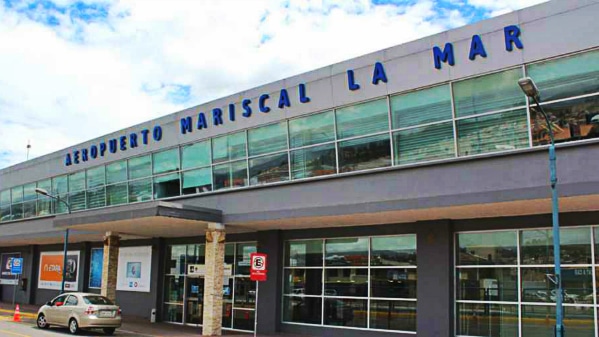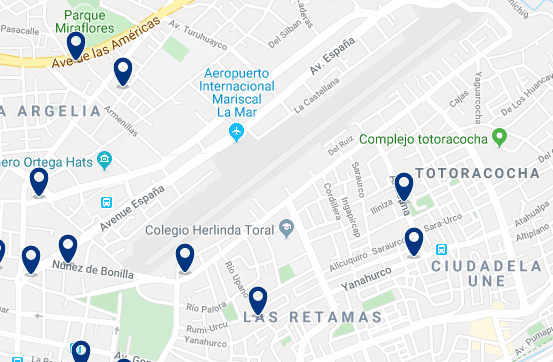 Why is this a recommended area to stay in Cuenca, Ecuador:
Bus terminal
Best area for business travelers
Parks and green areas
---
Read this in other languages