Where to stay in Quito – A guide to the Ecuadorian capital
Quito (formerly San Francisco de Quito) is the capital of Ecuador, as well as its main cultural, economic, and political center. This city is located in the Andes, bordering on the north with the Casitagua Volcano, on the east with the Falla de Quito, on the west with the eastern slopes of Pichincha and on the south with the Atacazo Volcano.

Among all the attractions in the center, some of the highlights are the San Francisco Church, museum, and square, all of the colonial-style architecture. The Museum of San Francisco, in particular, exhibits more than 3000 works of art, so it is a mandatory stop for those who visit the Ecuadorian capital.
Quito is known, among other things, for having the largest historical center in America, considered a World Heritage Site by UNESCO thanks to its beauty and countless cultural, architectural, and tourist attractions.
However, Quito is still a modern city with many entertainment options for all ages. In addition to its incredible gastronomic offer that includes traditional dishes and international cuisine, Quito's nightlife is very lively, with a large number of bars and clubs that attract visitors who love the party.
When planning a trip to Quito, the best time is the dry season (with lower temperatures but a decrease in rainfall), which covers June to September. However, many refer to Quito as the "city of eternal spring" because its temperatures are pleasant for most of the year.
When it comes to Quito, there is a Metrobus system with five lines that move through a large part of the city constantly. Similarly, Quito has trolleybuses and it is estimated that its subway (which will have 15 stations at the beginning) will be inaugurated soon.
Choosing where to stay in Quito depends on several factors, the most important being your hobbies and interests. If you are looking for fun and entertainment, La Mariscal and its hectic nightlife is ideal for you(See accommodation in La Mariscal). On the other hand, to know the historical heritage, it is advisable to stay in the Old Town (See hotels in Centro Histórico).
This is a guide with the best areas to stay in Quito, Ecuador.
The best areas to stay in Quito, Ecuador
1. Our favorite area: La Mariscal
Mariscal Sucre (better known as La Mariscal) is the epicenter of the nightlife and gastronomy of Quito, so it is common to find a crowd of foreigners and inhabitants in this area of the city during weekends.
This lively district includes Plaza Foch (Foch Square), it's maint point of interest, called "la zona" (the zone) because it has the most popular clubs, bars and restaurants in all of Quito in its surroundings. It is in this area that different musical genres such as rock, electronic and Latin music come together to fill the nights in the city with rhythm.
Another attraction of La Mariscal is the Artisan Market, where it is possible to acquire crafts, accessories and different types of souvenirs to give to family and friends or to add to your collection.
Because it is an area of vital importance in Quito, La Mariscal connects with the other neighborhoods and districts by several bus lines.
La Mariscal is one of the best areas to stay in Quito, Ecuador, if you want to know what Quito's nightlife has to offer. However, the noise of its streets may not be ideal for family trips or visitors seeking tranquility during their stay.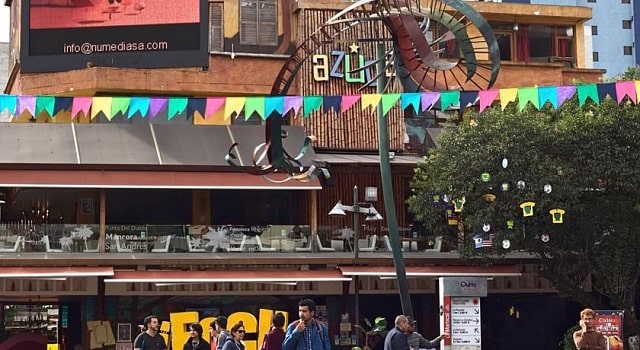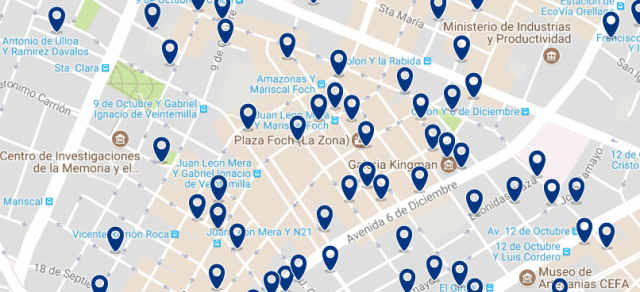 Why is this a recommended area to stay in Quito:
Great nightlife
Pedestrian-friendly
Plaza Foch
Mercado Artesanal
Connected through public transport
High-end restaurants
---
2. Centro Histórico (Old Town)
Quito's Centro Histórico (Old Town) is, as its name indicates, the district of the Ecuadorian capital that protects most of its cultural heritage, and colonial architecture.
In the streets of the Old Town, there are important museums and churches. Of the churches, the most outstanding are the Church of San Francisco, the Basilica of the National Vote and The Society of Jesus. On the other hand, the most important museums for those who visit Quito are the Casa del Alabado (with pre-Columbian art) and the Capilla del Hombre (Chapel of Man), with paintings by the Ecuadorian artist Oswaldo Guayasamín that portray the traditions of the first civilizations.
Other attractions of the Old Town are the Palacio de Carandolet (seat of the Ecuadorian government) and Plaza de la Independencia, which is Quito's main public square.
The Old Town is one of the best areas to stay in Quito (Ecuador) to get to know the history of the city. In addition, this district has the best public transport connections, making it easy to move to other neighborhoods.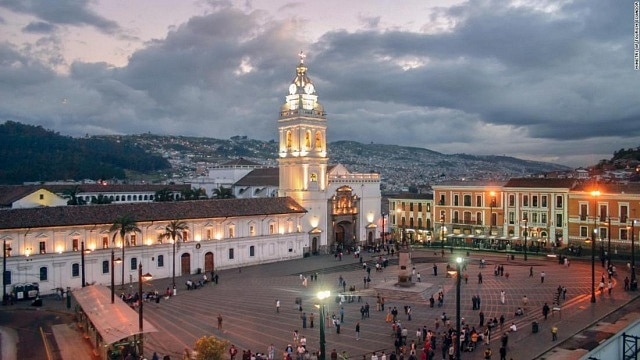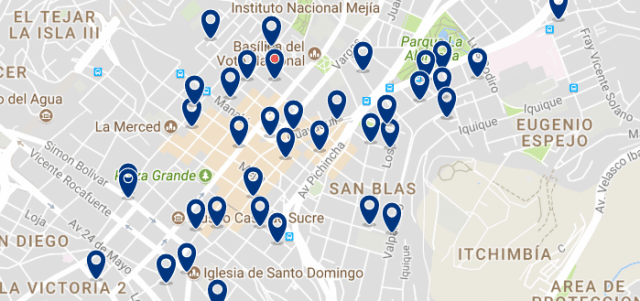 Why is this a recommended area to stay in Quito:
Historic area
Palacio de Carandolet
Iglesia San Francisco
Pedestrian-friendly
Plaza de la Independencia
Great public transport connections
---
3. La Floresta
La Floresta is, technically, a part of La Mariscal, but deserves to be mentioned separately, since it is the bohemian area of Quito par excellence, with hipster-friendly aesthetic venues.
This district is located to the southwest of La Mariscal and has many restaurants, bars and cafes that make it one of the places with the greatest gastronomic offer in Quito. In addition, there are many food trucks in La Floresta that offer delicious typical Ecuadorian dishes.
Another reason to stay in this area is the Mercado de La Floresta, a fair that takes place every Thursday on Calle Galavis and offers food that is friendly to the environment.
In addition, there are bus stations throughout the length and breadth of La Floresta that connect this neighborhood with the rest of Quito.
La Floresta is one of the best areas to stay in Quito, Ecuador, to know the alternative scene of city.
---
4. La Carolina
La Carolina is probably the greenest area of Quito.
Within this district is the famous Parque La Carolina (La Carolina Park), with 67 hectares that families enjoy on a daily basis, especially on the weekends.
Inside the park, it is possible to visit the Botanical Garden of Quito, with a wide variety of flowers and plants, including orchids. In addition, it also has in its spaces the Museum of Natural Sciences, with all kinds of exhibitions.
Due to its location next to the park, La Carolina is a neighborhood where peace and tranquility are common, ideal for tourists looking for calm during their stay or for athletes who do not want to neglect their exercise routine while traveling.
In addition, La Carolina is close enough to La Mariscal to enjoy the nightlife of that district and then return (either by bus or walking) to rest.
La Carolina is one of the best areas to stay in Quito (Ecuador) to breathe fresh air, go shopping and enjoy excellent cuisine.
---
5. Guápulo
Guapulo is located north of Quito, on a small hill that creates a cozy atmosphere, especially if you add the typical Ecuadorian houses with white walls and tile roofs to the mix.
Within Guápulo is the Camino de Orellana or Camino de los Conquistadores, its main access route. Around this stone street you can see different entertainment venues with colorful facades that fill this area with life.
One of the main attractions of the district is the Church of Our Lady of Guápuio, located at the end of Camino de Orellana, 2,690 meters above sea level.
In this part of Quito it is possible to stay in charming hotels and guesthouses that will make your trip a unique experience. However, if you are looking for tranquility when choosing to stay in this colonial neighborhood, avoid visiting it in September, when their fair fill with music and noise the area.
Guapulo is one of the best areas to stay in Quito, Ecuador, if you want to discover another facet of the Ecuadorian capital.
---
Read this in other languages