Where to Stay in New Orleans – A Guide to "The Big Easy"
New Orleans is located in Louisiana's southeastern region, along the Mississippi River, and is the state's most populous city. Also known as "The Big City," New Orleans is renowned for being the birthplace of Jazz music, having a French Quartier with beautiful 18th-century buildings, and its wild Mardi Gras celebrations. In this post, we'll explore the best areas to stay in New Orleans, LA.
The French founded this city in 1718 under the name "La Nouvelle-Orléans." Then, in 1763, France would offer NOLA to Spain as a way o thank the country for its help facing a common enemy: England. Afterward, New Orleans would go back to being a French colony in 1801 until the Louisiana Purchase in 1803. So, this town stands out because of the multicultural influences of its cuisine, architecture, and culture.
Some of the most visited tourist and cultural attractions in New Orleans are in the French Quarter, including the impressive St. Louis Cemetery and Bourbon Street, which hosts the Mardi Grass parades every year and is home to many bars. This area also showcases the city's deep connection to voodoo, with a museum dedicated to this religion's history and Marie Laveau's House Of Voodoo.See accommodation in French Quarter.
Although "family-friendly destination" may not be the first thing that comes to mind when you think of New Orleans, the city has some attractions for all ages too. You can choose between attractions like the Audubon Aquarium of the Americas, the Audubon Zoo, the Louisiana Children's Museum, the Carousel Gardens Amusement Park, Storyland, and the City Putt Miniature Golf Course if you travel to New Orleans with kids.
If you enjoy time outdoors and nature, New Orleans also has several urban parks, natural areas, and reserves. Some of the best natural spaces to visit in NOLA are the City Park, the Jean Lafitte National Historical Park & Preserve, the New Orleans Botanical Garden, Louis Armstrong Park, and the Longue Vue House and Gardens.
New Orleans has a humid subtropical climate that is famous for its hot, humid summers, with an average daily temperature of 83.3 °F (28.5 °C) and tons of rain. Meanwhile, winters in this Lousiana city are short and mild, with temperatures around 53.4 °F (11.9 °C). So, the best time to visit New Orleans is during the winter, fall, or early spring (October through May) when you can do outdoor activities or go to events and festivals without worrying about the oppressive heat. That said, be ready for rainfalls at any time.
To get to New Orleans by air, there's the Louis Armstrong New Orleans International Airport, located in Kenner, Louisiana, a mile (18 km) west of downtown NOLA. This air terminal has several domestic flights and international connections to cities in the UK, Canada, Mexico and Panama.
You can also get to New Orleans by train. The New Orleans Union Passenger Terminal, located in the downtown area, is the city's main railway. This station is served by companies like Amtrak, with three long-distance train lines: City of New Orleans, which reaches Chicago, the Crescent, which gets to NYC, and the Sunset Limited that operates between NOLA and Los Angeles. See train routes, schedules & fares.
Additionally, New Orleans is connected to other places in Louisiana and the US through a network of long-distance buses. See bus routes, schedules & fares.
To move around New Orleans, there are four streetcar lines that connect the city's different areas, some of which are historic landmarks. NOLA also has ferries, regular taxis, mobile apps like Uber and Lyft, and you can also choose to rent a car during your stay.
The best area to stay in New Orleans is the French Quarter. This charming district is home to the main historical attractions and museums in the city. Here, you'll also find the best nightlife, restaurants and events in NOLA. See accommodation in the French Quartier.
Other great districts to keep in mind when choosing the best location in New Orleans include the hipster-friendly Warehouse District, the jazz paradise Tremé, Downtown New Orleans, Faubourg Marigny, and Uptown New Orleans.
Keep reading to find out more about the best areas to stay in New Orleans, LA.
The Best Areas to Stay in New Orleans, Louisiana
1. Our Favorite Area: French Quarter
The French Quarter is located near the Mississippi River, in the center of the city. It is known for being the oldest and most multicultural district in New Orleans.
Among the main attractions of the French Quarter are the French Market and the St. Louis Cathedral.
Bourbon Street is in this area and is home to the best nightlife in New Orleans, including bars, venues with live jazz music, and clubs.
The French Quarter is also the best area to stay in New Orleans for Mardi Gras, as it is where most of the events take place. In addition, it is the LGBT-Friendly neighborhood of the city par excellence.
This neighborhood has several tram stations on its main avenues and at meeting points such as the French Market, Woldenberg Park, and the New Orleans Aquarium, so moving to other areas is not a complicated task.
It is important to take into account that this area is highly prized during dates such as Mardi Gras, so it is recommended to book accommodation in advance, as hotels tend to fill up quickly and the cost increases as celebrations approach.
The French Quarter is the best area to stay in New Orleans for its central location, public transport connections, variety of hotels and nightlife.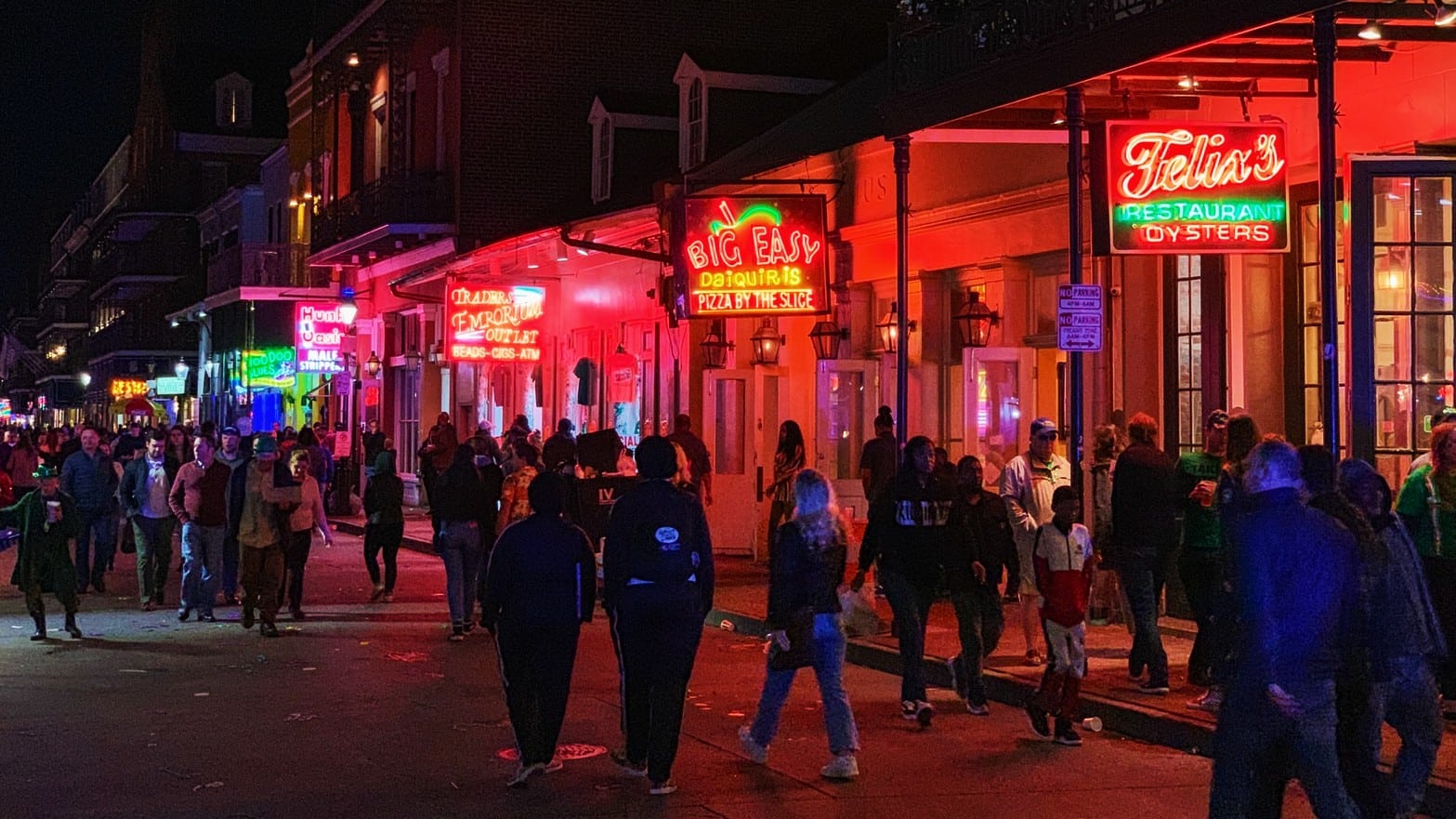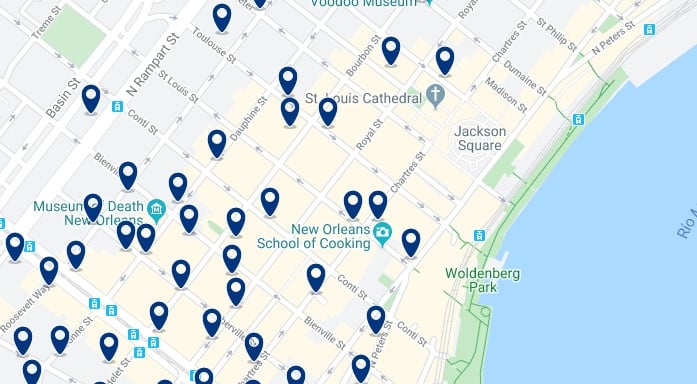 Why is this a recommended area to stay in NOLA:
Best area for sightseeing
Mardi Gras
Best area to stay without a car
Gay-friendly area
Best area for nightlife
Good transport connections
---
2. Warehouse District
The best area to stay in New Orleans, after the French Quarter, is the Warehouse District, as it is the city's hipster neighborhood.
It is an area that is located next to the French Quarter, formed on an old industrial area from the 19th century that has become a district full of art.
Today, the Warehouse District gathers most of New Orleans' museums and contemporary art galleries.
There are many restaurants with Cajun-inspired flavors here, as well as cafes for a snack before touring the area's main tourist attractions.
Warehouse District is also well-connected to other neighborhoods through public transport.
Places to see in this area include the National WWII Museum, Downtown Market and the Louisiana Children's Museum, with fun for the whole family.
Warehouse District is a recommended area to stay in New Orleans, as it is close to the most important attractions and has a wide variety of hotels of all kinds.
---
3. Tremé
Treme (or Tremé – Lafitte) is an old neighborhood located northeast of the French Quarter.
This area is highly influenced by African American culture, which you can see in its streets, restaurants, and museums.
Historic attractions in Tremé include the Tremé Petit Jazz Museum, the Faerie Playhouse, and the Blackstreet Culture Museum.
African-American-influenced restaurants abound in this area, along with jazz bars and historic parks, so there's no need to go elsewhere for good food or fun.
In addition, there are important spaces such as the New Orleans Jazz National, the Historical Park and the Louis Armstrong Park in this area.
The best way to get to other neighborhoods from Tremé is by using the bus service since the tram is not very frequent in this area.
Tremé is another recommended area to stay in New Orleans as it is close to the French Quarter and has cheap hotels.
---
4. Downtown New Orleans
Downtown New Orleans is located between the French Quarter and Central City.
This area, like many central districts of the United States, has it all, from skyscrapers and offices to luxurious restaurants and boutiques.
Staying in Downtown allows you to enjoy museums, as well as historical buildings that have been restored and turned into galleries.
This is the best area to stay in New Orleans for business travelers, as it is home to most of the office complexes and business-type hotels in the city.
Because it is a small neighborhood compared to others in New Orleans, Downtown can be explored on foot and, to go to other neighborhoods, you can use the tram.
This area is an important connection point with other cities in the country, thanks to the Union Passenger Terminal, the main train station in New Orleans that allows you to get to and from cities like Chicago or New York.
Downtown is among the best areas to stay in New Orleans for its super central location and hotels of all categories.
---
5. Faubourg Marigny
Faubourg Marigny is a suburb located on the banks of the Mississippi River, full of jazz, punk-style clubs, luxury homes, and hotels with stunning views.
This area has an alternative atmosphere and is another of New Orleans' hipster neighborhoods.
Faubourg Marigny serves as an escape route to the bustling French Quarter, as this area tends to be less frequented by tourists during the spring and festival season.
Faubourg Marigny has many cafes, boutiques, and attractions such as the Frenchmen Art Market.
This is a fun neighborhood with a great gastronomic offer and places as curious as the Voodoo Spiritual Temple.
To use the tram from Faubourg Marigny, it is necessary to move to St. Claude Avenue and Esplanade Avenue, where the main stations of the neighborhood are located.
Faubourg Marigny is another of the best areas to stay in New Orleans since, although it does not have luxury hotels like other areas in the city, it does have cheap options in terms of pensions and hostels.
---
6. Uptown New Orleans
Uptown is located to the west of the French Quarter and is a residential area made up of a series of blocks centered at the intersection of Jefferson and St. Charles avenues.
Places to see in Uptown New Orleans include the Garden District, the New Orleans Public Library, and Lafayette Cemetery, which is visited by hundreds of tourists a year for its impressive mix of architectural styles.
Uptown is a quiet area to stay in New Orlean , but it still has restaurants and bars with live jazz.
The area is crossed by the tram and has a few bus stops, making it a good area to stay in New Orleans without a car.
However, those travelers staying in Uptown New Orleans with a car have several parking spaces.
On the other hand, here is Magazine Street, a boulevard full of shops for all tastes.
Uptown is the best area to stay in New Orleans if you are looking for tranquility, but not far from Mardi Gras and other popular celebrations in the city.
---
Read this in other languages
|ES| Dónde alojarse en Nueva Orleans, Luisiana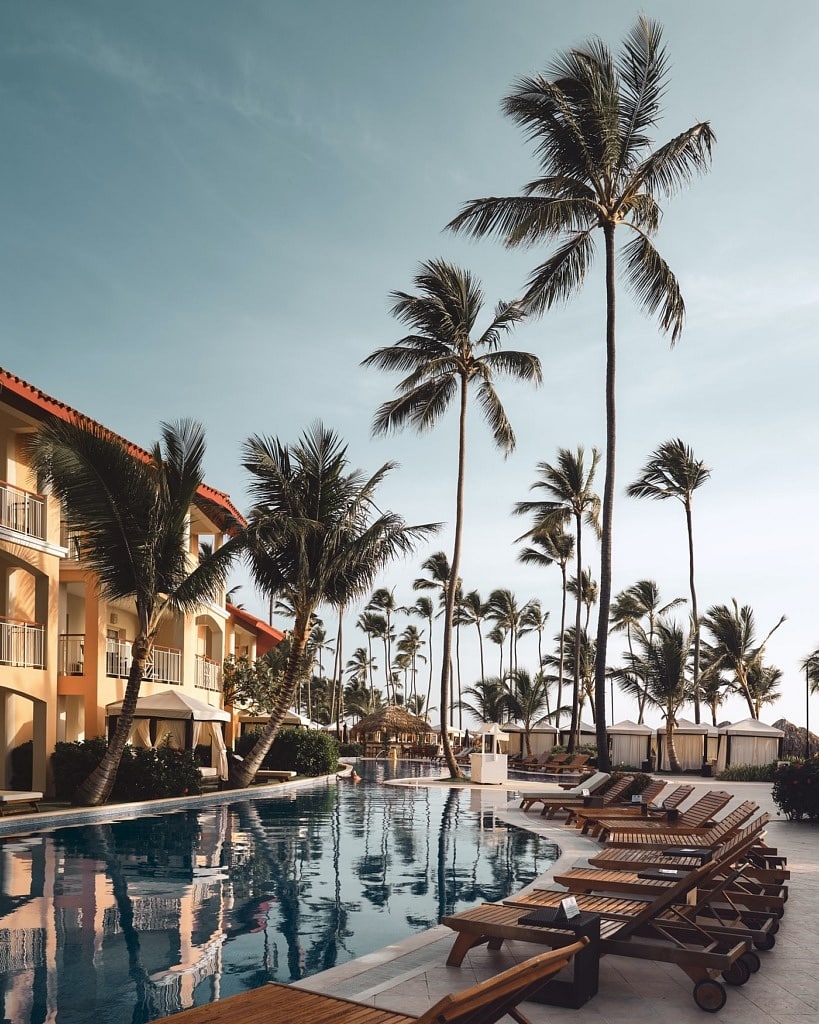 Where to stay in other cities