The Hamptons, located on the eastern end of Long Island in New York, is a collection of seaside communities known for its extensive stretches of beaches and luxurious atmosphere. In this post, we will discover the best areas to stay in The Hamptons, NY.
---
The tourism industry in The Hamptons is largely seasonal, with visitors flocking to its picturesque towns during the summer months for beach vacations and upscale relaxation. The region is famous for its pristine beaches, charming shops, fine-dining restaurants, and scenic vineyards. It is a favored destination for those seeking a high-end experience with a relaxed atmosphere.
The best time to visit The Hamptons is between May and September, when temperatures are warm, and beach activities are abundant. Travelers can fly into John F. Kennedy International Airport or LaGuardia Airport in New York City and then take the Long Island Rail Road (LIRR) or drive approximately 90 miles east to reach their destination in The Hamptons. Once in the region, getting around can be done by rental car or using the local Hampton Jitney bus service.
The most desirable area to stay in The Hamptons is East Hampton. This town offers a mix of beautiful beaches, such as Main Beach and Georgica Beach, as well as luxury shopping on Main Street and Newtown Lane. The vibe in East Hampton is both sophisticated and cozy, with an air of exclusivity.
Other great towns to consider staying in are Southampton, Montauk, and Sag Harbor. Southampton provides an alluring mixture of high-end shopping, historic charm, and lovely beaches like Coopers Beach. Montauk is perfect for those seeking outdoor adventures such as surfing, fishing, or hiking at Montauk Point State Park. Finally, Sag Harbor offers a rich maritime history and a picturesque waterfront with shops and restaurants.
We invite you to continue reading our guide to learn more about the best areas to stay in The Hamptons, NY.
---
---
Where to Stay in The Hamptons: Accommodations Map
---
The Best Areas to Stay in The Hamptons, NY
1. East Hampton
Our Recommended Area to Stay in The Hamptons, NY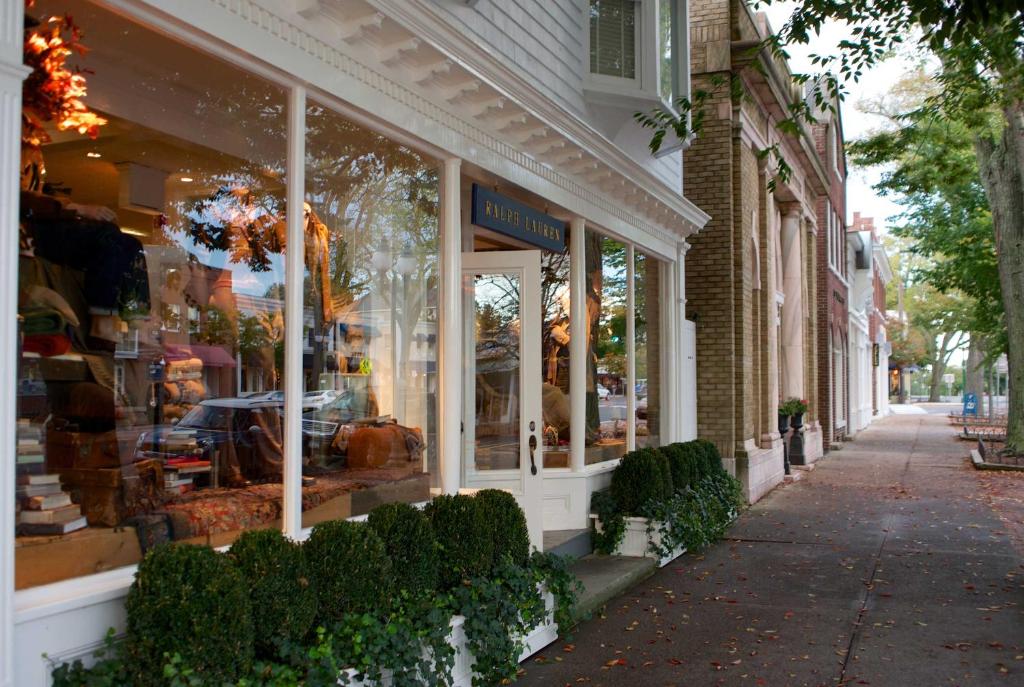 East Hampton is an upscale town within the larger region of The Hamptons, renowned for its pristine sandy beaches, remarkable natural beauty, and elite social scene. Located on the eastern end of Long Island, it lies approximately 99 miles (160 km) from Manhattan.
The town's origins date back to the 17th century, which is evident in preserved landmarks such as the 1680 "Home Sweet Home" museum and the Mulford Farm from 1690. Architecturally, East Hampton showcases diverse building styles, from colonial-era homes to modern ones.
East Hampton boasts a variety of noteworthy attractions. Among these are the Guild Hall Museum, which exhibits local and world-renowned artwork, and the Pollock-Krasner House—once home to artists Jackson Pollock and Lee Krasner—now maintained as an artists' studio. Moreover, outdoor enthusiasts will revel in exploring Montauk Point State Park or taking whale-watching excursions. Newtown Lane and Main Street present upscale shopping alternatives with high-end boutiques and designer brands.
This upscale town offers sophisticated dining options featuring local seafood and farm-to-table cuisine. Restaurants such as Nick & Toni's offer a refined dining experience. For entertainment, there are frequent cultural events at Guild Hall and serene wine bars.
Regarding transportation options, travelers often reach East Hampton using the Long Island Rail Road (LIRR) or Manhattan's Hampton Jitney bus service. Once in town, car rentals or bike rentals are popular choices for navigating the scenic roads.
Accommodation options in East Hampton range from luxurious hotels to cozy bed-and-breakfast properties. Prices can be steep during peak tourist season (May through September). Given the high demand during summer months and limited availability, booking accommodations well in advance is advisable.
Featured Accommodations in East Hampton, NY
---
2. Montauk
An Amazing Beach Destination near NYC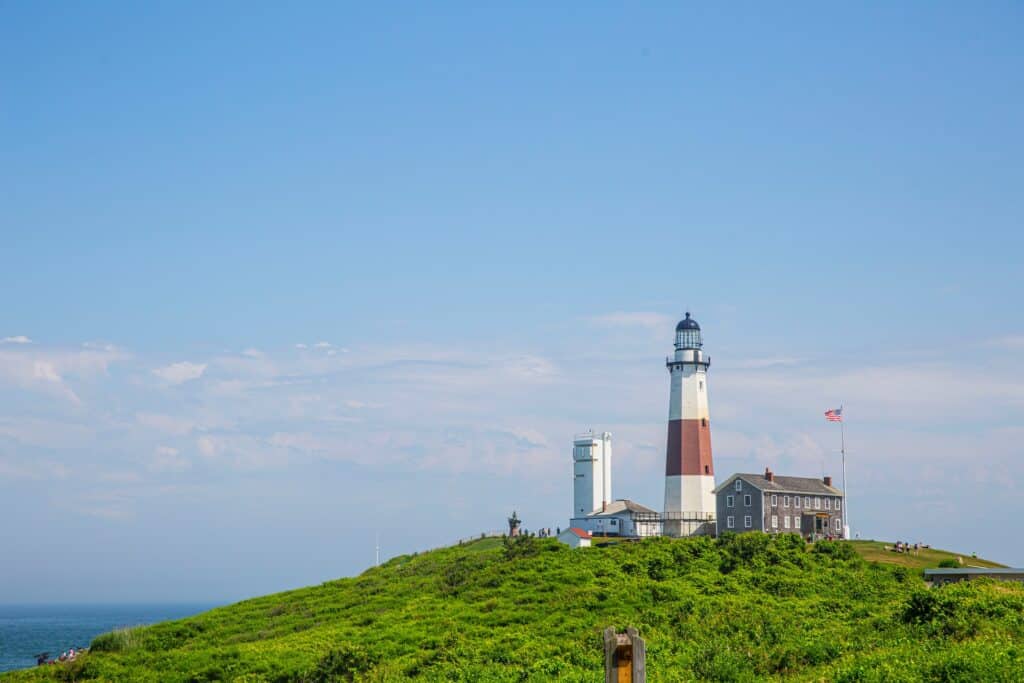 Montauk, located at the easternmost tip of Long Island in The Hamptons, is a picturesque seaside village known for its stunning natural beauty and relaxed atmosphere. This charming town is approximately 120 miles from New York City, making it an ideal escape from the bustling urban life.
Montauk's origins date back to pre-Columbian times. Later, it developed into a fishing village for early European settlers. Visitors to Montauk will appreciate the area's preserved historical appeal, evident in attractions such as the Montauk Point Lighthouse, which dates back to 1796 and is now a popular museum. Moreover, the Second House Museum provides further insights into Montauk's past through its well-preserved structure and surrounding grounds.
Several notable attractions are located in Montauk. Some of these include Camp Hero State Park, Hither Hills State Park, Gosman's Dock, Montauk Brewing Company, Ditch Plains Beach, and Deep Hollow Ranch.
Montauk's nightlife offers a more laid-back experience than its neighboring towns in The Hamptons. That said, a handful of bars and pubs offer live music, locally brewed beers, and tasty cocktails.
In terms of transportation options, having access to a car can be convenient while exploring Montauk. However, for those who prefer public transport, the Long Island Rail Road (LIRR) connects Montauk Station to various points on Long Island and Manhattan. Additionally, there are taxis as well as bike rental options available to navigate within the town.
As a popular vacation spot in The Hamptons, Montauk offers different types of accommodation ranging from luxurious resorts to upscale bed-and-breakfasts. Pricing varies depending on the time of year but is more expensive during the peak summer season.
Featured Accommodations in Montauk, NY
---
3. Southampton
The Hamptons' Busiest Town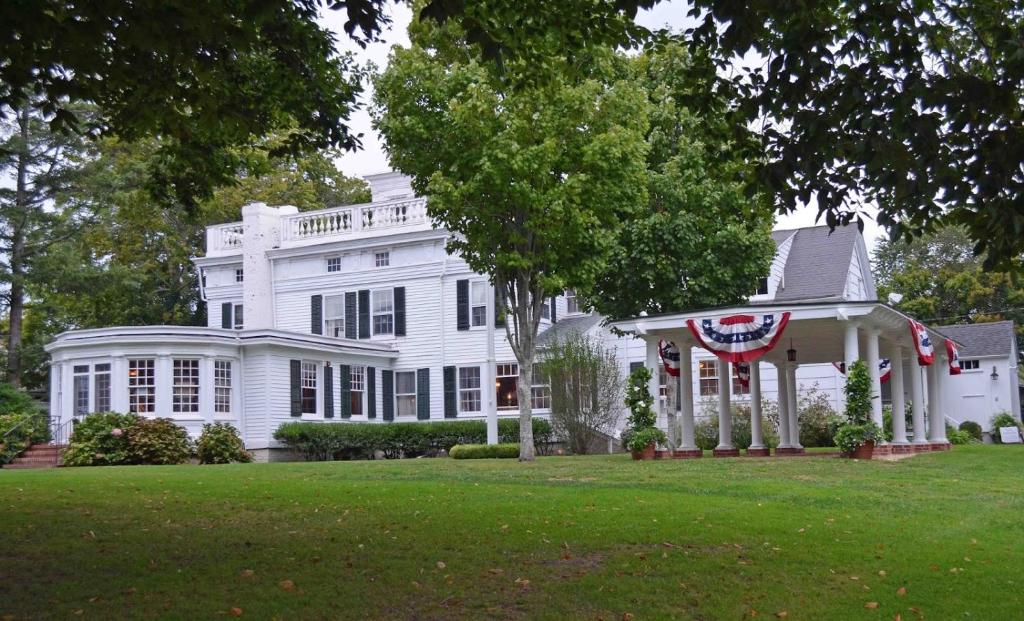 Southampton lies approximately 90 miles east of New York City. As one of the oldest settlements in The Hamptons, it reflects its rich history, architectural beauty, and coastal charm. Founded in 1640, Southampton showcases a blend of elegant mansions, historic buildings, and stunning beaches.
One of the defining features of Southampton is its architectural heritage. The area has various structures dating back to the 17th century, such as the Thomas Halsey Homestead and Old Water Mill. Meanwhile, Georgica Pond offers scenic views and a tranquil atmosphere near pristine waterfronts.
Southampton is home to numerous attractions. For art enthusiasts, galleries such as the Parrish Art Museum house works by distinguished American artists. Meanwhile, history buffs will enjoy exploring the Southampton History Museum and its exhibits about life in early America.
Shopping enthusiasts will appreciate the boutiques lining Main Street and Jobs Lane, where you can find an eclectic mix of high-end retailers as well as quaint local shops. Regarding nightlife options, Southampton offers sophisticated dining establishments and lively bars for a night out on the town.
Transportation is accessible via Long Island Rail Road trains that offer convenient travel between New York City and its easternmost points. Within Southampton, various bus lines service local routes.
Southampton has a wide range of accommodations, from charming bed and breakfasts to luxurious mansions turned into five-star lodgings. With an average price range of about $300-$500 per night during peak seasons, planning your visit in advance if you plan to go between June and September is recommended.
Featured Accommodations in Southampton, NY
---
4. Bridgehampton
The Quintessential Hamptons Experience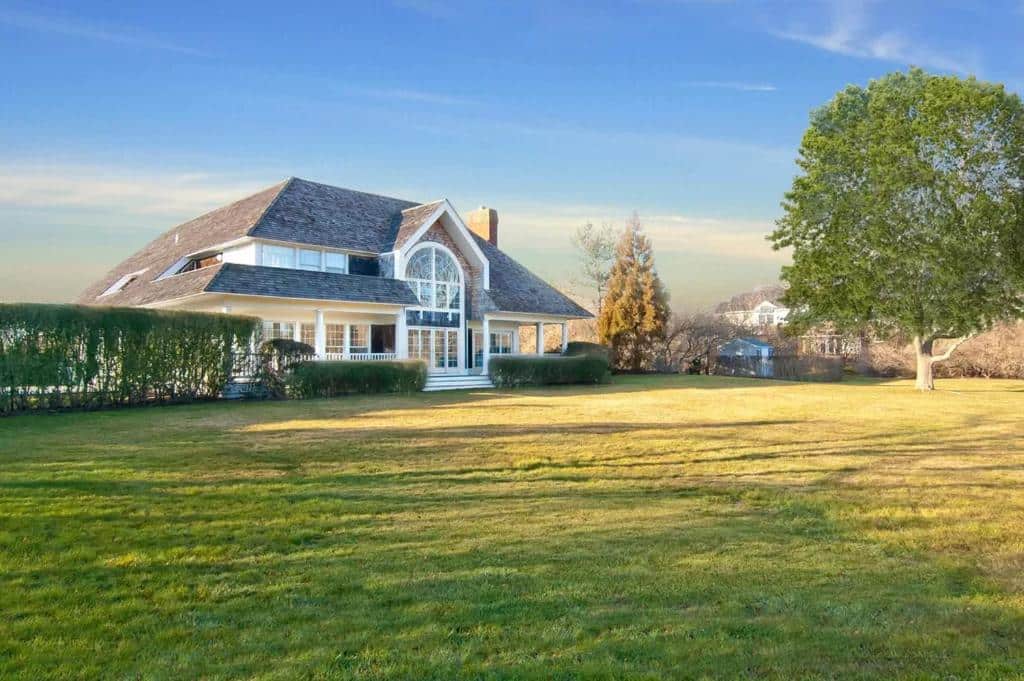 Bridgehampton, located in The Hamptons on Long Island, is positioned approximately 100 miles east of New York City. This charming area offers a combination of picturesque scenery, rich history, and upscale living, making it a popular destination for visitors looking to experience the Hamptons lifestyle.
Initially settled in the mid-17th century, Bridgehampton is home to verdant landscapes and preserved farmlands. Landmarks include the Bridgehampton Historical Society and the Beebe Windmill. For those interested in culture and art, Bridgehampton boasts the Dan Flavin Art Institute, an exhibition space dedicated to the minimalist artist Dan Flavin, and The Watermill Center, an interdisciplinary arts center featuring diverse exhibitions and performances. Shopping enthusiasts will appreciate Main Street, where upscale boutiques coexist with laid-back surf shops.
Ocean Road Beach is perfect for sunbathing, swimming, or admiring the pristine shoreline. Also, golf fans can challenge themselves on the Atlantic Golf Club's or Bridgehampton Club's fairways. Dining options are aplenty, with highly-rated restaurants like Pierre's, which serves French-American fare, or World Pie, offering an expansive menu of wood-fired pizza.
Transportation to and within Bridgehampton primarily relies on cars; however, train service via Long Island Rail Road (Bridgehampton station) is available for those traveling from New York City. Coach USA also provides bus service within the area through their Hampton Jitney line.
Accommodations in town mainly include opulent bed & breakfasts, luxurious vacation rentals, and private villas.
Featured Accommodations in Bridgehampton, NY
---
5. Sag Harbor
A Quaint Town in The Hamptons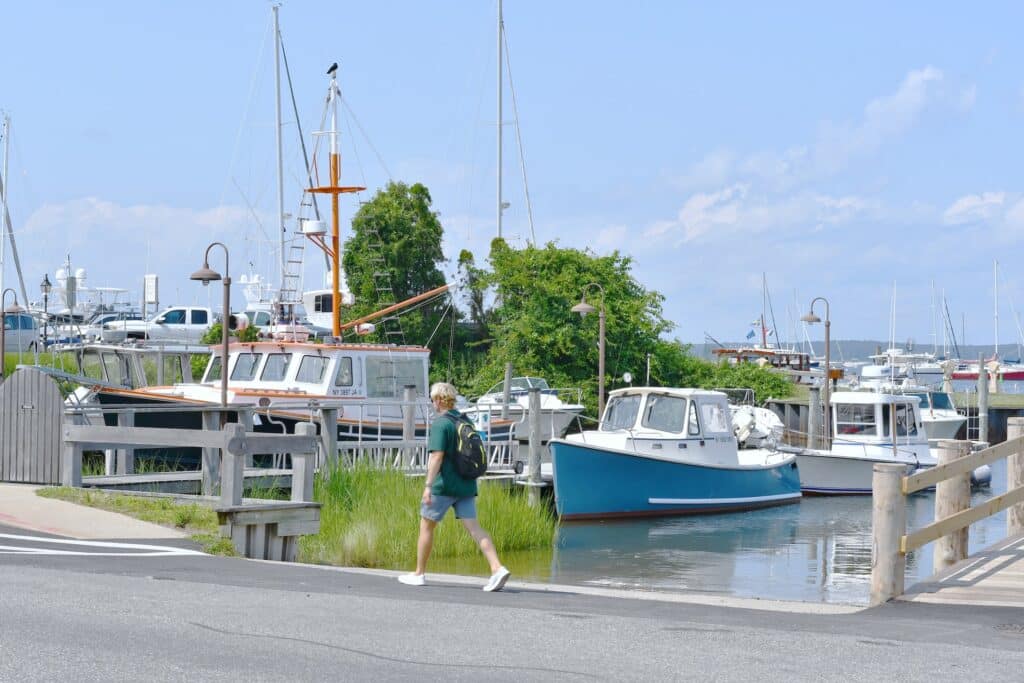 Sag Harbor is a charming historical destination about 100 miles from Manhattan. Its local culture boasts a fascinating mix of whaling and maritime history, making a great area to stay in The Hamptons.
Among the main attractions in this town are the Whaling and Historical Museum, which features exhibits on the vital role of whaling in the area's development, and the Sag Harbor Old Burying Ground, a cemetery filled with stories of local heroes and prominent families. Other points of interest include the Bay Street Theater, Marine Park, Havens Beach, and Mashashimuet Park.
Transportation options include Hampton Jitney or Hampton Ambassador buses for intercity travel to New York City. Alternatively, travelers can take taxis or ride-sharing services within the town. Most attractions in Sag Harbor are easily accessible by foot or bike due to the village's compact nature and flat terrain.
Accommodation options in Sag Harbor primarily consist of bed and breakfasts and boutique hotels that showcase local charm.
Featured Accommodations in Sag Harbor, NY
---
6. Hampton Bays
The Most Affordable Town in The Hamptons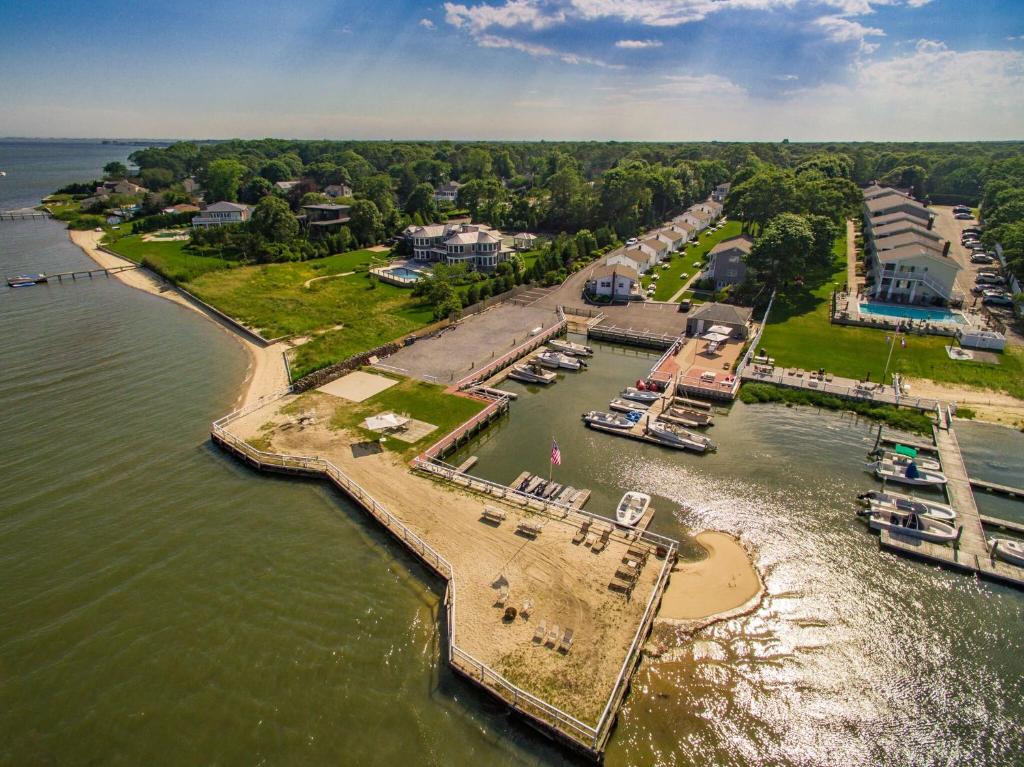 Hampton Bays, a picturesque community in Southampton, is considered a more affordable option for those seeking accommodation in the elite Hamptons region.
The area is primarily known for its stunning beaches and waterfront properties. Among these are Ponquogue Beach, with its pristine shoreline and beautiful views, and Tiana Beach, great for sunbathing and swimming.
Attractions in The Bays include Old St. Rosalie's Church, the Shinnecock U.S. Lifesaving Station, and the Shinnecock Canal and Lock, an engineering marvel that connects Shinnecock Bay to Great Peconic Bay through its unique system of waterways.
The accommodation landscape in Hampton Bays features modest motel rooms and luxury waterfront hotels with exclusive amenities. Average hotel prices start at $100 per night (which is cheap in the context of The Hamptons), with the summer months of June through August being the most popular time to visit.
Featured Accommodations in The Hampton Bays
---
Read in other languages:
|ES| Las mejores zonas donde alojarse en Los Hamptons, NY.
---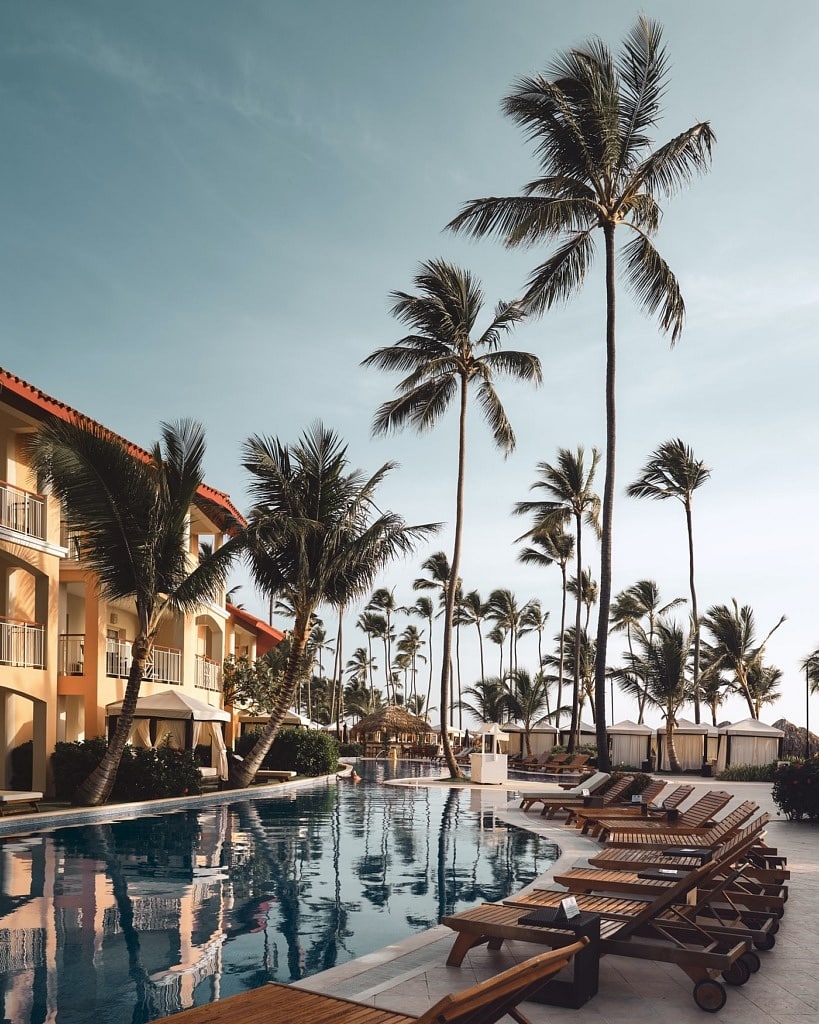 ---