Where to Stay in Cleveland – A Guide to this Bohemian and Cultural City of Ohio
Cleveland is a city located in northeast Ohio, next to Lake Erie.
This city has numerous attractions such as Progressive Field, the Rock And Roll Hall of Fame, and the Playhouse Square Center.
In addition, the city has the Cleveland Museum of Art, where you can find sculptures, goldsmiths and paintings by artists known as Fray Angelico, Titian, Van Gogh, and Picasso.

Cleveland is an easy city to get around by car due to its modern system of streets and freeways. Cleveland has an airport located to the southwest of the city, with domestic and international flights, as well as nearby hotels.
In addition, the streets of Cleveland have a very easy to understand signage system, so you can always know exactly where you are in the city.
The city's climate is based on hot and humid summers, while the cold winter can get to temperatures so low that Lake Erie freezes.
The best time to travel Cleveland is from June to September when the weather is nice to explore the different areas of the city, visit the museums and go shopping.
The best area to stay in Cleveland is Downtown since it is where most of the city's attractions are located, and it has a wide variety of hotels (See accommodation in Downtown Cleveland).
Here's a guide with the best areas to stay in Cleveland, Ohio.
The Best Areas to Stay in Cleveland, Ohio
1. Our Favorite Area: Downtown Cleveland
Downtown Cleveland is home to tourist sites like the Rock and Roll Hall of Fame and some cool neighborhoods like the Warehouse District, full of industrial buildings and offices.
Downtown is a good area to stay in Cleveland for shopping, eating or enjoying the nightlife of the city.
Other places to see in Downtown Cleveland include the aquarium, North Coast Harbor, and three professional sports arenas, making it a highly recommended area to stay in Cleveland for sports fans.
The Tower City Center is an urban complex within Downtown Cleveland featuring hotels, a shopping center, and the Terminal Tower.
Downtown is the best area to stay in Cleveland as it is the heart of the city.
In addition, getting around Downtown is easy, thanks to the available bus lines and its streets equipped to move around in your own or rental car.
As it is one of the most visited areas in Cleveland, Downtown has luxury hotels located in lively shopping streets.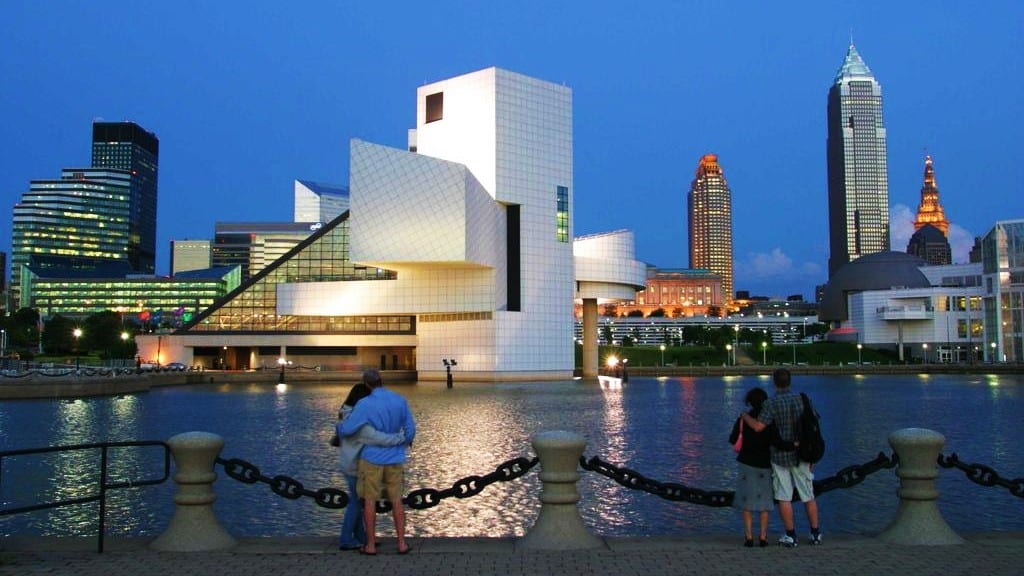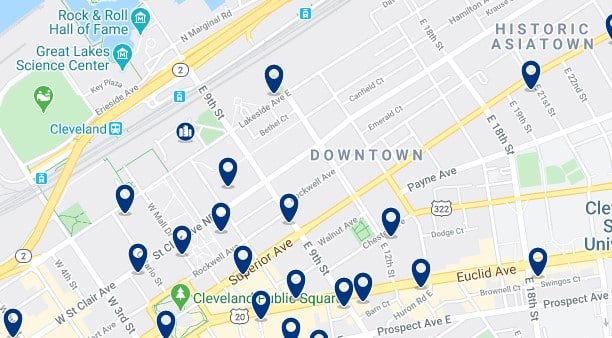 Why is this a recommended area to stay in Cleveland:
Best area for sightseeing
Rock and Roll Hall of Fame
Best area to stay without a car
Good area for shopping
Good transport connections
All kinds of hotels
---
2. Ohio City
Ohio City is considered the quintessential Cleveland art district.
This district stands out for its bohemian and multicultural atmosphere, with lots of breweries and eclectic shops where the most peculiar and unique items are found.
Ohio City is located west of the Cuyahoga River and is known for its laid back atmosphere and the West Side Market, a market where food from different parts of the world is sampled and all kinds of clothing can be purchased.
Ohio City has many craft breweries, bars, and clubs that make this area a good place to stay in Cleveland for nightlife.
Getting to Ohio City from Downtown is possible by crossing the Hope Memorial Bridge. Also, the neighborhood houses several parking spaces, bus stops, and taxis.
Ohio City is one of the recommended areas to stay in Cleveland as it is one of the city's hipster neighborhoods and offers accommodation of all kinds that fit the budget of each traveler.
---
3. University Circle
University Circle is a neighborhood located 40 minutes east of Downtown Cleveland.
This district is home to museums, prestigious universities, restaurants and beautiful parks.
Those staying at University Circle will be able to enjoy the Natural History Museum, as well as some galleries with works by local and international artists.
A short walk from Wade Oval, within the limits of the Case Western University campus, is Uptown Drive, the main street of University Circle.
In Uptown Drive, you can find restaurants, bars, and green areas. Another street to visit within University Circle is Little Italy, with many cafes and street art.
In addition, here are the Severance Hall, the Cleveland Institute of Music, the Cleveland Museum of Art, and the botanical garden.
Transportation available through University Circle includes express trains, buses, and the Greenie, a free transport within the university campus.
University Circle is one of the best areas to stay in Cleveland as it is home to Case Western Reserve University and, therefore, it has a youthful atmosphere.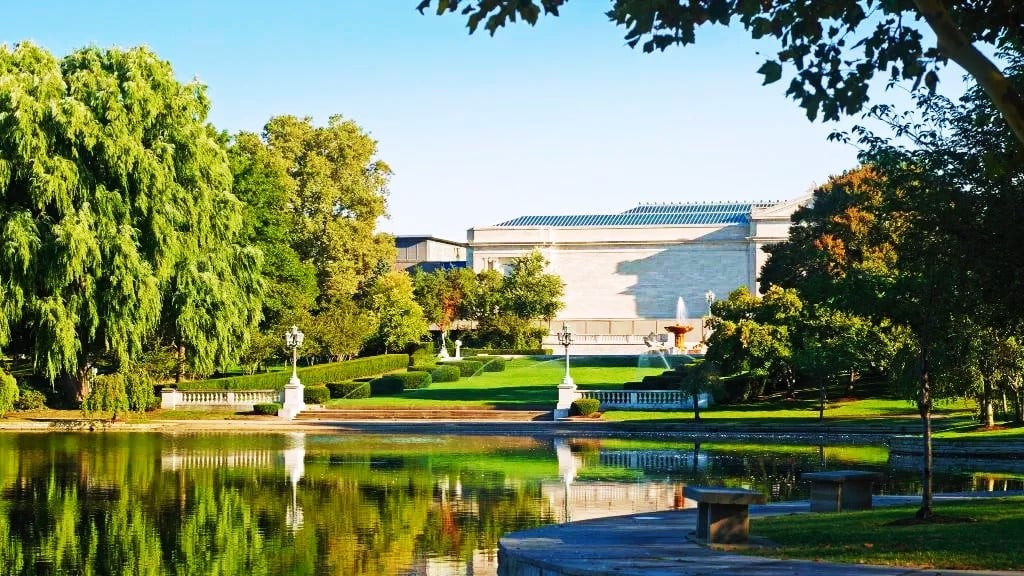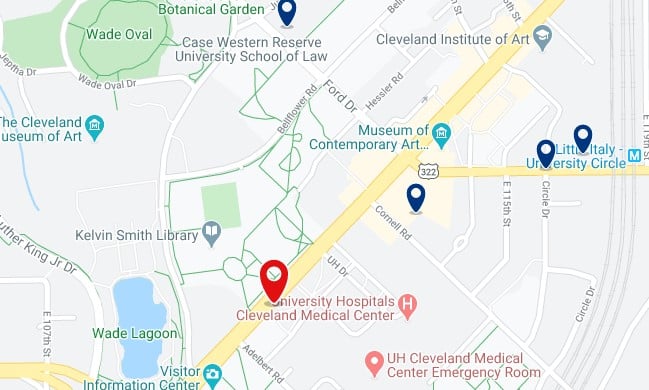 Why is this a recommended area to stay in Cleveland, OH:
Cleveland Museum of Natural History and Cleveland Art Museum
Parks and green areas
University atmosphere
---
4. Westlake
Although Westlake is, technically, another city, you can find all kinds of entertainment in it, from food trucks and shopping malls like Crocker Park to events.
Staying in Westlake allows travelers to enjoy views of Lake Erie and the parks, making it one of the best areas to stay in Cleveland during the summer.
Accessing Downtown Cleveland from Westlake is easy using the bus or car, as it is located just 20 minutes west.
For lovers of culture and history, museums like the Westlake Historical Society House are also in this neighborhood.
Westlake is one of the best areas to stay in Cleveland for being a quiet place, away from the hustle and bustle of Downtown and with accommodation of all kinds, including some luxury hotels that are cheaper than those in Cleveland City Center.
---
Read this in other languages