Where to stay in Vilnius – A guide to the capital of Lithuania
Vilnius is the most populated city and capital of Lithuania, located in the homonymous province in the southeast of the country.
Vilnius is a desirable tourist destination due to its green areas, historical and cultural sites like the famous Gediminas Castle and the Hill of Three Crosses, to name a few.

Vilnius enjoys a varied climate, but the best time to visit it is in spring and summer when temperatures are between 15º and 25ºC.
The streets of Vilnius have become a pleasure for tourists. During the day, drinking a cappuccino in one of its cafes is a delight and, at night, its bars and clubs are a party.
To visit the city of Vilnius, there is the Vilnius International Airport and the train station, about 7 km south of the city.
Vilnius is a small city with no traffic problems, which makes it easy to get around on foot, by bus or taxi.
As for the best areas to stay in Vilnius, Senamiestis stands out for its range of tourist attractions declared World Heritage Sites by UNESCO. See accommodation in Senamiestis
Here's a guide with the best areas to stay in Vilnius, Lithuania.
The best areas to stay in Vilnius
1. Our favourite area: Senamiestis
Senamiestis is known Vilniaus Senamiestis or Old City of Vilnius.
This historic area is located southeast of Vilnius, before crossing the Neris River.
Senamiestis is the best area to stay in Vilnius for being the heart of the city and for hosting a series of buildings and monuments of great tourist interest.
A starting point here is the Vilnius Square and Cathedral, which, along with the Bell Tower, adorn one of the best places for recreation.
Another good option is the Gediminas Tower, located on a hill where you can enjoy spectacular views of the city.
Also, a place that deserves a visit in this area is the cobbled Pilies street, full of shops, bakeries and cafes where you can enjoy a delicious cappuccino or shop.
The lively nightlife in Vilnius can be found in the many bars and restaurants on Pilies Street, where the traveller can enjoy a good meal, dance or drink while with family or friends.
Transport in the area include buses and taxis, but walking is also a great option.
Undoubtedly, Senamiestis is one of the best areas to stay in Vilnius for its central location and for having a wide variety of hotels with different costs, a few metres from the sites of tourist interest.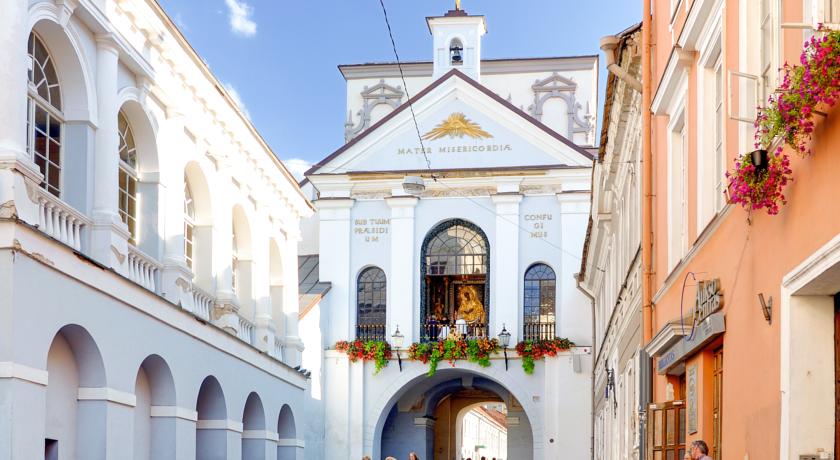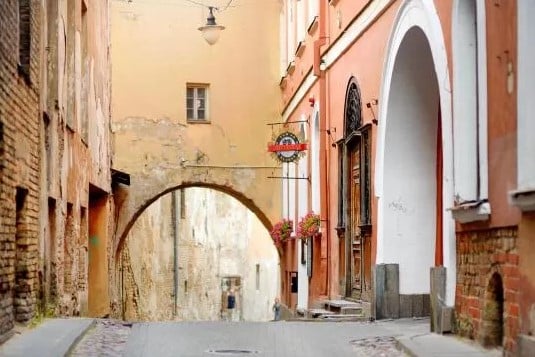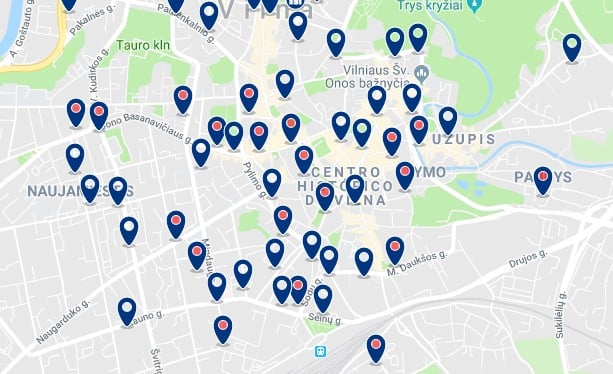 Why is this a recommended area to stay in Vilnius, Lithuania:
Best area for sightseeing
Well-connected area
Historical monuments
Good nightlife
Best area for business
Pilies Street
---
2. Naujamiestis
Naujamiestis is a business centre and a luxury residential area, located west of the historic centre of Vilnius.
Naujamiestis is a modern and exclusive district that houses diplomatic embassies, banks, offices, restaurants, cafes and hotels.
Among its attractions, the Vingis Park stands out.
It also has cinemas, an athletics stadium and trails.
For lovers of history, a good option is the Holocaust Museum, with an exhibition of photos, objects and documents of the history of the Jewish people in Lithuania.
The Museum of the Victims of Genocide, with its execution rooms, also shows a side of history that leaves no visitor indifferent.
Naujamiestis has good public transport connections and is one of the best areas to stay in Vilnius.
---
3. Užupis
Užupis is a small Vilnius neighbourhood that is considered an "Independent Republic", as it has its own president, constitution, flag, currency and army.
Užupis is located in the historic centre, east of the Vilnius River.
Užupis is the best area to stay in Vilnius for young travellers, as its streets covered with graffiti present another facet of the city.
This area is inhabited by artists and bohemians, with facades, art galleries, artists' workshops, restaurants and cafés that are very hipster-friendly.
The most representative of the area is in its main square, where you'll find the sculpture of an Angel playing a horn as a symbol of artistic freedom.
Those who decide to walk the area will discover a bridge adorned with numerous locks on their railings as symbols of love.
Užupis is one of the best areas to stay in Vilnius for those who seek to know the most alternative side of the city.
---
4. Šnipiškės
Šnipiškės is one of the best tourist destinations in Vilnius, thanks to its traditional wooden houses of the late nineteenth century.
This neighbourhood is located in the northern part of Vilnius, passing the Neris River.
However, towards the south of Šnipiškės, is what is known as the new centre of Vilnius, with luxury residential areas, numerous shopping centres, supermarkets, restaurants, offices and skyscrapers.
Among the attractions of Šnipiškės is the National Gallery of Modern Art, where you can see the largest art collection in Lithuania.
Here is also the Sakura Park, a small natural oasis perfect for walking, resting and enjoying a coffee or a meal.
As for the nightlife, there are casinos, bars and clubs in the area, where you can enjoy music, dancing and good cocktails.
The Šnipiškės district is well-served by several bus stops, but can also be explored on foot or by taxi.
Šnipiškės is one of the best areas to stay in Vilnius, as it has apartments and resort hotels with different costs, as well as being a good option for business travellers.
---
Read this in other languages