Where to stay in Aalborg – A guide to the Viking city of Denmark
Aalborg is a lively city and port in northern Denmark, capital of the Nordjylland region.
A little history tells us that this territory was occupied by the Vikings because of its proximity to the coast.
Currently, Aalborg has numerous places of interest and outstanding parties such as the carnival and its battle of the bands.
For that and more, Aalborg is situated as a beautiful and interesting destination in Denmark.
Aalborg has a cold climate in winter and mild in summer. It is known for its icy winters.
As the driest months in Aalborg are February and April, tourists take the opportunity to visit the city and plan outdoor activities.
The Viking city has Aalborg Airport, located just 6 km from the city centre. Its facilities are used for international and national flights, including daily departures to Copenhagen.
The best area to stay in Aalborg is the Centrum or city centre, with a variety of attractions, pubs, clubs and accommodation, as well as good transport connections and pedestrian-friendly streets. See accommodation in Aalborg City Centre
Here's a guide with the best areas to stay in Aalborg, Denmark.
The best areas to stay in Aalborg
1. Our favourite area: Centrum
The Centrum or City Centre is where the majority of Aalborg's historical monuments can be found.
Religious monuments stand out in the Centrum, such as a 14th-century cathedral, the famous Aalborghus castle and the Holy Spirit monastery.
Jomfru Ane Gade Street, with excellent places to eat, elegant clubs and cosy bars, is an important commercial artery of this area, as well as the longest street in Denmark.
Lindholm Høje Cemetery is another must-see attraction in central Aalborg, with ancient Viking and Middle Ages tombs that make it the most important Viking cemetery in Denmark
The Centrum is also the ideal place to taste international, local, ethnic or fast food, as it has a good number of restaurants of all kinds.
At night, the Aalborg Centrum is a very lively place, thanks to the many pubs, bars and nightclubs it houses.
The Centrum is one of the best areas to stay in Aalborg for being just minutes from the main attractions, offering hotels of all kinds and good transport connections.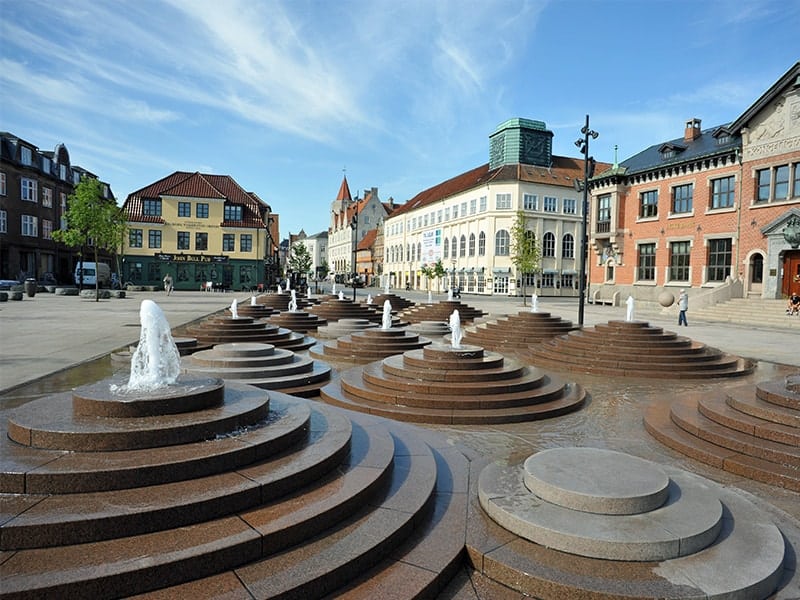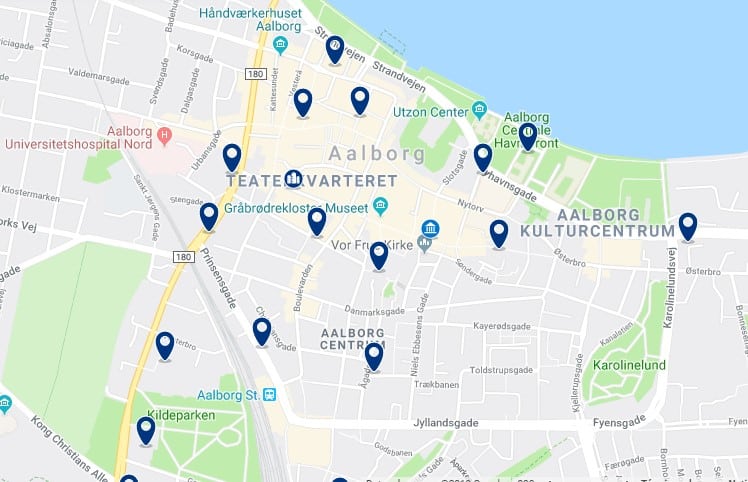 Why is this a recommended area to stay in Aalborg:
Best area for sightseeing
Historical monuments
Good area for nightlife
Best area for business travellers
---
2. Near Aalborg Central Station
The Aalborg Central Railway Station is located southwest of the city centre and, from there, you can go by train to other cities in Denmark and even to other Scandinavian countries.
Therefore, the surroundings of the Central Station are among the best areas to stay in Aalborg for travellers making a train route.
Similarly, one of the greatest benefits of sleeping in this area of Aalborg is that the cost of accommodation is lower than in the city centre, with budget-friendly hotels.
In addition, around the station, there is a good number of restaurants for all types of public.
---
Read this in other languages