Where to Stay in Gothenburg – A Guide to this Swedish City
Gothenburg, known in Swedish as as Göteborg is the second-largest city in Sweden. Located by Kattegat, on Sweden's west coast, Gothenburg is famous for its historical sights, seaside charm, museums and parks. In this post, we will explore the best areas to stay in Gothenburg, SE.
The main cultural attractions in Gothenburg's centre include the Feskekörka (Fish Market), the Museum of Gothenburg, the Garden Society of Gothenburg park, Avenyn boulevard, Gothenburg Museum of Art, Gothenburg Cathedral, and the Röhsska Museum. See accommodation in Gothenburg City Centre.
Theme park enthusiast and those travelling with kids will probably enjoy Liseberg amusement park.
For that old seaside charm, this Swedish city is home to the Archipelago of Gothenburg, a lovely group of islands interconnected by bridges and reachable by ferry from Gothenburg.
Other must-see attractions in Gothenburg include Slottsskogen Park, Vinga Island and Skansen Kronan fort.
Due to its location on Scandinavia's west coast Gothenburg has a warm-summer humid continental climate. Winters are milder than other places in the region, with temperatures that typically range between -1.5 and 4 ºC. Meanwhile, during the summer, average temperatures hover between 15 and 22 °C. The best time to visit Gothenburg is from mid-spring to mid-autumn (April through October) as temperatures are still pleasant enough to enjoy outdoor activities during these seasons.
To get to Gothenburg by air, the city is served by the Göteborg Landvetter Airport. Located 20 km southeast of the City Centre, this airport, the second-largest in the country after Stockholm–Arlanda, offers connections by traditional and low-cost carriers to regional destinations in Scandinavia and Europe. As well as a handful of long-haul services to the Middle East, northern Africa and Asia.
As is the case with most major Scandinavian cities, Gothenburg is very well-connected via train to the rest of the country and neighbouring nations. Göteborg Centralstation, the city's main rail hub, is located in the city centre and offers frequent direct train services to Malmö, Stockholm, Oslo, Coppenhagen and others. See train routes, schedules & fares.
To get to the city by bus, several long-distance bus companies also offer intercity travel to several domestic and international destinations. See bus routes, schedules & fares.
When it comes to moving around the city, Gothenburg has an efficient and well-developed intermodal public transport network consisting of trams, buses, ferries and commuter trains. There are also taxis and mobile apps available and you can also rent a car.
The best area to stay in Gothenburg is the City Centre (Centrum). This lively central district is home to the city's main cultural attractions and museums, the most vibrant nightlife, top-notch restaurants and some of the best accommodation options. See accommodation in Gothenburg City Centre.
Other great areas to keep in mind when choosing the best location in Gothenburg include Örgryte-Härlanda and Majorna-Linné.
Keep reading to find more about the best areas to stay in Gothenburg, SE.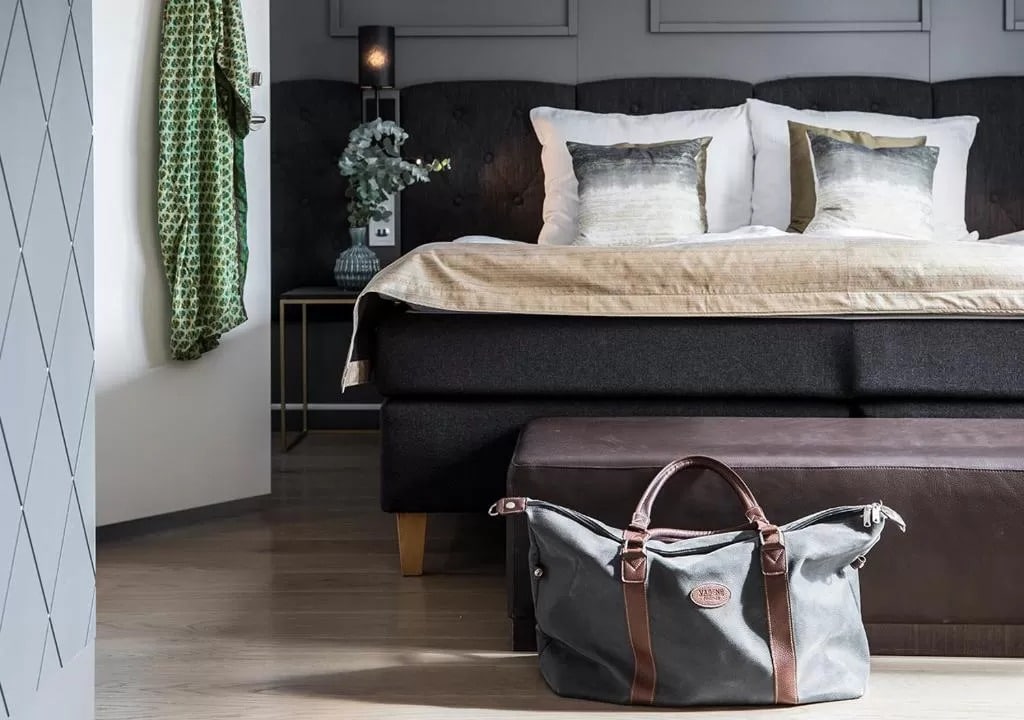 Radisson Blu Scandinavia Hotel, Göteborg

This Radisson Blu hotel lies opposite Gothenburg Central Station, within the city's canal system. The hotel features an in-house spa and yoga studio with free yoga classes for guests (subject to availability). WiFi and gym access are free. Ullevi Stadium is 850 m away from the hotel.
The Best Areas to Stay in Gothenburg
1. Recommended area: Centrum (Gothenburg City Centre)
The Centrum or Gothenburg City Centre reunites the great attractions of the city, as well as its main commercial streets that include Kungsgatan, Vallgatan and Södra Larmgatan.
In this area, you will find the city market and shops of Swedish fashion brands such as Tiger of Sweden or Filippa K, as well as other Scandinavian brands that make it a good place to stay in Gothenburg for shopping.
The commercial street Victoriapassagen, located between Vallgatan and Södra Larmgatan, is another must-see attraction in this area, with many charming cafés and restaurants.
At night, for example, you can find good restaurants, bars and terraces along Magasinsgatan Street, making the Centrum one of the best areas to stay in Gothenburg for nightlife.
The Centrum connects with the rest of Gothenburg by bus or train since it is where the central station of the city is located.
---
2. Örgryte-Härlanda
Örgryte-Härlanda is located east of the centre of Gothenburg, and it stands out for housing different types of buildings from different periods of time.
In its surroundings, there are the Delsjöarna and Härlanda ponds, an immense wooded area with paths, a great variety of animal species, lakes and mountain ranges.
Örgryte-Härlanda is close to the centre of Gothenburg, so it is possible to go by bus, train or on foot to the main attractions of the city.
Being one of the largest districts in the city, it has become one of the best areas to stay in Gothenburg because it has many hotels and hostels for all types of travellers.
In addition, Örgryte-Härlanda has high-end restaurants and good leisure options.
---
3. Majorna-Linné
Majorna-Linné is the most populated district of Gothenburg, and it is close to the port.
Here, old buildings and a rich cultural offer stand out, so it is considered an attractive area both for living and for staying in Gothenburg.
There is much to see, do and discover in Majorna-Linné, such as attending a concert, art exhibition or visiting a museum.
Gothenburg Central Station is 11 minutes from Majorna-Linné by direct bus, so visiting the city's most popular attractions will not be a problem.
Similarly, Gothenburg botanical garden is 1.5 km away, surrounded by cosy cafes, and trendy restaurants.
Majorna-Linné is perfect for a walk at midday along the Göta Älv river or to enjoy the beautiful Slottsskogen park.
This quiet neighbourhood west of Gothenburg is also known for its many antique and second-hand stores.
Majorna-Linné is one of the best areas to stay in Gothenburg and has many hotels for all types of visitors.
---
Read this in other languages