Where to Stay in Byron Bay – A Guide to this NSW Coastal Town
Byron Bay is a seaside town located in the far northeastern region of New South Wales, near the border with Queensland. This town is a popular tourist destination famous for its laidback atmosphere, its beaches, surfing spots and scuba diving and snorkelling sites. In this post, we will explore the best areas to stay in Byron Bay, NSW.
The main tourist attractions in Byron Bay all revolve around the sea and beach life. This beautiful coastal town is considered a prime surfing destination and is the easternmost point in mainland Australia.
From a tourist standpoint, the most interesting area in Byron Bay is around Cape Byron. This lovely seaside district is home to several attractions such as Cape Byron Lighthouse, Cape Byron Walking Track, Wategos Beach, and The Pass surfing spot. See accommodation in Cape Byron.
The area around Byron Beach is considered Byron Bay's City Centre and is home to most shops, restaurants and pubs in town. Here, you'll also find Main Beach, The Wreck surfing spot, Byron Community Market and the Lone Goat Art Gallery. See accommodation around Main Beach.
Finally, a few hundred metres northwest you'll find Belongil Beach, a great area for newbie surfers and families. See accommodation around Belongil Beach.
Nature lovers cannot miss Arakwal National Park, located south of Cape Byron, and nearby Tallow Beach, great for swimming and birdwatching. Julian Rocks is a great place for snorkelling and scuba diving in Byron Bay.
Byron Bay has a humid subtropical climate. This means the town has warm summers (21-28 ºC) and very mild winters (13-19 ºC). Most rains happen during the summer. The best time to visit Byron Bay is from late spring to early autumn (October through April).
To reach Byron Bay by air, Ballina Byron Gateway Airport is located 35 km south of Main Beach, in Ballina. This airport offers a few domestic connections in Australia, including main cities like Sydney, Canberra and Melbourne. Much busier and with a wider range of domestic and international destinations, Gold Coast Airport is located some 65 km north.
Byron Bay is also well-connected to Sydney and Brisbane via a network of long-distance buses operated by Greyhound Australia, NSW TrainLink and Premier Motor Services. The main station is located on Jonson Street. Check coach routes, schedules and fares.
When it comes to public transport, Byron Bay is connected via an urban bus network. Additionally, a small railway line operates between the Byron township and North Beach station. Other than that, the city offers traditional taxi, mobile ride-sharing apps and rental car services.
However, Byron Bay is compact enough to walk around its most central suburbs. That said, the best area to stay in Byron Bay is around Main Beach. As mentioned above, this centrally located area is home to the CBD and it's very well-connected to all the suburbs, attractions and the airport. See accommodation around Main Beach.
Other great areas include Wategos Beach & Cape Byron and Belongil Beach.
Keep reading to find out more about our top picks for the best areas to stay in Byron Bay, NSW.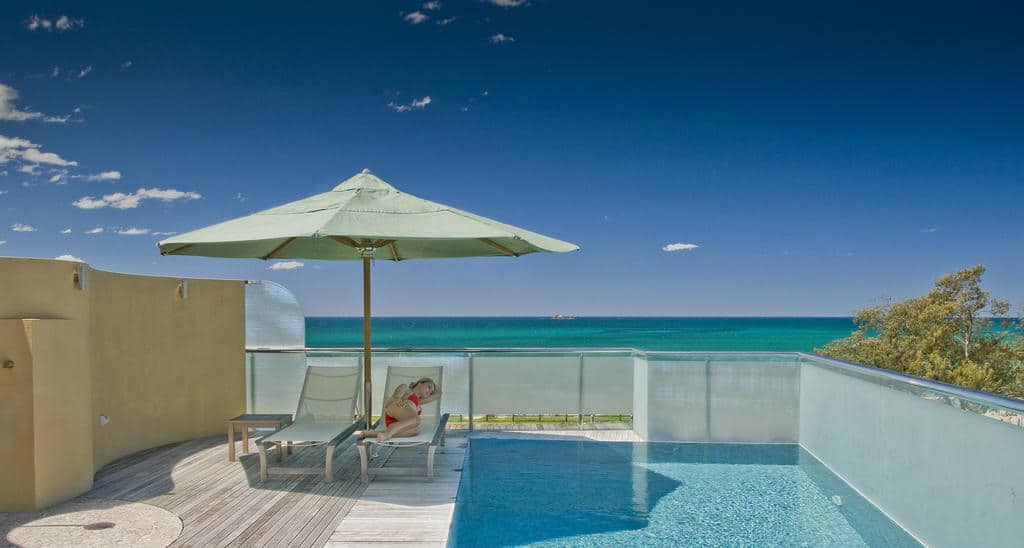 ---
Best Location in Byron Bay, New South Wales: A Quick Guide
These are the best suburbs to stay in Byron Bay according to your travel style and what you want to do in town. Keep on reading to find out more about each particular suburb.
---
Best Hotels in Byron Bay, NSW by Theme
Looking for something in particular? Here's a list of some of the top accommodations in Byron Bay. No matter your reason for visiting this town, we got you covered!
---
The Best Areas to Stay in Byron Bay, New South Wales
1. Recommended area: Main Beach & Byron Bay CBD
The City Centre is the best area to stay in Byron Bay.
This lively area is home to the main cultural landmarks, art galleries, cafés, restaurants and shops in town.
Byron Bay CBD is centred around Jonson Street, the city's main thoroughfare, with bus stops, supermarkets and several restaurants and shops.
Neighbouring Fletcher Street is where most of Byron Bay's shopping and nightlife are located.
As you move north towards the ocean, you'll find Main Beach and Byron Beach, two of the best beaches in NSW.
If you like surfing, Main Beach is the place to go. Home to Byron Bay's Surf Club and The Wreck, a unique surfing spot caused by the sunken SS Wollongbar.
The area around Main Beach and along Jonson Street is also home to most of Byron Bay's accommodation options.
Here, you'll find everything from backpacker hostels to the most exclusive resorts and tourist apartments.
---
2. Belongil Beach & Sunrise Beach
Belongil Beach stretches for over 2 km from the Main Beach seawall to the mouth of Belongil Creek.
This area of Byron Bay is far less crowded than the CBD and the beach also offers a more relaxed atmosphere compared to Main Beach.
Belongil Beach is also a popular surfing spot for beginners as well as for expert surfers. On its southern end there's The Wreck.
A great portion of this suburb is occupied by the Cumbebin Swamp Nature Reserve, a great place for birdwatching.
The streets leading to Belongil Beach from the CBD have a very laid-back atmosphere. On the other side of the creek, in the Sunrise Beach area, you'll find several shopping and dining districts, particularly around Bayshore Dr. Nearby Stone & Wood Brewery offers guided tours and tastings of local ales.
The Sunrise Beach area is connected to Byron Bay CBD via a train service. The Byron Bay Train Line uses a solar power converted 1949 locomotive to connect Byron Bay Station to North Beach Station.
Belongil Beach and Sunrise Beach offer several accommodation options ranging from small hotels to luxury resorts.
---
3. Wategos Beach & Cape Byron
Wategos Beach is a family-friendly beach located 2 km east of Byron Bay CBD and Main Beach.
This lovely sandy beach is ideal of sunbathing, swimming and surfing. It is a preferred spot for longboarders and beginners, as waves tend to be gentler-rolling.
At the far end of the beach you'll find the steps leading up to the Cape Byron Lighthouse.
This historical landmarks is located on Australia's easternmost point. Opened in 1901, it is one of the oldest buildings in Byron Bay.
Cape Byron is a a very popular area for hiking and for whale watching.
Sparsely developed, this area has a quiet atmosphere and heaps of natural attractions.
Accommodation in this area tends to be exclusive and here you'll find some of the town's best high-end apartments and resorts.
---