Where to Stay in Cairns – A Guide to the Gateway to the Great Barrier Reef
Cairns is a city located on the east coast of Far North Queensland, in Australia's northeast. It is the fifth-most populated city in the state and famous for being the main gateway to explore the Daintree Rainforest and the Great Barrier Reef. It is also known for its laid-back atmosphere and for being the perfect place to practise all sorts of adventure sports. In this post, we will explore the best areas to stay in Cairns, QLD.
Founded in 1876, the early development of Cairns was tightly linked to mining. In the last few decades, however, this Queensland city has experienced enormous growth as a tourist capital, and it's considered one of the most visited places in Australia.
Cairns City Centre is compact and holds a few of the most popular cultural institutions and urban tourist attractions including the Esplanade, Cairns Aquarium, Cairns Night Markets, Rusty's Markets, Kuranda Scenic Railway Station, and Cairns Museum. See accommodation around Cairns Esplanade.
The City Centre is also the best area to stay in Cairns for nightlife and if to book a tour of the Great Barrier Reef or the outlying tropical islands of Queensland.
For lovers of nature and the outdoors, the nearby town of Kuranda offers a lot of rainforest-related attractions, such as the Skyrail Rainforest Cableway, Rainforestation Nature Park, Barron Gorge National Park, Barron Falls or the Australian Butterfly Sanctuary. See accommodation in Kuranda.
If you're visiting Cairns to go to the beach, Trinity Beach offers a seaside resort ambience, complete with some local attractions and top-notch hotels. See accommodation in Trinity Beach.
Cairns has a tropical monsoon climate, and it's considered one of the rainiest cities in Australia. The wettest season goes from November to May. Cairns experiences hot, humid summers (23 – 32ºC in December) and warm winters (17 – 26 ºC in July). The average sea temperature ranges from 24 °C in July to 29 °C in January. The best time to visit Cairns is during the dry season (from June to October). This period is great for adventure sports, outdoors activities, hiking and going to the beach.
To reach Cairns by air, Cairns Airport is located 7 km from the city centre in the suburb of Aeroglen. This airport offers several domestic connections in Australia, including its main cities and various regional destinations in QLD, as well as a handful of international connections to Singapore, Auckland, Port Moresby, Bali, Tokyo and Shenzhen.
The only railway connection in Cairns is a tourist line linking the city to Kuranda. The Kuranda Scenic Railway offers incredible views of the rainforest on board historical trains. You can book your train tickets here.
When it comes to public transport, the Cairns metropolitan area is served by buses. Additionally, the city offers traditional taxi, mobile ride-sharing apps and rental car services.
The best area to stay in Cairns is the CBD, particularly around the Esplanade. This lively corner of town is home to several attractions, the most vibrant nightlife and some of the city's top hotels. See accommodation around Cairns Esplanade.
Other great locations in town include the hipster-friendly area of Cairns North & Edge Hill and the Parramatta Park suburb.
Additionally, some outlying great locations to stay near Cairns are the tropical rainforest settlement of Kuranda and the beach resort of Trinity Beach.
Keep reading to find out more about the best areas to stay in Cairns, QLD.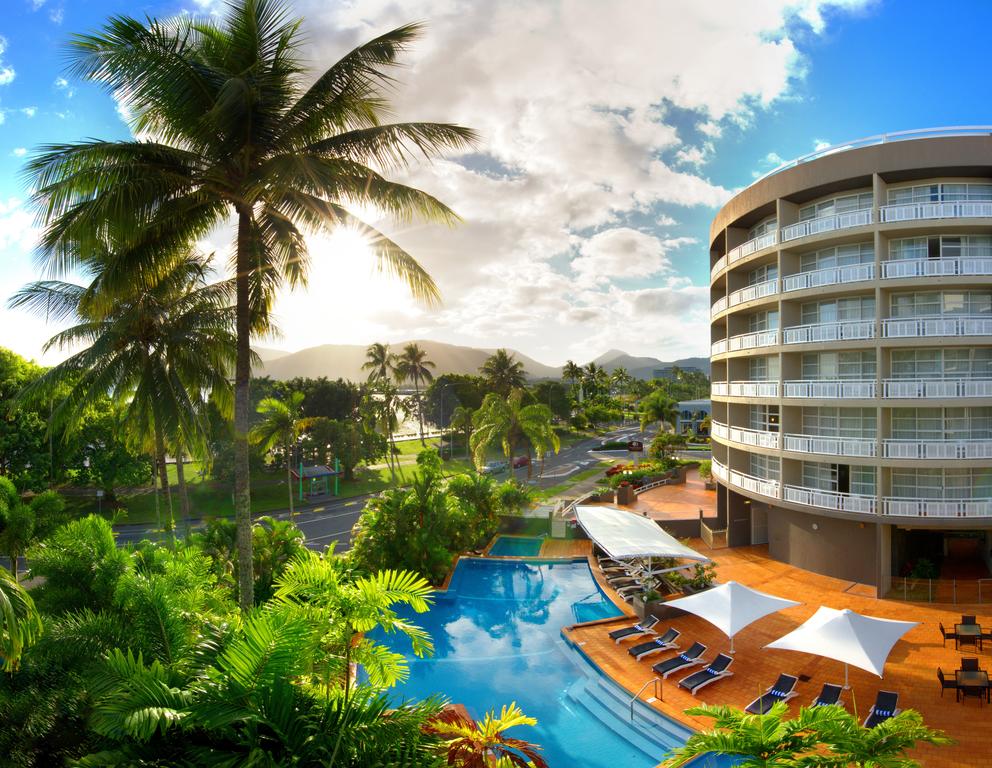 ---
Best Location in Cairns, Queensland: A Quick Guide
Below, you'll find a list of the best areas to stay in Cairns according to your travel style. Keep on reading below to find more information on each particular suburb.
---
Best Hotels in Cairns, QLD by Theme
Got something specific in mind? Here's a list of some of the top hotels in Cairns. No matter your reason for visiting this QLD city, we can help you decide!
---
The Best Areas to Stay in Cairns, Queensland
1. Recommended area: Cairns Esplanade & CBD
The Cairns Esplanade is the main seaside promenade in Cairns.
The Cairns Lagoon, located along the esplanade, is a popular swimming facility right next to the boardwalk offering a flea market and sports classes.
The area around the Lagoon is home to the city's main restaurants, bars and cafés.
Around the sothern end of the Esplanade you'll find the CBD area. This commercial district offers some of the best shopping, dining and accommodation in town.
Most of Cairns's cultural institutions, including Cairns Museum and Kokoda Hall, are located in the CBD, along with other attractions such as the Aquarium, the Night Market and Cairns Central Shopping Centre.
Cairns CBD is compact enough and a delightful area to discover on foot. To reach other districts, you have several bus stops and the city's railway station, where you can take the Kuranda Scenic Railway.
This district qualifies as the best area to stay in Cairns, partly thanks to its wide accommodation offer. Here, you can find the most luxurious 5-stars, the best tourist apartments and some of the world's best boutique hostels catering for backpackers and glampackers.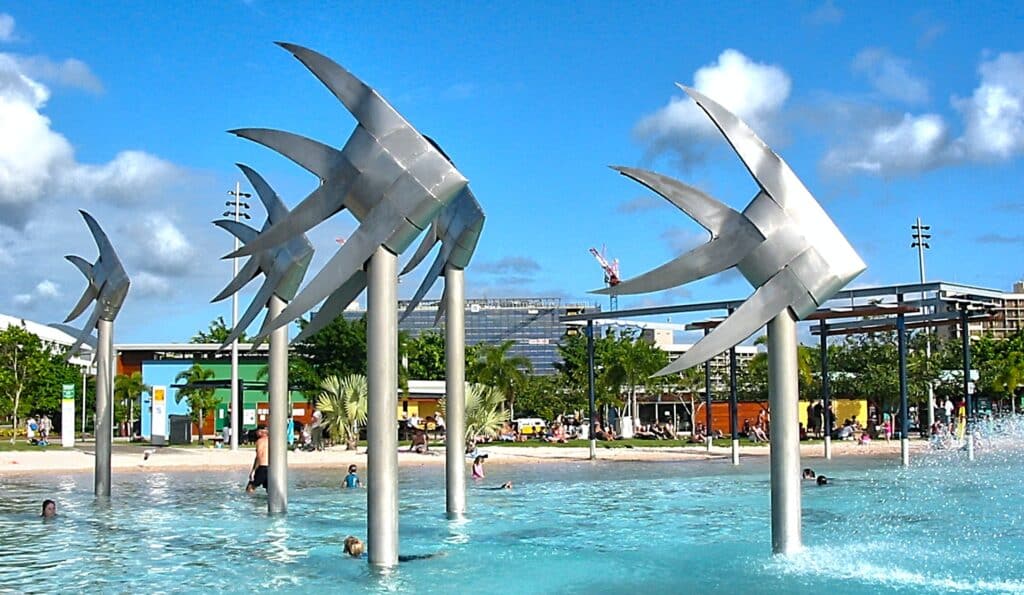 Why is this a recommended area to stay in Cairns, QLD:
Heart of the city
Cairns Lagoon
The Esplanade
Wide range of accommodation options
Very well-connected
Best area for nightlife
---
2. Cairns North & Edge Hill
Cairns North is a suburb located directly north of the CBD and along the coast.
This very central area is pretty much integrated to the city centre and shares many of its attractions, including the northern end of The Esplanade.
Not very far, you'll find the wonderful Centenary Lakes and Botanical Gardens.
The trendy area of Edge Hill, located west of Cairns North, is the place to go for quirky cafés, local designer boutiques and vintage shops.
This whole area is very well-connected to the CBD and you can choose to take the bus or simply walk there.
Directly north of these districts lies Cairns Airport, so it's a convenient area if you need to be close to the airport.
Overall, Cairns North has a more laid-back atmosphere than the CBD and Edge Hill is, well, edgier.
Edge Hill is the best area to stay in Cains for hipsters and those looking for a more local experience.
---
3. Trinity Beach
Trinity Beach is considered one of the best in Queensland.
This small seaside resort town is located about 20 minutes north of Cairns CBD and 15 minutes north of Cairns Airport.
This district is considered the best area to stay in Cairns for families as the beaches here are shady, safe for swimming and have fine sand.
Trinity Beach has a laid-back atmosphere. There are enough restaurants and shops for your everyday needs.
Accommodation in Trinity Beach consists of holiday apartments, hotels and resorts. That said, this resort town also offers a few more budget alternatives.
Trinity Beach is also very close to Kuranda and Barron Gorge National Park, so it is a perfect place to explore the rainforest in the morning and enjoy a cocktail by the sea in the afternoon.
---
4. Parramatta Park & Westcourt
Parramatta Park is a suburb located west of the CBD, on the other side of Cairns Railway Station.
West of Parramatta and conected by Mulgrave Rd, lies Westcourt.
These areas are a mix of residential, industrial and commercial developments.
These districts have a more suburban feel and a quieter atmosphere than the neighbourhoods already mentioned.
Other than a couple of shopping centres, and Cairns Showgrounds, these two districts are somewhat lacking in attractions.
The reason they're on this list is of the best areas to stay in Cairns is because of their wealth of cheap accommodation.
In order to get around the city, this area is fairly well-connected via buses.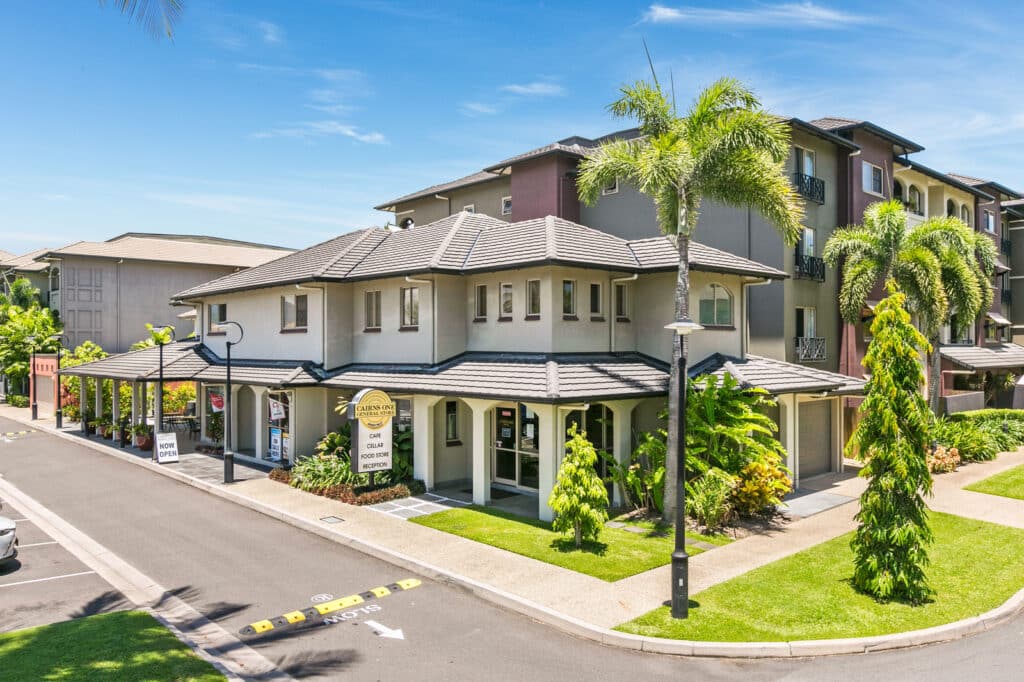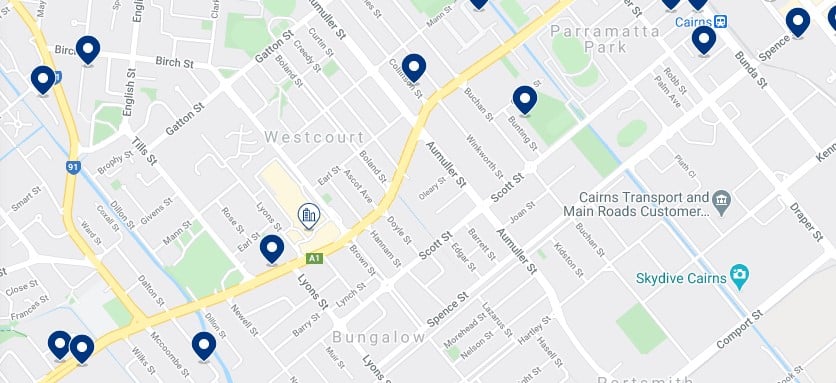 Why is this a recommended area to stay in Cairns, Queensland:
Budget accommodation
Shopping centres
Cairns Showgrounds
---
5. Kuranda
Kuranda is a rural town located 27 km northwest of Cairns.
This village is particularly famous for being the destination of the Kuranda Scenic Railway, a historical rail line which winds along rainforest-clad hills and over the Barron Gorge, offering incredible views of Barron Falls.
Additionally, Kuranda is home to the Skyrail Rainforest Cableway and the Australian Butterfly Sanctuary.
Kuranda is also the place to go to see (and hold) koalas. The Kuranda Koala Gardens offers the opportunity to see these adorable fellows, along with other native Australian fauna such as quokkas, wallabies, wombats and kangaroos.
While most people visiting Kuranda don't tend to hang around overnight, its striking beauty and wealth of attractions make it the best area to stay in Cairns for nature lovers.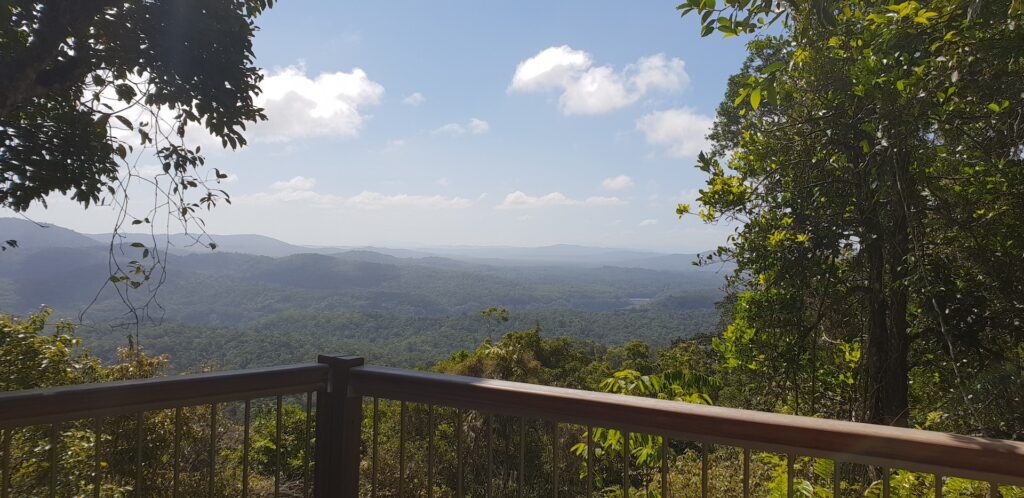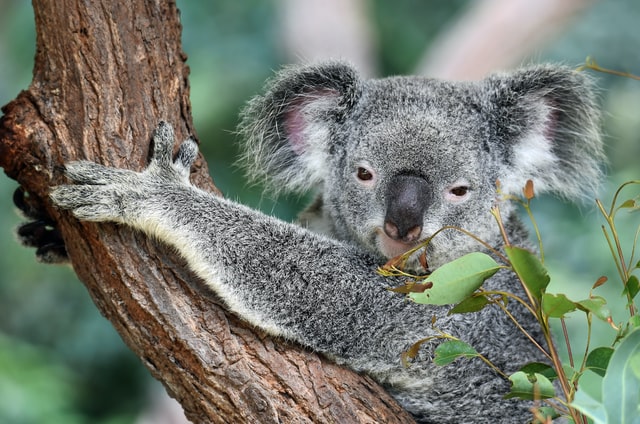 Why is this a recommended area to stay:
Kuranda Scenic Railway
Barron Gorge National Park
Barron Falls
Skyrail Rainforest Cableway
---