Where to Stay in Caloundra – A Guide to this Sunshine Coast Town
Caloundra is the southernmost town in the Sunshine Coast of Queensland. This coastal town is located 95 km north of Brisbane and is famous for its beaches and surfing scene. In this post, we will explore the best areas to stay in Caloundra, QLD.
Home to the Queensland Air Museum, this towns main attractions also include the Caloundra Street Fair Markets and the Caloundra Lighthouses and the Botanic Gardens. That said, most people who visit Caloundra come looking for beach, sun and fun.
Caloundra's most central beaches are Happy Valley, Bulcock Beach and Kings Beach and are located near the CBD and the Kings Beach Suburb. See accommodation in Kings Beach & Caloundra CBD.
A few hundred metres north lies Moffats Beach, and Moffats Point, one of the most sought-after surf spots in the Sunshine Coast, particularly by longboarders.
The southern suburb of Golden Beach has calmer beaches perfect for boating and fishing. See accommodation in Golden Beach.
Like most of the Sunshine Coast, Caloundra has a humid subtropical climate. Summers are generally very warm and humid but moderated by the ocean. Winters come with warm days and coll nights. There is no dry season, precipitation is generally quite high year-round. The average temperatures in January hover around 21-27 ºC, while August can see the drop to around 12-21 ºC. The best time to visit Caloundra is during the summer months (December through March).
To reach Caloundra by air, Sunshine Coast Airport is located in Marcoola, 29 km north of Caloundra. It offers a wide range of domestic connections to Australia's top cities, as well as seasonal international flights to Auckland. Far busier and with a larger network of connections to Australia, NZ and Asia, Brisbane Airport is located some 90 km away.
Caloundra and the Sunshine Coast can also be reached via long-distance buses from several places in QLD and beyond. See bus routes, fares and schedules.
When it comes to public transport, the Caloundra area is served by local buses. Additionally, the city offers traditional taxi, mobile ride-sharing apps and rental car services.
The best area to stay in Caloundra is the City Centre and the nearby suburb of Kings Beach. This area offers the best nightlife, access to the beach, as well as the widest selection of accommodation options. See accommodation in Kings Beach & Caloundra CBD.
Alternatively, for a more family-friendly district, make sure to check the Golden Beach suburb.
Keep reading to find more about the best areas to stay in Caloundra, QLD.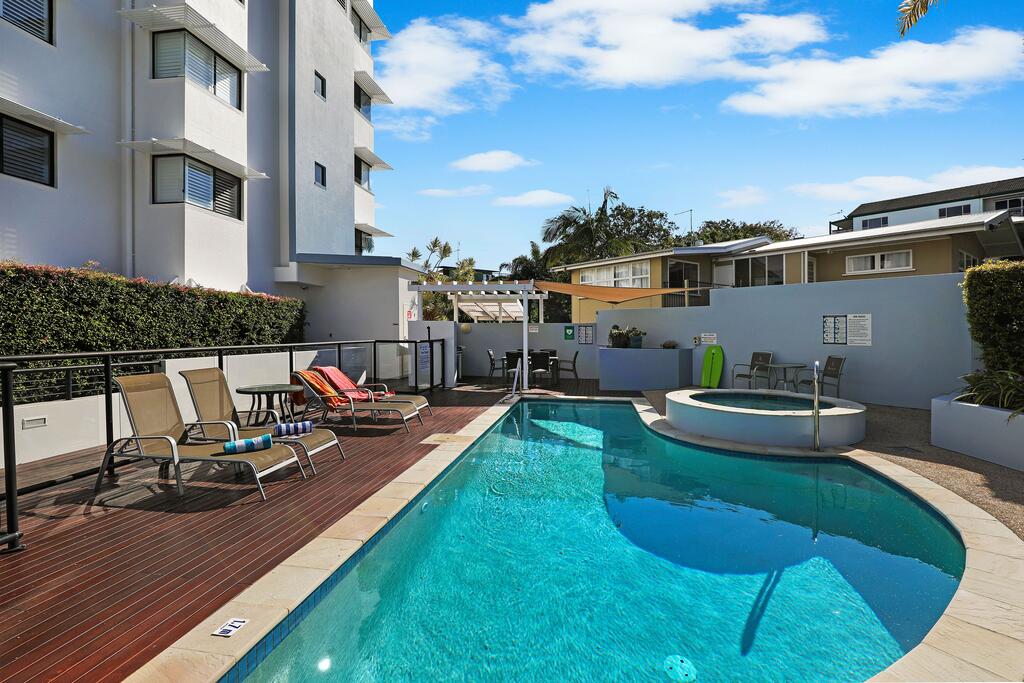 The Best Areas to Stay in Caloundra, QLD
Recommended area: Kings Beach and City Centre
Kings Beach is a suburb located directly east of Caloundra's CBD.
This lively area is home to the city's most famous beach, as well as the heritage-listed Caloundra lighthouses.
The main Kings Beach is complete with a family-friendly oceanfront saltwater swimming pool.
Around the beach, you'll find Caloundra's top hotels and resorts, as well as a wide selection of dining and shopping options.
Not very far you'll find Caloundra's CBD. This compact area, centred around Bulcock Street, is packed with restaurants, bars, pubs, shopping centres and convenience stores.
Caloundra's CBD is also home to Happy Valley Beach Park and Bulcock Beach.
These central suburbs are relatively small and very pedestrian-friendly. That said, there are bus stops and taxi stands available in case you need to move to other areas.
---
2. Golden Beach
Golden Beach is a suburb located directly south of Caloundra.
Situated on the shores of the Pumicestone Passage, this area is the perfect place to practise watersports and activities such as fishing, boating and swimming.
As opposed to several of the other Caloundra beaches, Golden Beach is very calm, family-friendly and safe for swimming.
The coastal part of this suburb has an esplanade and a pedestrianised path connecting it to the city centre.
The atmosphere in Golden Beach is more suburban and quiet, but this suburb has several dining options, along with a few bars.
To get around Golden Beach, you can choose to walk or take the bus into town.
---