Where to Stay in Cochabamba – A Guide to This Bolivian City
Cochabamba is the third-most populated metropolitan area in Bolivia. Located in the center of the country, in a valley in the Andes, Cochabamba is nicknamed "The Garden City" and is famous for its pleasant climate and lovely colonial architecture. In this post, we will explore the best areas to stay in Cochabamba, Bolivia.
Located halfway between the Bolivian main administrative and economic hubs of La Paz and Santa Cruz de la Sierra, Cochabamba is a popular tourist destination and stopping point for visitors traveling between Lake Titicaca and Paraguay or Brazil.
The main attractions in Central Cochabamba include Plaza de Armas, the Metropolitan Cathedral of Saint Sebastian, Plaza Colón, Prado Cochabamba, and Palacio Portales. See accommodation in Cochabamba's Historic City Center.
The City Center is also home to several museums; some of the most popular include Museo Convento Santa Teresa, Casa Museo Martín Cárdenas, Museo Arqueológico, and Casona Santivañez Museum.
Other unmissable attractions in Cochabamba include Villa Albina de Patiño, Jardín Botánico Martín Cárdenas, and the Cristo de la Concordia lookout.
For outdoor lovers, Cochabamba is home to some incredible national parks and preserves such as La Angostura Lake, Tunari National Park, Corani Lake, and Ecoturistico Pairumani Park.
Due to its high-altitude location in a Bolivian Andean valley, Cochabamba has a semi-arid climate. The city experiences "Eternal Spring" conditions; Temperatures remain relatively stable from September to April, typically hovering between 10 and 24 ºC. During the rest of the year, nighttime temperatures can drop to around 3 ºC. The summer (December through March) is the rainiest season. The best time to travel to Cochabamba is from April to October. It'll be cold at night, but daytime temperatures are pleasant for outdoor activities and sightseeing, and it's less likely to rain.
To get to Cochabamba by air, the city is served by the Jorge Wilstermann Airport. Located 5 km south of central Cochabamba, this airport, the third-busiest in the country after Santa Cruz de la Sierra and La Paz, handles domestic connections to many destinations in the country and a couple of international flights São Paulo-Guarulhos and Madrid-Barajas.
Cochabamba is also very well-connected by long-distance buses to the rest of Bolivia Paraguay, and Brazil. See long-distance bus routes, schedules & fares.
To move around the city and its metropolitan area, Cochabamba has a public transportation system consisting of bus lines (locally called micros), shared taxis called trufis (taxi con ruta fija / fixed-route taxis), and regular taxis. An aerial cable car connects the city to the Cristo de la Concordia lookout. The Historic City Center is very pedestrian-friendly.
The best area to stay in Cochabamba is the Historic City Center. This impressive historic area is home to Cochabamba's best colonial architecture, cultural attractions, museums, and restaurants. Centro also offers the widest selection of accommodations ranging from dirt-cheap budget inns to luxurious boutique hotels. See accommodation in Cochabamba City Center.
If you're looking for a more exclusive, less hectic alternative to the busy downtown streets of Centro, then the city's north end and the upscale Cala Cala district is the best location in Cochabamba for you. The city's North End is also the safest area to stay in Cochabamba, especially as a foreign tourist. See accommodation in North Cochabamba.
Keep reading to find out more about the best location in Cochabamba, Bolivia.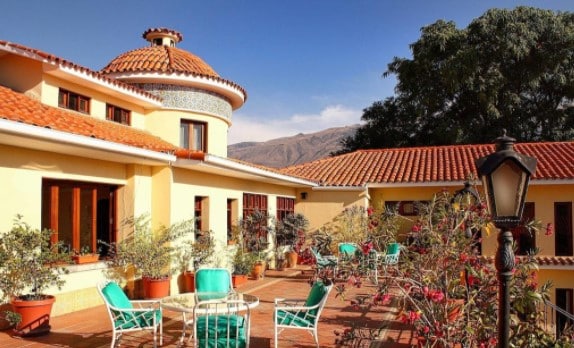 The Best Areas to Stay in Cochabamba, Bolivia
1. Recommended area: Cochabamba Historic City Center
Cochabamba's Historic City Center is the heart of the city.
This lively area was the place where the city was established by the Spanish in 1574.
Most of Cochabamba's historical buildings can be found around Plaza de Armas 14 de Septiembre. This gorgeous porticoed plaza is flanked by the Cathedral of Saint Sebastian.
A few blocks north lies colonial-era Museo Convento Santa Teresa and Plaza Colón.
Paseo El Prado connects Plaza Colón and Plaza de las Banderas. This lively avenue is dotted with several restaurants, cafés, and bars.
Mercado "La Cancha," one of the largest open-air markets in South America, occupies a whole block on the southern edge of Centro Histórico. Here, you can find everything from cheap food stalls to all kinds of souvenirs.
Some other tourist attractions in Cochabamba City Center include the Archaeological Museum, Plazuela Corazonistas, Casa Museo Martín Cárdenas, and Casona Santivañez.
The Historic Center is, without a doubt, the best area to stay in Cochabamba if you want to experience its enormous historical heritage and be close to most city attractions.
Like most cities of Spanish foundation in Latin America, the Center Cochabamba has an orthogonal layout, which makes it easy to navigate on foot. For the most remote neighborhoods, it is always possible to use public transport or the taxi.
The center of Cochabamba also offers the largest accommodation offer in the city. This area has dozens of options, ranging from backpackers' hostels to luxury boutique hotels in colonial-era structures.
---
2. Cala Cala, Queru Queru & North Cochabamba
As the name suggests, this area is located north of the Historic Center of Cochabamba.
The northern area of Cochabamba is home to the main residential neighborhoods of the city.
Districts such as Cala Cala, Tupuraya, Muyurina, Queru Queru, or Las Lomas de Aranjuez are modern, upscale and safe alternatives to the central Historic District.
North Cochabamba is more luxurious than Centro Histórico. It has wide avenues, shopping centers, restaurants and entertainment venues.
The historic district of Cala Cala is one of the oldest upper and upper-middle-class districts in Cochabamba since the colonial era and, although modernity has taken over the area, you can still see in it some vestiges of the past.
The north of Cochabamba has a wide variety of hotels of different types, however, the boutique-style hotels stand out.
The north is an excellent area to stay in Cochabamba for those seeking a more modern, organized, and refined environment than the Historic Center.
---
Read this in other languages