Where to Stay in Sucre – A Guide to Bolivia's Historic Capital
Sucre is the constitutional and symbolic capital of Bolivia and the sixth-most populated metropolitan area in the country. Located 2800 meters above sea level, on the southern Andean plateau, Sucre is a UNESCO World Heritage Site, famous for its colonial architecture and fossil sites. In this post, we will explore the best areas to stay in Sucre, Bolivia.
Ciudad de la Plata de la Nueva Toledo, present-day Sucre, was founded in 1538 by the Spanish. However, long before Europeans set foot in these lands, the Chuquisaca area was already inhabited by the Charca people, an Aymara-speaking indigenous group and citizens of the Inca Empire. La Plata played an important role during Bolivia's fight for independence.
The main attractions in the center of Sucre include the Freedom House, Parque Bolivar, the Cathedral Basilica of Our Lady of Guadalupe, Plaza 25 de Mayo, Monasterio de la Recoleta, and Mercado Central. See accommodation in Sucre's Historic City Center.
The City Center is also home to several museums; some of the most popular include the Treasure Museum, Museo de Arte Indígena ASUR, and Museo Colonial Charcas.
Other than its UNESCO World Heritage Site Historic City Center, Sucre is the main gateway to visit some of the most important fossil sites on the planet. Cal Orcko, located 5 km north of the city center, is home to the largest collection of dinosaurs' footprints in the world. Parque Cretácico, which opened in 2006, offers an amazing opportunity to learn more about these prehistoric creatures and see the world's longest recorded baby T-Rex prints. See tours and buy tickets.
Other unmissable attractions in and around Sucre include Palacio Nacional, Castillo de La Glorieta, and Palacio de la Florida.
For outdoor lovers, Sucre is home to some incredible national parks and preserves such as Las Siete Cascadas (Seven Waterfalls) and Cerro Churuquella.
Due to its high-altitude location in the Bolivian Altiplano, Sucre has a subtropical highland climate. The city experiences constant temperatures between 10 and 20 ºC throughout the year. Spring and summer (October through March) are the rainiest seasons. The best time to travel to Sucre is from April to September; during the fall and winter months, daytime temperatures are pleasant for outdoor activities and sightseeing. Also, it's less likely to rain during these months.
To get to Sucre by air, the city is served by the Sucre Alcantarí International Airport. Located 31 km south of central Sucre, this small airport offers domestic connections to many destinations in the country including La Paz, Santa Cruz de la Sierra, Cochabamba, and Uyuní.
Sucre is also very well-connected by long-distance buses to the rest of Bolivia, Perú, Paraguay, and Brazil. See long-distance bus routes, schedules & fares.
To move around the city and its metropolitan area, Sucre has a public transportation system consisting of bus lines (locally called micros), shared taxis called trufis (taxi con ruta fija / fixed-route taxis), and regular taxis. The Historic City Center is very pedestrian-friendly.
The best area to stay in Sucre is Casco Antiguo (Old Town). This impressive historic area is home to Sucre's UNESCO World Heritage colonial architecture, cultural attractions, museums, and restaurants. Centro also offers the widest selection of accommodations ranging from cheap budget inns to luxurious boutique hotels. See accommodation in Sucre City Center.
Keep reading to find out more about the best location for tourists in Sucre, Bolivia.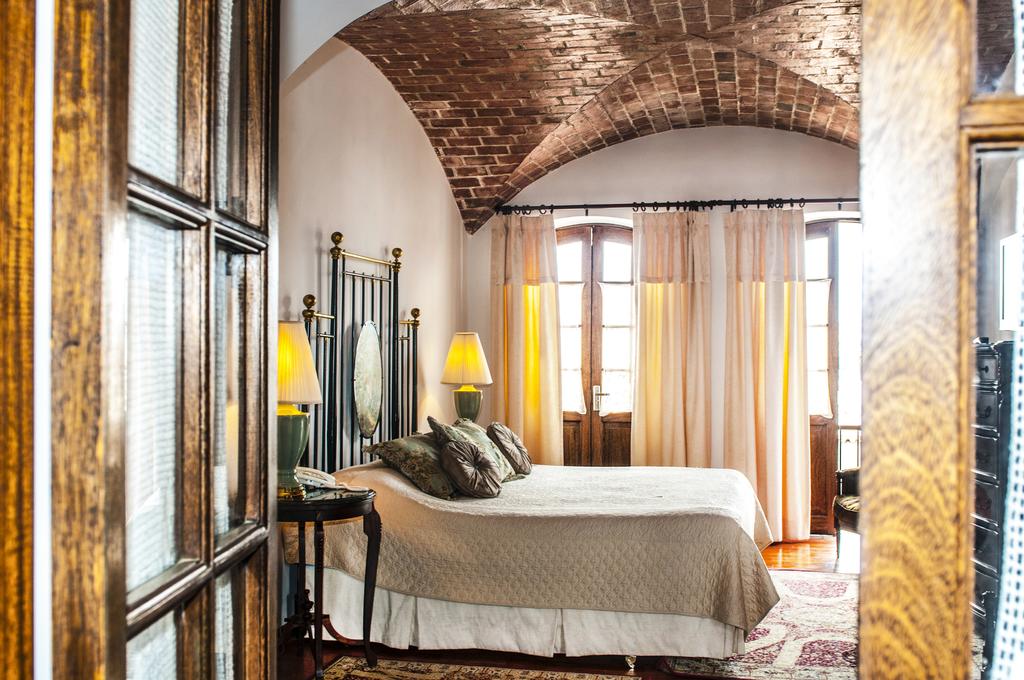 The Best Areas to Stay in Sucre, Bolivia
1. Recommended area: Casco Viejo (Old Town / Historic Center)
The Historic Center of Sucre is, as its name suggests, the heart of this Bolivian city.
Also known as Casco Viejo, Sucre's Old Town is home to most of the historic buildings in the city, as well as the UNESCO World Heritage Site area.
Centered around Plaza 25 De Mayo, Sucre's main colonial-era square and meeting point, you'll find a cluster of important buildings like the Cathedral Basilica of Our Lady of Guadalupe and Casa De La Libertad, a heritage museum and the place where the Bolivian Assembly signed its declaration of independence from Spain in 1825.
Nearby, Museo Colonial Charcas offers an interesting collection of paintings from the 16th, 17th, and 18th centuries. A few blocks away, Museo del Convento de Santa Clara, set in a colonial-era Franciscan convent, displays works by Bernardo Bitti y Montúfar, as well as sculptures, furniture, silverware, liturgical artifacts, and baroque musical instruments. Museo Casa del Tesoro is a museum focused on the art and techniques of local silver and goldsmithing.
Mercado Central, located on Calle Junín, offers fresh produce and cheap eateries. Right next to it you'll find the colonial Basílica de San Francisco.
Parque Simón Bolívar, located on the Old Town's northern edge, is a bustling park with many trails, a large fountain, and a climbing tower.
Centro Histórico's orthogonal layout makes it a great area to discover on foot. To reach other districts, you can always travel by public transport or taxi.
The accommodation offer in Sucre's City Center is very wide. Here, you can find everything from cheap posadas and hostels to the best boutique hotels set in colonial mansions.
---
2. Near Sucre's Main Bus Station
Sucre's bus station is located east of the historic city center, on Ostria Gutiérrez Avenue.
This bus terminal is the main access point to the city.
It has connections with the main urban centers of Bolivia and some international buses to Argentina.
In the vicinity of this terminal, there are some local points of interest such as the USFX university campus or the Hat Museum.
As it happens in many South American cities, the areas near the bus terminals are usually somewhat chaotic, however, these areas also concentrate a large amount of cheap accommodation.
The area around the bus station is one of the best areas to stay in Sucre for travelers who wish to continue their trip by land.
---
Read this in other languages