Where to Stay in Cúcuta – A Guide to This Colombian City
Cúcuta is the capital and largest city of the department of Norte de Santander, Colombia. Located in the northeast of the country, right on the border with Venezuela, Cúcuta is famous for its significance in Colombian history and for being the main gateway to travel to Venezuela from Colombia. In this post, we will discover the best areas to stay in Cúcuta, Colombia.
The main tourist attractions in Cúcuta's Center include Parque de Santander, Catedral de San José de Cúcuta, Calle 10, Parque Colón, and Ventura Mall. See accommodation in Cúcuta City Center.
A few miles southeast from the city center lies Villa del Rosario. This quaint village is home to the Templo Histórico de Cúcuta, a landmark church and historic site, the birthplace of the 1821 Constitution. This important law was the stepping stone for the creation of Gran Colombia, a short-lived country made up of today's Colombia, Panama, Venezuela, and Ecuador. Nearby Casa de Santander is a museum and the childhood home of the Colombian military and politician hero of independence Francisco de Paula Santander. See accommodation in Villa del Rosario.
Due to its location, Cúcuta has a tropical savanna climate. The city is extremely hot. It experiences an almost constant temperature (23-33 ºC) year-round and intervals of wet and dry seasons. The wet season goes from March through May and again from September through December. The best time to visit Cúcuta is during the dry season. During these months, you can enjoy outdoor activities without having to worry about the humid season's torrential rains.
To get to Cúcuta by air, the city is served by the Camilo Daza International Airport. Located 5 km north of the city center, this airport offers domestic connections to several destinations in Colombia, including Bogotá, Medellín, and Bucaramanga.
To get to the city by bus, several long-distance bus companies also offer intercity travel to cities in Colombia. See bus routes, schedules & fares.
Cúcuta's public transportation consists of traditional bus lines. There are also taxis and you can also choose to rent a cheap car in Cúcuta.
The best area to stay in Cúcuta is around Ventura Plaza Mall. This central and well-connected area is home to the city's main cultural and historical sights, nightlife areas, restaurants, shops, and the top accommodation options. It is also the safest area to stay in Cúcuta. See accommodation near Ventura Plaza.
Keep reading to find out more about the best location for tourists in Cúcuta, Colombia.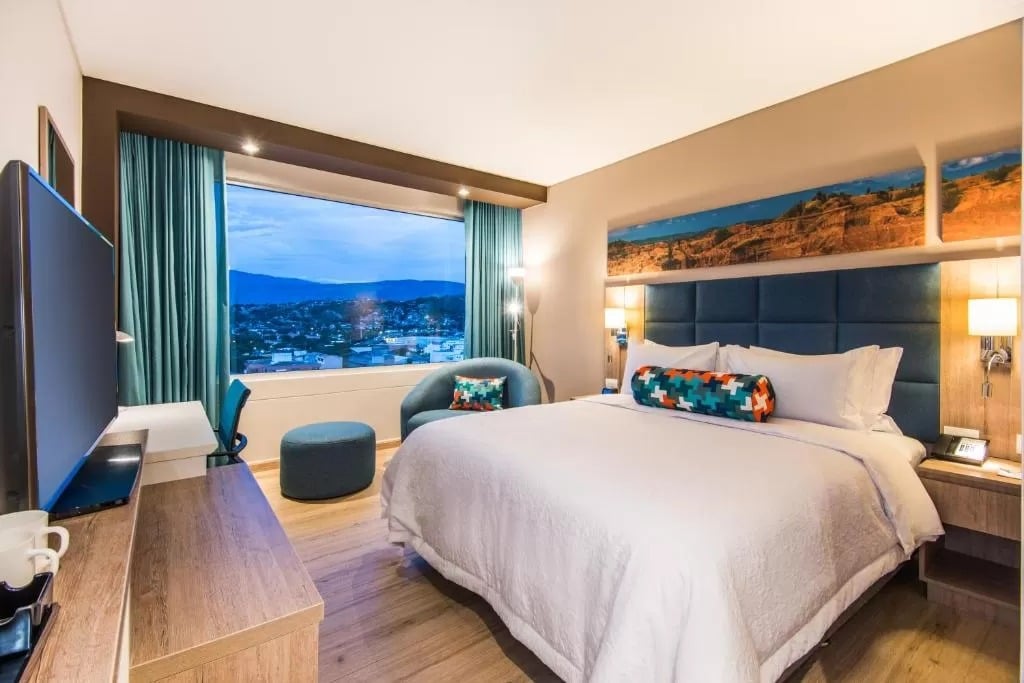 Hampton By Hilton Cucuta

Located in Cúcuta, 0.8 mi from Cucuta Public Library, Hampton By Hilton Cucuta provides accommodations with a restaurant, free private parking, and a bar. This 4-star hotel offers a concierge service and a tour desk. The accommodations feature a 24-hour front desk, a shuttle service, a business center, and free WiFi.
The Best Areas to Stay in Cúcuta, Colombia
1. Recommended area: Near Ventura Plaza Shopping Center
Calle 10 and the surroundings of the Ventura Plaza Shopping Center is the best area to stay in Cúcuta for shopping lovers and business travelers, for its shops, offices and financial entities.
Ventura Plaza is the largest shopping center in the city and has movie theaters, shops, cafes, bars, and restaurants for all tastes.
The main advantage of staying close to 10th Street and the Ventura Mall is that it is just a short walk from the City Center and the main attractions of Cúcuta.
For example, the Museum of Memory, a peaceful place that promotes the culture of Cúcuta with regional artistic works, is located in this area.
The Santander Park and the San José Cathedral, two of the emblematic places of interest of Cúcuta are very close to this area.
To move from here to other neighborhoods and districts of Cúcuta, you can use buses or taxis.
Calle 10 and the surroundings of the Ventura Shopping Center are among the best areas to stay in Cúcuta because it is close to hotels, restaurants and everything the traveler needs for a perfect stay in the city.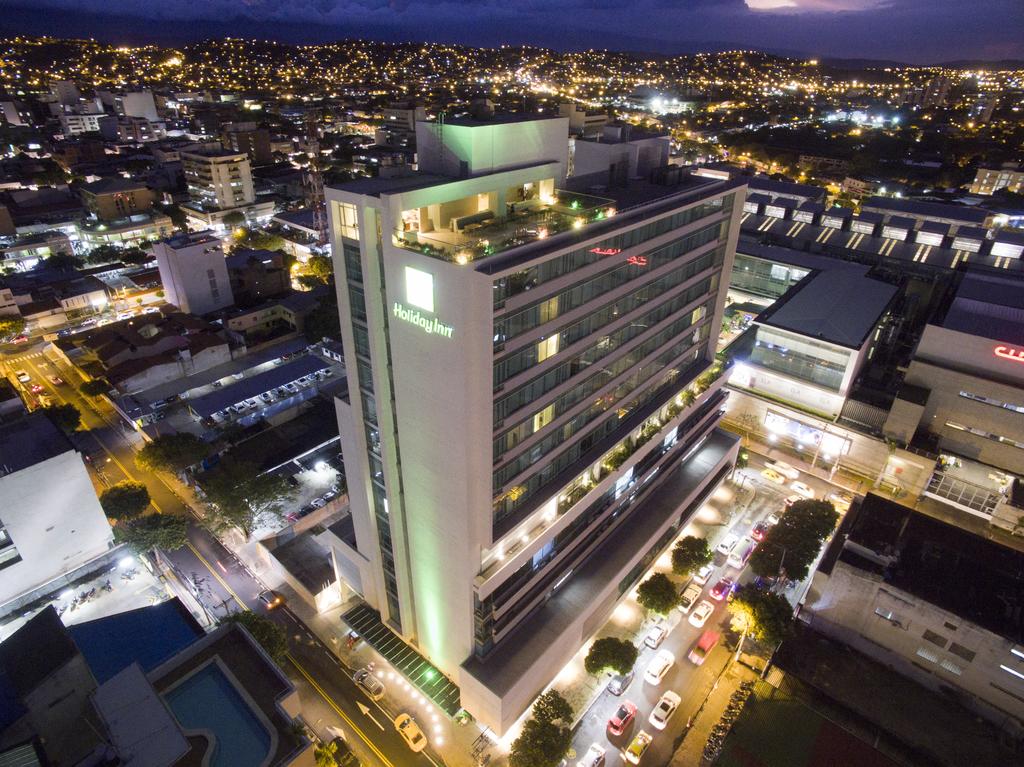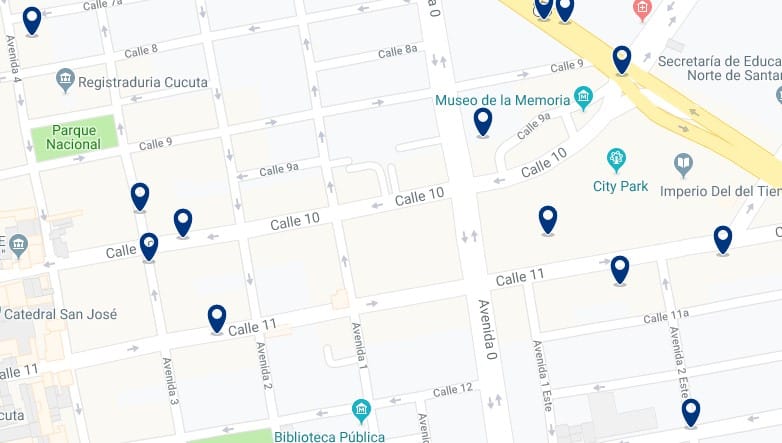 Why is this a recommended area to stay in Cúcuta:
Best area for shopping
Best area for business travelers
Safest area to stay in Cúcuta
---
2. City Center
The City Center is the heart of Cúcuta, and it houses government entities, money exchange offices, and shops.
Around the City Center is one of the most representative heritage of Cúcuta, the Clock Tower, home of the House of Culture.
Another place worth a visit here is the Julio Pérez Ferrero Public Library, with more than 100 years of history.
As far as night entertainment is concerned, the 9th street is home to casinos, bars and the Zulima Theater, a cultural jewel of the City Center.
This area can be easily traveled on foot, but caution is recommended at night, especially when moving through dark or lonely streets.
To move to other parts of Cúcuta, you can choose between buses and taxis.
This is one of the best areas to stay in Cúcuta for its perfectly central location and variety of hotels.
---
3. Near the Bus Terminal
Staying near the Cúcuta bus terminal is a good option for passing travelers, as it has some affordable restaurants and hotels.
Among the attractions that are close to the bus terminal is the Motilón Indian Monument, in honor of the indigenous people who inhabited the Catatumbo.
Another attraction that is a few steps from the Cúcuta bus terminal is an old locomotive, in honor of the first type of transport that circulated in the city.
The Toto Hernández Coliseum and the General Santander Stadium make this one of the best areas to stay in Cúcuta for sports lovers. In the former, you can enjoy exciting basketball games, while the latter is home to the Cúcuta professional soccer team.
The area connects with the rest of Cúcuta by different bus and taxi lines. However, it must be taken into account that this is not the safest area to stay in Cúcuta and you have to be careful, especially at night.
---
4. Villa del Rosario (Near the border with Venezuela)
Although Villa del Rosario is, technically, another city, it is a good area to stay in Cúcuta for its historical monuments and affordable accommodations.
Villa del Rosario has attractions such as the Museo Casa Natal del General Santander, where you can learn about the life of this important figure in the history of Colombia.
Other mandatory stops in Villa del Rosario are the Historic Temple of Cúcuta or Gran Colombia and the Parque los Libertadores, ideal for those who visit Cúcuta with for a family trip.
Moving from Villa del Rosario to Cúcuta is not a complicated task since there are several bus and taxi lines that cover this route.
Villa del Rosario is a good area to stay in Cúcuta for its various entertainment sites such as the Estadio Gran Colombia and the Cancha Maracana, as well as for its cheap accommodation and proximity to the Venezuelan border.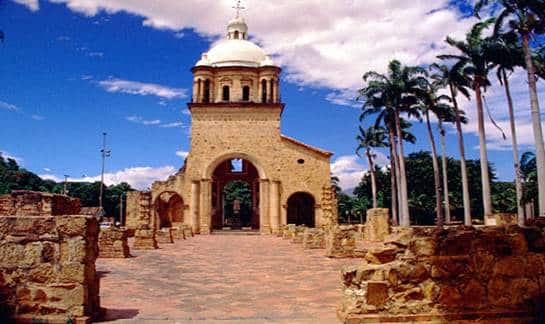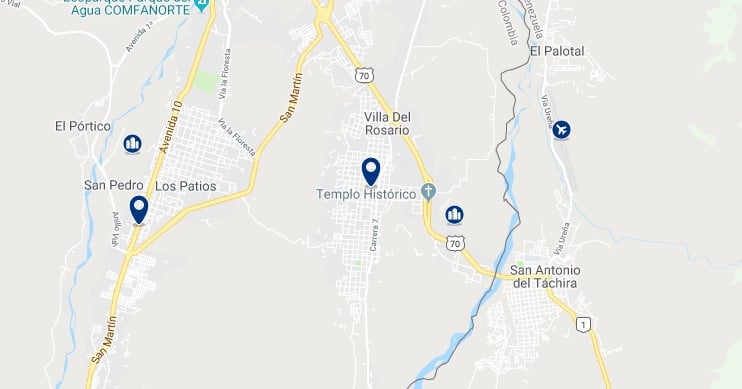 Why is this a recommended area to stay in Cúcuta:
Atracciones turísticas
Cheap hotels to stay in Cúcuta
Close to the Colombian-Venezuelan border
---
Read this in other languages