Where to Stay in Medellin – A Guide to This Colombian City
Medellin is the second-largest city in Colombia and the capital of the department of Antioquia.
It is located in the Aburrá Valley, a central region of the Colombian Andes.
Medellin has an estimated population of 2.5 million, although it feels like it has at least double that amount. This city, full of green spaces, interesting museums, a bustling central area, and many shopping centers, is one of the most interesting places to visit in Latin America.
Its first-class restaurants, lively bars, and an active nightlife scene provide entertainment from dusk to dawn.
Moreover, its efficient metro system makes it easy to get around the city.
Located in a narrow valley, Medellin has an interesting skyline; tall apartment and office buildings on hilltops against a background of jagged peaks in all directions. Its pleasant climate gives it its nickname of "the City of Eternal Spring".
Medellin is a bustling city, thanks to its industry and commerce, especially textile manufacturing.
El Poblado, a luxury area in the southeastern part of Medellín, has the highest concentration of hotels, restaurants and nightlife. (See accommodation in Poblado).
This is a guide with the best areas to stay in Medellin, Colombia.
The Best Areas to Stay in Medellin
1. Our Favorite Area: El Poblado
El Poblado is located about five kilometers south of downtown Medellín.
El Poblado is the best area to stay in Medellin for foreigners who move to the city, and is where most of the hotels and tourist apartments are located.
This area is home to several boutique shops and the most important shopping centers of Medellín, such as Santafé (the largest mall in Medellin), Oviedo or El Tesoro. El Poblado also houses the Zona Rosa, around Parque Lleras, Zona Rosa is a nightlife area full of clubs, restaurants and bars.
El Poblado is full of skyscrapers with spectacular views of the city and is the most exclusive district in Medellin.
This is the recommended area to stay in Medellin for shopping, nightlife and business.
El Poblado also has a strong police presence and the area is considered one of the safest neighborhoods to stay in Medellín.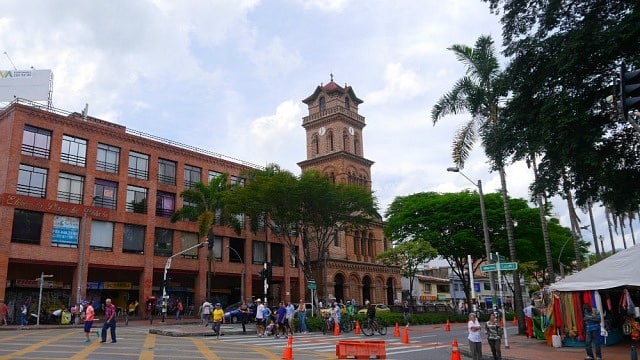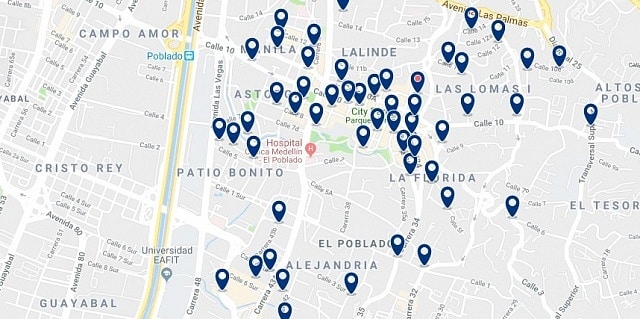 Why is this a recommended area to stay in Medellin, Colombia:
Connected by metro
Lots of apartments
Best area to stay for nightlife
Cosmopolitan atmosphere
Shopping and malls
Bars and restaurants
---
2. Laureles
Laureles is located west of the city center, in the flat heart of the Aburrá Valley, and it has long been considered one of the best upper-middle-class neighborhoods of Medellín.
El Poblado has always been the place to stay for the upper class and foreigners who come to Medellín for short stays.
However, Laureles has become an increasingly popular place for foreigners looking for cheaper accommodation prices and the high quality of life that this district has to offer.
Laureles is next to UPB or Universidad Pontificia Bolivariana, considered one of the best universities in the city (offering great Spanish courses, by the way).
Laureles is not full of tall and flashy skyscrapers like El Poblado. it is predominantly an area of low residential and commercial buildings.
Its atmosphere is more commercial, urban and pedestrian-friendly compared to Poblado.
Laureles gives a more local and down-to-earth experience to any traveler, so it is considered the best area to stay in Medellin for those seeking to immerse themselves in Paisa and Colombian culture.
Laureles is also a very central neighborhood, a safe area to stay in Medellin, and it's connected by metro and urban buses.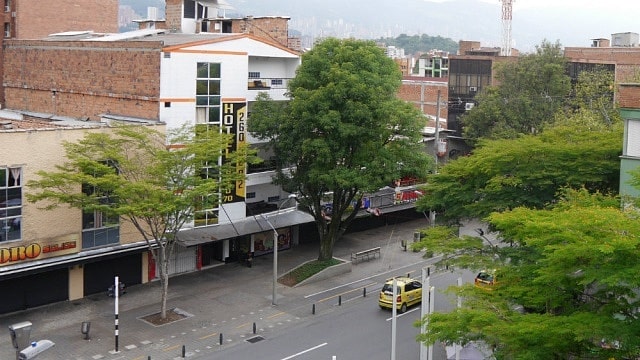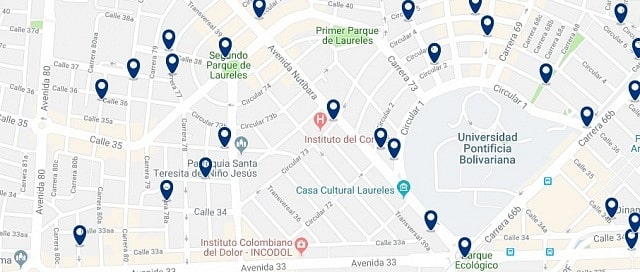 Why is this a recommended area to stay in Medellin, Colombia:
Metro and public transport
High-street shopping
Low-key area
Different types of hotels
Lots of restaurants and cafés
Very central location
---
3. La Candelaria (Centro)
The district of La Candelaria, known locally simply as "Centro", is easily accessible both by metro and buses.
The Parque Berrio metro station gives direct access to Plaza Botero, full of impressive statues by the beloved Paisa artist. Next door, the Museum of Antioquia houses an excellent collection of contemporary art, including many paintings and sculptures by Botero.
Bolivar Park is only a few streets away, it is a bustling square and a good place to see the contrasts of the heart of the city.
Junín Street, which was historically the commercial heart of Medellín was recently refurbished to turn it into a charming pedestrian promenade with shops and cafes.
There are several trendy bars in the area, particularly located around La Playa and Maracaibo streets.
The inconvenience of staying in the city center is that, although during the day it is a bustling barrio, during the night it is not a safe area to stay in Medellin. It is advisable to be cautious and use taxis to move around once the sun goes down.
---
More about Medellin: