Where to stay in Bogotá – A guide to the Colombian capital
Bogotá is not only the epicenter of Colombia, it is also the most important cultural hub in the country and the best meeting place for business.

Bogota is reached by the El Dorado International Airport and, although it has no metro, Bogota has a public transport system that includes the Transmilenio (a system of buses with exclusive lanes), taxis, and buses.
The capital of Colombia and the Department of Cundinamarca has a cold mountain climate, with average temperatures of 14°C. It always rains between March and May, as well as from October to November.
If you are wondering what is the best area to stay in Bogota, Chapinero is the answer because it is located north of the city, where most of the nightlife and recreation of the Colombian capital can be found. (See hotels in Chapinero).
Here's a guide with the best areas to stay in Bogota, Colombia.
The best areas to stay in Bogota
1. Our favorite area: Chapinero
Chapinero is made up of several neighborhoods: La Zona Rosa or Zona T, between 82nd and 84th streets, is known for its international stores and upscale restaurants, Great Chapinero, popular for its leather and footwear retailers, and the Financial Area, where the business-type hotels are.
Chapinero is located between Usaquén and Teusaquillo, both upper and middle-class neighborhoods. To the north, it joins the La Calera (Usaquén) highway and, to the west, the Caracas Avenue separates it from Teusaquillo.
Chapinero's biggest attractions are Zona T, Parque de la 93 and Teatro Librel.
In Chapinero, moving, eating and staying are not an inconvenient, as it has good restaurants (especially in the area known as Zona G or "gourmet" area), hotels and public transport connections.
The accommodation in Chapinero adapts to all budgets, from apartments to business-type hotels, B&B and hostels.
Chapinero is considered the best area to stay in Bogota and it is also Bogota's gay area par excellence, including the legendary club Theatron and other LGBT-oriented bars.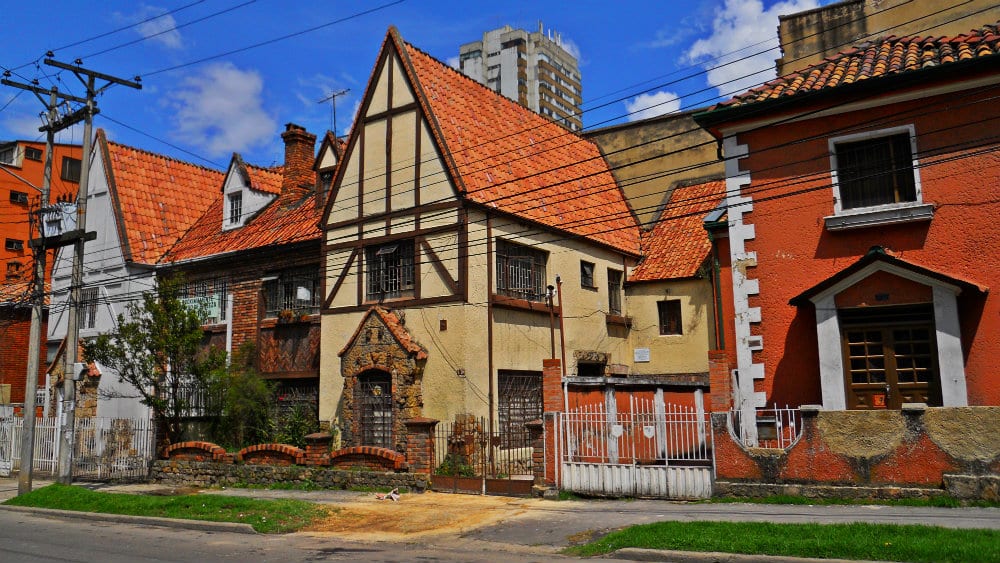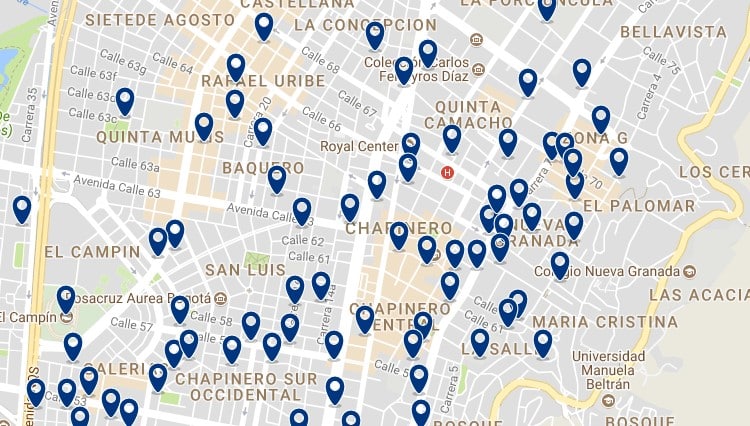 Why is this a recommended area to stay in Bogota:
Great public transport connections
Good area for shopping
Best area for nightlife
All types of hotels
Gay-friendly area
Good area for business travelers
---
2. Zona T (Zona Rosa)
Although it is part of a Chapinero, Zona T or Zona Rosa deserves a special mention as one of the best areas to stay in Bogota.
Zona T is where the upper class of the city lives and party, as it has a great commercial activity and fun, both during the day and at night.
This area is located in the vicinity of the intersection between 82nd Street and 13th Street. You can reach it through the different public transport lines from anywhere in the city.
Zona T or Zona Rosa stands out for its luxury and, therefore, has 4 and 5-star hotels. However, it is also possible to find some cheap hostels in its surroundings.
Zona Rosa also has some bars that make it a good place to stay in Bogota for nightlife.
Due to the cultural and commercial importance of this area, it is also considered the safest area to stay in Bogota.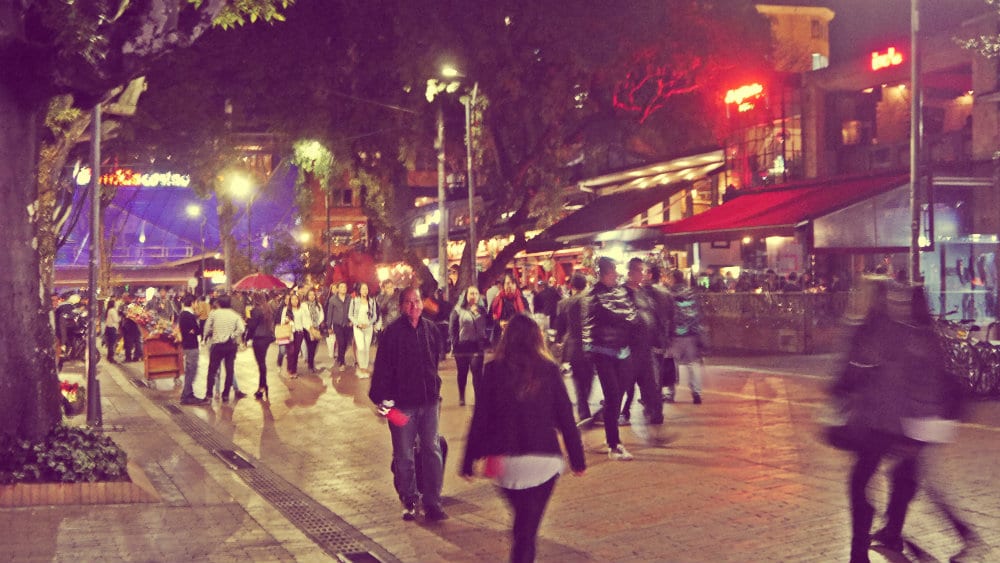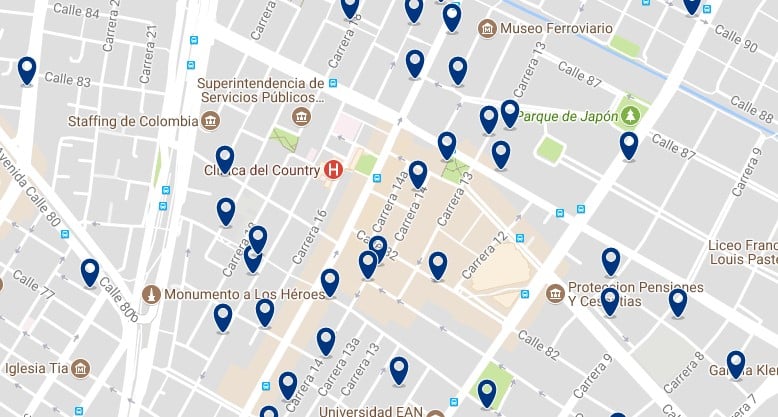 Why is this a recommended area to stay in Bogota:
Best area for shopping
Pedestrian-friendly
Safe area to stay in Bogota
Connected through public transport
Bars and restaurants
Luxury hotels
---
3. Old Town (La Candelaria)
La Candelaria is located in Downtown Bogotá. This district preserves a colonial style for which it was declared of historical interest, with museums, theaters and pedestrian streets.
La Candelaria is a strategic point within the city for its central location, it is where most of the public and private transport can be found. However, you need to be careful when moving through this area at night.
La Candelaria is home to Plaza de Bolívar, the Gold, Colonial, Vase, Botero and La Moneda museums, as well as theaters, the Torre Colpatria viewpoint, the Monserrate hill and the National Capitol.
La Candelaria is one of the best areas to stay in Bogota since its steep stone streets house many charming hotels and hostels, as well as bohemian-style restaurants and cafes.
If you choose to stay at La Candelaria, you should know that it is not the safest neighborhood to stay in Bogota and that it is recommended to be careful on its streets, particularly at night.
---
4. Usaquén & Chicó (North Bogota)
Usaquén is a typical neighborhood, located between 100 and 240 streets. It stands out for its narrow streets, handicrafts, bars and elegant restaurants.
In Usaquén, the Flea Market on Sundays exhibits antiques, and live music along with great food, filling the area with life and tourists every week.
The architecture of the Usaquén commercial area is divided between classic and modern styles, present in shopping centers such as Unicentro, Santa Ana and Santa Bárbara, the latter built on a colonial house.
Since Usaquén is a quite popular area, it enjoys good public transport service and has a hotel offer that includes three and four-star hotels.
The north of Bogota is a safe area during the day and night, so moving through its streets should not represent a major problem.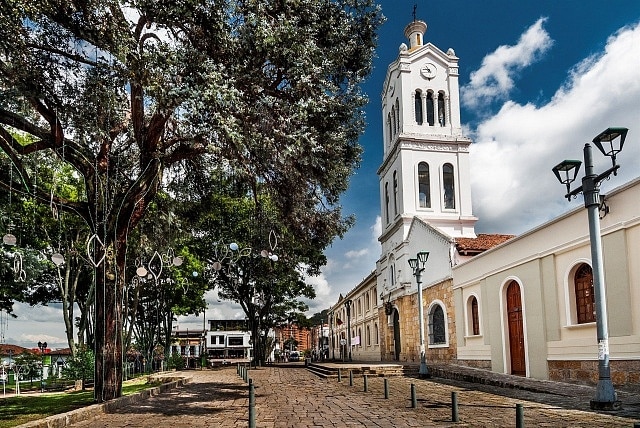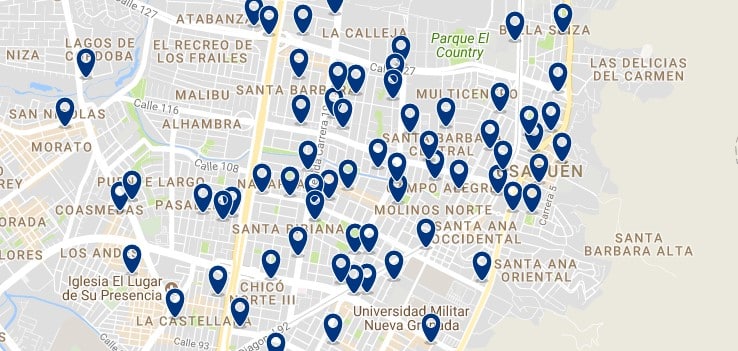 Why is this a recommended area to stay in Bogota:
Safest area to stay in Bogota
Luxury hotels
Charming streets
Connected by Transmilenio
Markets
Good area for shopping
---
5. Teusaquillo
Teusaquillo is the geographical center of Bogotá, located north-west of the historic center.
Teusaquillo is surrounded by green areas with facades that show different stages of the history of the city since, in the past, it was one of the most elegant neighborhoods of Bogota.
The most representative places of Teusaquillo are the University City, the Simón Bolívar Park, the Campín Stadium and the Virgilio Barco Library.
Teusaquillo has routes of the minibus and Transmilenio that connect the area with other neighborhoods of the city.
Teusaquillo is near the historic center and Chapinero and has hotels of different categories for all tastes.
Teusaquillo also hosts the Corferias Congress Complex, making it one of the best areas to stay in Bogota for business travelers.
---
6. Centro Internacional (Bogota's Financial District)
The financial district of Bogota is where the office towers, business centers and the Colombian Stock Exchange are located.
This district is located on Avenida Chile or intersection of 72nd Street, between Candelaria north and Chapinero south.
The financial district has modern infrastructure, squares, restaurants, universities and a shopping center. In addition, it has a central location.
The financial district of Bogota attracts a large number of tourists and business travelers, as it brings together business hotels and good transport connections.
Centro Internacional also offers good hotels to stay in Bogota.
If you decide to stay in this area of Bogota, keep in mind that, as in La Candelaria, it is advisable to be careful at night, particularly in lonely areas.
---
More about Bogota:
|BUSINESS| Best areas to stay in Bogota for business
|NIGHTLIFE| Best areas to stay in Bogota for clubbing
Read this in other languages: