Where to Stay in Denver – A Guide to the Mile-High City
Denver is the capital and largest city of Colorado, located in the South Platte River Valley on the High Plains' western edge. Denver is known as the "Mile High City" because it is exactly one mile above sea level. Denver is famous for being the leading financial, industrial, and tourist hub in the state and for the many outdoor activities you can practice here during the summer and the winter. This post will cover the best areas to stay in Denver, CO.
With over 14,000 acres of parkland in the Rocky Mountain foothills, several ski resorts, lakes, and natural preserves, you'll always find something exciting to do in Denver. Especially if you enjoy nature and the outdoors.
Some of the city's most visited tourist and cultural attractions are downtown in the Central Business District. In this area, you'll find the Museum of Contemporary Art, Larimer Square, the American Museum of Western Art, The Denver Central Market, and the Denver Selfie Museum, to name only a few sites. See accommodation in Downtown Denver.
A few miles east of the Central Business District lies the incredible City Park, an extensive green area filled with some of the best family-friendly attractions in Denver, such as the Denver Zoo, the Denver Museum of Nature & Science, Tropical Discovery, and Space Odyssey. See accommodation around City Park.
Its innate love for artisanal beer, organic produce, and an outdoorsy lifestyle has fueled Denver's reputation as an extremely hipster-friendly city. If you're into ironic mustaches, cold-brew coffee and/or vintage records, you should definitely visit (or stay in) Denver's uber-cool alternative hangouts like LoDo or the Golden Triangle.
Because of its inland and high-altitude location, Denver has a humid continental climate. This translates into four very distinct seasons and wide variations between winter and summer temperatures. Winters are cold and snowy. Average temperatures in January usually hover between 17 and 44 ºF (-8 to 7 ºC). Meanwhile, summers are hot and humid. July temperatures typically range between 59 – 88 ºF (15 – 31 ºC). The best time to visit Denver is during the spring, early summer, or fall, when you can do outdoor activities, go to events and festivals without worrying about the cold (unless you're traveling to Denver to ski, which, as you can imagine, is a winter-only activity).
To get to Denver by air, the Colorado capital is served by the Denver International Airport, located 25 miles northeast of the downtown area. This important airport has a wide range of domestic flights reaching every corner of the US. There are also dozens of international connections to cities in Canada, Mexico, Latin America, and Europe.
You can also get to Denver by train. Denver Union Station, located in the CBD, is the city's main railway hub. This station is served by Amtrak's California Zephyr long-distance train, which connects Chicago and Emeryville and runs across the San Francisco Bay. See train routes, schedules & fares.
Additionally, Denver is connected to other places in Colorado and the US West and Midwest through a network of long-distance buses. See bus routes, schedules & fares.
To move around the city, Denver has very efficient transport options. Denver's public transportation system consists of 12 light and commuter rail lines and over 150 bus routes. The city's central districts are very pedestrian-friendly and you can also use taxis, mobile apps like Uber and Lyft, or rent a car for your trip.
The best area to stay in Denver is the Central Business District. Downtown Denver is home to the main historical attractions and museums in the city. Here, you'll also find some of the best nightlife venues, restaurants, and accommodations in Denver. See accommodation in Downtown Denver.
If you're traveling with kids, the area around City Park is home to many family-friendly attractions, and LGBTQ folks should definitely look into staying in Capitol Hill.
Other great districts to keep in mind when choosing the best location in Denver include LoDo, Cherry Creek, and Central Park / Stapleton.
Keep reading to find out more about the best areas to stay in Denver, CO.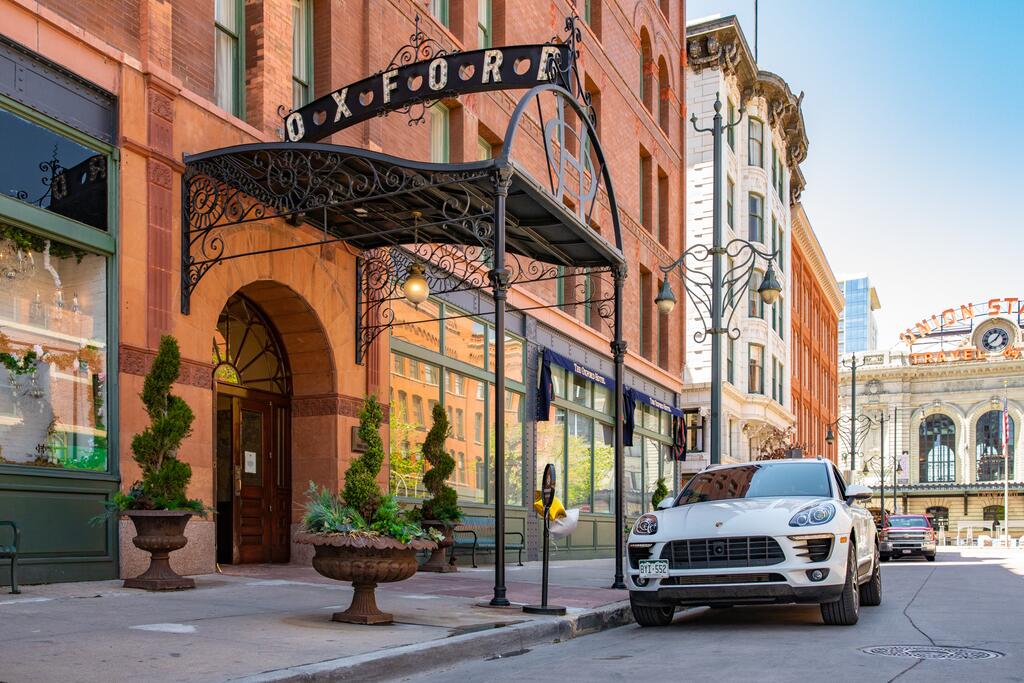 The Oxford Hotel Downtown Denver

Located in Denver, less than 0.6 mi from Pepsi Center, The Oxford Hotel Downtown Denver features accommodations with a restaurant, private parking, a fitness center, and a bar. Among the facilities at this property are a 24-hour front desk and room service, along with free WiFi throughout the property.
---
Best Location in Denver, Colorado: A Quick Guide
Below, you'll find a list of the best areas to stay in Denver depending on your travel style and what you may be planning to do during your trip. Keep reading below to find all the specific information you need about each particular area mentioned here.
---
Best Hotels in Denver, CO by Theme
Something more specific in mind? Here's a list of some of the best hotels in Denver. No matter your reason for visiting the city or style, you'll find it here!
---
The Best Areas to Stay in Denver, Colorado
1. Recommended area: Central Business District & Downtown Denver
Perhaps unsurprisingly, Downtown Denver is home to some of the city's best accommodations. Here, you can find uber-cool boutique properties like The Oxford Hotel, big-name business hotels such as The Westin Denver Downtown, and a few more budget-friendly options like the SpringHill Suites by Marriott.
Downtown Denver, also known as the Central Business District, is, as its name suggests, located right in the Colorado capital's epicenter.
This area is Denver's main commercial, financial, dining, nightlife, and shopping district.
Some of the best restaurants, bars, and shops in Denver are around Larimer Square, the city's oldest historic block, located in the heart of the downtown area.
The Colorado capital also stands out for its thriving beer scene. Two important breweries are in this district: Wynkoop Brewing Company, the first of its kind in Denver, and Great Divide Brewing Company.
Attractions in this district include the Colorado State Capitol, the History Colorado Center, and the Denver Art Museum (DAM), with an impressive collection of American Indian and West American Art.
The Denver Performing Arts Complex is also in this area and is home to the Sculpture Park, with two 49-foot-high iconic sculptures called "The Dancers." This venue hosts theater plays, dance recitals, and concerts regularly.
Another iconic Downtown Denver site is the Big Blue Bear, a 40-foot high sculpture located in the Colorado Convention Center.
Although Downtown Denver is known for its business atmosphere and modern buildings, it is home to some green spaces. Take the Civic Center Park, for example. This beautiful park, located next to the Colorado State Capitol on 14th Avenue, has a Greek amphitheater, statues, all kinds of flowers, and trees.
Denver's Central Business District is the best-connected area in the city. Not only is this district served by light rail, buses, and a free 16th Street MallRide streetcar, but it is also a very pedestrian-friendly place. The Union Station, which is served by Amtrak is in this part of Denver too.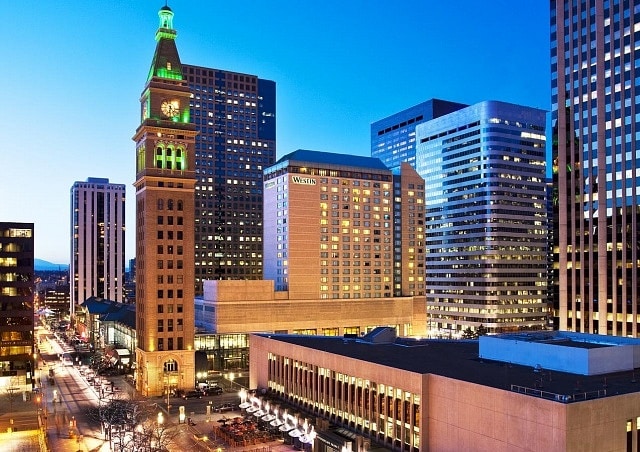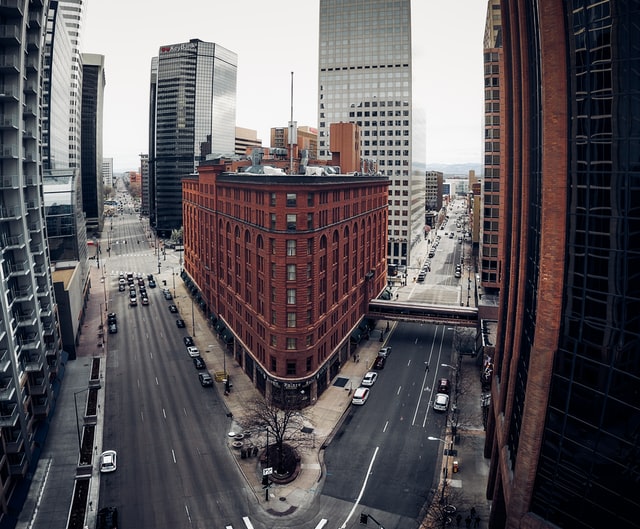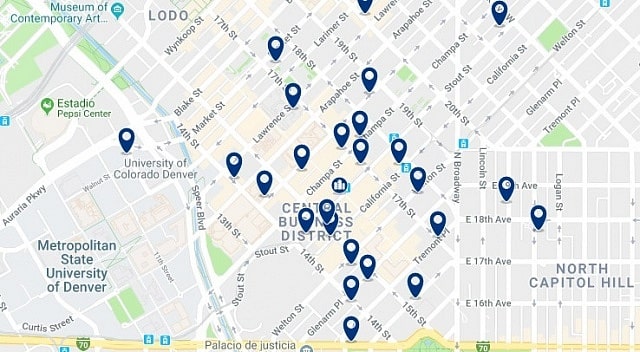 Why is this a recommended area to stay in Denver:
Best area for sightseeing
Connected by public transport
Best area for nightlife
Shopping areas
Best area to stay without a car
Restaurants, bars and clubs
---
2. Capitol Hill
Hip and historic, Denver's 'gayborhood' is home to an eclectic mix of accommodations including gorgeous B&Bs like the Patterson Inn, chic, modern hotels like the Warwick Denver, and cool backpacker options like Ember Hostel.
Capitol Hill is located in central Denver.
This gorgeous neighborhood deserves a place on this list because it is one of the city's oldest and most beautiful areas.
Capitol Hill is home to essential Denver attractions, like the Colorado State Capitol, the History Colorado Center, and Saint John's Cathedral.
This neighborhood, located southeast of the Central Business District, stands out for its beautiful, antique houses that belonged to Denver's upper class.
Here, you'll find the Molly Brown House Museum. This museum was once the house of Margaret Brown, also known as "The Unsinkable Molly Brown," who survived the Titanic's sinking in 1912.
Nowadays, this residential area's old buildings house cute cafés, restaurants, B&Bs, hotels, and boutiques.
There are also pubs, nightclubs, and bars in different parts of the neighborhood. Likewise, 13th avenue is home to vinyl record stores, alternative shops, and tattoo parlors with a punk-inspired aesthetic. So, it's safe to say this is a district full of contrasts.
Capitol Hill is a very pedestrian-friendly neighborhood. But you can also take the bus to other areas of Denver and the Union Station easily.
---
3. LoDo (Lower Downtown)
Super central, super cool, super alternative LoDo offers several top-notch hotels, condo-hotels, and private apartments. Some of the best-rated include the Mint House Downtown Denver and The Crawford Hotel at Union Station.
Lower Downtown or "LoDo" is located northwest of the Central Business District.
Although it is technically part of Downtown Denver, LoDo deserves a spot on this list for being the coolest neighborhood in Denver. Here, you'll find hipster bars, fast food chains, restaurants, and food trucks.
Lower Downtown houses cultural sites like the Museum of Contemporary Art Denver and the Robischon Gallery. Likewise, the must-see Larimer Square is also located in this area.
If you love nature, you'll enjoy LoDo because of its proximity to the Confluence Park. This park is at the joining of Cherry Creek with the South Platte River, and you can do picnics, hike, skate, swim, and fish in it.
LoDo is also home to Union Station, so it is recommended to stay in Denver for a short visit since you can take the train to other cities or the airport from here.
The station also makes this one of the best-connected districts in Denver.
---
4. Cherry Creek
Cherry Creek is located southeast of Capitol Hill and is a trendy residential area surrounded by parks and green spaces.
This area limits Cherry Creek to the south, hence the name, and has one of the biggest malls in Denver: Cherry Creek Shopping Center, with stores, playgrounds, restaurants, bars, and stunning views.
This area is known for its growing dining scene. From fast-food chain restaurants to bistrós, healthy restaurants, and ethnic eateries, there's a meal for everyone on Cherry Creek.
Since Cherry Creek is a 15-minute drive from Downtown Denver, you can also find cheaper accommodation in this beautiful neighborhood.
To move to other areas, you can take the bus. That said, you can also bike along the Cherry Creek Trail, an 11.2-mile path, to get to the city center if you feel athletic.
This trail has several stops on other parks and attractions of the city too.
---
5. City Park & around
If you travel to Denver with kids, you could stay around City Park, which houses the Denver Zoo and the Museum of Nature and Science, as well as lakes, picnic areas and playgrounds.
Besides family-friendly entertainment, City Park is near E. Colfax Avenue and its many dining options. Here, you'll find restaurants, breweries, coffeehouses, and takeouts, to name only a few alternatives.
You can also find some art galleries and shops in this quiet area of the city.
This area is east of Downtown Denver and connected by public transport.
City Park's surroundings are a great area to stay in Denver for family trips, with a wide range of accommodation.
---
6. Central Park / Stapleton
Central Park, previously known as Stapleton, is a neighborhood located 6 mi east of downtown Denver.
This area occupies the former site of the decommissioned Stapleton International Airport, officially closed in 1995.
Central Park is the largest residential neighborhood within the city and has a diverse architectural makeup.
While this area is largely residential and suburban, staying here does offer some perks.
Accommodation options in Central Park are plentiful as many former airport hotels remained open even after the closure of Stapleton Int'l. Also, hotels tend to be cheaper and offer great quality.
For a bit of fun, make sure to visit Stanley Marketplace, a shopping center and hipster hangout with multiple eateries, retailers, and businesses.
Central Park / Stapleton is connected to downtown Denver by the Central Park commuter rail and bus station. This transit center offers direct connections to Union Station and the Denver International Airport (via the A-Line).
---
Read this in other languages