Where to Stay in Phoenix- A Guide to the Capital of Arizona
Phoenix is the capital and most populous city of Arizona. Located in the northeastern part of the Sonoran Desert, in the heart of the state, and Nicknamed "The Valley of the Sun," Phoenix is famous for its sunny climate, Spanish-inspired architecture, and its unique desert landscape surrounded by mountains. In this post, we will discover the best areas to stay in Phoenix, AZ.
Phoenix is a bustling city. Its constantly warm weather, even during the winter, has turned it into one of the most popular tourist destinations in the United States, particularly among people living in more temperate areas further north.
The main tourist attractions in Downtown Phoenix include the Arizona Science Center, Rosson House Museum at Heritage Square, St. Mary's Roman Catholic Basilica, Civic Space Park, and the George Washington Carver Museum and Cultural Center. See accommodation in Downtown Phoenix.
Phoenix is also considered the main gateway to explore the impressive desert landscapes of Central Arizona. Some of the most popular national parks and natural preserves around Phoenix include the Desert Botanical Garden, Camelback Mountain, Papago Park, South Mountain Park and Preserve, and Rio Salado Habitat Restoration Area.
If you're traveling to Phoenix with kids, the Arizona capital is home to several family-friendly attractions like the OdySea Aquarium, Phoenix Zoo, Enchanted Island Amusement Park, or the Children's Museum of Phoenix.
Other unmissable sights in Phoenix include the Pueblo Grande Museum, The Japanese Friendship Garden of Phoenix, Encanto Park, and the Musical Instrument Museum.
Due to its location in the Sonoran desert, Phoenix has a hot desert climate. This translates to extremely hot summers and mild to warm winters, and very little rainfall throughout the year. Average temperatures in January usually hover between 46 -67 ºF (8 – 20 ºC). Meanwhile, July and August can see average temperatures of around 84 – 106 º F (27 – 41 ºC). The best time to visit Phoenix is from late fall to early spring (November through April). During these months, temperatures are pleasant, and you can enjoy outdoor activities without enduring the summertime's scorching heat.
To travel to Phoenix by air, the city is served by the Phoenix Sky Harbor International Airport. Located 3 miles east of downtown Phoenix, this major hub, the largest and busiest in Arizona, offers connections to virtually every corner of the US, as well as international routes to destinations in Mexico, Canada, and the Caribbean.
To move around the city, Phoenix offers a multimodal public transportation system consisting of a light rail line (called Valley Metro Rail), a comprehensive bus network, taxis, and mobile apps like Uber and Lyft. That said, Phoenix's size and climate mean the car is still the preferred way to get around, especially if you're planning on visiting the many natural areas around the city. You can rent a cheap car in Phoenix here.
The best area to stay in Phoenix for sightseeing is the Downtown District. This central area is home to the city's main cultural attractions, as well as the most popular nightlife and restaurant areas, and shopping streets. Downtown is also home to many business-oriented and luxury hotel chains. See accommodation in Downtown Phoenix.
Scottsdale, located 10 miles east of Downtown Phoenix, is an upscale town known for its art scene, resorts and spas, and fine dining, and a great area to stay.
On the other hand, if you're visiting Phoenix for a relaxing or romantic getaway and plan to spend your vacation sipping cocktails by a pool, then the Camelback East area and its world-class resorts are for you.
Other great areas to consider when choosing the best location in Phoenix include Encanto, Paradise Valley, and North Mountain.
Keep on reading to find out more about our top picks of the best areas to stay in Phoenix, Arizona.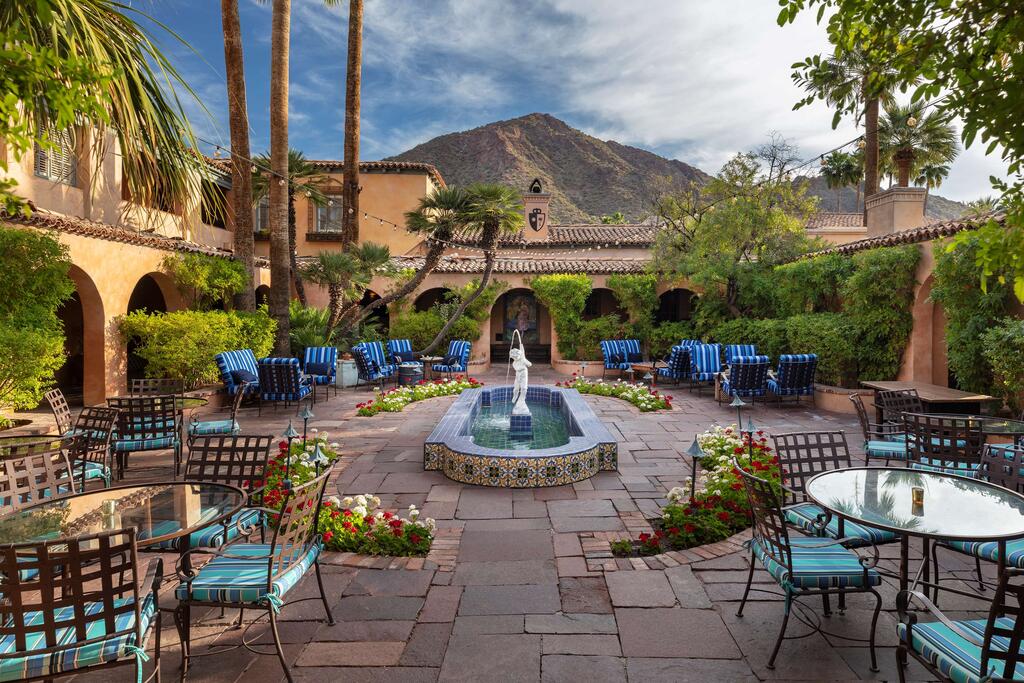 Royal Palms Resort and Spa, part of Hyatt

In an ideal location between the prestigious area of Biltmore and Scottsdale city center, the Royal Palms Resort & Spa, part of Hyatt is a beautiful hideaway resort. Set among citrus groves and exotic foliage and with the stunning backdrop of Camelback Mountain, this resort is a true oasis in the desert.
---
Best Location in Phoenix, Arizona: A Quick Guide
Below, you'll find a list of the best areas to stay in Phoenix depending on your travel style. Keep reading this post to find all the information you need about each particular neighborhood.
---
Best Hotels in Phoenix, AZ by Theme
Something specific in mind? Here's a list of some of the top hotels in Phoenix. No matter your reason for visiting the city, we got you covered!
---
The Best Areas to Stay in Phoenix, AZ
1. Recommended area: Central City / Downtown Phoenix
Central City has the most varied offer of accommodation in Phoenix. In a city known for its luxury resorts, Downtown Phoenix offers everything from budget-friendly alternatives like SpringHill Suites Phoenix Downtown to big-name business-oriented chains like Sheraton and Hyatt and urban luxury hotels like the Kimpton Hotel Palomar.
Downtown Phoenix is a vibrant business and entertainment area.
Part of the Central City District, a massive district encompassing Phoenix's core's financial, commercial and residential developments, plus the expansive Phoenix Sky Harbor International Airport, Downtown Phoenix concentrates some of the city's top cultural tourist attractions.
The Governmental Mall district, on the east end of Central City, is home to Wesley Bolin Memorial Plaza, a large public square where the state's main administrative landmarks such as the Arizona Capitol (and its museum), the Arizona State Senate, and the Arizona Supreme Court are located.
The Arizona Science Center, located on Washington Street, offers interactive demos, a planetarium, and an IMAX theater. Next to it, the Children's Museum of Phoenix is home to over 300 hands-on exhibits focusing on science and history for kids 12 and under.
Downtown is also home to some off-the-beaten-track local museums such as the Phoenix Trolley Museum, the Phoenix Police Museum, or the Exotic Art Show @ Alwun House Foundation.
Roosevelt Row, located in Central City's Evans Churchill neighborhood, and the area around the Arizona State University campus are the best places to go for amazing Sonoran-style Mexican cuisine, lovely cafés, pizzerias, and cocktail bars.
For shopping, dining, and nightlife, CityScape offers bars, restaurants, fashion retailers, nightclubs, and entertainment venues in a chic environment.
Central Phoenix is also where most professional sports and concert venues are found. Chase Field is a stadium and multi-purpose arena home of the Arizona Diamondbacks. Meanwhile, PHX Arena hosts professional basketball and big-name concerts.
From a business traveler's perspective, Downtown Phoenix is the area where many big Arizona companies have their headquarters. Additionally, the Phoenix Convention Center, one of the largest in the state, hosts national and regional conventions, congresses, and trade shows. Tall office towers, high-rises, and convention centers make Downtown the best area to stay in Phoenix for business.
To move around the various districts in the Central City, the Valley Metro Rail system offers several stations on Washington and Jefferson Streets and 1st and Central Avenues, connecting the area north to Encanto and North Village and east toward the airport Tempe, and Mesa. Additionally, the area is served by many bus routes, and taxis are widely available.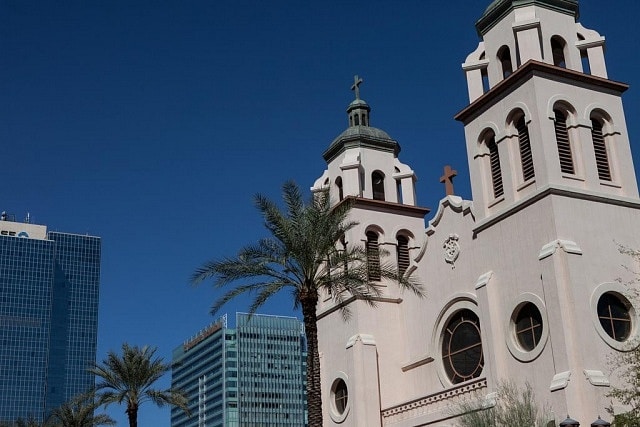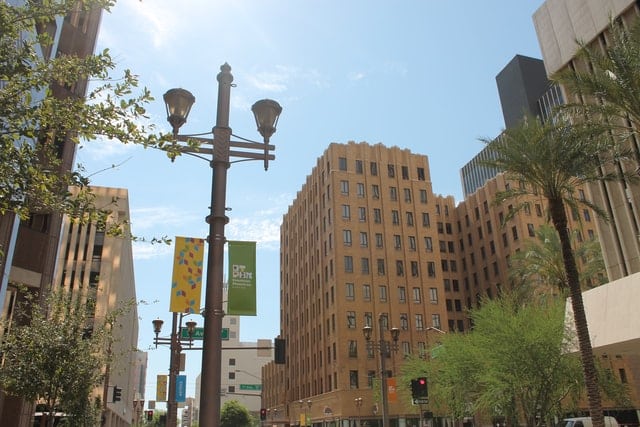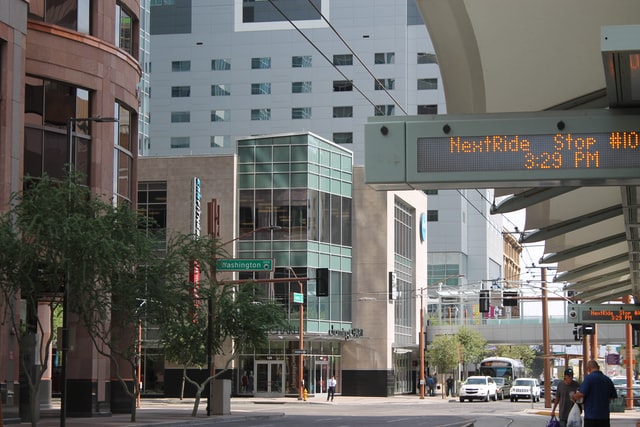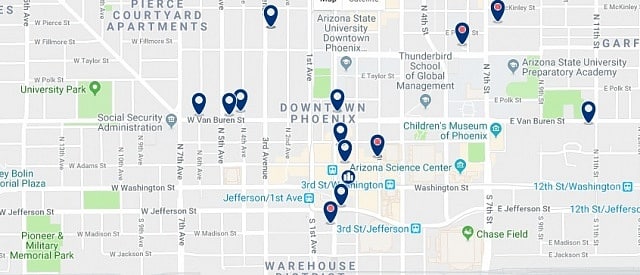 Why is this a recommended area to stay in Phoenix, AZ:
Heart of Phoenix
Best area to stay in Phoenix for business travelers
Best area to stay in Phoenix without a car
Best area for sightseeing
Nightlife and restaurants
Best area for shopping
---
2. Old Town Scottsdale
The accommodation offer in Old Town Scottsdale includes several mid-range and upscale properties. The best-rated include W Scottsdale, Aloft Scottsdale, and Hyatt Place Scottsdale/Old Town.
Scottsdale is an independent Greater Phoenix Area city located 10 miles east of Downtown Phoenix.
This city is famous for its high quality of life and its upscale suburbs and country clubs.
Its central area, Old Town Scottsdale is home to the city's main shopping streets, restaurants, bars, and nightclubs. Most of the nightlife in Downtown Scottsdale can be found between Camelback and Osborn roads.
Old Town Scottsdale is also a thriving cultural district. This area is known for being a major art center in AZ, home to many galleries, studios, and art museums. The Scottsdale Arts Festival takes place annually and brings visitors from all over the country.
The upscale Scottsdale Fashion Square, located in Downtown Scottsdale, is one of the largest malls in the US.
The Scottsdale Airpark, an important business development serves as the headquarters for major regional and national companies.
To get around the city, the "Scottsdale Trolley", a free-of-charge trolley-replica bus system, offers two lines connecting at the Loloma Station transit center. Scottsdale is not yet connected by the light rail system. In order to get to Central Phoenix by public transport, you'd need to take the bus, taxi, or Uber.
---
3. Encanto Village
Encanto Village is a convenient area to stay in Phoenix. This LGBT-friendly area is centrally located but safer and nicer than Downtown. It has a wide range of mid-range accommodation options, including the Hilton Garden Inn Phoenix Midtown and the Hampton Inn Phoenix-Midtown-Downtown Area.
Encanto Village encompasses the neighborhoods of Encanto, Midtown, and Uptown Phoenix.
Located north of the Central City District, this area is known for its lively nightlife, with a large number of bars and nightclubs catering to the LGBT+ community.
The Museum of Art and the Heard Museum are some of the attractions located within Encanto. Park Central Shopping Center and the Arizona State Fair are also nearby.
Other points of interest include Encanto Park, Steele Indian School Park, and Phoenix College.
In the surroundings of Encanto, you can find different types of accommodation for all types of visitors.
Encanto has great connections to move to and from Phoenix Airport and Downtown Phoenix. Several Valley Metro stations are available on Thomas, Osborn, and Encanto streets.
---
4. Paradise Valley & North Scottsdale
This Greater Phoenix Area city is especially known for its luxury homes and high quality of life, so it's no surprise that many Paradise Valley & Scottsdale hotels cater to an upscale audience. The best-rated resorts in this area include the Four Seasons Resorts Scottsdale and the Fairmont Scottsdale Princess. For a more budget-friendly alternative, check out the Scottsdale Links Resort.
North Scottsdale and the Paradise Valley area are the most rapidly-growing districts in the Greater Phoenix Area.
This area, located around the McDowell Mountain range, is home to some of Phoenix's richest residents and is also where some of the most luxurious boutique resorts are located.
In addition to offering an amazing natural backdrop and the opportunity for long walks through its hiking trails, Paradise Valley is home to several restaurants, bars, drive-ins, and diners.
This exclusive area has a wealth of top-notch hotels and resorts offering Hollywood-star services.
To move from Paradise Valley to other Phoenix districts by public transport, you can use the Scottsdale Streetcar or the city's bus network.
---
5. Camelback East
Camelback Mountain and the districts around it have a very varied accommodation offer. Here, you can find upscale Spanish-inspired resorts like the Royal Palms Resort and Spa business-oriented properties like the AC Hotel Phoenix Biltmore, or more budget-friendly hotels like the Holiday Inn Express & Suites.
Camelback East is located near Camelback Mountain (hence its name), northeast of downtown Phoenix.
Camelback is one of the most popular neighborhoods in Phoenix and is divided into two cores: 24th Street and Camelback Road and around 44th Street and Van Buren Ave.
In this area, you can find some tourist attractions, including the Shemer Art Center and Museum, which aims to educate its visitors about visual art, through exhibitions, classes, conferences, workshops, and events.
As in the previous areas, in Camelback East you will find bus stations to move to other districts.
Being an upmarket neighborhood, Camelback East is home to many restaurants, cafés and cocktail bars.
Camelback East offers 4 and 5-star hotels with spectacular views of the mountains, as well as some cheaper alternatives.
---
6. North Mountain
North Mountain is located, as the name suggests, in the northern part of Phoenix.
This area stands out for its sporting events, Castles N 'Coasters amusement park, as well as for its cafes and restaurants with live music.
North Mountain is also home to Phoenix's largest mall, Metrocenter.
The North Mountain area offers some light rail stations along W Dunlap Ave., W. Olive Ave. and Northern/19th Ave.
In the surroundings of North Mountain, there is accommodation options of all kinds.
This district stands out as one of the cheapest areas to stay in Phoenix.
---
Read this in other languages
|ES| Dónde alojarse en Phoenix, Arizona.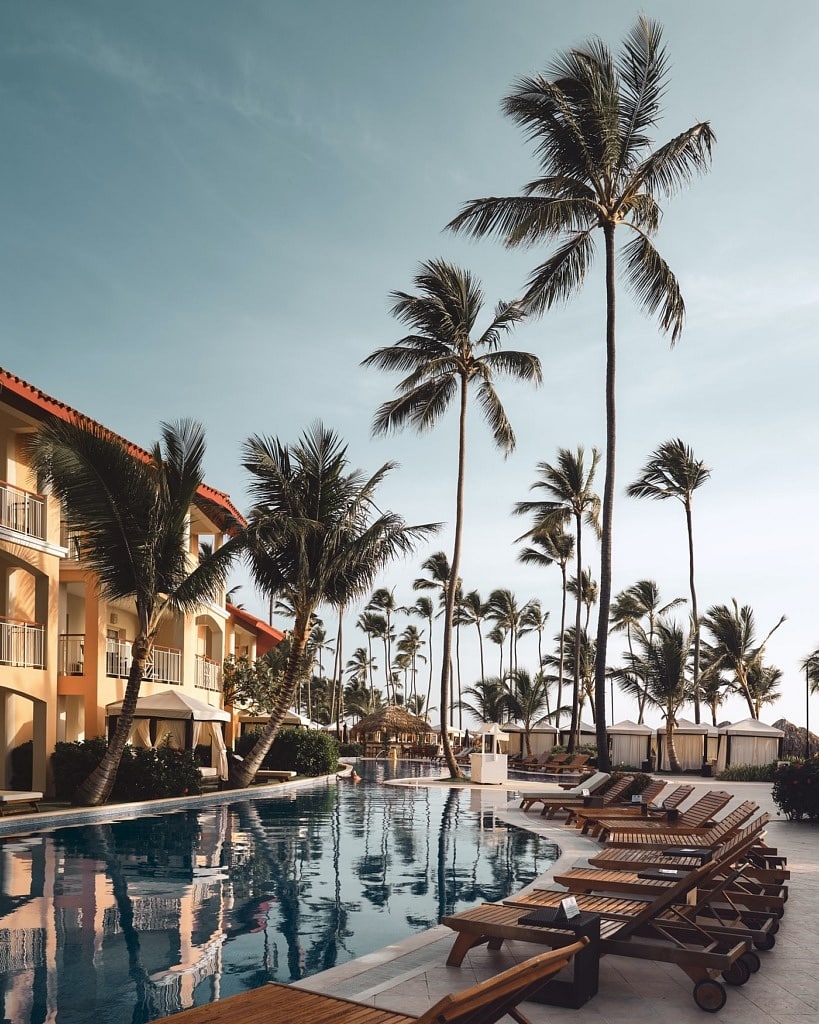 Where to stay in other cities