Where to Stay in Phoenix- A Guide to the Capital of Arizona
Phoenix, is the capital and most populous city of Arizona. It is nicknamed "the Valley of the Sun". Phoenix has a unique landscape with deserts, ranches, and mountains that blend perfectly with its Spanish-inspired buildings, luxury hotels, and gourmet restaurants, making it an ideal tourist destination when visiting in Arizona. In this post, we will explore the best areas to stay in Phoenix.
Although Phoenix is mainly famous for its sunshine, this warm city offers so much more!
Among its main attractions is the Desert Botanical Garden where you can see local vegetation and fauna. The Children's Museum of Phoenix offers over 300interactive play areas for babies to kids up to age 10 and the Heard Museum displays an impressive collection dedicated to the advancement of American Indian art.
The Phoenix Sky Harbor International Airport is located 3 miles east of downtown Phoenix. It is the largest and busiest airport in Arizona and among the largest commercial airports in the United States. It offers domestic and international flights.
Although Public transportation in Phoenix consists mainly of buses, the Arizona capital also has a 20-mile light rail system. Most transit services run under the name Valley Metro. That said, in order to explore the natural wonders around the city and reach the districts not connected by Valley Metro, we recommend renting a car. You can rent a cheap car in Phoenix here.
When it comes to climate, Phoenix is mainly arid, with very hot summers and temperatures that can exceed 100ºF (38°C) in July and August. March is the wettest month of the year and June the driest month.
The recommended area to stay in Phoenix will largely depend on the purpose of your visit. First-timers and city hoppers will prefer the Downtown area, as it offers easy access to other areas, restaurants, shops, and nightlife. On the other hand, if you're visiting Phoenix for a relaxing or romantic getaway by a pool, then the Camelback East area and its impressive resorts are for you.
Here's a guide with the best areas to stay in Phoenix.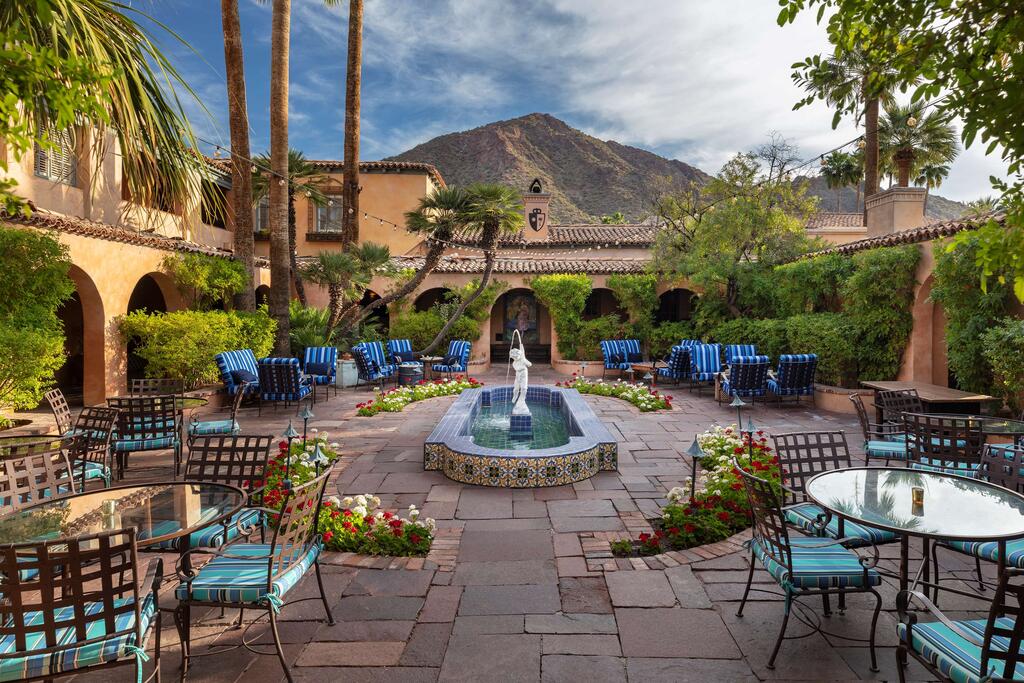 Promoted Property
Royal Palms Resort & Spa-in the Unbound Collection by Hyatt

This historical hotel has the feel of a Spanish villa – lush walled gardens, stone walkways, antique water fountains and delightful courtyards all add to the ambiance of the resort.
---
Best Location in Phoenix, Arizona: A Quick Guide
Below, you'll find a list of the best areas to stay in Phoenix depending on your travel style. Keep reading this post to find all the information you need about each particular neighborhood.
---
Best Hotels in Phoenix, AZ by Theme
Something specific in mind? Here's a list of some of the top hotels in Phoenix. No matter your reason for visiting the city, we got you covered!
---
Airbnbs & Tourist Apartments in Phoenix
If you're looking for independence during your trip to Phoenix, or maybe just need to feel at home when you travel, then you may want to consider booking an Airbnb, a private room in someone's home, or a whole apartment. The world is your oyster.
---
The Best Areas to Stay in Phoenix, AZ
1. Our favorite area: Central City / Downtown Phoenix
This neighborhood is located (as its name suggests) in the center of Phoenix and preserves is home to the oldest, historical face of the city.
This is one of the best-connected areas in town: throughout Central City, you can find are 6 light rail stations and several bus stops that facilitate access to other districts, making it the best area to stay in Phoenix without a car.
One of the benefits of staying in Central City is its proximity to the airport.
Central City is also home to many attractions such as the Arizona Science Center, the Children's Museum, and the Celebrity Theater.
Central City is a bustling area full of shops, art and culture.
It is a popular area thanks to its lively streets, commercial atmosphere, and renovated historical buildings that are now restaurants, shops, galleries, and cafés.
Central City is among the best areas to stay in Phoenix thanks to its location, easy access to other neighborhoods and a variety of accommodations that include 4 and 5-star hotels.
---
2. Encanto
Encanto encompasses the Midtown section of the city.
This area is known for having a lively nightlife, with a large number of bars and clubs for the LGBT community.
The Museum of Art and the Heard Museum are some of the attractions located within Encanto, the Park Central Shopping Center and the Arizona State Fair are also nearby.
Other points of interest include Encanto Park, Steele Indian School Park, and Phoenix College.
In the surroundings of Encanto, you can find different types of accommodation for all types of visitors.
Another benefit of staying in Encanto is the proximity to Phoenix airport and its metro stations on Thomas, Osborn, and Encanto streets.
Other leisure options in this area include attending the opera or going to see a play at the Valley Youth Theater.
---
3. Paradise Valley
Paradise Valley is located between Camelback Mountain, Phoenix Mountain Preserve, and McDowell Mountains.
It is an oasis known for its luxury hotels and proximity to the best attractions in the city.
In addition to offering long walks through its hiking trails, Paradise Valley hosts several restaurants, bars, drive-ins, and diners.
This exclusive area has different top-notch hotels and resorts with exclusive service.
To move from Paradise Valley to other Phoenix districts, you can use the Scottsdale Street buses to the north and Camelback in the east.
---
4. Camelback East
Camelback East is located near Camelback Mountain (hence its name), northeast of downtown Phoenix.
Camelback is one of the most popular neighborhoods in Phoenix and is divided into two cores: 24th Street and Camelback Road and the other is 44th Street and Van Buren Ave.
In this area, you can find some tourist attractions, including the Shemer Art Center and Museum, which aims to educate its visitors about visual art, through exhibitions, classes, conferences, workshops, and events.
As in the previous areas, in Camelback East you will find bus stations to move to other districts.
Being an upmarket neighborhood, Camelback East is home to many restaurants, cafés and cocktail bars.
Camelback East offers 4 and 5-star hotels with spectacular views of the mountains, as well as some cheaper alternatives.
---
5. North Mountain
North Mountain is located, as the name suggests, in the northern part of Phoenix.
This area stands out for its sporting events, Castles N 'Coasters amusement park, as well as for its cafes and restaurants with live music.
North Mountain is also home to Phoenix's largest mall, Metrocenter.
The North Mountain area offers some light rail stations along W Dunlap Ave., W. Olive Ave. and Northern/19th Ave.
In the surroundings of North Mountain, there is accommodation options of all kinds.
This district stands out as one of the cheapest areas to stay in Phoenix.
---
Read this in other languages