Where to stay in Salt Lake City- A Guide to the Capital of Utah
Salt Lake City, is the capital and the most populous city in Utah. It is located in the Wasatch Front Valley, in the north of the state. Salt Lake City, often abbreviated "SLC" is considered a multicultural city with great restaurants, good nightlife, and efficient public transport services. In this post, we will talk about the best areas to stay in Salt Lake City, Utah.
The climate in SLC is characterized by long hot summers and brief dry winters with heavy snowfall. The best time to visit Salt Lake City is from mid-June to early September.
The Salt Lake City International Airport, located 4 miles west of the city center has connections to domestic and some international destinations.
To move through the districts, Salt Lake city has a very efficient public transport system consisting of commuter trains, buses, and light rail. Commuter trains, called FrontRunner offer connections from Ogden, in the north to Provo, in the south.
Salt Lake City attractions include the Salt Lake Temple, located Downtown, the Utah Museum of Natural History, and nearby Big Cottonwood Canyon.
The best area to stay in Salt Lake City is Downtown. This lively district offers the best transportation options to other areas, the widest offer of accommodation, as well as restaurants and entertainment. See accommodation in Downtown Salt Lake City.
Other fairly central areas to keep in mind when choosing the best location in SLC include East Salt Lake City and Sugar House.
If you're visiting Salt Lake City for hiking or skiing, make sure you check out accommodation in other SLC metro area places like Sandy, Ogden, Provo, Lehi, or Orem.
Here's a guide with the best areas to stay in Salt Lake City.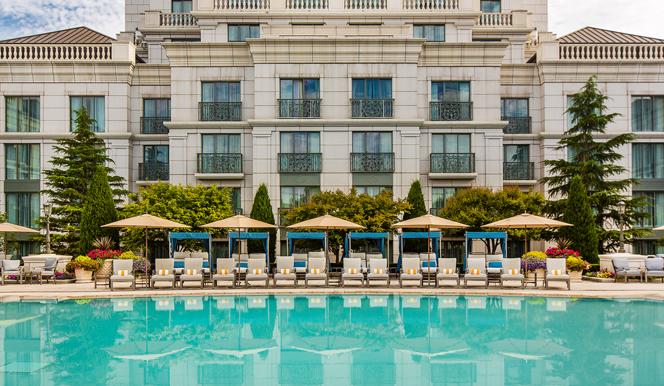 ---
Best Location in Salt Lake City, Utah: A Quick Guide
Below, you'll find a list of the best areas to stay in Salt Lake City depending on your travel style. Keep reading this post to find all the information you need about each particular area.
---
Best Hotels in Salt Lake City by Theme
Something more specific in mind? Here's a list of some of the best hotels in SLC. No matter your reason for visiting the city or style, you'll find it here!
---
The best areas to stay in Salt Lake City, UT
1. Recommended area: Downtown SLC
Salt Lake's city center (Downtown) stands out for its historical architecture, shops, restaurants and great nightlife.
Downtown Salt Lake City is home to art galleries, live music, fine dining, the Farmers Market, the great City Creek Center, the public library, the planetarium, and the Mormon Tabernacle.
Downtown is also very well-connected to other areas of Salt Lake City through the blue, green and red lines of the light rail system.
Other activities to do in Downtown Salt Lake City include visiting the Pioneer Park, the Gallivan Center, and the Museum of Contemporary Art.
Because it is the heart of the city, Downtown offers the widest variety of accommodation in SLC. Hotels here come in all shapes and prices.
As is to be expected, Downtown Salt Lake City is one of the best areas to stay in Salt Lake City for business.
---
2. East SLC (near the Utah Museum of Natural History)
The east side of Salt Lake City, also known as East SLC is recommended for travelers who want to get away from the hustle and bustle of Downtown and enjoy a stay surrounded by nature.
In this area, you can find the famous Museum of Natural History with an exhibition of more than 1.6 million objects that show the natural history of Utah and the Intermountain West.
To travel to other Salt Lake districts, you can use the red light rail line at different stations along Mario Capecchi Street.
Those staying in this area can enjoy activities such as hiking in The Living Room Trailhead or going to This Is The Place Heritage Park
Another leisure option in East SLC is to visit the Fort Douglas Military Museum, designated as a national historic monument.
South of the Museum of Natural History you can find Hogle Zoo, ideal for those traveling with family.
East SLC is one of the best areas to stay in Salt Lake City to know the history of Utah, and there is also a wide range of hotels.
---
3. Sugar House
Sugar House is one of the oldest neighborhoods in Salt Lake City and is known for its youthful atmosphere.
This area is also famous for being one of the hipster neighborhoods in Salt Lake City Here you can find shopping centers, bars, restaurants and a bustling nightlife.
Sugar House is also home to bistro-style restaurants, bars, the Westminster College of Liberal Arts, department stores, and the great Sugar House Park.
Several bus lines cross this area, and the most commonly used mean of transport is the S line of the light rail that runs from east to west.
Sugar House is a great area to stay in SLC thanks to its good transport network and hotels of different types, including budget and luxury hotels.
---
4. Ogden
Ogden is a separate city in the SLC metro area.
Located 10 miles north of downtown Salt Lake City, Ogden is considered the main gateway to explore the area's ski resorts such as Snowbasin, Powder Mountain, and Nordic Valley.
Other than skiing, this lovely area offers some local attractions like the George S. Eccles Dinosaur Park, Historic 25th Street, and the Ogden Union Station railway museum.
Although Ogden is considered an independent town, it is connected by SLC road.
There are 4 different bus lines connecting Ogden to Downtown SLC.
Ogden is also very well-connected via the FrontRunner commuter rail.
This city is home to several accommodations that range from small, privately-owned inns and holiday homes in the mountains to modern downtown hotels and tourist apartments.
---
5. Sandy
Sandy is a city in the Salt Lake City metropolitan area.
Located 13 miles south of Downtown SLC, at the base of the Wasatch Mountains, this mostly suburban town is a great area to stay in the SLC metro region.
Some of Sandy's local landmarks include Hale Center Theatre, RioTinto Stadium, The Shops at South Town, and the Sandy Amphitheater.
Sandy offers the Bells Canyon Trail, a 4.5-mile trail featuring a lake and a waterfall for nature lovers. It's great for hiking and snowshoeing.
Sandy is well-connected by bus and train. The UTA bus system operates two normal lines, three FLEX lines, and one ski service connecting the historic center to Alta Ski Area and Snowbird.
Salt Lake City's light rail system (TRAX) offers four different blue line stations connecting Sandy to Downtown SLC.
The best part is that Sandy offers a wide range of budget and mid-range accommodation, so staying here is cheaper than in the SLC more central districts.
---
6. Provo
Provo is an independent city in the Salt Lake City–Provo–Orem metro area.
Located 43 miles south of Salt Lake City, along the Wasatch Front, Provo is home to Brigham Young University.
This important university offers several museums such as the Monte L. Bean Life Science Museum, the BYU Museum of Paleontology, and the BYU Museum of Art.
Other cultural attractions in Provo include the Crandall Historical Printing Museum, Covey Center for the Arts, and the Provo City Library.
However, Provo is especially known for its proximity to some of Utah's most breathtaking natural sights.
Several hiking trails, including the ones leading to Mount Timpanogos, Y Mountain, Bridal Veil Falls, Rock Canyon, or Provo Peak start here.
Provo is also very well-connected via public transport to Salt Lake City. Public transportation options include bus services operated by UTA and the FrontRunner commuter train.
---
Read this in other languages