Where to Stay in George Town – A Guide to the Capital of Penang
George Town is the capital of the state of Penang. Located in the north of Malaysia, just off the Malay Peninsula, George Town is Malaysia's third-most-populous city and of its main tourist destinations. George Town is particularly famous for its street food, its British colonial and Chinese architecture, its colourful markets and impressive street art. In this post, we will explore the best areas to stay in George Town, Penang.
George Town is a cultural melting pot of Malay, Chinese, Indian and British influences. The city's UNESCO World Heritage Old Town is colourful and charming, while the rest of the city is modern and filled with swanky skyscrapers. The top cultural tourist attractions in George Town are a perfect showcase of its multicultural blend. They include 19th-century Kek Lok Si Temple, Leong San Tong Khoo Kongsi, Fort Cornwallis, The Blue Mansion, Kapitan Keling Mosque, Sri Mahamariamman Temple, the Penang State Museum and Art Gallery, Penang Town Hall or the Pinang Peranakan Mansion. See accommodation in George Town's UNESCO Historic District
Some cool areas for sightseeing and shopping also include the Gurney Drive waterfront promenade, the traditional stilt houses of Clan Jetties and the lively district of Little India. For nature lovers, Penang Hill offers an incredible tropical park escape and amazing views & hiking opportunities. You can get there via a historic incline railway. While in town, you should also make sure to visit Bangunan KOMTAR, a 232 metres tall skyscraper complete with an observation deck.
Penang, like most of Malaysia, has a tropical rainforest climate. Although you can expect both sunshine and rains on the same day year-round, the wettest seasons in George Town go from April to May and again from October to November during the peak of Northeast Monsoon season. The best time to visit Penang goes from December to February, considered the driest period.
In order to reach George Town by air, Penang International Airport is located 18 km south of the city. It is the third-busiest airport in the country and offers connections to virtually every corner of Malaysia and many other Southeast Asian destinations in Thailand, Indonesia, Singapore and Vietnam, as well as longer-haul services to Qatar, Hong Kong, Taipei and mainland China.
Although there are no direct railway connections between the island of Penang and Peninsular Malaysia, frequent train services between Kuala Lumpur and Thailand (Hat Yai via Padang Besar) stop in nearby Butterworth. See train fares and schedules. From Butterworth, you can catch a ferry to George Town. See ferries from Butterwork to George Town.
George Town is also connected via ferry to Langkawi (MY) and Belawan (ID). See ferry fares and schedules. Additionally, George Town is very well connected by long-distance buses to most of Malaysia, including KL. See bus fares and schedules.
Once in town, the most central neighbourhoods are fairly easy to discover on foot. For the outer districts and landmarks such as the Kek Lok Si Temple, Penang Hill, the towns of Batu Ferringhi and Teluk Bahang or the Penang National Park, there are several ways to get around, including shuttle and urban buses, trishaws and taxis.
When it comes to the best area to stay in George Town, the central heritage area is the most interesting from a historical and cultural point of view. See accommodation in George Town's UNESCO Historic District.
Still very central, the areas around Bangunan KOMTAR and Penang Times Square offer a more modern view of the Penang capital. This part of the city centre, located south of the Old Town offers shopping centres, luxury hotels and tall skyscrapers. See accommodation around Bangunan KOMTAR.
Gurney Drive, located west of the city centre, along the sea offers some luxury accommodation and hotels by the sea. See accommodation in Gurney Drive and around.
Another one of the best areas to stay in George Town is near Penang Hill, an area most suited to nature lovers. It is also a district packed with budget accommodation. See accommodation around Penang Hill.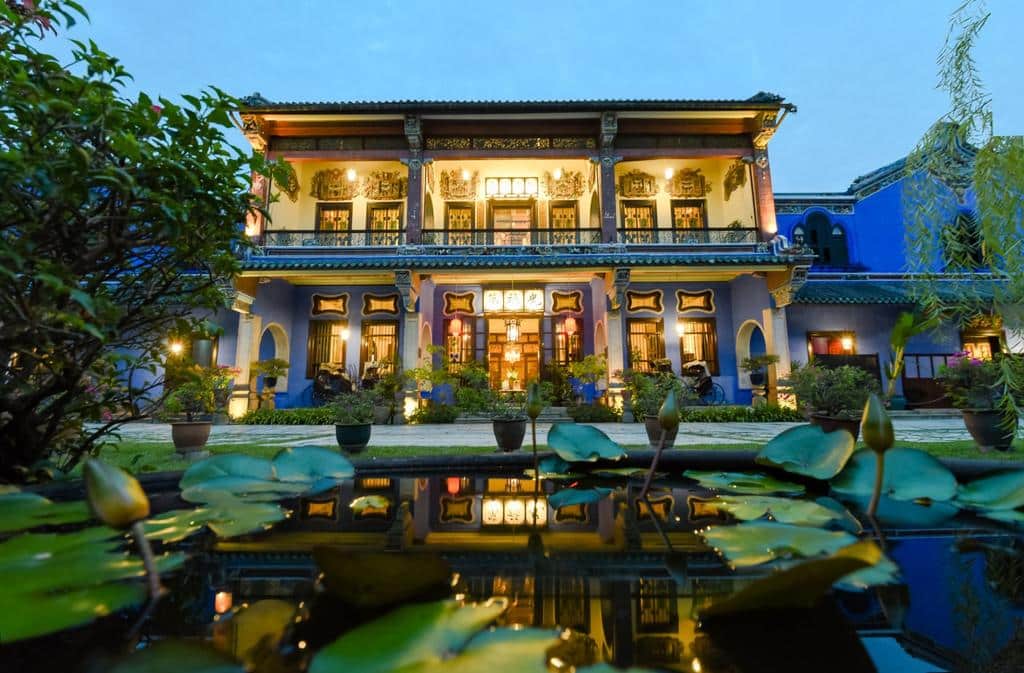 Keep reading to find out more about the best areas to stay in George Town, Penang.
The Best Areas to Stay in George Town, Penang
1. Recommended area: UNESCO Heritage District & Little India
The UNESCO World Heritage Site in George Town covers the northeastern tip of the city, where British Captain Francis Light, the founder of George Town, landed on 1786.
George Town's Old Town has been the administrative, cultural and financial heart of Penang since the founding of the city and is home to the important administrative buildings on Penang Island such as the City Hall and the State Assembly Building, as well as many historical mansions, shops and markets showcasing the multicultural nature of the cosmopolitan capital of Penang.
The area comprised around Queen Street, Chulia Street and Market Street is known as "Little India" and has been the city's largest ethnic Indian enclave for over two centuries. One of the main attractions in this area is Sri Mahamariamman Temple, the oldest Hindu temple on the island and one of the oldest in Malaysia.
The whole Little India enclave is a very commercial part of town. Here you'll find street markets, food courts and shops offering all kinds of products.
Moving towards the sea, you'll find the Clan Jetties, seaside stilt villages built by Chinese seafarer immigrants and named after their surnames. Among the surviving jetties, the Chew Jetty is the most famous and traditional one. Nearby Leong San Tong Khoo Kongsi is a historic Chinese temple and museum displaying traditional architecture, murals and rich stone carvings.
A little to the north lies Fort Cornwallis, a well-preserved 18th-century English fortress, a symbol of the island's colonial past.
We know it sounds like a chliché, but, in many ways, walking around George Town's Historic City Centre is like travelling both to different times and through several places at once.
Another reason or us to choose George Town's Old Quarter as the best area to stay is that many old mansions and historic buildings have been refurbished and transformed into boutique hotels filled with charm. And, although you have more than a few luxury options, this area also has an abundance of quaint family-owned inns and even backpacker small hotels and hostels.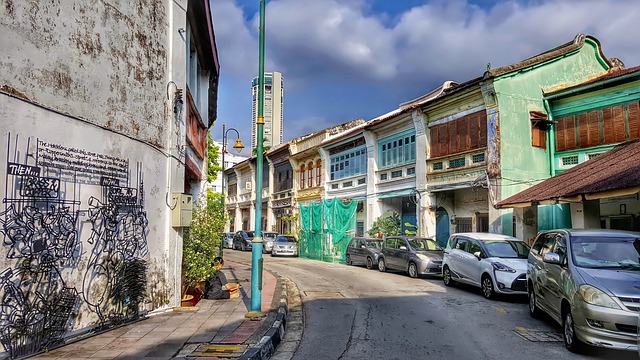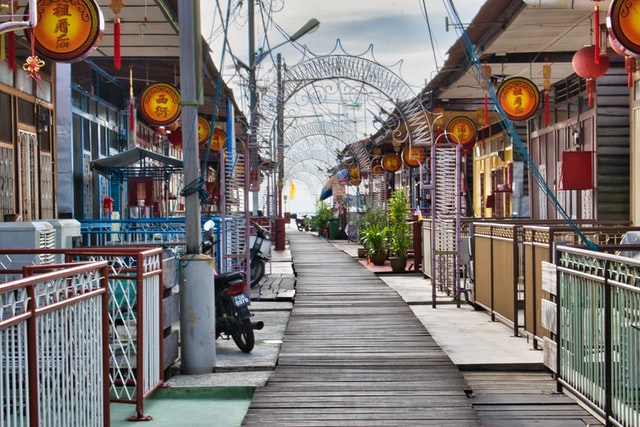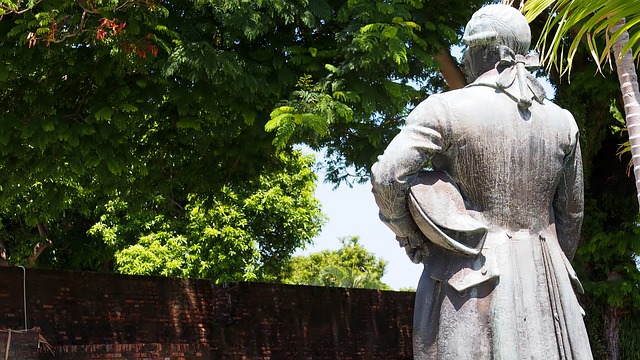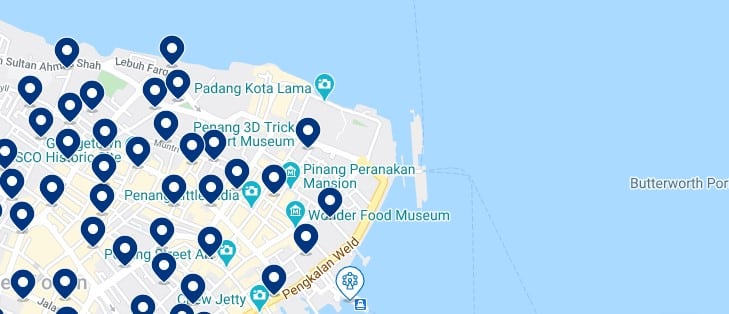 Why is this a recommended area to stay in George Town, Penang:
Best area for sightseeing
Incredible architecture
UNESCO World Heritage Site
Clan jetties
Little India
Markets and shops
All kinds of hotels and inns
---
2. Around Bangunan KOMTAR
This area, located directly south of the UNESCO World Heritage district of George Town showcases the modern side of this Malaysian city.
Here, tall office skyscrapers and huge shopping centres are wall-to-wall with historical buildings, temples and mosques.
Arguably the most important tourist attraction in this area is Bangunan KOMTAR, a 232 m, 68-story building featuring an indoor observatory deck offering impressive views of the city, as well as a rooftop skywalk with a bar & bistro.
Not too far lies Penang Times Square, a modern development project equipped with office towers, a shopping centre and high-rise residential buildings.
This area has a more world-class city feel to it, and although it is not as charming as the Old Town area, it offers quite a few entertainment, nightlife, shopping and dining options.
This is also the place where some big-name international hotels in George Town are located.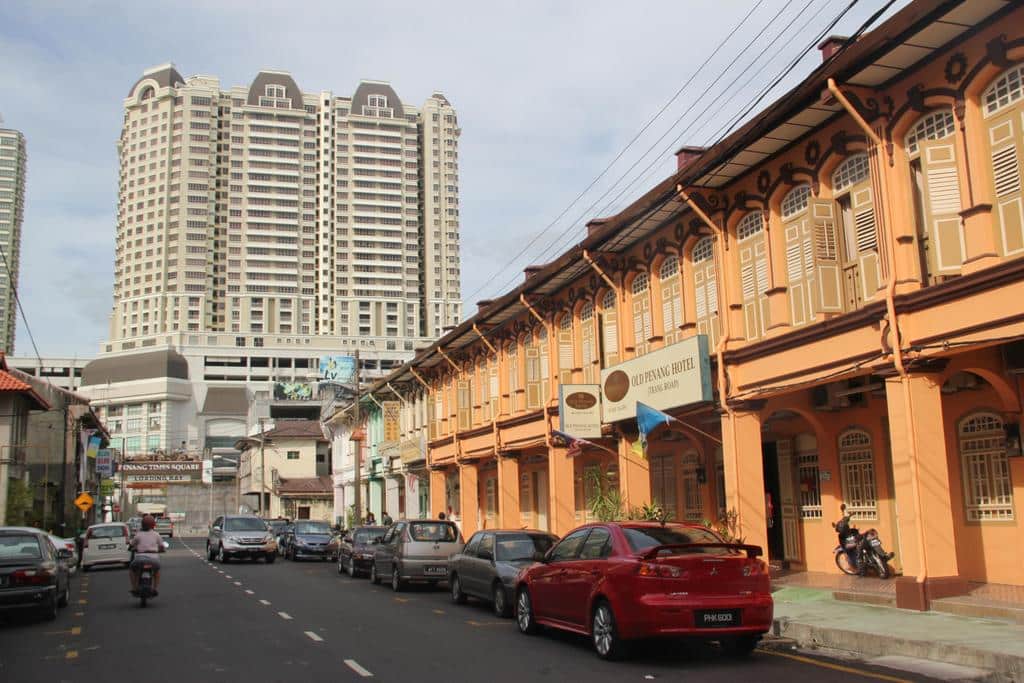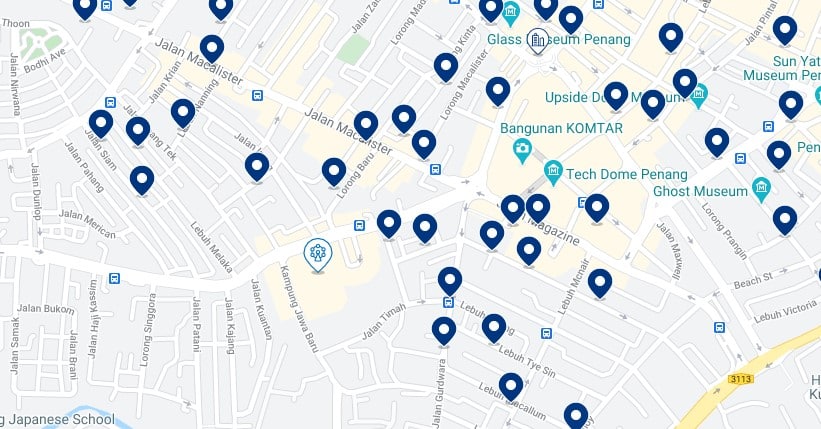 Why is this a recommended area to stay George Town, Penang:
Bangunan KOMTAR tower and observation deck
Shopping, nightlife and dining
Great transport connections
Best area for business travellers
---
3. Gurney Drive
Gurney Drive is located west of George Town's city centre.
This upmarket modern area is famous for its seaside promenade, top-notch hotels and condominiums.
Along the lively waterfront, you can find some of George Town's best restaurants and fanciest shops.
The Gurney Paragon Mall offers a Western shopping experience with a wide array of stores ranging from H&M to Lacoste, as well as restaurants and cafés.
Not too far you'll find George Town's North Beach, one of the only beaches within the city. It's not as lovely as other Penang beaches but it's a great place to watch the sunset.
All and all, the Gurney Dr. area is a great district to stay in George Town, particularly if you're looking for a luxury holiday, away from the hustle and bustle of the city centre.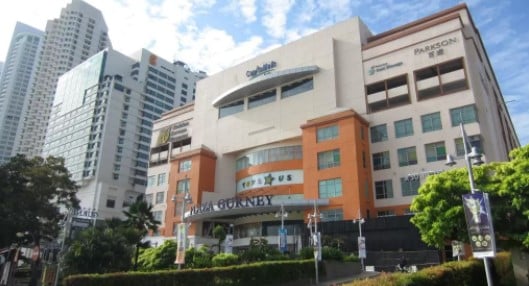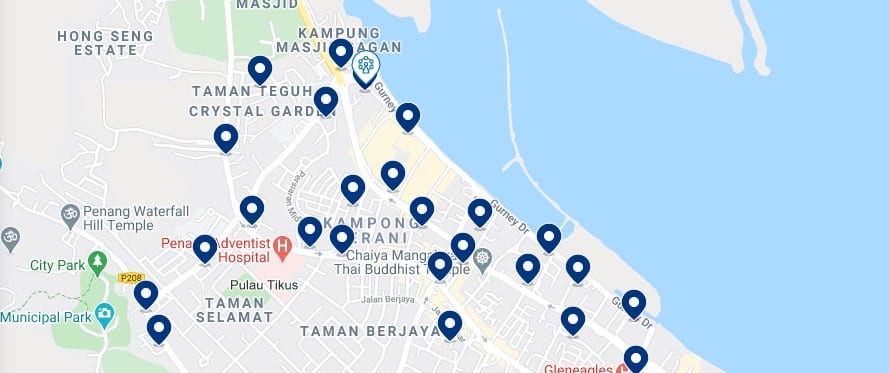 Why is this a recommended area to stay George Town, Penang:
Upmarket area
Sea views
Gurney Paragon Mall
---
4. Around Penang Hill
The term Penang Hill refers to a group of hills located 9 km southwest of George Town city centre.
The highest peak in the mountainous area is Western Hill, which is 833 m tall.
Western Hill was used as a retreat area during British rule and is now a popular tourist destination in Penang.
The Penang Hill Funicular Railway connects the summits to Air Itam, located on the outskirts of George Town. Inaugurated in 1924 and completely renewed in 2010, it is one of the oldest funicular systems in Asia and it has the steepest tunnel track in the world.
Not too far lies Kek Lok Si Temple, a 19th-century Buddhist temple complex and one of Penang's top-rated tourist attractions.
The area around Penang Hill is one of the best locations to stay in George Town for nature lovers, as it offers uncountable hiking opportunities within its hills, lakes and rivers.
This area is also home to many cheap hotels, inns and homestays, so it's highly recommended for backpackers and travellers on a budget.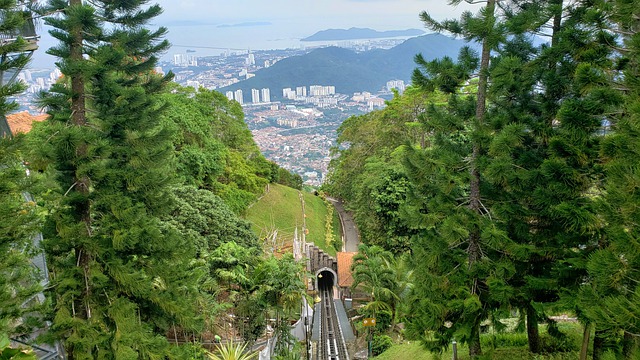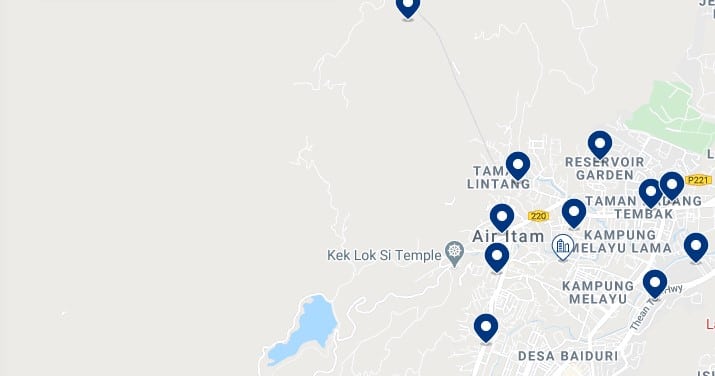 Why is this a recommended area to stay in George Town, Penang:
Kek Lok Si Temple
Penang Hill
Great for nature and outdoor enthusiasts
Best area for backpackers
---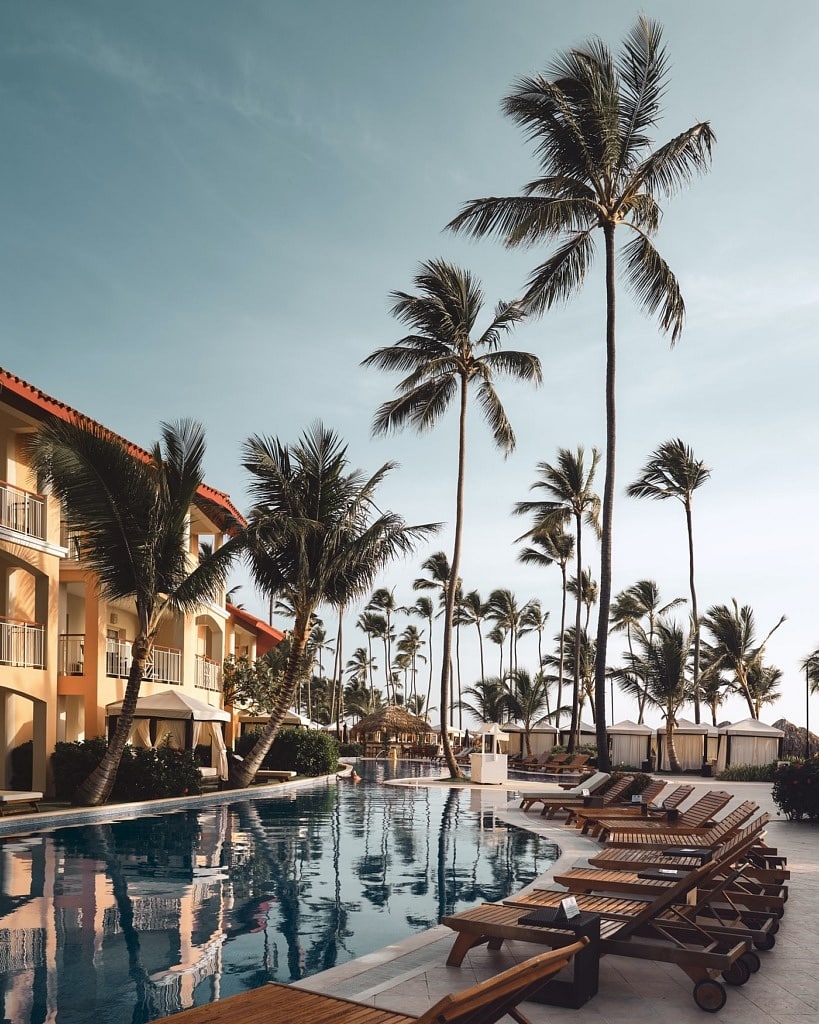 Where to stay in other cities