Where to Stay in Melaka City: A Guide to this Multicultural Enclave
Malacca City is the capital of the namesake state. It is located in the west of the country, on the southern portion of the Malay Peninsula and on the banks of the Malacca River. The founding of Malacca dates back to the 15th century, which makes it the oldest city in Malaysia. It is particularly famous for its mix of architecture displaying Malay, Chinese, Indian and Western styles and influences, a product of its convoluted history. In this post, we will explore the best areas to stay in Malacca City (Melaka).
Malacca City was founded by Parameswara, a Sumatran prince around 1400 AD. As the capital of the Malacca Sultanate and given its importance as a seaport, it wasn't long before Western powers set eyes on the city. The first Europeans to colonise it were the Portuguese, followed by the Dutch and later the British. As the capital of the Crown Colony of Malacca, the town became an important centre of trade.
As a result, Malacca City today displays an exciting mix of cultures that have left a mark on its architecture, food and folklore and nowhere in town is this melting pot status more obvious than in Malacca City's Old Town. See accommodation in Melacca's Old Town.
The main historical sights in Malacca City revolve around its colonial past and include A Famosa (the Portuguese Fortress of Malacca), Saint Paul's Church, Christ Church Melaka, the Dutch Stadthuys (City Hall) or the Church of St Francis Xavier. Some of the museums and cultural places of interest are the Baba Nyonya Heritage Museum, the Melaka Sultanate Palace Museum, the Maritime Museum, or Cheng Ho's Cultural Museum. Other attractions worth exploring in Malacca are the Cheng Hoon Teng Temple and the Melaka Straits Mosque on Malacca Island and the Menara Taming Sari observation tower.
If you're a foodie, you can't miss Jonker Street Night Market and lovers of the outdoors and nature will likely enjoy Zoo Melaka and the Shore Oceanarium.
Like most of Malaysia, Malacca has a tropical rainforest climate. This means really hot temperatures (30-35ºC during the day) and high humidity year-round. Officially, Malacca has no dry season and you can expect rain and sunshine to alternate throughout the day pretty much at any time. That said, the rainiest months are September, October and November. The best time to visit Malacca, therefore, is during January and February, which are the driest months.
In order to reach Malacca by air, Malacca International Airport is located 11 km north of the city. This small airport offers connections to Penang and Pekanbaru (Indonesia). Far busier and 130 km away lies Kuala Lumpur International Airport (KLIA), with direct connections to virtually every corner of Asia and non-stop long-haul services to the Middle East, Europe, Australia and North America.
Malacca City is not directly connected by the Malaysian railway network. However, it is reached by a fairly comprehensive network of long-distance buses that connect it to other places around the Peninsula including KL and Singapore. See bus schedules, fares and destinations.
Malacca City is also connected via ferry to several places in Indonesia like Dumai, Bengkalis and Selat Panjang. See ferry fares and schedules.
Once in the city, the Old Town area is fairly easy to navigate on foot. For the outer districts, there are several ways to get around including shuttle and urban buses, trishaws and taxis.
When it comes to the best area to stay in Melaka City, the historic district, located along the river, by the Stadthuys, is the most interesting from a historical and cultural point of view. See accommodation in Melaka's Old Town.
A couple of kilometres east from the Old Town lie the Portuguese Settlement and Malacca's new swanky development known as Hatten City, where condos and luxury hotels have sprouted like mushrooms. See accommodation near the Portuguese Settlement and Hatten City.
Lastly, the area around Melaka Sentral Station offers super cheap hotels and great transport connection to other places in Malaysia and Singapore. See accommodation near Melaka Sentral Station.
Keep reading to find out more about our picks of the best areas to stay in Melaka City.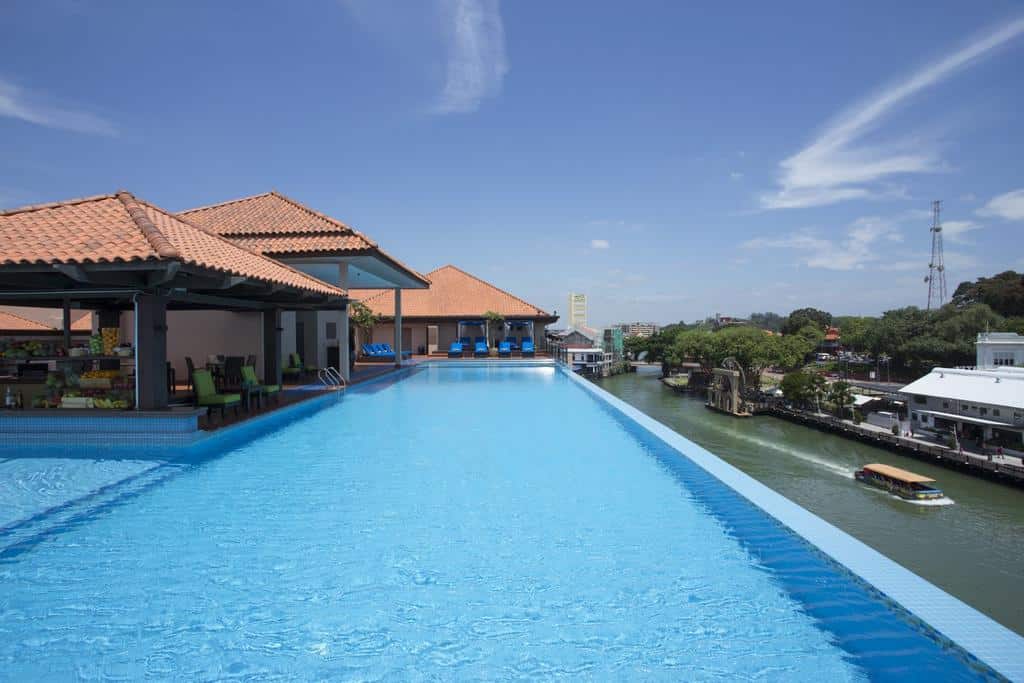 The Best Areas to Stay in Malacca City, Malaysia
1. Recommended area: Old Town & Jonker Street
Malacca's Historical Quarter is located on the east shores of the Melaka River and is famous for its eclectic mix of buildings of different styles and periods.
The Old Town's core is centred around Porta de Santiago. Also known as A Famosa, this fortress is the oldest building in town and the centre of the old Portuguese enclave of Malaca.
Right next to it lie St Paul's Church and the Melaka Sultanate Palace Museum, rebuilt on the spot where the Royal Palace used to stand, this large museum focuses on Malacca's rich culture and history.
A few metres north you'll find the Dutch core of the city.
Centred around Windmill Square, this area displays many of the city's Dutch heritage building and churches.
Not far away from this area, you'll also find the ethnic enclaves of Chinatown and Little India.
On the other side of the river, across Tan Kim Seng Bridge, lies lively Jonkers Street.
This very backpacker-friendly thoroughfare is home to the city's main Night Market and many budget accommodation options.
Jonkers Street and its surrounding district is also the place to go for nightlife and the best food in town.
All and all, the Historic Quarter and Jonkers Street are some of the best areas to stay in Malacca for visitors interested in culture and history, as well as for backpackers and travellers on a budget.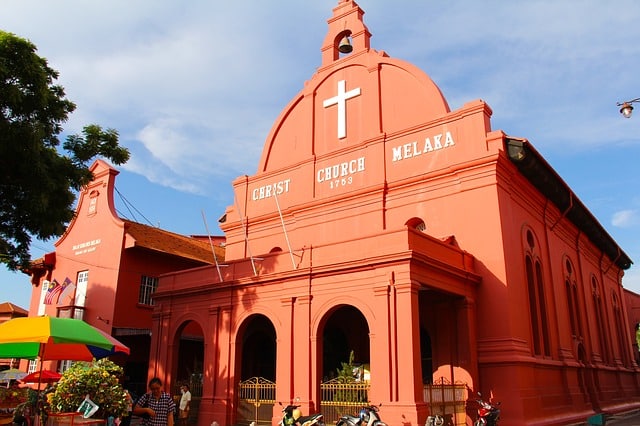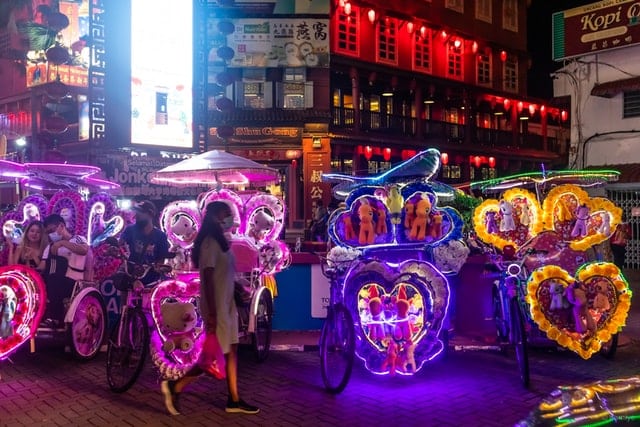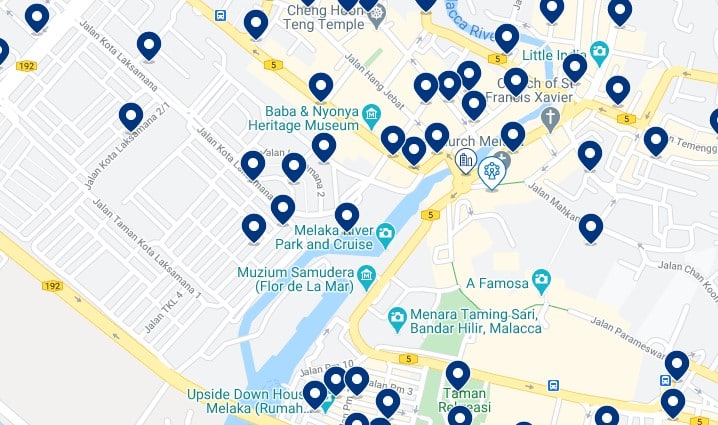 Why is this a recommended area to stay in Melaka City, Malaysia:
Best area for sightseeing
Portuguese and Dutch heritage buildings
Best nightlife
All kinds of accommodation
Great to walk around
Jonkers Street Night Market
---
2. Portuguese Settlement & Hatten City
As we mentioned above, the Portuguese core of Malaca was centred around the fortress. However, Portuguese occupation in the city lasted 130 years and produced a strong and one-of-a-kind blend between Malay and Portuguese culture. Nowhere is that link more obvious than among the Kristang people, a Malaysian ethnic group with mixed Portuguese and Malay heritage.
In the early 20th century, lots of Kristang established themselves in the area now known as Kampung Portugis, where they uphold their eclectic culture and traditions.
Centred around Portuguese Square, this area contains several churches and comes alive in June, when the celebrations of São João and São Pedro take place.
The Portuguese Settlement is a great area to stay for those interested in the unique history of this corner of Malaysia.
To the west of Kampung Portugis lies Hatten City, a new seaside city development filled with luxury modern hotels, condominiums and shops.
Hatten City is one of the best areas to stay in Malacca if you're looking for a luxury stay and fancy hotels with sea views.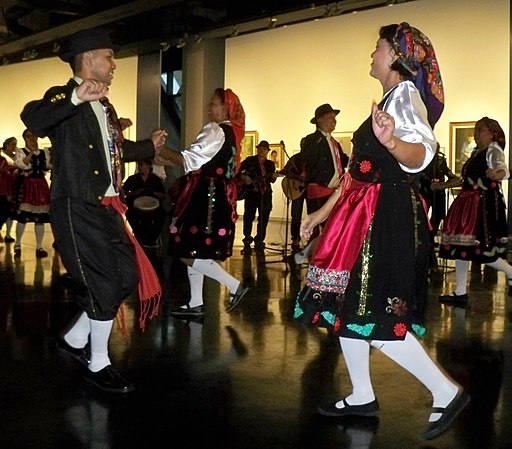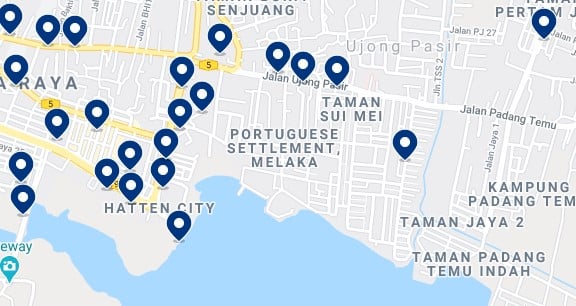 Why is this a recommended area to stay in Melaka City, Malaysia:
Portuguese Settlement
Luxury hotels
---
3. Near Melaka Sentral Station
Melaka Sentral is the largest public transportation terminal in Melaka City.
This important bus terminal is located 5 km north of the Old Town and offers connections to Kuala Lumpur, Singapore and several other places on the Malay Peninsula.
This area is a little bit out of the way when it comes to sightseeing, but it is very well-connected in terms of public transport and taxis.
The best reason to choose this area when wondering where to stay in Melaka City is its wide array of budget accommodations, backpacker motels, cheap hotels and quite a few homestays and private apartments.
---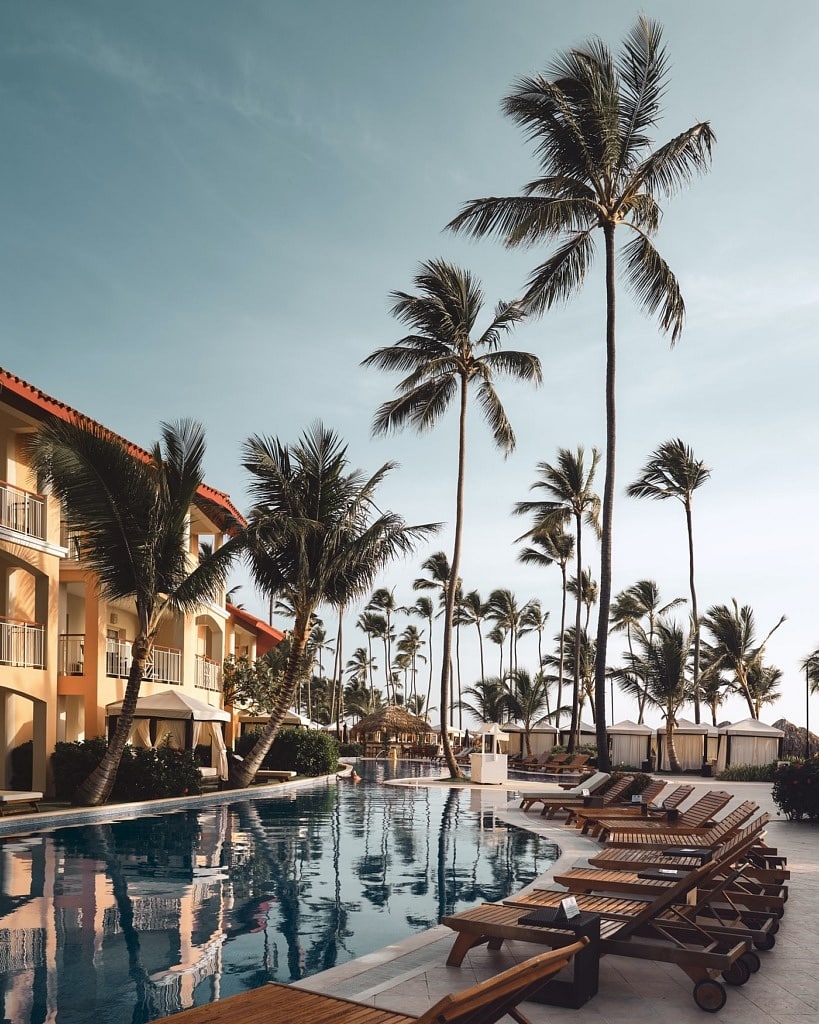 Where to stay in other cities