Where to Stay in Langkawi – A Guide to the the Jewel of Kedah
Langkawi is an archipelago located in the Malacca Strait in northwestern Malaysia. Part of the state of Kedah, this group of 99 islands and islets is one of the top tourist destinations in the country. The largest island, Pulau Langkawi, is home to its main urban settlements. This archipelago is famous for its fine-sand beaches, its laidback atmosphere and its rich marine life, perfect for snorkelling and diving. In this post, we will explore the best areas to stay in Langkawi.
This tropical archipelago is rife with exciting things to see and do. Dubbed the "Sustainable Paradise" by local authorities, Langkawi has tried to steer away from the over-development you see in other Southeast Asian Islands and instead bets on a respectful and eco-friendly tourist industry. This also means, that, while the Langkawi's infrastructure is fairly well-developed, there's plenty of room for adventure.
The Langkawi UNESCO Global Geopark covers several protected areas, including Kubang Badak Mangrove Reserve, Kilim Geoforest Park, CHOGM Park, Legenda Park, Hole Recreation Park Semilang, Gunung Raya and Langkawi Wildlife Park.
Most tourist sights on Pulau Langkawi are located on the western side of the island. This area is the most well-developed and home to Pantai Cenang beach, Cenang Mall, Underwater World Langkawi and Laman Padi Langkawi (Rice Museum). See accommodation in Pantai Cenang.
The northwestern tip of the island holds many of its protected areas, wild rainforests and beaches, as well as some of the most famous attractions in Langkawi, namely the Langkawi Skybridge, Seven Wells Waterfall, Temurun Waterfall and the Crocodile Adventureland conservation park, as well as a few hotels and upmarket resorts, particularly around the Telaga Harbour Park and Pantai Kok area. See accommodation in Pantai Kok & Telaga Harbour.
Located on the southeast of the island lies Kuah, the main urban centre on the island. This town is home to the main ferry terminal in Langkawi, which makes it a busy town. Although not the best area for beach lovers, Kuah is the gateway to exploring the central region of the Island and Gunung Raya, the islands highest peak. Its centre is home to Pulau Payar Marine Park, CHOGM Park and Legenda Park. See accommodation in Kuah.
Langkawi has a tropical savanna climate and abundant rainfall throughout the year. The wettest season goes from March to November, with September being the rainiest month. The best time to visit Langkawi is from December until February, the driest season.
In order to reach Langkawi by air, Langkawi International Airport is located in Padang Matsirat, 8 km north of Pantai Cenang and 18 from Kuah. This airport offers domestic connections to several cities in Malaysia (including Penang and KL), as well as international flights to Singapore, Qatar and mainland China.
Langkawi's main ferry port, located in Kuah, offers several connections to other islands and cities in the Strait of Malacca, including Koh Lipe, Kuala Perlis, Kuala Kedah and Pulau Payar. There are also several secondary piers connecting Pulau Langkawi to several of the nearby islands within the archipelago. See ferry routes, fares and schedules.
Public transportation on the island is practically limited to private shuttle buses and taxis. You may also choose to rent a car for your stay.
When it comes to the best area to stay in Langkawi, the decision should come down to your preferences and budget. For a typical beach getaway with the family, we recommend Pantai Cenang. If you're looking to mix beaches with incredible tropical rainforest landscapes, then the northwestern part of the island & Telaga Harbour should be at the top of your list.
If it's a romantic getaway, honeymoon or a more exclusive experience you're after, then you should seriously consider staying on the outlying island of Pulau Rebak Besar.
Keep reading to find out more about our top picks for the best areas to stay in Langkawi, Malaysia.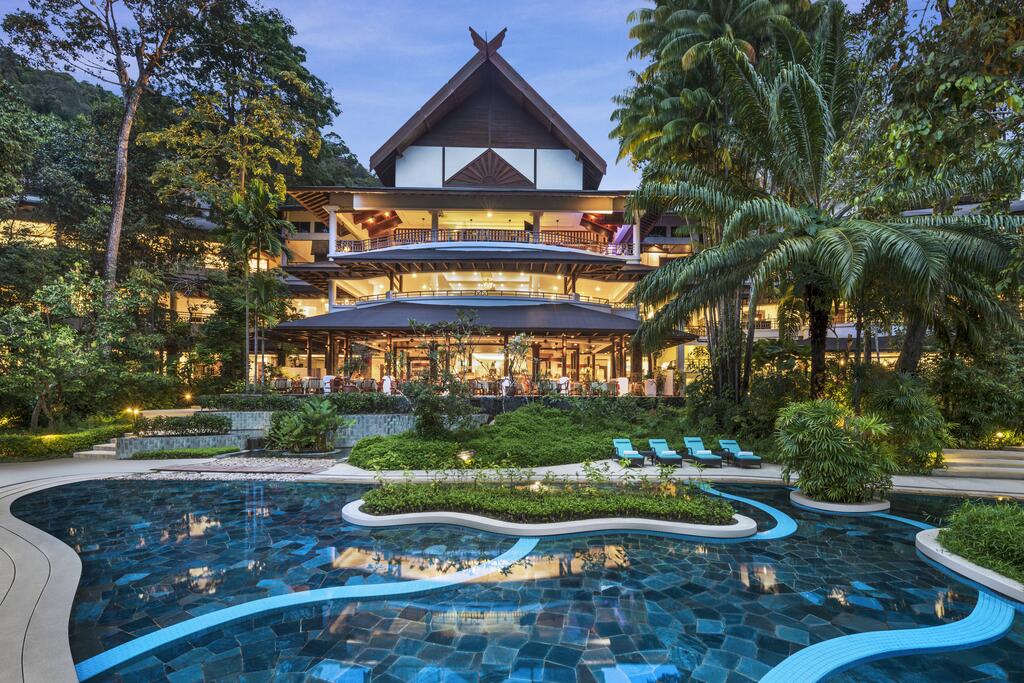 The Best Areas to Stay in Langkawi, Malaysia
1. Recommended area: Pantai Cenang
Pantai Cenang is the main tourist hotspot and most popular beach in Langkawi.
Part of its popularity is most likely due to its 2 km long stretch of white, fine sand.
Located in the southwest of the island, this area of Langkawi is everything you could expect from a seaside resort. It has a great number of restaurants, bars and live music venues, as well as shops, malls and all kinds of hotels.
If you've been to many of the so-called "popular" beach areas in Southeast Asia, you'll notice that Pantai Cenang is different in the sense that is still pretty laid-back and less crowded.
Other than the beach, Cenang also packs quite a punch when it comes to attractions. From Temonyong Night Market to the Underwater World Aquarium and duty-free malls, there's always something to do in Pantai Cenang.
This area also offers quite a selection of accommodation catering to all traveller types and their budgets. Here, you can find boutique hotels, swanky resorts, mid-priced bungalow villas and backpacker-friendly inns.
Pantai Cenang is also the departing point for a myriad of tours and day trips to other islands and the national parks up north.
Pantai Cenang is the best area to stay in Pulau Langkawi for beach lovers, families and those looking for the best nightlife and restaurants on the island.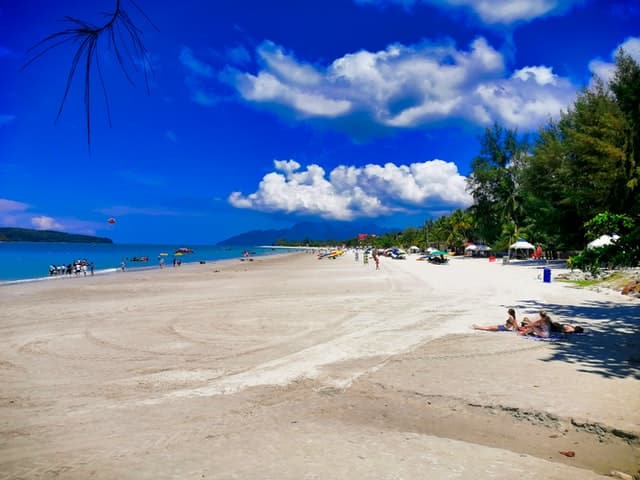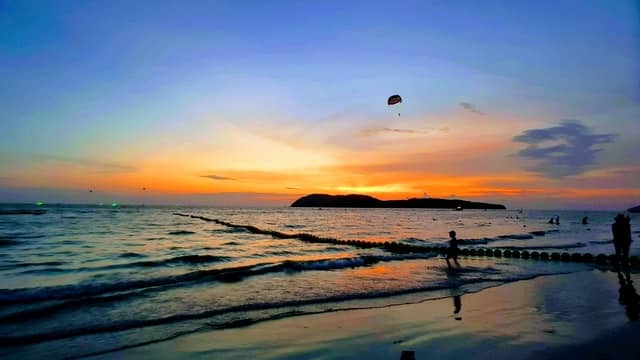 Why is this a recommended area to stay in Langkawi:
Best area for families
Pantai Cenang Beach
Nightlife, restaurants and shopping centres
---
2. Pantai Kok & Telaga Harbour Park
As we mentioned above, the northwestern tip of the island is home to many of its natural attractions.
One of the unmissable sights in Langkawi is no doubt the Langkawi Skybridge, a 125-metre pedestrian bridge at the peak of Gunung Mat Cincang. It can be reached by taking the Langkawi Cable Car to the top station, where an inclined lift takes visitors from the top station to the bridge. This eco-friendly structure offers incredible views over the tropical rainforest landscape of Pulau Langkawi and the sea.
The area around the bridge offers unique hiking opportunities, waterfalls and close contact with nature.
The bottom station of the Langkawi Cable Car is home to the themed shopping area known as The Oriental Village and is located close to the Pantai Kok beach, one of the most beautiful beaches on the island.
Pantai Kok and nearby Telaga Harbour Park offer top-notch hotels and resorts, as well as some restaurants and bars.
This area is far more secluded than Pantai Cenang, and it also feels more exclusive and far less touristy, so it's a great alternative when considering where to stay in Langkawi.
You'll find the coastline in this area is dotted with some of the most luxurious resorts in Langkawi. For more budget-friendly accommodation, you'll need to look around further south.
Pantai Kok is located only a 15-minute drive from the airport and you can also catch a ferry from/to Koh Lipe (Thailand) from Telaga Harbour.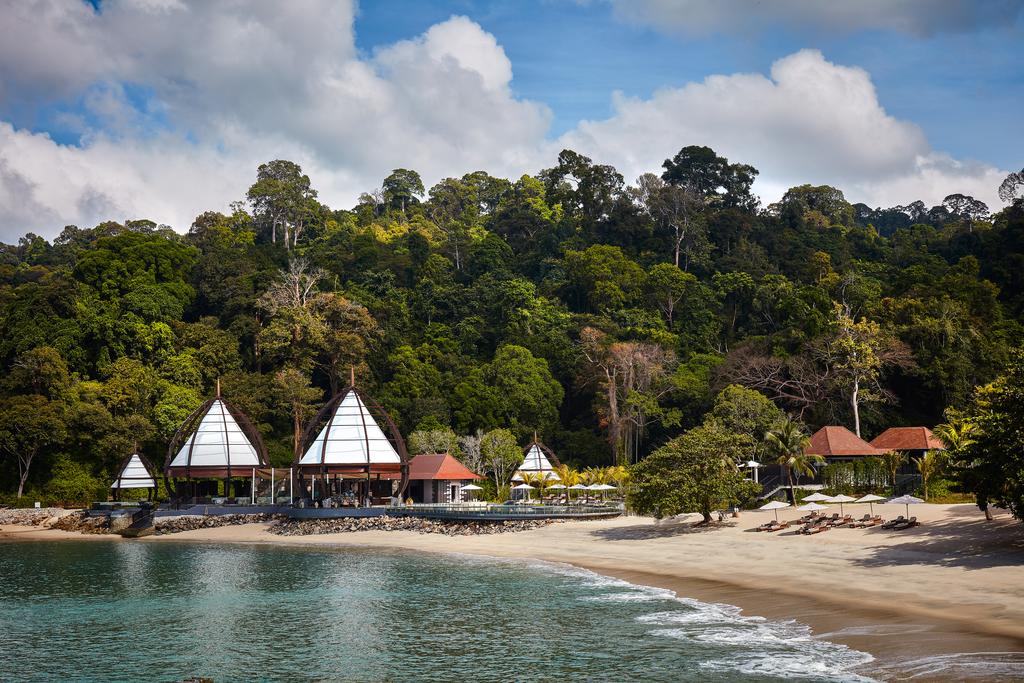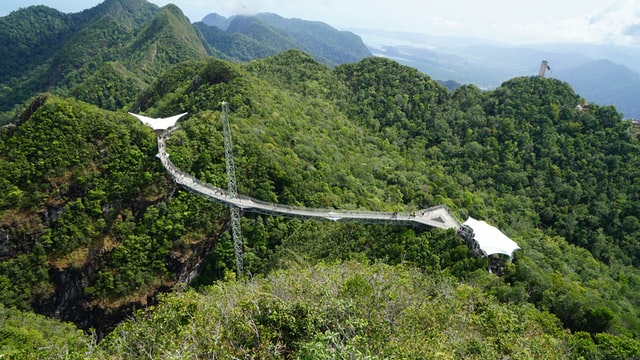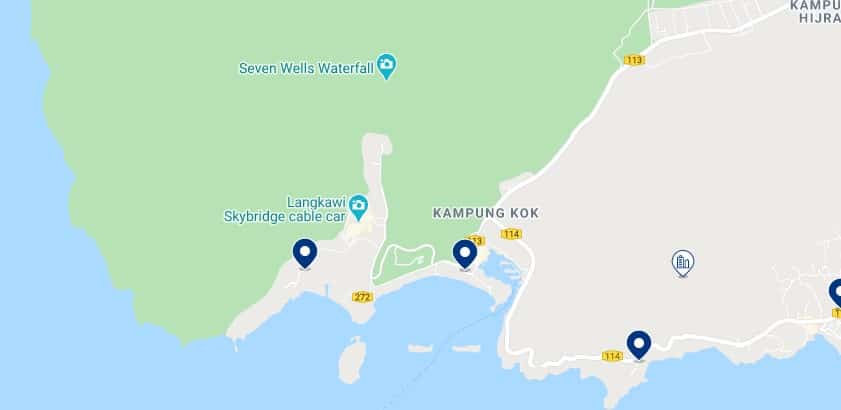 Why is this a recommended area to stay in Langkawi, Malaysia:
Langkawi Skybridge
Oriental Village
Nature, hiking and waterfalls
Pantai Kok beach
Luxury resorts
Near the airport
---
3. Northeastern Langkawi & Tanjung Rhu Beach
The northeastern tip of Pulau Langkawi is arguably the least developed and wilder side of the island.
Centred around the Ayer Hangat Village, this part of Langkawi is popular for its hot springs, wild beaches and secluded luxury resorts.
Tanjung Rhu Beach, located in the northernmost portion of the island is particularly beautiful thanks to its clear waters, white sands and the view of some rocky karst formations in the background, which give it a James-Bond-movie vibe.
Other lovely beaches worth visiting in the area include Black Sand Beach and Teluk Yu (Shark Bay).
Keep in mind that the north of Langkawi is still under development and it's still lacking in infrastructure.
Other than maybe the Ayer Hangat Village and Teluk Yu areas, you'll have a difficult time finding banks, shops and even restaurants unless you stay at one of the luxury resorts.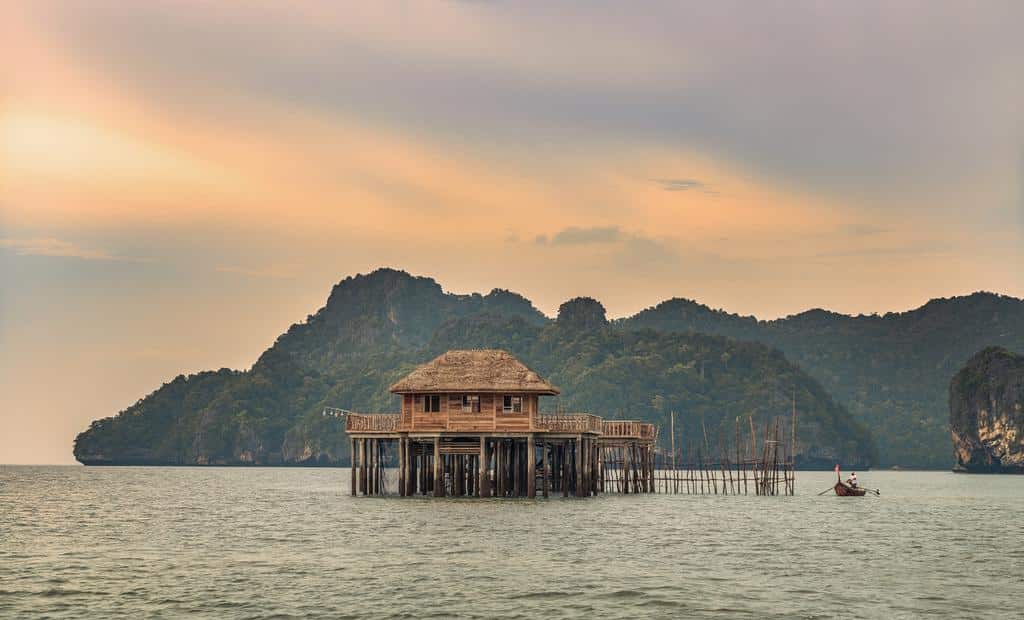 Why is this a recommended area to stay in Langkawi:
Wild beaches
Luxury resorts
Rugged landscape
Quiet area
---
4. Kuah
Kuah is the main town on Pulau Langkawi.
It is also where the main jetty terminal is located so if you're travelling to Langkawi by ferry, chances are you'll be going through Kuah at some point.
The fact that Kuah lacks beaches means that it is mostly overlooked by tourists, who prefer to head straight to Pantai Cenang or Pantai Kok.
That said, this old fishing village offers a more local experience and is home to some attractions and historical places worth visiting.
The main places of interest in Kuak are Legenda Park, the Al Hana Mosque, Pisang Handicraft & Art Village and the town's Night Market.
Kuah is also the main gateway to explore the centre of the island and Gunung Raya Mountain.
Another great thing about Kuah when considering the best location in Langkawi is the fact that, because it is less tourist-focused, you'll probably find cheaper accommodation here than anywhere else on the island.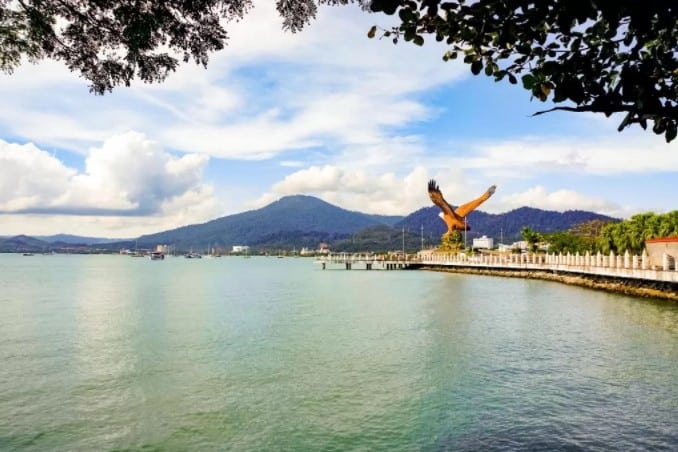 Why is this a recommended area to stay in Langkawi:
Main ferry terminal
Cheap accommodation
Local atmosphere
Night Market
---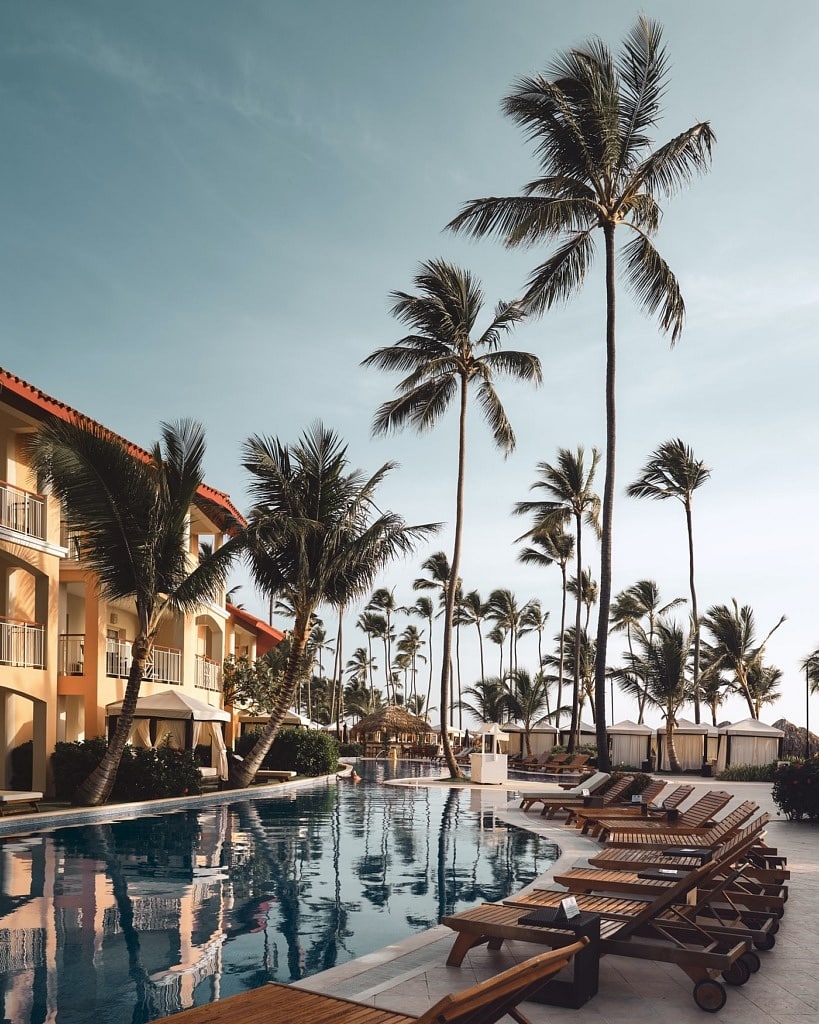 Where to stay in other cities