Where to Stay in Lafayette – A Guide to This City in Louisiana
Lafayette is located in southern Louisiana and is a city highly influenced by the Cajun culture from the French-Canadians who settled in it during the eighteenth century, which shows up in its music, cuisine, and historical sites.
In addition, Lafayette is considered one of the cities with the best cuisine in the United States.

Like many southern cities, Lafayette has nightclubs and bars for all tastes, including several venues with live music. Wine and jam tastings are other activities that can be done in Lafayette.
It is important to know that Lafayette is a hot city with long summers and high temperatures, ideal for travelers who love the sun and outdoor activities.
Lafayette festivals take place mostly during February, including the Southwest Louisiana Zydeco Festival, Mardi Gras Courir and Downtown Alive!
Moving around Lafayette is easy, thanks to its bus and light rail services. It is also a city with parking spots available in many areas.
The best area to stay in Lafayette is Downtown because it has accommodation for all types of budgets, from B&Bs to luxury hotels. See accommodation in Downtown Lafayette.
Here's a guide with the best areas to stay in Lafayette, Louisiana.
The Best Areas to Stay in Lafayette, Louisiana
1. Our Favorite Area: Downtown Lafayette
Downtown brings together everything from southern food to shopping, art, and history.
During most of the year, Downtown serves as the stage for Lafayette festivals, including concerts in the spring and fall.
This is one of the best areas to stay in Lafayette, Louisiana, because it can be explored by car or on foot. In addition, it has several bus stops to move to other neighborhoods in the city.
On the other hand, the accommodation in Downtown Lafayette is varied, so you can choose between hostels, guesthouses, luxury hotels, and business-type hotels when staying in this area.
Downtown Lafayette's cultural attractions include the Lafayette Science Museum, a fun, family-friendly place.
Likewise, art lovers will be able to enjoy local exhibitions in various galleries distributed throughout Downtown Lafayette.
Downtown is the best area to stay in Lafayette for its offer in entertainment and nightlife for all types of public
Another advantage of staying in this area of ​​Lafayette is that it is the heart of the city, and brings together most of its attractions.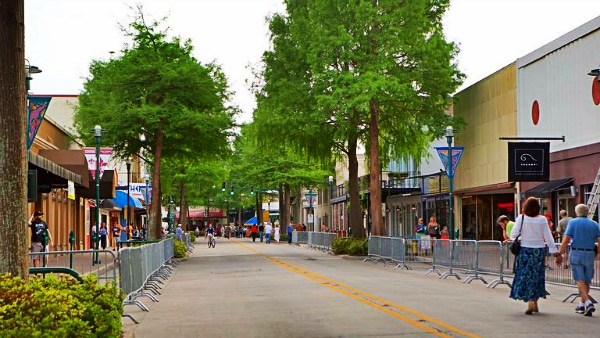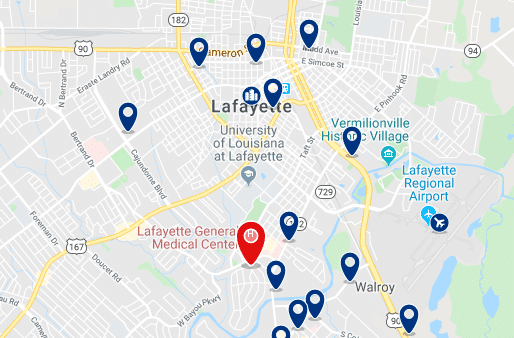 Why is this a recommended area to stay in Lafayette:
Best area for nightlife
Hotels of all kinds
Best area for sightseeing
Best area for business travelers
Great transport connections
Good restaurants
---
2. Northeast Lafayette
To the Northeast of the city is the Lafayette Regional Airport, making it a recommended area to stay in Lafayette for a short visit.
Sites frequently visited by tourists are located in this area of ​​the city, such as the Acadiana Park Nature Station and the Vermilionville Historic Village, a history museum set with restored houses from the 18th and 19th centuries and a restaurant from the period where live music is enjoyed.
This is one of the best areas to stay in Lafayette for lovers of open spaces, nature and, above all, tranquility.
Getting around this neighborhood is possible thanks to buses and taxis, but it must be taken into account that public transport is not very frequent here, so the best option is to have your own or rental car when staying in this area.
Northeast Lafayette hotels are pet-friendly and located near many parks where afternoon picnics are allowed.
---
Read this in other languages