Where to Stay in Meridian – a Guide to This City in Mississippi
Meridian is the seventh-most populated city in Mississippi. Located in the east of the state, near the Alabama border, this city is known for its industrial heritage and laidback, Southern character. In this post, we will explore the best areas to stay in Meridian, MS.
The main cultural attractions in the center of Meridian include the Meridian Museum of Art, the Mississippi Arts + Entertainment Experience (MAX), the Mississippi Industrial Heritage Museum, and the Merrehope Mansion. See accommodation in Downtown Meridian.
Outdoors lovers will especially enjoy Bonita Lakes, a nature reserve with hiking trails, reservoirs, and wildlife.
Due to its geographical location, Meridian has a humid subtropical climate. In the winter, temperatures range from 35°F to 60ºF (2 – 16 °C). Meanwhile, during the summer, average temperatures hover around 70 – 90 °F (21 – 32 °C. The best time to visit Meridian is from April to October when temperatures are pleasant and you can enjoy outdoor activities.
To get to Meridian by air, the city is served by the Meridian Regional Airport. Located 3.5 miles from Downtown Meridian, this small regional airport offers short-haul domestic connections to Houston, Dallas, and Chicago.
Meridian is also well-connected by train. Amtrak operates train connections between Meridian and cities like New York, Philadelphia, Baltimore, Washington D.C., Charlotte, Atlanta, Birmingham, and New Orleans. The city's Union Station Multi-Modal Transportation Center (MMTC) is located in the Downtown Historic District. See train routes, schedules & fares.
Additionally, Meridian is connected through a network of long-distance buses to other cities in the US South. See bus routes, schedules & fares.
When it comes to moving around the city, Meridian has some bus routes but still remains an all-car town. That said, Downtown Meridian is pedestrian-friendly and the distance between the central attractions is relatively short. This city also has Uber and Lyft services and you can always choose to rent a car during your stay.
The best area to stay in Meridian, MS is Downtown. This lively district is home to the city's historic neighborhoods, main cultural attractions, nightlife, restaurants, and hotels. See accommodation in Downtown Meridian.
Another area to keep in mind when choosing the best location in Meridian is around Bonita Lakes.
Keep reading to find more about the best areas to stay in Meridian, MS.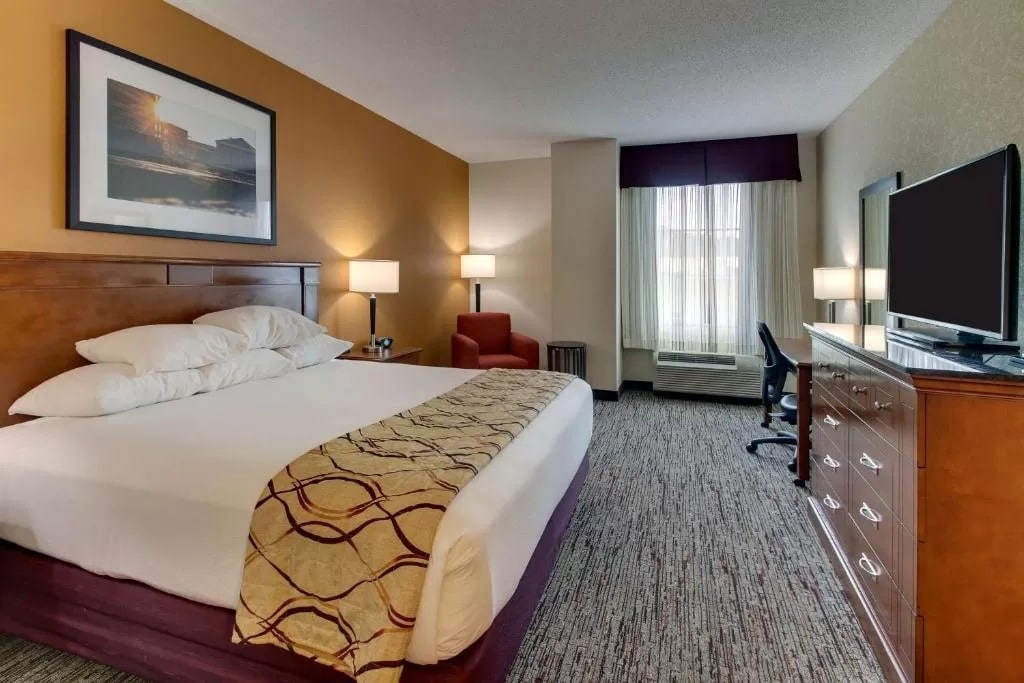 The Best Areas to Stay in Meridian, Mississippi
1. Our favorite area: Downtown Meridian
Meridian was founded in the 19th century at the intersection of two busy rail lines. For decades, this city thrived fuelled by the railways and the goods transported on them.
Today, you can see part of the industrial heritage of this MS city in the Downtown Historic District.
This area, located in the heart of the city, displays many examples of early 20th-century architectural styles.
Downtown Meridian is home to most of the restaurants, bars, cafés and nightlife options in town. Many venues are located in renovated historical buildings.
Its proximity to the Union Station Multi-Modal Transportation Center (MMTC) makes it a great option for those traveling by train or long-distance bus.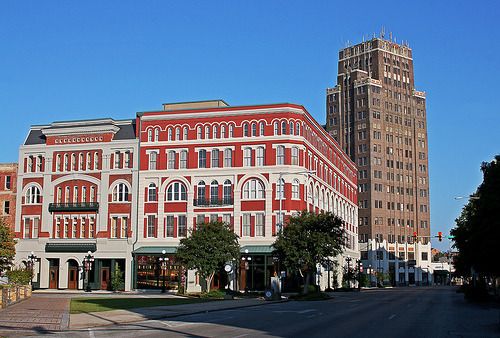 Why is this a recommended area to stay in Meridian:
Heart of the city
Historic and cultural attractions
Best area for business travelers
Best area for tourists
---
2. Near Bonita Lakes Park
Bonita Lakes Park is a residential, quiet, and safe area close to the City Center.
Visiting Bonita Lakes Park is a must when traveling to Meridian. It is a 43-acre nature wildlife reserve, with trails, picnic areas, and scenic reservoirs and lakes.
Located east of the city center, off Mississippi Highway 19, the area surrounding the park holds some of the most exclusive neighborhoods in Meridian.
Next to the park is the Bonita Lakes Mall, a huge shopping center with several shops and restaurants for shopping lovers and foodies.
Another attraction near Bonita Lakes Park is the Queen City Fair, a picturesque amusement park.
Most hotels in Meridian are located in this area, either off Mississippi 19 or Interstate 20.
Accommodations here include budget hotels and motels and some mid-range options.
---
Read this in other languages