Where to Stay in Lloret de Mar: A Guide to Spain's #1 Party Destination
Lloret de Mar is a coastal city located in the province of Girona. This town is especially famous for being one of the most visited places on the Mediterranean coast, its lively nightlife, and the cheapest hotels on Costa Brava. In this post, we will explore the best areas to stay in Lloret de Mar.
Lloret is especially popular during the summer when tourists from all over Europe visit its beaches. This town, synonymous with low-cost tourism, offers outstanding value for money in accommodation, food and transport. Find cheap accommodation in Lloret de Mar.
In addition to its beaches, Lloret de Mar stands out for attractions such as the Cat Museum, the Sant Joan Castle, the Santa Clotilde gardens, the Dama Marinera viewpoint, and the many hiking trails that connect it to other towns on the Costa Brava.
Although the main beaches in Lloret, especially Platja de Lloret de Mar, are overcrowded during the summer months, this tourist enclave also has some quieter beaches and coves away from the tourist hustle, some of the most beautiful include Cala Sa Boadella, Cala Trons and Platja de Santa Cristina. Find accommodation near the beach in Lloret.
Its amazing nightlife is one of the great reasons to visit Lloret de Mar. This Catalan town is home to a multitude of bars and clubs for all types of public. The best area to stay for nightlife is the City Center, near Lloret de Mar Beach. See accommodation in central Lloret de Mar.
Lloret de Mar is well-connected by air through the Aeroport de Girona – Costa Brava (GRO). Located 30 km from Lloret de Mar, this airport is an important low-cost hub, especially for Ryanair. Girona-Costa Brava offers point-to-point connections to many destinations in Europe. For a greater range of domestic, European and long-haul flights, the Aeropuerto Internacional de Barcelona-El Prat is 90 km away.
The city does not have a train station. Still, it has excellent bus connections from Barcelona-Estació del Nord, Blanes commuter railway station and Girona and Figueres-Vilafant AVE (high-speed) stations. See bus schedules, fares and routes.
The easiest way to move between Lloret de Mar and the Costa Brava towns is to rent a car. If renting a vehicle is not an option, Lloret has an urban bus network and taxis and mobile applications (Uber and Cabify). Another excellent option to move around Costa Brava is to hire organized with transportation included.
The best area to stay in Lloret is near Platja de Fenals. This vibrant coastal area offers a pleasant atmosphere and proximity to attractions such as the Santa Clotilde Gardens and the Mirador de la Dona Marinera. Several of the best-rated hotels in Lloret are located in this area. See accommodation near Platja de Fenals.
Other excellent areas to consider when choosing the best location in Lloret include the City Centre & Lloret de Mar Beach, as well as Platja de Canyelles.
Keep on reading to find out more about the best areas to stay in Lloret de Mar, Spain.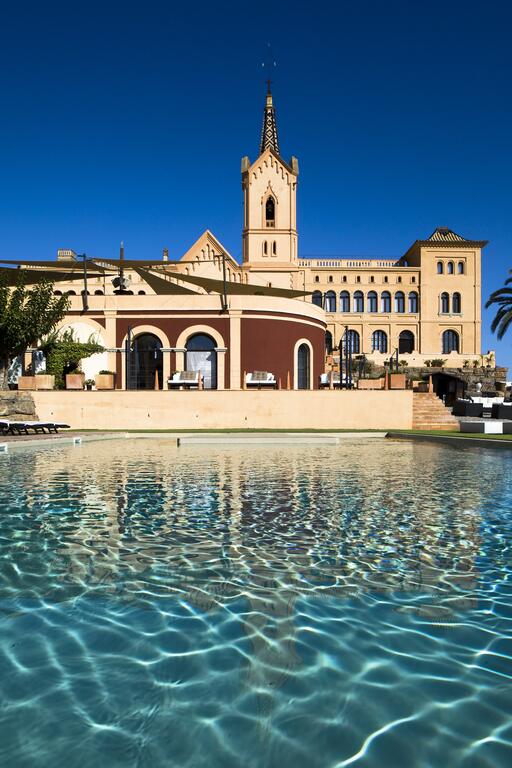 The Best Areas to Stay in Lloret de Mar, Spain
1. Recommended area: Platja de Fenals
Platja de Fenals is a beach located 1 kilometre from the centre of Lloret de Mar.
We have included it in this list as the best area to stay in Lloret de Mar due to its proximity to the attractions, its relative tranquillity and because it is packed with comfortable hotels and apartments.
Platja de Fenals is located in the area between Castell de Sant Joan and the Fenals viewpoint.
Not far away, you'll find the gorgeous Jardins de Santa Clotilde, a serene and well-kept park adorned with sculptures and fountains offering wonderful views of the sea.
Fenals Beach is known for its calm and crystalline waters, ideal for practising parasailing, kayaking and water skiing, among other sports.
The Platja de Fenals area also has several restaurants specialising in seafood and local Catalan cuisine.
Although the surroundings of Platja de Fenals are a quiet area to stay in Lloret, especially when compared to the City Centre's crazy nightlife scene, this area also has entertainment venues, beach bars and some nightclubs.
The best way to move between Platja de Fenals and the centre of Lloret de Mar is on foot. Additionally, the area is connected by lines L11 and L12 of the urban bus network and has free parking spaces for those travelling by car.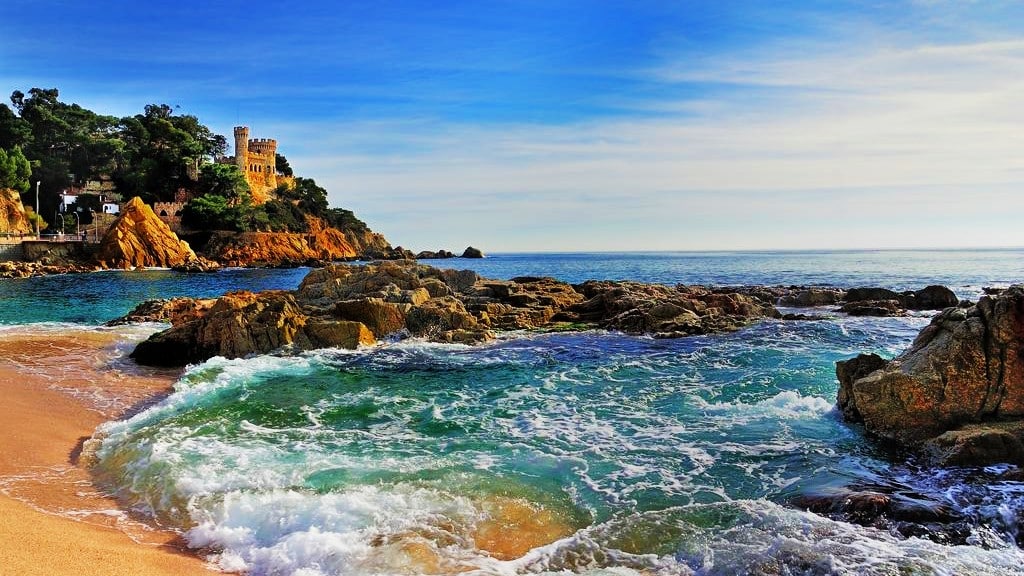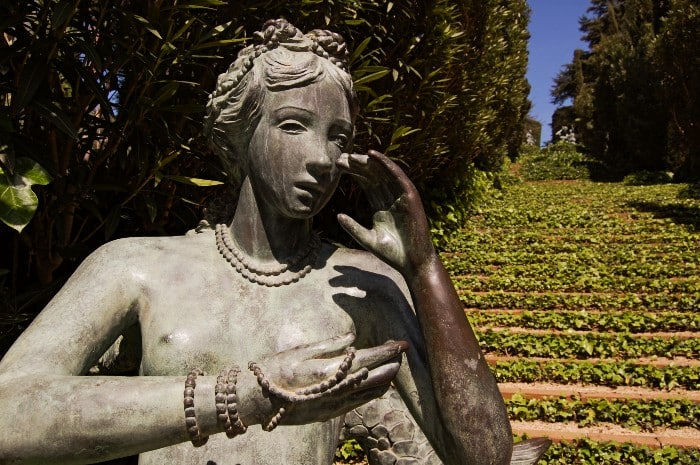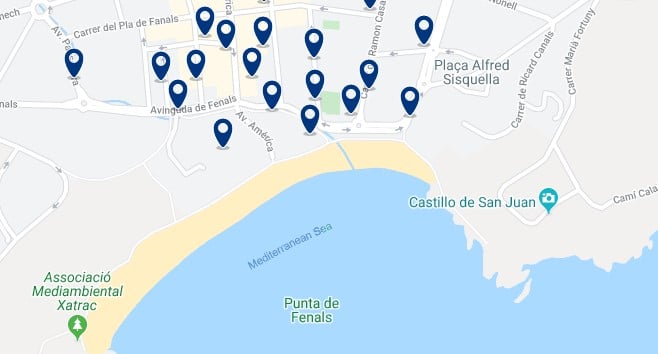 Why is this a recommended area to stay in Lloret de Mar, Spain:
Best area for tourists
Good restaurants
Beach area
Santa Clotilde Gardens
Good transport connections
Ideal for water sports
---
2. City Centre & Lloret de Mar Beach
Lloret de Mar's City Centre is a great area to stay in Lloret de Mar, especially for those looking for great nightlife and/or cheap accommodation.
The Centre of Lloret is the main nightlife area on ​​the Costa Brava. Thanks to its huge number of casinos, bars and nightclubs, Lloret de Mar is famous as the most important party destination in Spain.
This fame, driven in large part by the throng of young visitors flocking to the city each summer on Ryanair flights, is not necessarily a good thing, though.
But despite its bad rep, it is undeniable that Lloret's nightlife is the most vibrant on the entire Costa Brava.
Lloret's main nightlife centres are located on the coast, near Platja de Lloret de Mar.
One of the main advantages of staying in the center of Lloret is that it can be easily explored on foot, but it also has good bus and taxi connections to move to other areas.
In Lloret's centre you can also find shops, cafes and numerous restaurants.
Attractions in this area include the Iglesia de Sant Romà, with an interesting mix of Catalan-Gothic-style and an art-nouveau façade, as well as the Cementerio Modernista.
Another must-see in this area is the Cat Museum, with a wide variety of feline-inspired paintings, postcards and sculptures.
The City Centre is home to the Estació d'Autobusos de Lloret de Mar, making it easy to move between Lloret, Barcelona, ​​Girona, the airport and other points of the Costa Brava.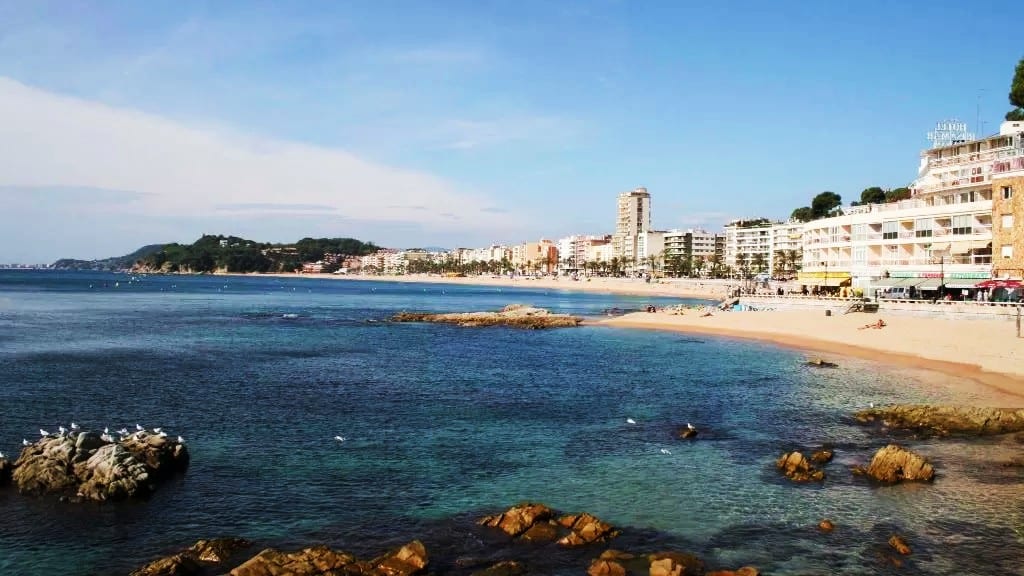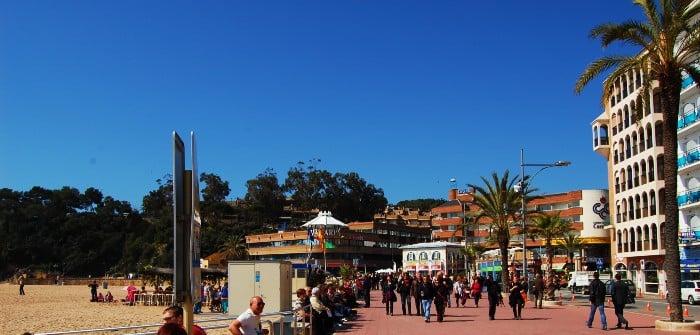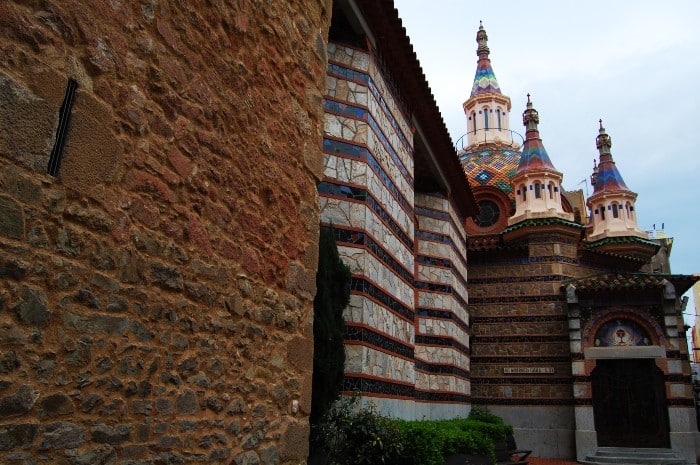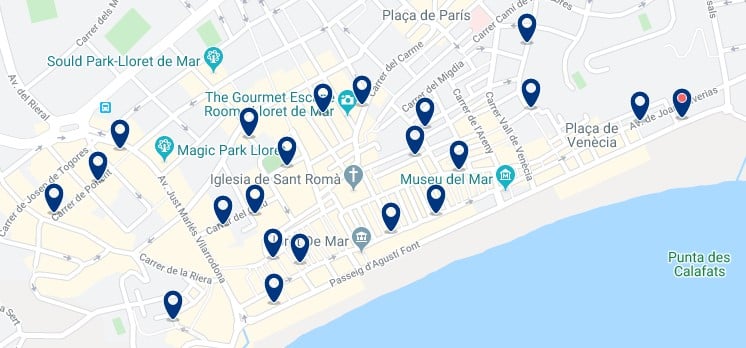 Why is this a recommended area to stay in Lloret de Mar, Spain:
Sant Romà Church and Art Nouveau Cemetery
Lloret de Mar Beach
Pedestrian-friendly
Best nightlife area
---
3. Platja de Canyelles
Platja de Canyelles is another beach in Lloret de Mar.
The area around Platja de Canyelles is a good alternative to stay in Lloret de Mar thanks to its peaceful atmosphere, especially compared to the hustle and bustle of the more touristy areas.
Platja de Canyelles is a great place to practice all kinds of water sports including water skiing, ski-bob, kayaking and tourist cruises.
The main advantage of staying in Platja de Canyelles is that it has a more local feel. That said, the area also has beach bars and restaurants serving delicious seafood dishes.
Canyelles Beach can be reached by bus and, as it has parking next to the beach, it is a great area to stay if you're travelling by car.
Playa de Canyelles is a good area to stay in Lloret de Mar. Most of its hotels, apartments and villas are very close to the beach.
---
Read in other languages:
|ES| Las mejores zonas donde alojarse en Lloret de Mar, España.