Where to Stay in Valencia – A Guide to This Mediterranean City
Valencia is the capital and most populated city of Spain's Comunitat Valenciana autonomous region. Located on the Mediterranean Sea, in the east of the country, Valencia is the third-largest metropolitan area in Spain and is famous for its cultural sights, medieval and contemporary architecture, urban beaches and gastronomic heritage, which includes (but it's by no means limited to) the iconic paella Valenciana. In this post, we will explore the best areas to stay in Valencia, Spain.
---
Why you should visit Valencia
Founded by the Romans in 138 B.C. as Valentia Edetanorum, Valencia can be considered an open-air museum of more than 2000 years of history. Several civilisations, including Romans, Visigoths, Arabs, Christians and Jews, all left a mark on the city's architecture and culture. This multicultural heritage can be easily seen in the central Ciutat Vella district.
Valencia's City Centre is home to the city's main historical and cultural attractions such as the 13th-century Valencia Cathedral, the late-Gothic Llotja de la Seda (Silk Market), the Mercat Central and the medieval city gates like Torres de Serranos and Torres de Quart. Some of the city's best museums, such as the Institut Valencià d'Art Modern and the Museu de Belles Arts de València, are also located here. See accommodation in Ciutat Vella.
Ciutat Vella is bordered on the north by the Garden of the Turia. In the mid-20th century, Valencia's main river was diverted south of the city to prevent floodings. Today, the old riverbed has been transformed into a city park allowing pedestrians and cyclists to move across much of the city.
For a more modern side of the city, Valencia's impressive Ciutat de les Arts i les Ciències (City of Arts & Sciences) is an award-winning avant-garde complex of museums, auditoriums and attractions designed by world-renowned Spanish architect Santiago Calatrava. This expansive and futuristic compound is located about 3 kilometres south of Ciutat Vella and includes L'Hemisfèric, the Museu de les Ciències Príncipe Felipe, L'Umbracle, L'Oceanogràfic and Palau de les Arts Reina Sofia. See accommodation around the City of Arts & Sciences.
---
When to visit Valencia
Valencia is also famous for its traditional festivals, the most important one being Las Fallas. Las Fallas is a traditional celebration held annually in commemoration of Saint Joseph. This festival takes place from 15 to 19 March and includes fireworks displays and traditional larger-than-life papier-mâché figures burned during the day of the cremà (March 19).
If you're planning on visiting Valencia during Las Fallas, we recommend that you book your accommodation months in advance. Fallas are the city's busiest week, and finding a room can be a challenge. See accommodation in Valencia.
Due to its coastal location, Valencia has a subtropical Mediterranean climate moderated by the influence of the sea. Valencia experiences four seasons, hot summers and very mild winters. In January, temperatures typically range between 7 and 16 °C. Meanwhile, the summer can see average temperatures hover between 22 and 30 °C. Its constantly warm temperatures make this Spanish city an ideal cultural destination year-round. That said, the best time to visit Valencia and enjoy its beaches goes from late spring through early fall (April through October).
---
Getting there & moving around
To get to Valencia by air, the city is served by the Aeroport de València. Located 8 kilometres west of the city centre, this important Spanish airport offers a wide range of domestic, European and North African connections.
Valencia is also very well-connected by train. Estación del Norte, the main railway station in the city, is located in the centre and offers high-speed (AVE) connections to Madrid (1:47 min), Cuenca (58 min), and Castellón (48 min). Other long-distance and regional services connect Valencia to cities like Barcelona, Tarragona, Sevilla, Alicante and Zaragoza. Additionally, Renfe Euromed high-speed services connect the Valencian Capital to Barcelona (2:40 min), Tarragona and Alicante from nearby Joaquín Sorolla Station. See train routes, schedules & fares.
When it comes to moving around the city, Valencia has a very efficient public transportation ecosystem consisting of a 9-line light-rail commuter railway network known as Metrovalència, a traditional commuter railway network (Cercanías/Rodalia) and dozens of bus lines. Additionally, Valencia is served by taxis, mobile apps (like Uber and Cabify), and you can always choose to rent a car for your trip.
---
Where to stay in Valencia
The best area to stay in Valencia is Ciutat Vella. Valencia's Old Town is home to the city's main historic and cultural attractions, lively nightlife, great restaurants, and some of the best hotels in town. See accommodation in Ciutat Vella.
If you're travelling to this Spanish city to enjoy a bit of fun in the sun, then the beachside district of Poblats Marítims is the best location in Valencia for you. See accommodation in Poblats Marítims.
Other great areas to keep in mind when choosing the best areas for tourists in Valencia include around the City of Arts and Sciences and the neighbourhoods of L'Eixample, Extramurs and Russafa.
Keep reading to find more about the best areas to stay in Valencia, Spain.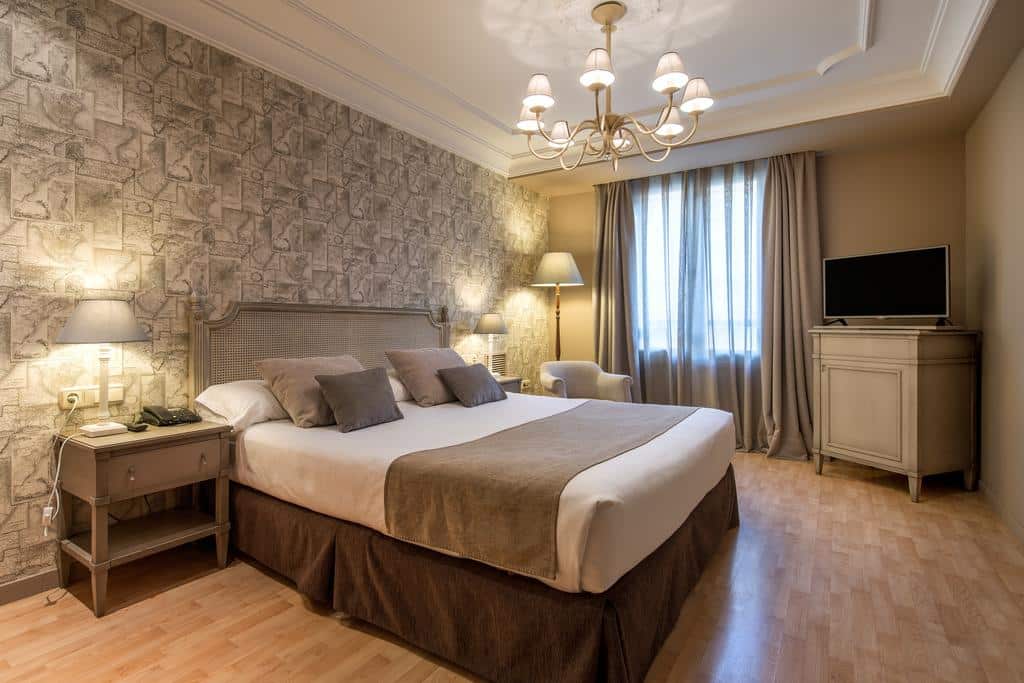 ---
Best Location in Valencia, Spain: A Quick Guide
Below, you'll find a list of the best areas to stay in Valencia according to your travel style and what you may be planning to do during your trip. Keep reading this guide to find all the specific information you need about each particular area mentioned here.
---
Best Hotels in Valencia, ES by Theme
Something more specific in mind? Here's a list of some of the best hotels in Valencia. No matter your reason for visiting the city or style, you'll find it here!
---
The Best Areas to Stay in Valencia, Spain
1. Recommended area: Ciutat Vella (Valencia Old Town)
As the main tourist district in Valencia, it comes as no surprise that Ciutat Vella is packed with accommodations for all tastes and budgets. Here, you can find budget chic properties like the Venecia Plaza Centro, mid-range and upmarket Spanish chain hotels like the Vincci Lys or luxury establishments such as the Palacio Vallier.
Ciutat Vella (Valencian for Old City) is, without doubt, the most beautiful and charming neighbourhood in Valencia.
Located south of the Garden of the Turia and encompassing the area once bound by the medieval city walls, Ciutat Vella is packed with narrow cobblestone streets and shady plazas.
At its heart, on Plaça de la Reina, stand the 13th-century Valencia Cathedral and its Gothic-style belltower, El Micalet. Make sure you visit the tower for breathtaking views of the Old City Centre, the sea and the City of Arts in the distance.
La Lonja de la Seda, located nearby, is considered one of the most beautiful examples of civilian Gothic architecture in all of Europe. This impressive 15th-century silk market hall gives visitors a glimpse into Valencia's wealth and importance in medieval times.
El Mercat Central is a restored Art-Nouveau building selling fresh produce, cured meats and local delicatessen.
A few metres north lie Torres de Serranos, an impressive 14th-century city gate part of the old city walls, and Barrio del Carmen, a thriving nightlife area packed with tapas bars, cafés, pubs and designer boutiques. The Centre del Carme Cultura Contemporània is a modern art exhibition and performance centre hosted in a 13th-century convent.
Ciutat Vella's north section is home to a cluster of interesting museums. Here, you'll find the Institut Valencià d'Art Modern, with everchanging displays of contemporary art, the Museu de Prehistòria de València, with an interesting collection of artefacts dating back to the Stone Age, and the Valencian Museum of Ethnology, showcasing the regions rich and distinctive culture.
Nearby, though technically outside the Old Quarter, Jardí botànic de València offers over 4,000 species of native and exotic flora. Across from it, the Torres de Quart are another example of fortified city gates.
The south end of Valencia's Old City Centre was heavily refurbished in the late 19th and early 20th centuries. It offers an exciting view into the grandeur of fin-de-siècle Valencia. Impressive theatres, art-nouveau and art-deco office buildings and old department stores line the grand boulevards.
Nowhere is this opulence more apparent than in the majestic Plaça del Ajuntament, a large city square flanked by some of the best examples of Iberian turn-of-the-century architecture outside of Madrid's Gran Vía.
When it comes to transportation, walking is the best way to move around Valencia's Old Town. Its pedestrian-friendly narrow streets lined with interesting architecture are an open invitation to get lost in its history. If moving on foot is not an option, several bus lines cross its wider avenues.
While Valencia has a very efficient metro system, most of its lines border Ciutat Vella. That said, the metro is a great way to move to other Valencia districts. Some of the most centrally-located stations include Colón (lines 0, 3, 5, 9), Xàtiva (lines 3, 5, 9) and Turia (lines 0, 1, 2).
Additionally, Estació del Nord is located directly south of the city centre and offers commuter, regional, intercity and AVE connections.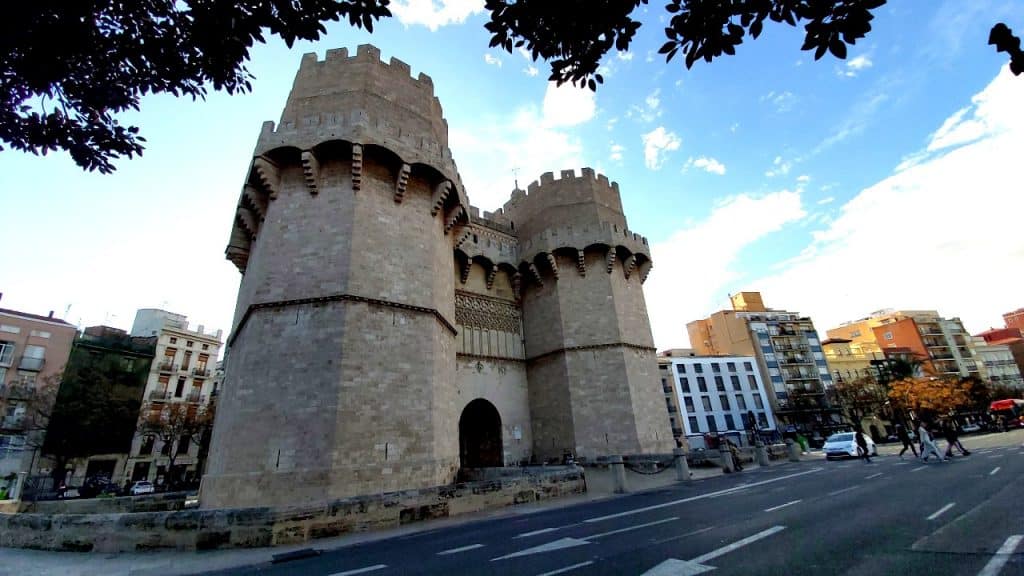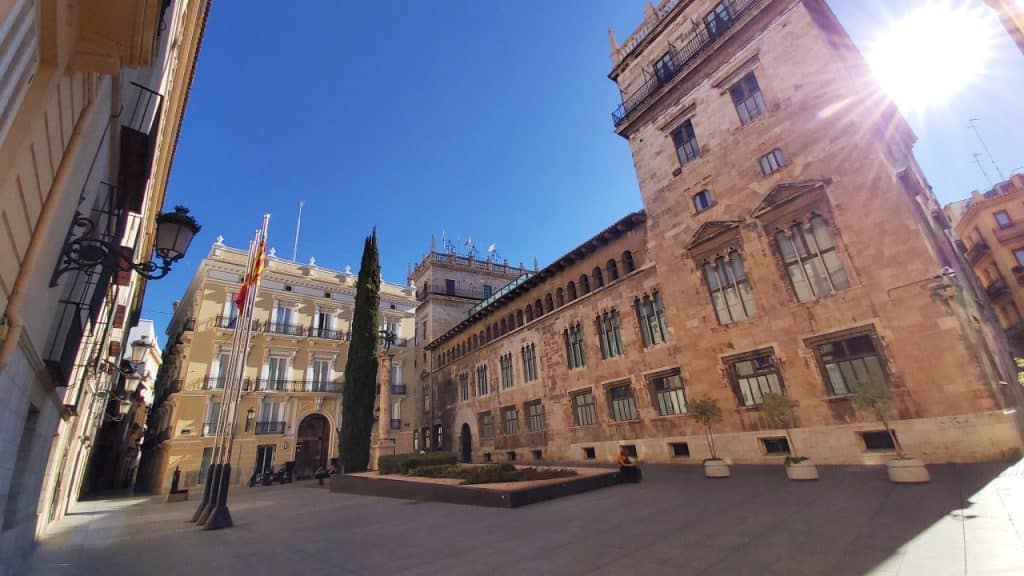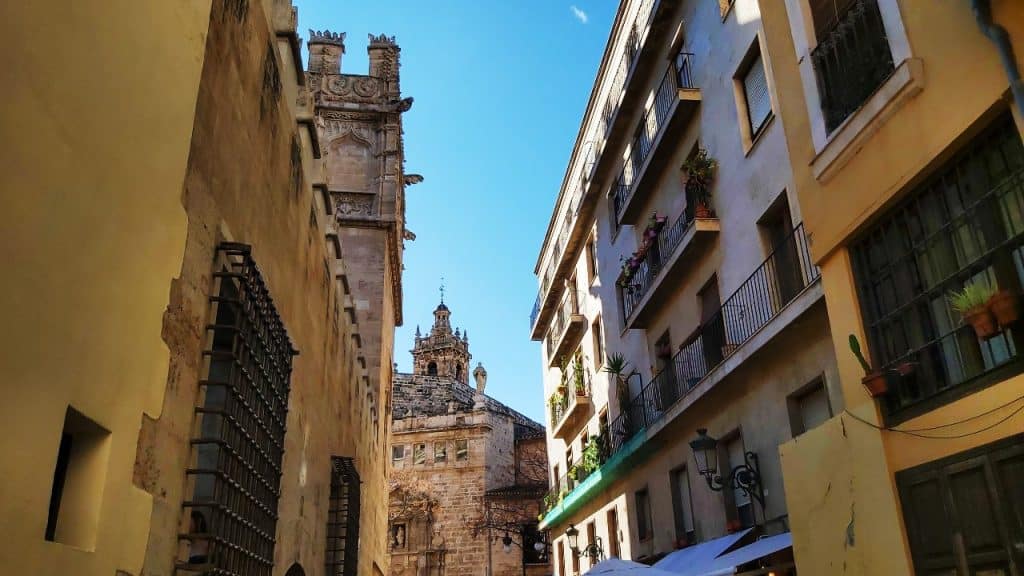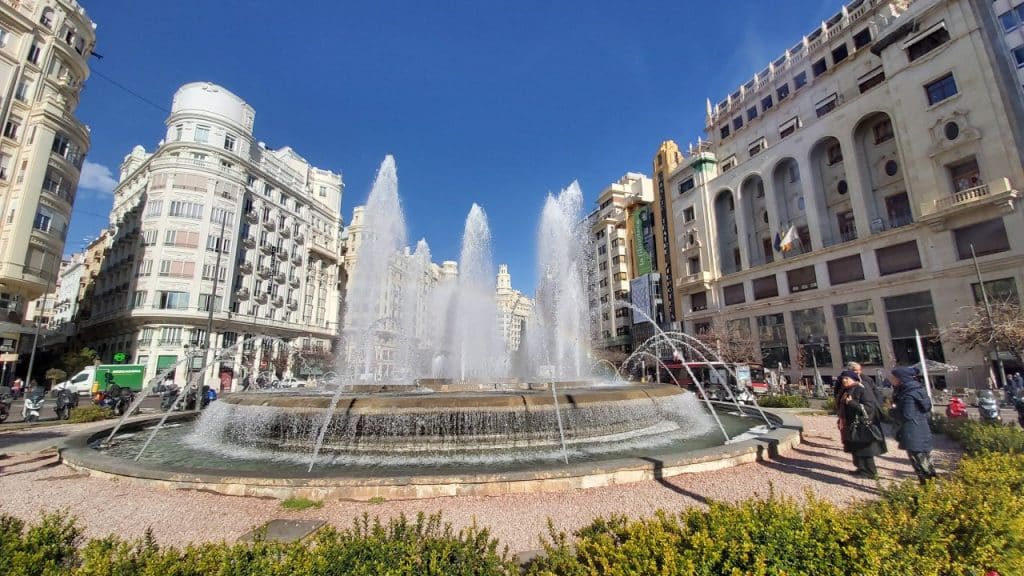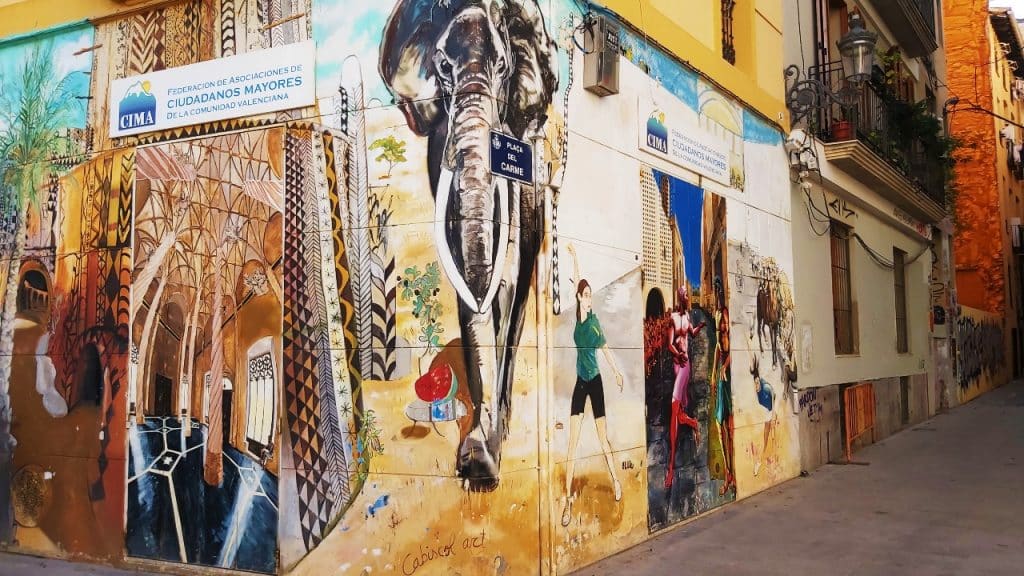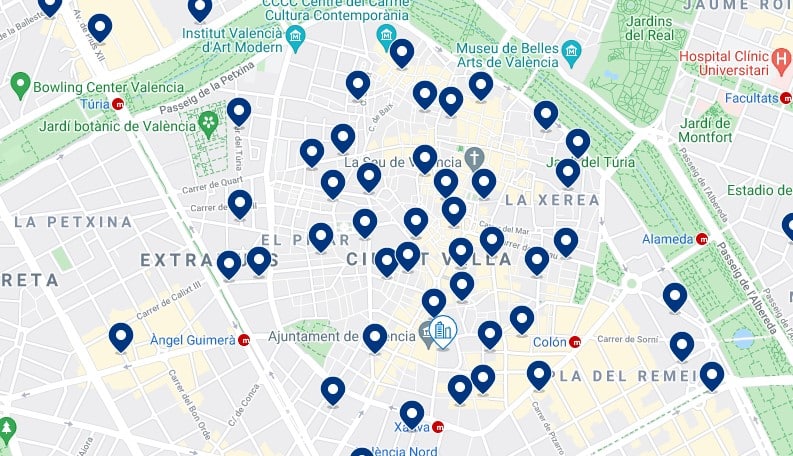 Accommodation in different areas within Ciutat Vella:
Why is this a recommended area to stay in Valencia, Spain:
Heart of the city
Medieval buildings
Best area for sightseeing
Pedestrian-friendly
Central Market
Valencia Cathedral
---
2. Poblats Marítims (Poblados Marítimos)
If you're travelling to Valencia to be near the beach, there's no better area to stay than Poblats Marítims. This seaside district is home to all kinds of accommodations ranging from luxury resort properties like Las Arenas Balneario Resort to small beach hotels like Sol Playa, plus dozens of tourist apartments.
The Poblats Marítims district encompasses the neighbourhoods of Cabanyal-Canyamelar, El Grau, Nazaret, Beteró and Malvarrosa.
This picturesque area of the city is located east of the Old Town, on the Mediterranean coast.
Poblats Marítims (Valencian for Maritime Villages) has a traditional atmosphere and, as its name implies, boast strong seafaring and marine influences.
In many ways, this district feels like a fishermen's village.
As it could not be otherwise, Poblats Marítims is home to the main urban beaches of the city (such as La Malvarrosa, Las Arenas or Cabanyal), making it the best area to stay in Valencia during the summer and for beach holidays.
Due to its coastal position, this area has a large amount of accommodation that ranges from small, family-run bed and breakfast properties to large beach resorts.
When it comes to transportation, although there are some railway stations in this district, namely Marítim – Serrería (lines 5, 7, 6 and 8) and València Cabanyal (RENFE commuter and regional trains), transportation in and around this area relies largely on the bus system, taxis and mobile apps.
---
3. Around the City of Arts and Sciences (Quatre Carreres)
A newly created area, Quatre Carreres is home to some of Valencia's best modern hotels. Some of the best rated include the Ilunion Aqua, Barceló Valencia and NH Valencia Las Artes.
Valencia's Ciutat de les Arts i les Ciències (City of Arts and Sciences) is a complex designed by Valencian architect Santiago Calatrava.
This large compound is located on the old bed of the Turia river, south of Ciutat Vella.
This city within city consists of several avant-garde buildings that have become authentic icons of Valencia.
The largest of them, the Principe Felipe Science Museum, is made up of a huge rectangular pavilion that offers various interactive science and technology exhibits.
On one of its sides, surrounded by water and the entrance area, is the Hemisphere, a 3D digital cinema whose main feature is its inverted concave 900 metres screen.
The Oceanographic, with seven different marine environments, is the largest aquarium in Europe. The Umbracle (greenhouse) is free of charge and you can walk through its gardens with endemic Mediterranean flora.
In stark contrast with the medieval Old Town of Valencia, the area around the City of Arts and Sciences is characterised by modern buildings, wide avenues and newly created residential and commercial areas.
One of the few downsides of staying in this area is the lack of metro or train connections to the rest of the city. That said, this district is connected to the Old Town via buses and taxis are widely available.
Additionally, you can also walk or bike to the City Centre using the Garden of the Turia pathway.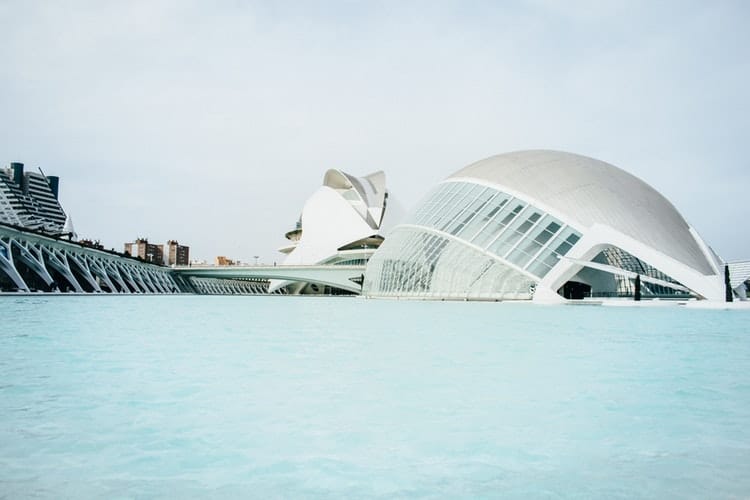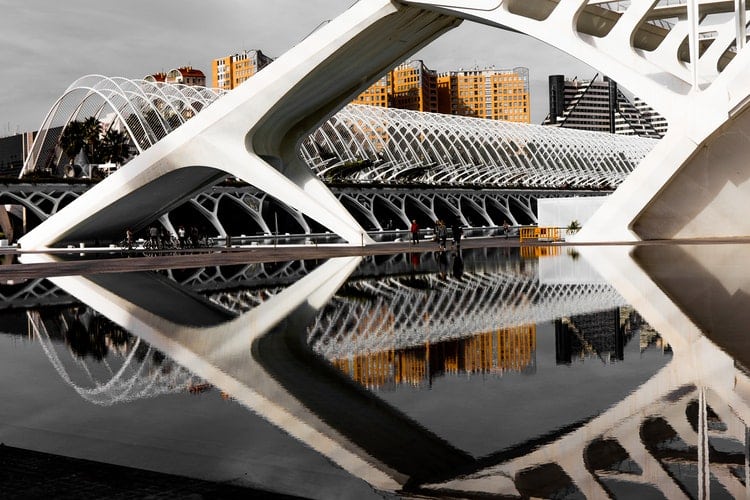 Why is this a recommended area to stay in Valencia, Spain:
Contemporary architecture
Budget hotels
City of Arts and Sciences
---
4. Eixample & Russafa
Valencia's Eixample is home to the most exclusive shops and boutiques, but it's also home to Russafa, the city's number one hipster district. The accommodation offer in this district of contrasts is equally diverse and includes everything from boutique properties like the Petit Palace Ruzafa and Soho Valencia, dozens of independent tourist apartments and budget options like the Russafa Youth Hostel.
Ensanche or Eixample de Valencia is located south and southeast of Ciutat Vella.
The origin of this Valencian neighbourhood dates back to 1865, when Valencia's defensive walls were demolished to begin the expansion process of the city.
The Eixample (which literally means "Expansion") boasts many stately art nouveau and deco style buildings.
The Valencian Ensanche was designed following Barcelona's Cerdá Plan, an orthogonal design with large blocks and palaces.
The Ensanche district is made up of three neighbourhoods: Ruzafa, El Pla del Remei and Gran Vía. Pla del Remei and Gran Vía are two of the most exclusive neighbourhoods in Valencia.
Ruzafa is a very attractive area to stay in Valencia. Alternative and full of life, Ruzafa concentrates a great gastronomic offer, with tapas bars, restaurants and great nightlife.
Calle Colón is the most important commercial street in Valencia, known for its stores and department stores. Meanwhile, Mercado de Colón is a great example of art nouveau architecture. It was completely restored in 2003 to be converted into a luxury shopping arcade.
The Eixample is one of the best-connected areas of Valencia, thanks to the proximity of Estació del Nord, the main railway terminal in Valencia.
---
5. Extramurs
The Extramurs district of Valencia is located west and southwest of the Ciutat Vella.
Its name (Beyond the walls) refers to the fact that, in medieval times, this was a peripheral neighbourhood.
Some of the attractions here include the Torres de Quart, an old walled gate to Ciutat Vella, the Botanical Garden, with a large number of native Mediterranean species or the Estació del Nord, located at the southern end of the district.
Extramurs offers easy access to the Ciutat Vella on foot and it is definitely one of the best neighbourhoods to stay in Valencia as far as public transport is concerned.
Several metro stops (Bailén, Pl Espanya, Àngel Guimerà or Jesús) and the railway station Estació del Nord are all located in this area.
---
Read this in other languages