Where to Stay in Salou – A Guide to This Costa Dorada Town
Salou is a coastal town located in the province of Tarragona, in the tourist region of Costa Dorada. This city is especially known for being one of the most visited beach destinations in the province, for its lively nightlife and for being home to PortAventura theme park. In this post, we will explore the best areas to stay in Salou.
Why you should visit Salou
If there is one thing that sets Salou apart from other towns on the Catalan coast, it's PortAventura World. This expansive theme park, the largest and most visited on the Iberian Peninsula, attracts millions of tourists every year. The park has five areas based on different civilisations (Mediterranean, Wild West, Mexico, China and Polynesia), in addition to a Sesame Street themed area and Ferrari Land, an adjacent theme park inspired by the legendary Italian Formula 1 team. See accommodation around PortAventura World.
In addition to its amusement parks, Salou is known for its fantastic fine sand beaches such as Platja Ponent, Platja Llevant and Platja Llarga, and its more secluded, less touristy, rocky coves like Cala Llenguadets, Casla Penya Tallada, Cala Font, Cala Vinya and Cala dels Crancs.
Salou's City Centre is also home to several cultural institutions and historical attractions such as the Torre Vella Gallery, the House of Illusion theater, the church of Santa María del Mar, or the art-nouveau mansion Xalet Bonet. The futuristic Font Cibernètica, located on Passeig Jaume I, offers frequent nightly shows. See accommodation Salou City Centre.
When is the best time to visit Salou
Salou is an especially popular destination in the summer, when visitors from all corners of Spain and the rest of Europe come to visit its beaches and feel the adrenaline rush in PortAventura.
As is to be expected, the tourist high season in Salou takes place from the end of June until the end of August, coinciding with the summer holidays in most European countries. During these months, accommodation and transport costs increase considerably.
The best time to visit Salou is in late spring. Between May and early June, temperatures in Costa Dorada are warm enough to enjoy the beach and hotels don't yet have their high-season rates. The quietest month to visit Salou is December. In the winter, very few tourists visit the city and room rates drop considerably. That said, many hotels, restaurants and bars are closed and the temperatures are not suitable for beach activities between the months of November and March.
Getting there and moving around
Salou is well-connected to Europe thanks to the nearby Aeroport de Reus (REU). Located 12 km north of Salou, this airport, the third-busiest in Catalonia, is an important centre for low-cost connections, especially for Ryanair. Reus offers point-to-point connections to many destinations in Northern Europe. For a greater range of domestic, European and long-haul routes, Aeropuerto Internacional de Barcelona-El Prat is located 99 km north of Salou.
By train, Salou is very well-connected with Barcelona and Tarragona (and, from there. with other cities in the Mediterranean Corridor). The city's train station is located near PortAventura and offers regional services through line R17. Additionally, the city has excellent coach connections from various parts of Catalonia and the northeast of Spain. See bus schedules, fares & routes.
To move from Salou to other Costa Dorada towns, the easiest way is renting a car. If renting a vehicle is not an option, Salou has an urban bus network, as well as taxis and mobile applications (Uber and Cabify). Another excellent option to move around the Costa Dorada is booking guided tours including transportation.
Where to stay in Salou
The best area to stay in Salou, especially if you are travelling with kids, is near PortAventura World. This award-winning amusement park is the main tourist attraction on the Costa Dorada and features excellent themed hotels, restaurants and entertainment venues. Port Aventura is also next to the main train station and close to the beaches. See accommodation around Port Aventura.
Other excellent areas to consider when choosing the best location in Salou include the City Centre and Cap de Salou.
Keep reading to find out more about the best areas to stay in Salou, Spain.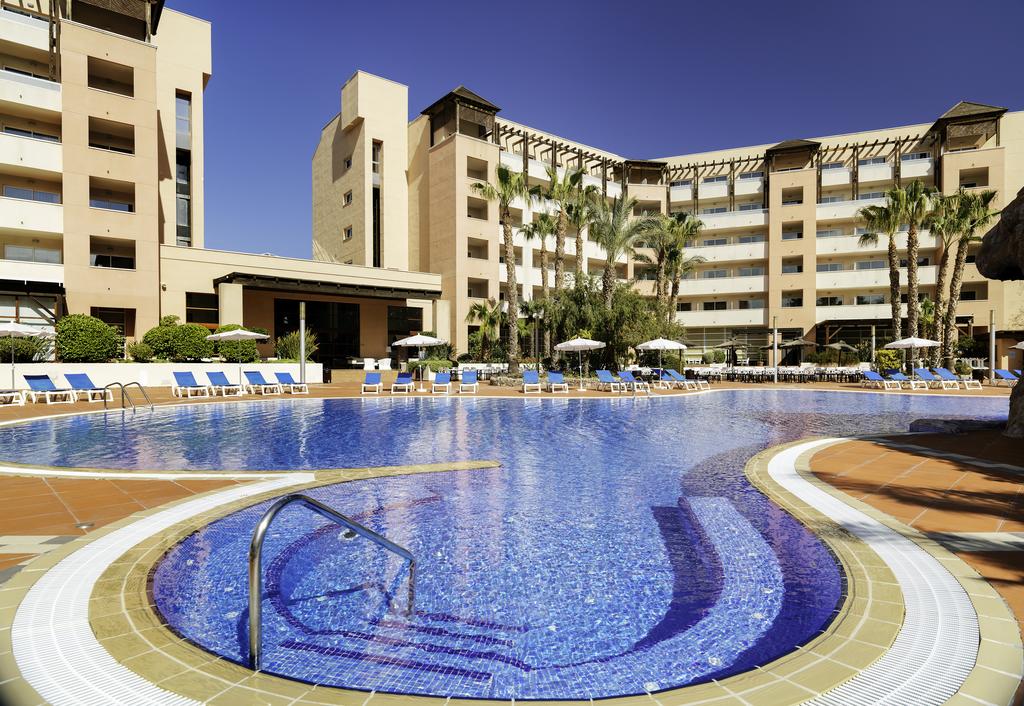 The Best Areas to Stay in Salou, Spain
1. Recommended area: Around PortAventura World
PortAventura World is famous for being one of the most visited tourist complexes in Spain and southern Europe.
Officially, PortAventura is located between the municipalities of Salou and Vila-seca, about 20 minutes by car from the centre of Salou.
This large complex consists of two main theme parks: PortAventura Park and Ferrari Land, as well as the Caribe Aquatic Park the Mediterránea Beach Golf and 6 themed hotels.
PortAventura opened its doors in 1995 and currently hosts over 40 different rides and attractions, as well as daily shows that change according to the time of year.
The park is divided into 6 different "universes": Mediterranean, China, Far West, Polynesia, Mexico and Sésamoaventura, each one with themed attractions, restaurants and hotels.
On the other hand, Ferrari Land is a separate theme park revolving around the legendary Italian Formula 1 team.
Ferrari Land It offers 13 rides and is especially suitable for adrenaline and motor enthusiasts.
In front of the complex, near Joan Fuster avenue, is the Salou-PortAventura train station. This train station, currently the only operational one in Salou, offers frequent connections to Barcelona, ​​Tarragona and other Catalan towns and cities.
The area around PortAventura World is packed with great restaurants, bars, casinos and shopping centres.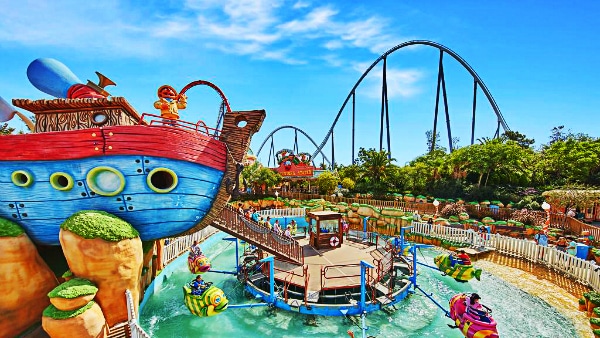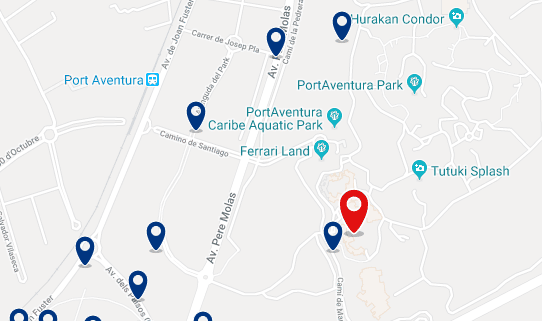 PortAventura® Official Hotels & Resorts
All these hotels offer their guests free entry to PortAventura and Ferrari Land.
Why is this a recommended area to stay in Salou, Costa Dorada:
PortAventura World
Well-connected by train
Luxury hotels
Caribe Aquatic Park
Gourmet restaurants
Ferrari Land
Best area for families
---
2. Salou City Centre & Main Beaches
Salou's City Centre is located next to the beach and is home to the main historical and cultural landmarks of the city.
This lively area is home to important squares such as Plaça de la Provincia, Plaça de Mossen Muntanyola, Plaça de Bonet and Plaça de Catalunya.
Also important avenues such as Passeig de Jaume I, which runs parallel to Platja de Llevant, the most popular beach in the city.
In the central area you'll find the main historic monuments of the city, as well as some of its newest attractions like the Cibernética Fountain, with daily shows filled with music and colour.
This area concentrates a good part of Salou's restaurants, nightlife and cafes.
The Torre Vella is the seat of the Salou city council and one of the oldest buildings in the city. It also hosts temporary cultural exhibitions and events.
In the centre of Salou you can also find the main bus station. Located on Passeig de Jaume I, this bus terminal connects Salou to most of Catalonia, Valencia and even Madrid.
The central area is one of the best areas to stay in Salou thanks to its central location wealth of accommodation.
---
3. Cap de Salou
The Cap de Salou area offers some of the best beaches in Salou, as well as the best views of the Mediterranean.
Cabo de Salou's main attraction is its wealth of small, secluded and less accessible coves, which in turns means its beaches are much quieter and less crowded than the more central ones.
The main beaches in this area include Cala Penya Tallada, Cala Font, Cala dels Crancs and Cala Morisca.
Most of the coves in this area are connected by hiking trails.
This area generally has a more exclusive and quiet atmosphere than the city centre. That said, Cap Salou has a multitude of beachside restaurants, bars and nightclubs.
Accommodations in this area also tend to be more exclusive than those in the city centre. Here, you'll find lots of luxury apartments and resorts with sea views.
Cap de Salou is the best area to stay for a romantic trip or couple's getaway.
---
Read in other languages