Where to Stay in McAllen – A Guide to this Texan City
McAllen the largest city in Hidalgo County and it's located in the south of Texas, right on the Mexican Border. It is famous for being one of the cheapest cities in the US and for having the most beautiful library in Texas (which incidentally was built on an abandoned Walmart). In this post, we will unveil the best areas to stay in McAllen.
McAllen is the main city in the McAllen-Edinburg-Mission metropolitan area. Its main tourist attractions include the International Museum of Art & Science, dedicated to exhibiting Latin American art, Quinta Mazatlan, an expansive Spanish-inspired estate with public gardens, and Fireman's Park, a beautiful city park to practice outdoor activities.
McAllen is a vibrant arts and entertainment scene. The city boasts several art galleries, live music venues, bars, nightclubs, restaurants, and cafés.
Other places of interest in the area include La Plaza Mall, one of the most luxurious shopping centers in South Texas.
For travelers looking for an escape from the bustle of other major cities, McAllen offers activities such as symphony concerts, fishing, or golf.
McAllen's public transport includes a bus system. Taxis and apps like Uber and Lyft are available in the city. That said, in order to move around town and the surrounding areas, it is highly advisable to ren a car during your stay. You can rent a cheap car in McAllen here.
Among the best areas to stay in the McAllen metro area, Downtown McAllen is your best bet thanks to its proximity to the main attractions in the area. See accommodation in Downtown McAllen.
Here's a guide with the best areas to stay in McAllen, Texas.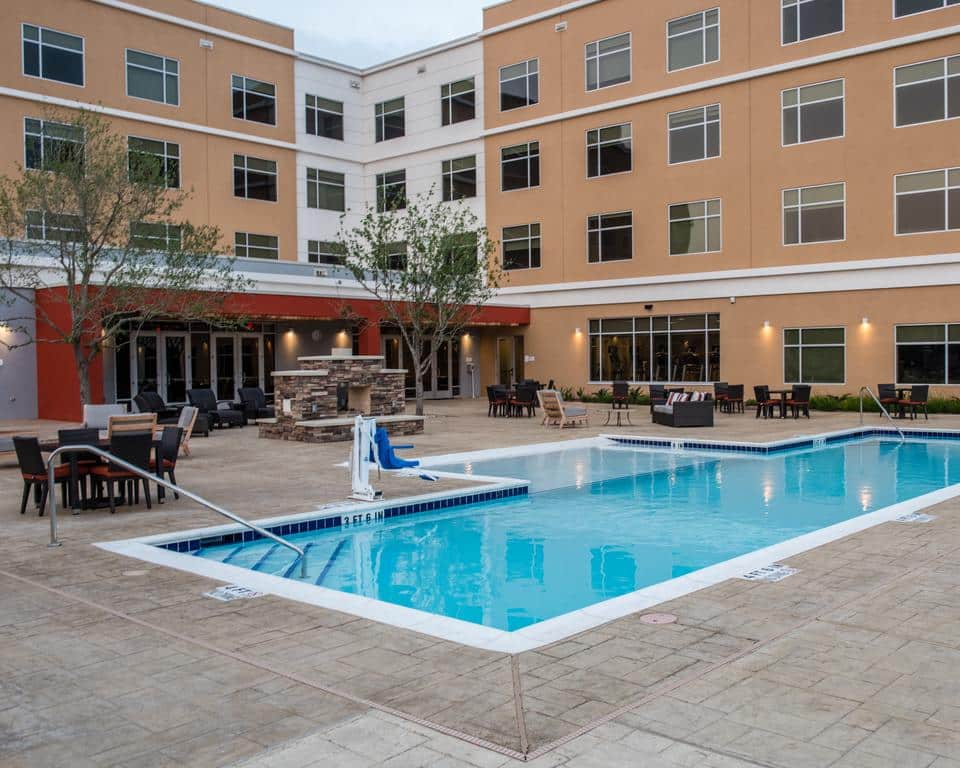 The Best Areas to Stay in McAllen, Texas
1. Recommended area: Downtown McAllen
Downtown McAllen is home to most of the city's entertainment and nightlife options, as well as the best area for sightseeing.
Staying in the Downtown area guarantees the most central location in the McAllen metropolitan area, where you will find restaurants serving southern food, fast food, and international cuisine.
Shopping is one of the favorite activities of those who stay in this area. Here, you can find La Plaza Mall, with over 150 stores.
Those interested in art will love the International Museum of Art and Science in Downtown McAllen, with unique exhibitions of Latin American art, natural history, and geology.
Other sight well worth a visit is Quinta Mazatlan, with trails for long walks, bird watching, and unique gardens.
Downtoen McAllen is connected to other areas through buses and taxis.
Downtown is the best area to stay in McAllen for its great leisure offer and sightseeing opportunities.
---
2. Edinburg
Edinburg, located northeast of Downtown McAllen, is another great area to stay, especially for business travelers.
Edinburg is home to important companies and to the University of Texas Rio Grande Valley.
To learn about Texas' past, the South Texas History Museum is a must-see in Edinburg.
Like McAllen, Edinburg is connected to other neighborhoods through public transportation.
Going to the rodeo, attending music concerts, and visiting art galleries are popular activities when you stay in Edinburg.
Filled with history, cuisine, cheap hotels and entertainment, Edinburg is another of the best areas to stay in the McAllen area.
---
3. Mission
About 15 minutes west of Downtown McAllen lies Mission, another great area to stay near the city.
This area houses historic sites such as La Lomita, a series of ruins of buildings formerly built by monks, including convents and chapels.
Mission also has upscale restaurants to taste local and international flavors.
Mission connects with other areas through buses and taxis and is one of the best areas to stay in McAllen.
---
4. Harlingen
Harlingen is a small town located in the heart of the Rio Grande Valley, 30 minutes from the city of McAllen.
The main advantage of staying in Harlingen is its easy access to South Padre Island and Mexico.
The vibrant cultural scene of Harlingen, its fashion stores, and authentic Mexican and Tex-Mex food qualify this charming town as a recommended area to stay in McAllen.
Those staying in Harlingen should visit its Downtown area, home to shops, restaurants, and some of the oldest buildings in the area.
Harlingen has a bus system. However, picturesque areas such as Downtown and its surroundings are well worth exploring on foot.
Harlingen is one of the best areas to stay near McAllen because of its proximity to points of interest such as South Padre Island and great hotel offer.
---
Read this in other languages