Where to Stay in Austin – A Guide to the Capital of Texas
Austin is the capital of Texas and is in the heart of the state. This city, the second-most-populous state capital in the US, is famous for its alternative vibe, nightlife, music venues, and festivals like South by Southwest. This post will cover the best areas to stay in Austin, Texas.
Austin is one of the most hipster-friendly places in America. After all, there's even a slogan telling people to "Keep Austin Weird"! You'll find many vintage shops, boutiques, craft beer bars, and food trucks that serve tasty Tex-Mex cuisine in the graffiti-covered streets of the Texas capital. That said, the city also gets the "Silicon Hills" nickname because of the several tech companies and start-ups that make it a popular destination for business trips.
Being the capital of Texas, Downtown Austin's attractions include the Texas State Capitol Building, which was built in 1888 and is the Texan government's seat. This district also houses Congress Avenue and the lively East 6th Street, the city's nightlife hub. See accommodation in Downtown Austin.
Meanwhile, East Austin is the city's hipster area par excellence, with many live music venues, breweries, and some of the best and most authentic restaurants in town. See accommodation in East Austin.
If you're traveling to Austin with kids, you need to know the city is also home to family-friendly attractions like a zoo and the beautiful Lady Bird Lake, with 10 miles of the Hike and Bike Trail and kayaks and canoes for rent. Other places to see in Austin for nature lovers are Zilker Park and Barton Creek Greenbelt.
Because of its location between the American Southwest's deserts and the humid, green areas of the American Southeast, Austin has a humid subtropical climate. So, winters are mild, with temperatures between 45 and 61ºF (7-16ºC), while summers are super hot, with temperatures that can reach 100ºF (37ºC) and ever-changing humidity levels. Thus, the best time to visit Austin is during the fall or winter, when the weather makes it easier to walk around the city and do outdoor activities.
To get to Austin by air, the city is served by Austin–Bergstrom International Airport, which is 5 miles (8km) southeast of the city. This important airport offers several regional connections throughout the US and a few international flights to the UK, Canada, and Mexico.
Austin is also well-connected by train. Amtrak's Texas Eagle line provides the city with train connections on its route between Chicago and Los Angeles.
So, you can take a train to other Texan cities such as San Antonio and Dallas or places like Little Rock and Tucson, to name only a few. See train schedules, routes & fares.
You can reach Austin by bus too. Companies like Greyhound offer routes to several destinations in Texas and even Mexico. See long-distance bus schedules, routes & fares.
To move around the city, Austin has a comprehensive public transport system. The Capital MetroRail, an expanding light-rail network, connects the Downtown to the city of Leander via East Austin. Additionally, the Capital Metro Bus System offers 82 routes around the city, and taxis and mobile apps like Uber and Lyft are also available to move around. As with most cities in the US, you could benefit from renting a car during your stay.
The best area to stay in Austin is downtown. This district is home to attractions like the Blanton Museum of Art, Paramount Theater, has good transport connections, and hotels of all kinds. See accommodation in Downtown Austin.
Other great options to consider when choosing the best location in Austin include the alternative East Austin, South Austin, and Northwest Austin, a recommended area for business travelers.
Keep reading to find out more about the best location in Austin for tourists.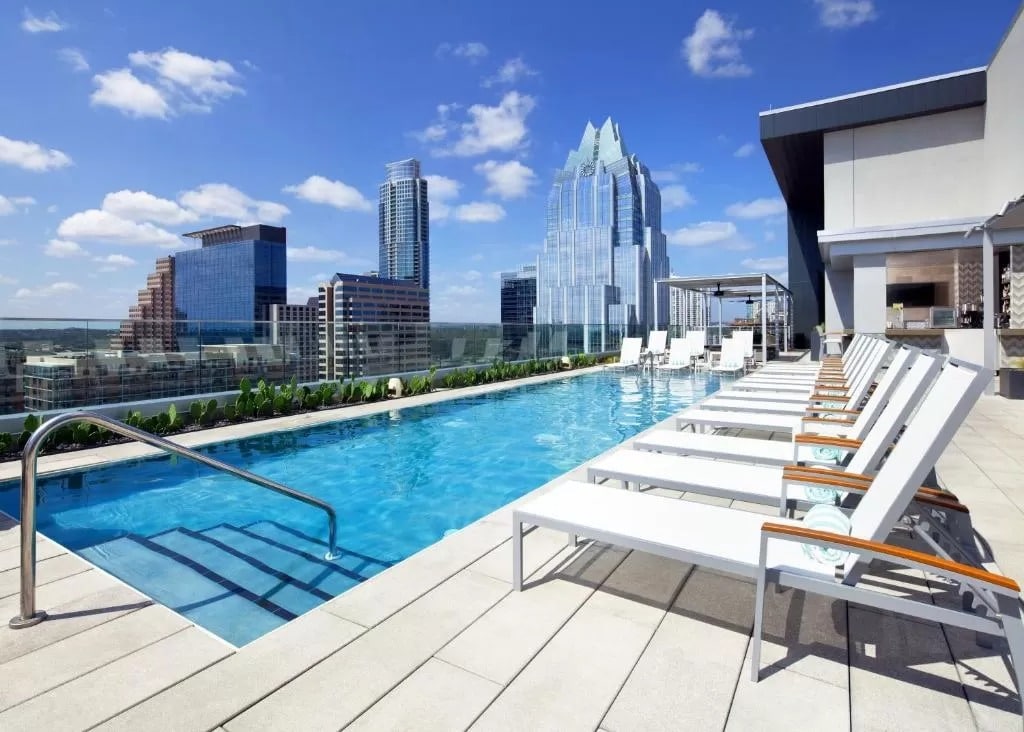 ---
Best Location in Austin, Texas: A Quick Guide
Below, you'll find a list of the best areas to stay in Austin depending on your travel style and what you may be planning to do during your trip. Keep reading below to find all the specific information you need about each particular area mentioned here.
---
Best Hotels in Austin, TX by Theme
Something more specific in mind? Here's a list of some of the best hotels in Austin. No matter your reason for visiting the city or style, you'll find it here!
---
The Best Areas to Stay in Austin, Texas
1. Recommended Area: Downtown Austin
Downtown Austin is the best area to stay in the city because it is home to the Texas capital's most important attractions.
In this district, you'll find landmarks like the stunning Texas Capitol State Building and the University of Texas, which houses the Blanton Museum of Art.
Downtown Austin stands out from other central districts in the US because it is more hipster-friendly and has a less business-centered atmosphere. This neighborhood showcases the city's quirkiness with its unique shops, street art, food trucks, and even a Museum of the Weird!
Inside downtown Austin, you'll find East 6th Street, the city's nightlife epicenter, with many alternative bars, clubs, and music venues that host concerts regularly. So, this district is the best area to stay in Austin for nightlife.
Bordering downtown Austin on the south is Lady Bird Lake and the Congress Avenue Bridge, with stunning views of the city's skyline.
Also, unlike other downtown areas, Austin's central district is easy to walk around but still well-connected to other neighborhoods by public transport.
Regarding accommodation, downtown Austin has a bit of everything, from luxury hotels to party hostels, B&Bs, and tourist apartments.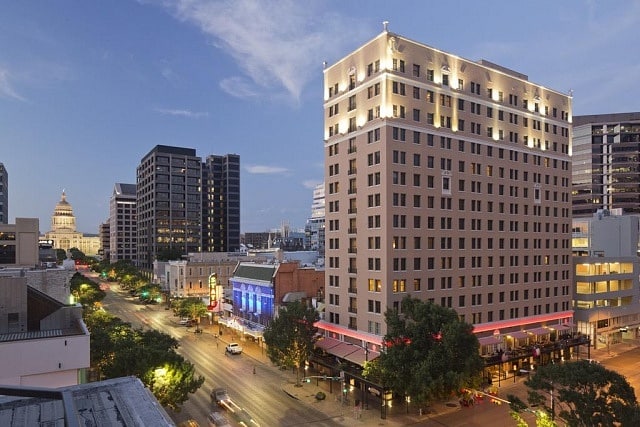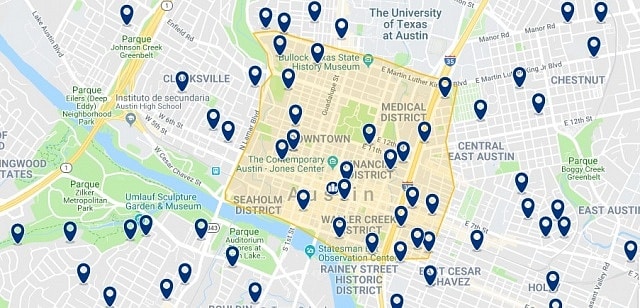 Why is this a recommended area to stay in Austin, Texas:
Best area to stay without a car
Great nightlife
Best area for sightseeing
Texas Capitol State Building
Hipster-friendly
---
2. East Austin
East Austin is the city's hipster area par excellence.
Located east of Interstate 35, this neighborhood stands out for its colorful graffiti, craft breweries, outdoor music, vinyl record stores, and vintage shops.
This neighborhood is one of the best areas to stay in Austin for foodies because of its food trucks and restaurants that serve local favors, Mexican and Tex-Mex cuisine.
The cultural scene of East Austin includes the George Washington Carver Museum, Cultural and Genealogy Center, with an impressive collection of African-American historical and cultural artifacts.
This district is close to downtown Austin so that you can walk from one area to the other. But the Plaza Saltillo MetroRail station connects this neighborhood with the center of the city if you're not in the mood to walk. The station also connects East Austin with northern suburbs.
East Austin is also one of the best areas to stay in Austin if you travel on a budget since it has some cheap hotels.
---
3. South Austin
South Austin's main attractions are located on South Congress Avenue, an area better known as "SoCo."
This area stands out because of its lively atmosphere, which, for the most part, comes from hosting many annual festivals.
Likewise, several boutiques and vintage stores make this neighborhood one of the best areas to stay in Austin for shopping.
Austin wears its "weirdness" with pride, and this area is no exception. Here, you can find hipster bars, cafés, and restaurants with great views of the downtown district.
SoCo is connected to the rest of the city via bus and taxi.
This district has charming hotels and budget accommodation.
---
4. Northwest Austin
Northwest Austin has a considerable variety of shops, restaurants and nightlife options.
The Northwest area is home to Tex-Mex food stands, shops, and the popular Arboretum, which offers events for families, themed restaurants and bicycle lanes.
This picturesque area of Austin has beautiful views of the hills, and is just minutes from several technology companies, making it a recommended area for business travelers.
The Northwest also hosts major shopping centers like the Domain, Lakeline Mall and many more, so it's a good place to stay in Austin for shopping.
Northwest Austin is a quiet area, with affordable hotels, entertainment, as well as many restaurants and shops. Those staying in this area can enjoy the fun of Austin, but away from the hustle and bustle downtown.
---
Read this in other languages