Where to Stay in El Paso – A Guide to Sun City
El Paso is a city located in western Texas. It is famous for being one of the main gateways to Mexico if you travel by car, for its Old West ambiance and its up-and-coming Tex-Mex culinary scene. In this post, we will explore the best areas to stay in El Paso.
---
The main attractions in the city of El Paso are the El Paso Museum of Art, El Paso Zoo and Western Playland theme park. For outdoor enthusiasts, this Texan city offers many nature and wilderness opportunities in places such as the Franklin Mountains State Park, which you can access via the Wyler Aerial Tramway, Chamizal National Memorial, or the city Scenic Drive.
El Paso is also known by many as the capital of Mexican food in the United States, with tacos, beef tenderloins, chiles, and much more.
Thanks to its location and desert climate, El Paso enjoys warm weather with open skies during most of the year, which allows you to explore its natural attractions. The summer high temperatures are around 95ºF / 35ºC and the winter lows hover around 31ºF / 0 ºC. The best time to visit El Paso is during the spring and early summer and the fall.
As for public transport, the city has bus routes in different areas, as well as a tram line and taxi and mobile apps services. However, the best way to enjoy El Paso and its surroundings is by car. You can rent a cheap car in El Paso here.
As for the best areas to stay in El Paso, the Downtown area offers some of the best cultural attractions, transport connections, and the widest selection of hotels, restaurants and shopping areas. See accommodation in Downtown El Paso.
Here's a guide with the best areas to stay in El Paso, Texas.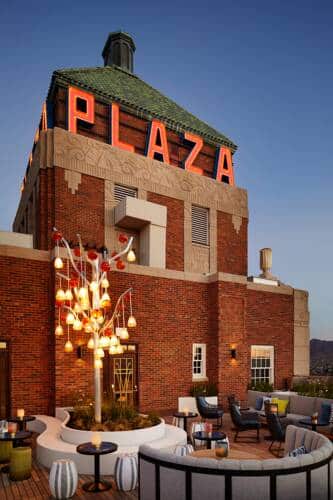 The Plaza Hotel Pioneer Park

The Plaza Hotel Pioneer Park features a restaurant, fitness center, a bar, and a shared lounge in El Paso. Among the facilities at this property are a 24-hour front desk and room service, along with free WiFi throughout the property. The accommodation provides evening entertainment and an ATM.
The best areas to stay in El Paso, Texas
1. Recommended area: Downtown El Paso
Downtown is the heart of the city of El Paso.
If we talk about entertainment, Downtown serves as the stage for over 25 festivals.
This area offers stadiums, as well as museums and cinemas.
During the night, Downtown is home to a lively nightlife, with nightclubs and bars where visitors can listen to local talent and enjoy delicious tapas and drinks.
Among the main attractions in Downtown El Paso is The Theater Square, a restored historic theater from the 1930s, where shows are frequently held.
El Paso City Center has several bus routes that make it easier to move around the district and to other areas.
Downtown El Paso qualifies as one of the best areas to stay in El Paso thanks to its leisure offer, in addition to the availability of public transport.
---
2. Near El Paso International Airport
El Paso International Airport is located 4 miles northeast of the Downtown area, near the US-Mexico border.
This airport has shopping centers and golf clubs around it. In addition, it is an upmarket residential area, thanks to its condominiums and luxurious homes.
This exclusive area has luxury accommodation and business hotels. It is a great area to stay for travelers on a layover.
Because it is the airport, this area is well-connected by buses and taxis.
The area near the airport is one of the best areas to stay in El Paso as it is also close to some major attractions.
---
Read this in other languages