Where to Stay in Memphis – A Guide to the "Home of the Blues"
Memphis is a city in southwestern Tennessee. Located on the Mississippi River, Memphis is the second-most populated city in the state. Memphis is famous for its incredible influence in different music genres, including blues, soul, rock 'n' roll, and country. In this post, we will explore the best areas to stay in Memphis, TN.
Memphis's main attractions include Beale Street, the Memphis Rock 'n' Soul Museum, the National Civil Rights Museum, Sun Studio, Withers Collection Museum & Gallery, Mississippi River Park, and Memphis Music Hall of Fame. See accommodation in Downtown Memphis.
However, perhaps the most important tourist attraction in Memphis is Graceland. This world-famous mansion, once owned by rock'n'roll superstar Elvis Presley, is now a museum with a display honoring Elvis's life and legacy. See accommodation near Graceland.
Other attractions in Memphis include the Stax Museum of American Soul Music, Memphis Zoo, and Mud Island.
Due to its location on the Mississippi River, Memphis has a humid subtropical climate with four distinct seasons. In January, temperatures typically range between 32°F and 50ºF (0 – 10 °C). Meanwhile, in August, average temperatures hover around 72 – 91 °F (22 – 33 °C). The best time to visit Memphis is during the spring and the early summer (from March to June) and again during the fall (September to December); during these seasons, temperatures are still pleasant enough to enjoy outdoor activities without the summer's oppressive heat.
To get to Memphis by air, the city is served by the Memphis International Airport. Located 10 miles south of Downtown Memphis, this major hub offers domestic connections to several places in the USA and a handful of international flights to Canada.
Amtrak also provides direct train services on its City of New Orleans route to many cities, including New Orleans, Jackson (MS), and Chicago. See train routes, schedules & fares.
Memphis is also connected by a network of long-distance buses to destinations in Tennessee, Arkansas, Mississippi, and other cities in the US South and Midwest. See bus routes, schedules & fares.
To move around the city, Memphis has a public transportation system consisting of fixed-route buses, paratransit vehicles, and vintage rail trolleys. Additionally, Memphis's city center is very pedestrian-friendly. The city's also served by Uber and Lyft services and you can always choose to rent a car during your stay.
The best area to stay in Memphis, TN is Downtown. This lively district is home to Beale Street, the city's main cultural attractions, nightlife, restaurants, and the best accommodation options. See accommodation in Downtown Memphis, TN.
Other great areas to keep in mind when choosing the best location in Memphis include Graceland and around, Midtown, East Memphis, West Memphis, and Germantown.
Keep reading to find more about the best areas to stay in Memphis, TN.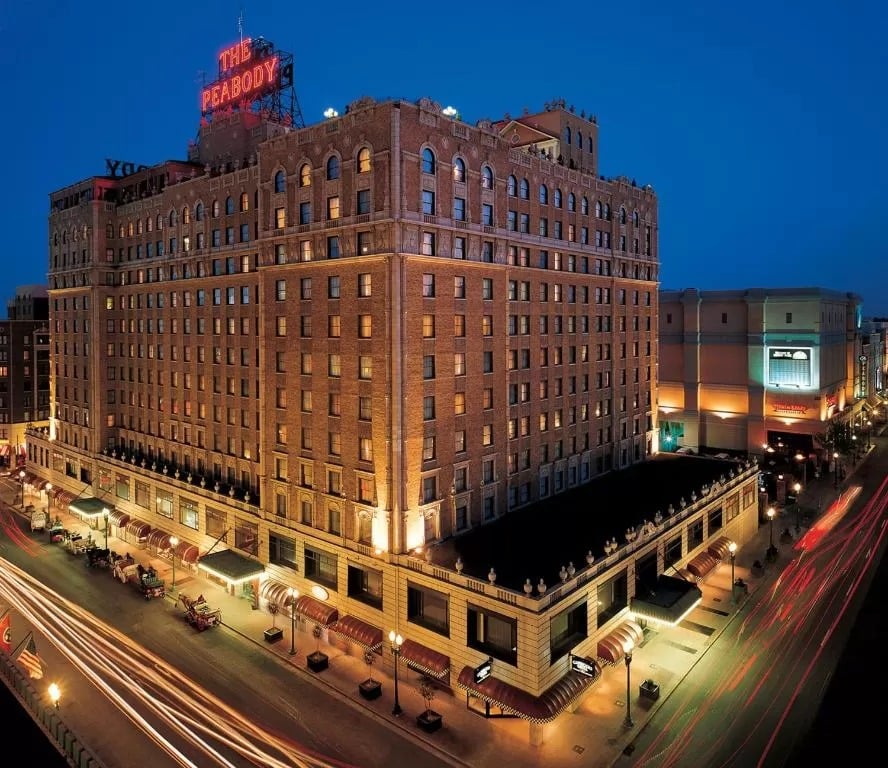 ---
Best Location in Memphis, Tennessee: A Quick Guide
Below, you'll find a list of the best areas to stay in Memphis depending on your travel style and what you may be planning to do during your trip. Keep reading below to find all the specific information you need about each particular area mentioned here.
---
Best Hotels in Memphis, TN by Theme
Something more specific in mind? Here's a list of some of the best hotels in Memphis. No matter your reason for visiting the city or style, you'll find it here!
---
The Best Areas to Stay in Memphis, Tennessee
1. Reccommended area: Beale Street & Downtown Memphis
Downtown Memphis is the city's Central Business District, located along the Mississippi River.
This neighborhood has the tallest buildings in Memphis, such as 100 North Main, luxury hotels with stunning views of the Mississippi River, and the city's best nightlife.
Downtown Memphis is home to Beale Street, a lively entertainment district ideal for those travelers looking for fun, drinks, live music and, above all, nightclubs.
Downtown offers a modern atmosphere to suit the tastes of any visitor, making it a recommended area to stay in Memphis for families, couples, or business travelers.
The most used mean of transport in this area is the tram, which moves through the more touristy corners of the district. However, Downtown is very pedestrian-friendly.
Part of Memphis' historical heritage is located in the Downtown area, reflected in the Civil Rights Museum, located in the former Lorraine Motel, where the renowned Martin Luther King Jr. died.
When it comes to nightlife, Beale Street is the place to go, as it is closed to traffic in the afternoon and is a place full of bars for all tastes.
Downtown Memphis is the best area to stay in Memphis as it is a district full of unmissable places, barbecues, museums, shops, and hotels of different categories.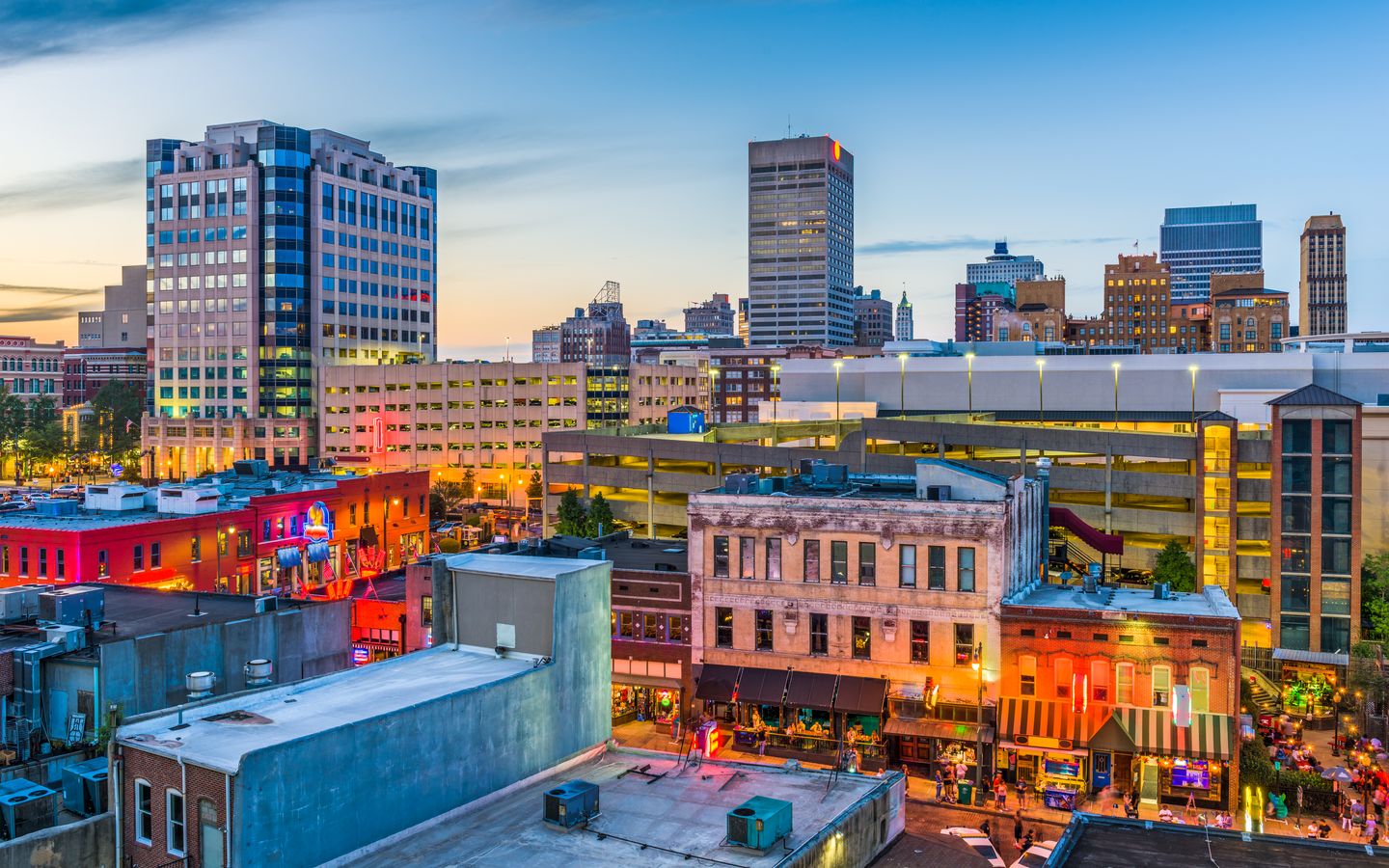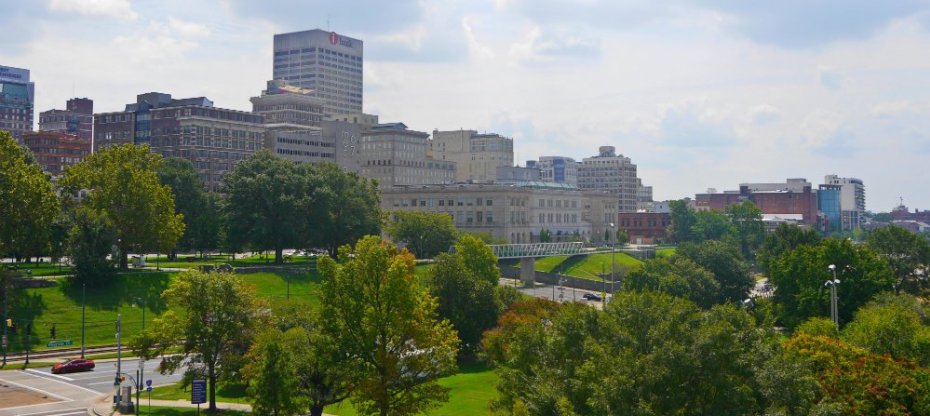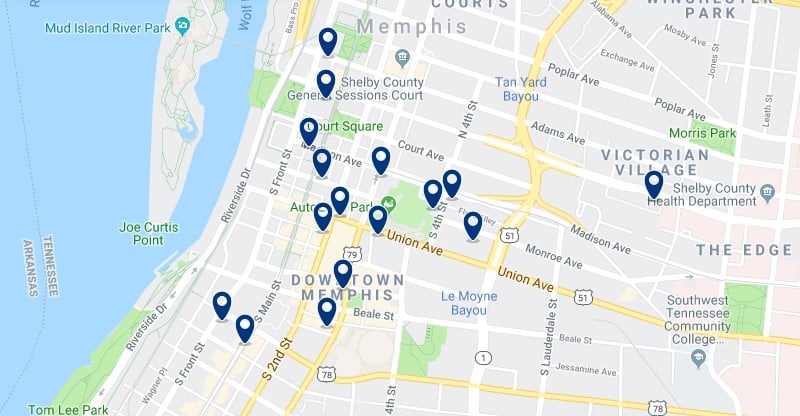 Why is this a recommended area to stay in Memphis:
Beale Street
All kinds of hotels
Good transport connections
Best area for sightseeing
Best area to stay without a car
Best area for business travelers
---
2. Near Graceland
Graceland is the name of the mansion that belonged to the legendary King of Rock N 'Rock, Elvis Presley, a striking place that is, definitely, worth a visit when traveling to Memphis, Tennessee.
The mansion has exhibits on the artist, including his gold records, cars, and even the singer's grave, located in the garden.
A curious fact is that the mansion is the second most-visited house in the United States, after the White House.
An advantage for those staying near Graceland is the proximity to Memphis International Airport, located just a few minutes east. Therefore, the surroundings of Graceland are a recommended area to stay in Memphis on a layover.
Opposite the mansion are several museums, souvenir shops, and restaurants, as well as the Aircraft Museum and the Presley Automobile Museum.
Since public transportation in Memphis is scarce, it is recommended to have your own car or a rental car when staying in this area since it also has parking spaces available.
---
3. Midtown Memphis
Midtown Memphis includes the lively Overton Square, a nightlife hub that is home to popular theaters, live music venues, and bars.
Another district within Midtown Memphis is Verdant Overton Park, where the Brooks Museum of Modern Art is located.
Midtown Memphis is an area where fashion boutiques and theme restaurants inspired by Rock N 'Roll mix.
In this area, there are several low-cost restaurants that serve delicious barbecues and the famous Memphis pizza.
Midtown is one of the best areas to stay in Memphis if you are looking for tranquility during your stay, but still being close to the main attractions of the city.
One place to visit here, especially if you are traveling as a family, is the Memphis Zoo.
Midtown is very pedestrian-friendly, but it is recommended to have your own or rental car to move to other areas of Memphis.
---
4. East Memphis
East Memphis is a commercial and residential neighborhood located east of Midtown. This area is known for its upscale shops and restaurants.
Attractions in East Memphis include the Memphis Botanical Gardens and Audubon Park.
For art lovers, East Memphis is home to Dixon Gallery & Gardens, where local artwork is displayed.
East Memphis is an excellent option to stay in Memphis because it is where Poplar Avenue is, which is one of the main commercial streets of the city.
The University of Memphis is also located in this neighborhood, giving the area a youthful vibe.
There are several shopping centers located in this neighborhood, including the Eastgate, Poplar Plaza, and Oak Court.
East Memphis is another recommended area to stay in Memphis for its food venues and hotel options ranging from budget to luxury.
---
5. West Memphis
West Memphis is a suburb located west of the city and, although it belongs to the state of Arkansas, it is considered part of the Memphis metropolitan area.
This neighborhood is connected to Memphis by a bridge, so it takes around 15 minutes by car to reach the Downtown area.
It is recommended to stay in West Memphis with your own or rental car, considering that transport here is not the most efficient.
However, it is one of the best areas to stay in Memphis if you travel with a tight budget because it has many cheap hotels.
West Memphis is the cheapest area to stay in Memphis and also a good option for families since it is a quiet place, especially compared to the bustle of Downtown Memphis.
---
6. Germantown
Last but not least, Germantown is located to the southeast of the city and is, definitely, a recommended area to stay in Memphis.
Germantown houses areas such as Old Germantown, reminiscent of the beginnings of the city and its development.
It is where the Memphis that is known today started and, to celebrate it, there are events and competitions that preserve the traditions of the city every year in this area.
An advantage of staying in Germantown is safety, being one of the safest neighborhoods in Tennessee and with the highest purchasing power in the Memphis metropolitan area.
Accommodation in Germantown is varied, ranging from comfortable budget hotels to exclusive chain luxury hotels.
Germantown is a recommended area to stay in Memphis for the exclusivity and tranquility it offers.
---
Read this in other languages