Where to Stay in Reno- A Guide to The Biggest Little City in the World
Reno (nicknamed "The Biggest Little City in the World") is one of the most important cities in the state of Nevada. It is located on the banks of the Truckee River, very close to Lake Tahoe, very close to the border with California. Reno is famous for its casinos and entertainment. In this post, we will discover the best areas to stay in Reno.
Unlike Las Vegas, Reno is a quiet city. Yes, it does have casinos and gambling, but it also has the National Automobile Museum and the Galena Creek Park, great for long walks, skiing around Lake Tahoe or ice skating.
So this big little city offers a much more family-friendly atmosphere. Its beautiful natural attractions make it a great destination for hikers, bikers and campers.
Reno is located in the rain shadow of the Sierra Nevada mountain range and has a semiarid climate and over 250 sunny days per year. When it comes to temperatures, the July high is around 91ºF (33ºC), while the January low is 24ºF (-4ºC). The best time to visit reno is during the summer (June-September). That said, if you wish to practice winter sports such as skiing or snowboarding, then December, January, and February offer the highest snowfall.
Reno has an extensive bus system, which also connects the city with Carson City on the south side. Taxis, Uber, and Lyft are also widely available in the central districts. However, in order to reach the national parks and natural landmarks, your safest bet is renting a car during your stay in Reno.
The Union Pacific Railroad goes through Reno, while the Interstate 80 crosses the city from east to west, and National Highway 395 does the same from north to south. The Reno-Tahoe International Airport offers domestic and some international connections (mainly to Mexican cities).
When we talk about the best areas to stay in Reno, we definitely refer to the Downtown neighborhood as an entertainment center with great hotels and charming streets. See accommodation in Downtown Reno.
Here's a guide with the best areas to stay in Reno, Nevada.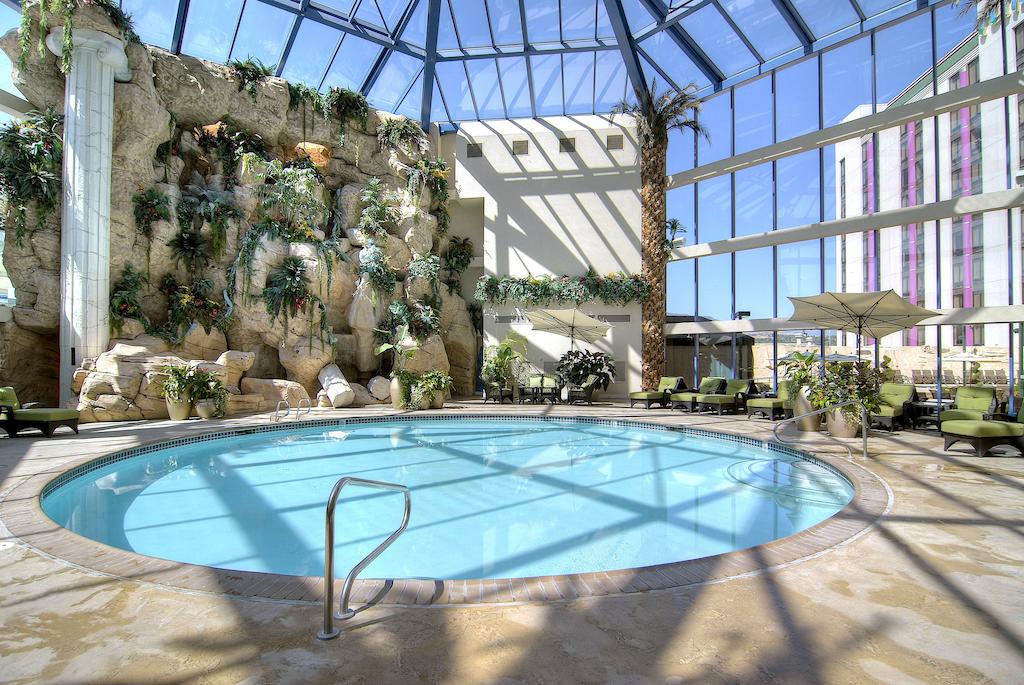 The best areas to stay in Reno
1. Our favorite area: Downtown Reno
Downtown Reno is known for being a residential, hotel, and commercial area with good urban transport connections to other parts of Reno.
Its location, a 5-minute-drive from the airport, makes it the most logical option when deciding where to stay in Reno.
Downtown is an entertainment center for travelers who want to enjoy casinos, go bowling, attend the theater or engage in fun activities.
Close to the Downtown area is famous Harrah's Reno Casino Hotel, the Pioneer Center for the Performing Arts and the National Automobile Museum, where a variety of car models are exhibited.
To learn about the historical past of this city, visit the Sparks Heritage Museum or visit the largest Nevada brewery, the Great Basin Brewing.
Along with its central location, Downtown Reno also offers varied accommodation costs, affordable to all budgets.
---
2. South Reno
As its name implies, this area is located south of Reno.
It is a residential area full of apartments and offices, ideal to stay when traveling to Reno, whether for leisure or business.
In this area, you can find Huffaker Park and recreation centers such as Rancho Damonte.
But if your thing is to go shopping, South Reno is the right place, since it has a variety of shopping centers and department stores.
Good restaurants and cafeterias make South Reno a very pleasant place to stay.
Reno – Tahoe International Airport is also located, in this area, served by bus stations and taxi stand available around the airport.
---
3. Sparks
Officially, the Sparks area is not part of the city of Reno, but they are so connected that it is impossible not to mention it in the best areas to stay in Reno.
Sparks is crossed by the Truckee River, and there are some recreational areas for outdoor activities, such as the Sparks Marina Park Lake, the Shadow Mountain Park, the water park or the Wildcreek public golf course.
When it comes about shopping, this area is great as it is home to shopping centers and department stores for all tastes.
Like Downtown Reno, the Sparks area has a large number of casino hotels and resorts with multiple services.
To travel through this area and other areas of Reno this area also offers several bus stops.
---
Read this in other languages