Where to Stay in Boise – A Guide to the City of Trees
Boise, also known as "The City of Trees", is a city located at the foot of the Rocky Mountains and the capital of the state of Idaho. It is known for its vibrant college population and theater scene. It is also Idaho's main trade and industry center, which makes it an important destination for business travelers. In this post, we will discover the best areas to stay in Boise, ID.
As mentioned above, this Idaho city is best known for its lively cultural scene that includes theater festivals such as the Idaho Shakespeare Festival. The Boise Art Museum has some contemporary works by local and American artists, as well as and an outdoor sculpture garden. See accommodation in Downtown Boise.
The massive sandstone Idaho State Capitol Building is the main landmark in Boise. Other things to do and see around the city include hiking the Oregon Trail and the nearby Rocky Mountains.
When it comes to weather, in Boise, the summers are short and hot, and the winters are cold and cloudy. The best time to visit Boise is from the end of June to the beginning of September.
At night, the Downtown area hosts a lively music scene, with several nightclubs and venues with live entertainment, as well as bars to enjoy a good beer or cocktails.
Boise has an airport with domestic flights and some international destinations available. Boise Airport (BOI) is located south of Downtown Boise.
The public transport system in Boise consists mainly of buses. Fortunately, the Downtown area is easily accessible on foot.
The best area to stay in Boise is the central Downtown area, as it concentrates most of the entertainment, attractions, and accommodation options in the city. See accommodation in Downtown Boise.
Other good locations to consider when deciding the best neighborhoods to stay in Boise, Idaho include the city's North End and Southeast Boise.
Keep on reading to find out more about our top picks of the best areas to stay in Boise.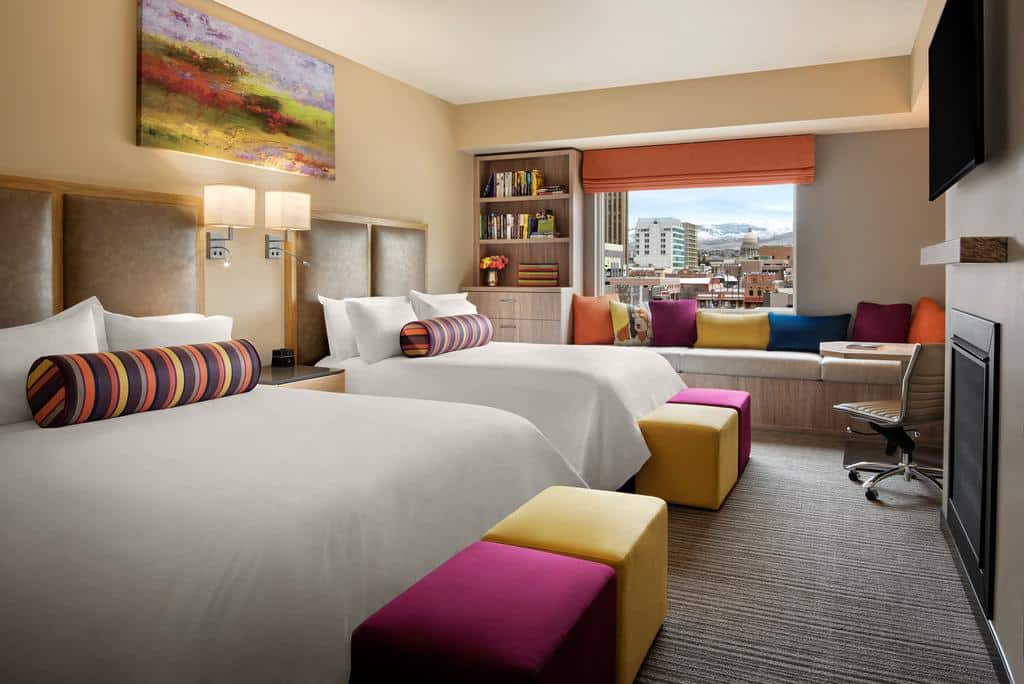 Inn at 500 Capitol

Inn at 500 Capitol has a restaurant, free bikes, a fitness center, and a bar in Boise. Each accommodation at the 4-star hotel has city views, and guests can enjoy access to a terrace. The accommodation offers a 24-hour front desk, airport transfers, room service, and free WiFi throughout the property.
---
Best Location in Boise, Idaho: A Quick Guide
Below, you'll find a list of the best areas to stay in Boise depending on your travel style. Keep reading this post to find all the information you need about each particular area.
---
Best Hotels in Boise by Theme
Something specific in mind? Here's a list of some of the top hotels in Boise. No matter your reason for visiting the city, we got you covered!
---
The Best Areas to Stay in Boise, Idaho
1. Recommended Area: Downtown Boise
Downtown Boise is the cultural, commercial and entertainment hub of the city.
It contains several smaller neighborhoods, each one with its own style.
Old Boise is the heart and birthplace of the Idaho capital. It contains the largest concentration of historically and architecturally significant commercial buildings in Boise.
The Linen district is an up-and-coming neighborhood. Known as the local hipster hangout, this district is a mix of alternative cafés, boutiques and historical buildings.
A few blocks from downtown Boise, to the north, you'll find public markets flooded with traditional food stores and craft vendors.
The Downtown area is home to the most important city attractions, such as the Capitol Building, the Discovery Center of Idaho, the Art Museum, and the City Zoo.
Different bus stops are located along W Jefferson, N 9th and W Idaho streets, as well as several taxi lines.
Downtown is among the best areas to stay in Boise, offering a variety of accommodation options, ranging from elegant apartments or 4-star hotels aimed at business travelers to cheaper hotels.
---
2. North End
As its name suggests, this area is located north of downtown Boise.
This historic district is home to the expansive Camel's Back Park, famous for city views, and as a gateway for hiking and biking trails.
This affluent area also displays an excellent collection of early 20th century houses.
You can move between the North End and other Boise districts by bus using the stops available along N Harrison Boulevard.
This suburb of Boise has some exclusive and antique shops.
The North End Street Fair is held annually. It is a 60s inspired festival showcasing live music and food stalls.
As a residential, luxurious and quiet area, the accommodation in North End varies from affordable B&Bs to luxurious hotels that offer different services for all tastes.
---
3. Southeast Boise
The Southeast part of town is surrounded by the Boise River and is known for its tranquility, housing the student community of Boise State University and small parks for family activities.
Southeast Boise is considered one of Boise's most diverse districts. Apart from the University, this area is home to other landmarks such as Barber Park, Bown Crossing, and the Simplot Sports Complex.
This district is also really close to Boise Airport, which makes it pretty convenient if you arrive in the city by plane.
Although it is a quiet district, there are bars and restaurants that are mostly attended by young entrepreneurs and university students; a perfect recipe for a youthful, lively vibe.
Southeast Boise is a recommended area to stay in Boise for young travelers visiting the city for leisure.
---
4. East End
Directly east of Downtown Boise lies the East End.
This exclusive area of Boise displays an eclectic mix of historic mansions and modern condos along its tree-lined streets.
The East End is home to the Idaho Botanical Garden, with a fascinating display of native plants. It also hosts concerts during the summer.
Meanwhile, the Old Idaho Penitentiary is a local historic landmark dating back to 1872 and offering several displays covering Boise's history.
Apart from an upscale, suburban atmosphere, the East End also offers several interesting natural landmarks worth checking out.
Table Rock is the most hiking destination among residents. From it, you can catch incredible views of the Downtown area.
Other great hiking areas include Chief Eagle Eye Reserve, Foothills East Reserve, and the Old Penitentiary Trailhead.
Several bus stops along Warm Springs Avenue connect the East End to Downtown.
---
Best Location in Boise, Idaho – Frequently Asked Questions
What is the best area to stay in Boise for sightseeing?
Downtown Boise is the heart of the city. Most local attractions, such as the Idaho State Capitol Building, the Art Museum, or the City Zoo are all located downtown. Other attractions such as the Old Idaho Penitentiary are also nearby. The downtown area is also where most of the nightlife is located.
Read this in other languages