Where to Stay in Napa Valley – A Guide to California's Wine Capital
Napa Valley is located north of San Francisco, in California. This wine-growing region is famous for its award-winning wines, scenic drives, hillside vineyards, and quaint wineries and cellars. Today, Napa is one of the most popular tourist routes and romantic getaway destinations in California. In this post, we will explore the best areas to stay in Napa Valley.
Unique Places to Stay in Napa Valley
Napa Valley offers some of the best luxury boutique hotels in the country. From world-renowned wineries and vineyards to secluded countryside B&Bs, Napa Wine Country is a truly magical place for a romantic getaway. Some of the best boutique accommodation options in Napa Valley include:
The history of winemaking in Napa Valley dates back to the mid-19th century. Less than a century later, this area had become the number-one wine-producing region in all North America. By the late twentieth century, Californian wines were at the top of many international ranking lists, often surpassing the ones produced in more famous wine-producing regions like Rioja or Bordeaux.
Napa Valley spans about 30 miles, from Napa to Calistoga. As it couldn't be otherwise, most of the tourist attractions in the region gravitate around its celebrated wine culture.
At the valley's south end, Napa is the largest town and the main gateway to the Wine Country for those traveling from Sacramento or the Bay Area. Its central district is home to 19th and early-20th-century architecture and a lovely riverwalk with shops, galleries, and restaurants. The popular Oxbow Public Market offers fresh produce, artisanal food, and, of course, wine. See accommodation in Napa Town.
Meanwhile, Calistoga offers easy access to several vineyards and cellars like Schramsberg Vineyards, Howell Mountain Vineyards, or Clos Pegase Winery & Tasting Room, as well as other attractions like the Italian-inspired Castello di Amorosa, Old Faithful Geyser, and Sharpsteen Museum. See accommodation in Calistoga.
In between Napa Valley's two main towns, you will find a wealth of wineries, cellars, vineyards, and tasting rooms. Needless to say, the best way to enjoy Napa Valley and its wine culture planning ahead. Researching and booking tours and activities in advance goes a long way when it comes to the perfect Napa Wine Country experience.
Because of its location in Northern California, Napa Valley has a Mediterranean climate. In Napa, winters are usually mild and rainy and summers are warm and dry. January temperatures usually hover between 39 and 57 ºF (4 – 14). Meanwhile, August can see average temperatures between 55 and 82 ºF (13 – 28 ºC). Rains are more frequent during the winter months. The best time to visit Napa Valley is during the spring, summer, and early fall (April through October) when temperatures are pleasant enough for outdoor activities. Additionally, grape harvesting takes place from August to October. During these months, the Napa Valley comes alive.
To get to Napa Valley by air, you can choose to fly into Sacramento International Airport or any of the Bay Area's airports like San Francisco International, Oakland, or San Jose and then make your way to Napa by Amtrak train + bus or rental car.
The most popular way to move between the different towns, vineyards, and attractions in Napa Valley is by car. That said, the Napa Valley Wine Train is by far the most scenic way to get around. This three-hour, 36-mile round-trip journey from Central Napa to St. Helena offers incredible views of the Wine Country, the Napa Valley Agricultural Preserve, and the lovely wine-growing towns of Oak Knoll, Yountville, Oakville, and Rutherford. The best part? You won't have to risk driving after sampling the wonderful local wine. You can book a seat on the Napa Valley Wine Train here.
The best area to stay in Napa Valley is Napa. This quaint town, the heart of the Napa Valley wine region, offers a vibrant cultural and nightlife scene, shopping, entertainment, and tourist sights. Napa is also the southern gateway to exploring the Valley and the best-connected of all the towns. See accommodation in the City of Napa.
Other great options to consider when choosing the best location in the Napa Valley Wine Country include Yountville, St. Helena, and Calistoga.
Keep reading to find out more about the best location in Napa Valley, CA.
The Best Areas to Stay in Napa Valley, California
1. Recommended area: Napa Town
Napa is a city located on the banks of the Napa River.
This lovely town is considered the capital of Napa Valley and, as such, is home to the region's main shopping streets and the widest hotel selection.
Downtown Napa is home to a riverfront promenade, a lively shopping and entertainment area with art galleries, boutiques, upscale restaurants, and bars.
The popular Oxbow Public Market is the beating heart of Napa Town. This lovely riverside market offers a wide selection of locally-grown, artisanal products and a rooftop deck with fine dining and impressive views.
Nearby, you can catch the scenic Napa Valley Wine Train, a restored historic train offering gourmet meals and scenic views of the Wine Country.
Because Napa is the largest town in the namesake valley, its accommodation offer is also the most varied. Here, you can find accommodation in budget and mid-range hotel chains like SpringHill Suites or get the Hollywood treatment at some of the most exclusive resorts in the country like Carneros Resort and Spa.
All and all, Napa Town is the best area to stay in Napa Valley thanks to its transport connections, lively nightlife, and wide range of accommodation options.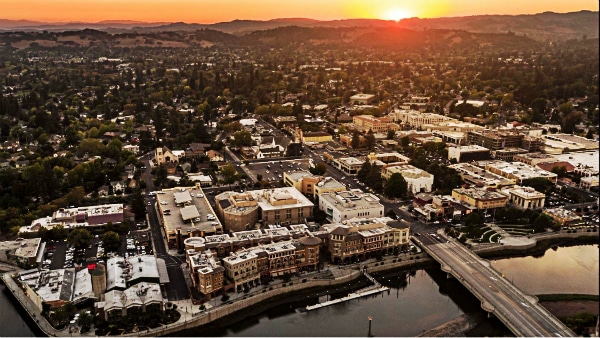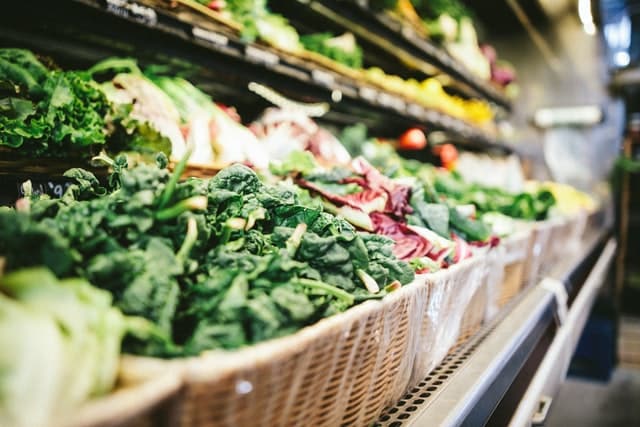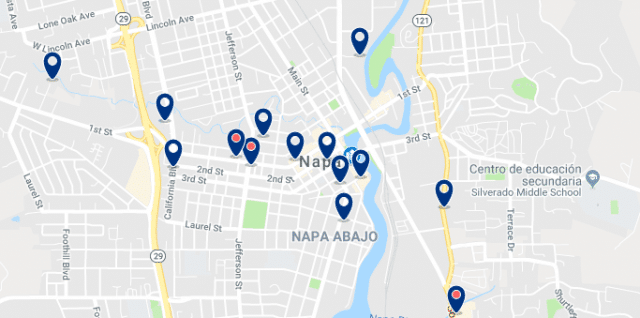 Why is this a recommended area to stay in Napa Valley, CA:
Central location
Great food
Wine Train
Wine tastings
Good area for shopping
---
2. Yountville
Yountville is located in the heart of Napa Valley, and is one of its most attractive towns.
This Napa Valley town is famous for its Michelin-starred restaurants and some of the most popular wine cellars in the region.
Yountville has a relaxed, almost rural, atmosphere, so it's a great town to stay in Napa Valley for those seeking tranquility.
This town is also home to several secluded boutique hotels like Bardessono Hotel and Spa or Poetry Inn.
Yountville is also home to the Napa Valley Museum,a small museum with displays focusing on local regional art, science and history.
The Napa Valley Wine Train also stops in Yountville on its way to St. Helena.
If you're traveling without a car, there are bus stops on Yount Street and Madison Street.
Yountville is the best location in Napa Valley for award-winning cuisine, boutique accommodation, and tranquility.
---
3. St. Helena
St. Helena is located in the north of Napa Valley, near the towns of Zinfandel, Rutherford, and Oakville.
Napa Valley's Main Street St. Helena offers cafés, historical parks, and boutiques.
The centrally-located Robert Louis Stevenson Museum is a small local museum devoted to Robert Louis Stevenson, author of Dr. Jekyll and Mr. Hyde, A Child's Garden of Verses, and Treasure Island, among other classics.
This Napa Valley town is also home to some of the region's best hotels and accommodations, including the quaint Wydown Hotel and top-rated resort Alila Napa Valley.
St. Helena is arguably the best place in Napa Valley for wine tastings and vineyard tours. Some of the best St. Helena wineries include Spring Mountain Vineyard, Clif Family Winery, VGS Chateau Potelle Winery, Duckhorn Vineyards, and Crocker & Starr Wines.
St. Helena in the Napa Valley Wine Train's terminus stop.
---
4. Calistoga
Calistoga is the northernmost town in Napa Valley.
Considered the gateway to the Napa Wine Country for travelers coming from northern California and Oregon, Calistoga is home to several tourist attractions, wineries, and natural sights.
Perhaps the most famous tourist attraction in the Calistoga area is Castello di Amorosa, a Tuscan-inspired castle and a winery located on the outskirts of the town.
Nearby, you'll find Bothe-Napa Valley State Park, a natural and historic area featuring redwoods, creeks, and camping sites.
Downtown Calistoga is home to the Sharpsteen Museum, a small museum showcasing historical exhibits and artifacts. Ca' Toga Galleria D' Arte is an art gallery showcasing works by the world-renowned artist Carlo Marchiori.
Other attractions in central Calistoga include the Orthodox Holy Assumption Monastery and Pioneer Park.
When it comes to wineries, Calistoga is home to several household names like Tamber Bey Vineyards, Tank Garage Winery, Tedeschi Family Winery, and August Briggs Winery.
Because Calistoga is located in Napa Valley's north end and it's not connected by the Napa Valley Wine Train means this town is best enjoyed when traveling by car.
Some of the top-rated accommodations in Calistoga include boutique inns like Foothill House and The Bergson, and world-class resorts such as Solage, Auberge Resorts Collection.
---
Read this in other languages