Where to Stay in San Juan – A Guide to the Capital of Puerto Rico
San Juan is the capital, largest city, and tourist center of Puerto Rico. Located on an islet, on PR's Atlantic coast, this lively city is famous for its well-preserved historic quarter and colonial fortresses, its vibrant nightlife, and for being the main gateway to explore the Caribbean Island. In this post, we will explore the best areas to stay in San Juan, Puerto Rico.
San Juan was founded by the Spanish in 1521, making it one of the oldest European-established cities in the Americas. Some of the most important tourist attractions in Old San Juan are old forts and defensive structures built by the Spanish to protect the city from pirate attacks. The most popular include Castillo San Felipe del Morro, Castillo de San Cristóbal or Fortín San Jerónimo de Boquerón.
Some other sights in the San Juan Old Quarter islet are La Fortaleza, San Juan Bautista Cathedral, Paseo de la Princesa promenade, Casa Blanca, Calle de la Fortaleza, Puerta de San Juan, and Plaza de Armas. See accommodation in Old San Juan.
Other than its historical sights, San Juan is also home to several interesting museums, the most notable being the Museum of Contemporary Art of Puerto Rico, the Museum of Art and History, the Walter Otero Contemporary Art Museum, and the Museo de las Américas.
San Juan also has several great urban beaches. Places like Condado Beach, Isla Verde Beach, El Escambrón, La Posita, and Punta Salinas offer incredible coastal escapes surrounded by bars, nightlife, and seafood restaurants.
Because of its location in the Caribbean, San Juan has a tropical monsoon climate. There's little change in temperatures throughout the year; daytime high temperatures usually hover around 90 ºF (32 ºC), while nighttime low temperatures rarely drop below 75º F (24 ºC). The rainy season lasts from April to November, and the driest season is from December through March. There best time to travel to San Juan, PR is anytime during the year. Puerto Rico is truly a year-round tourist destination.
To get to San Juan by air, the city is served by Luis Muñoz Marín International Airport. Located 3 mi southeast of San Juan's city center, this airport is one of the busiest in the Caribbean. It offers daily connections to many places in the continental USA, the neighboring islands, and Latin America, and non-stop long-distance flights to Europe.
To move around town, San Juan has an Urban Train Railroad Line connecting some districts of the city (but not the Old Town). The city is also served by a network of buses, private taxis, and mobile apps like Uber. You can also choose to rent a car during your stay.
The best area to stay in San Juan, PR is the city's Old Town. This quaint and lively district, a World Heritage Site, is home to the city's historic monuments, main cultural attractions, nightlife, restaurants, and hotels. See accommodation in Old San Juan.
Other areas to keep in mind when choosing the best location in San Juan, Puerto Rico are Isla Verde, Palmas del Mar Ocean Park, and Condado.
Keep reading to find more about the best areas to stay in San Juan, PR.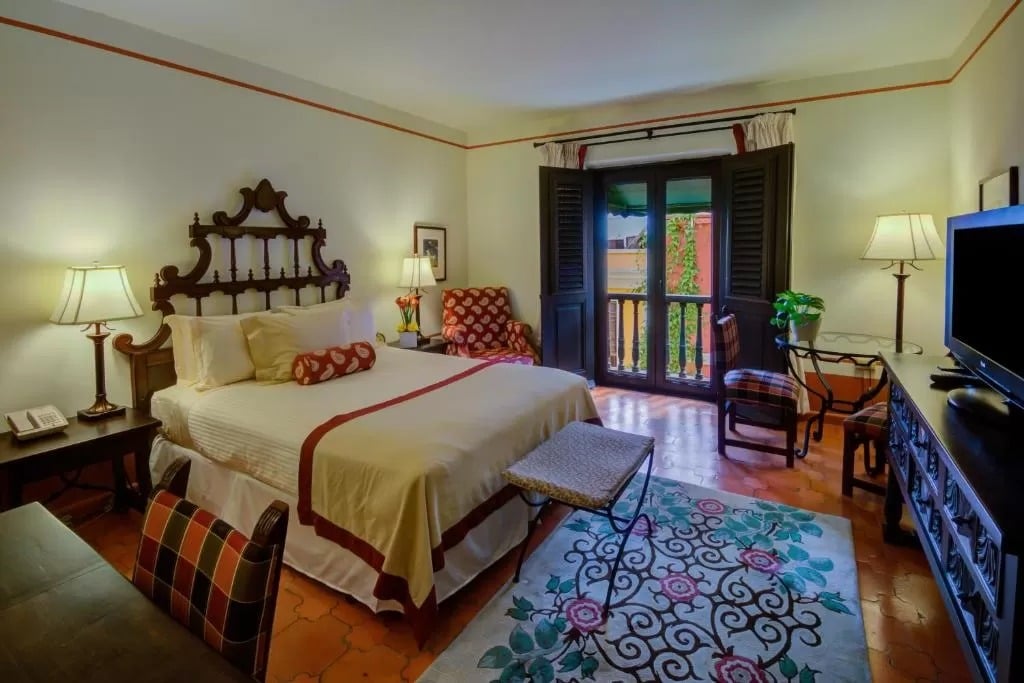 ---
Best Location in San Juan, Puerto Rico: A Quick Guide
Below, you'll find a list of the best areas to stay in San Juan depending on your travel style and what you may be planning to do during your trip. Keep reading below to find all the specific information you need about each particular area mentioned here.
---
Best Hotels in San Juan, PR by Theme
Something more specific in mind? Here's a list of some of the best hotels in San Juan. No matter your reason for visiting the city or style, you'll find it here!
---
The Best Areas to Stay in San Juan, Puerto Rico
1. Recommended area: Viejo San Juan (Old Town)
Old San Juan is the heart of the historic city of San Juan. It is the epicenter of the cultural, historical, and commercial activity of the city
Old San Juan is located on a small islet connected to the main island of Puerto Rico by bridges.
Old San Juan is a safe district.
Viejo San Juan is packed with attractions such as the Malecón de San Juan, a boardwalk surrounded by restaurants, cafes, small shops, and many souvenir stalls.
The city's main colonial defensive buildings like the San Felipe Castle, Castillo de San Cristóbal or the San Jerónimo de Boquerón fortress are all located in San Juan's islet.
Some other attractions in this lively area include the governor's palace La Fortaleza, San Juan Bautista Cathedral, the Casa Blanca, Fortaleza Street, and the central square Plaza de Armas.
This area is connected to the rest of the city by bus, taxi, and the Cataño ferry.
The Old Quarter is also a very pedestrian-friendly area.
Old San Juan is also one of the best areas to stay in San Juan, Puerto Rico, thanks to its variety of hotels, including boutique properties located in refurbished colonial buildings.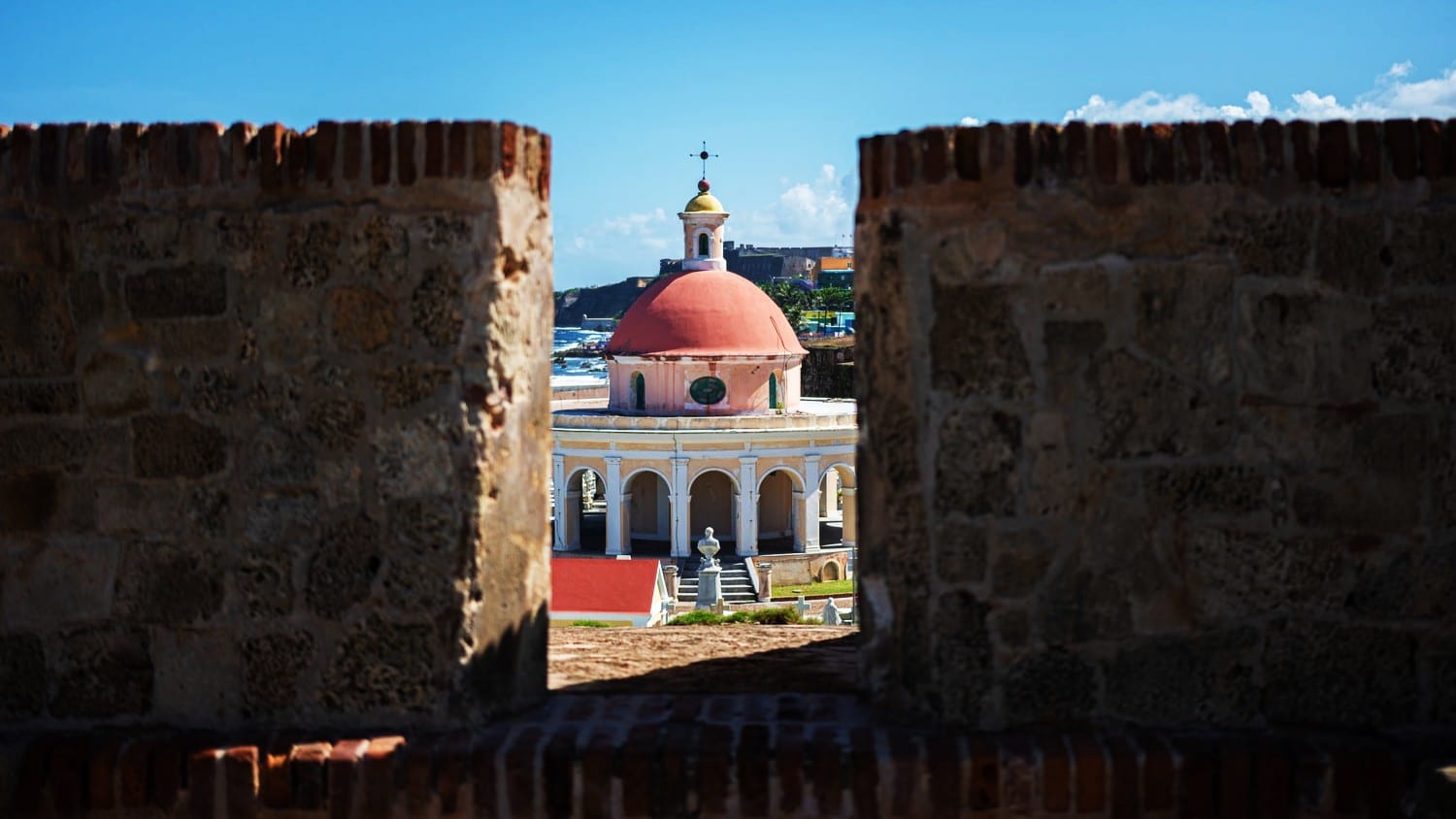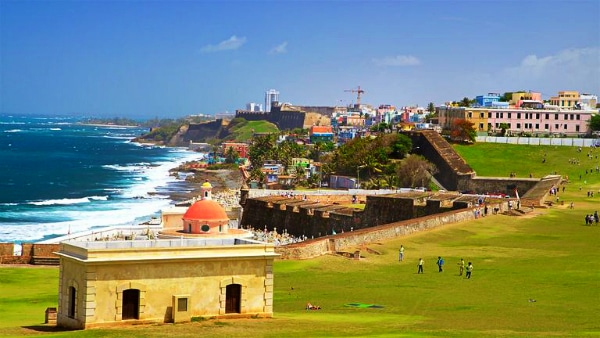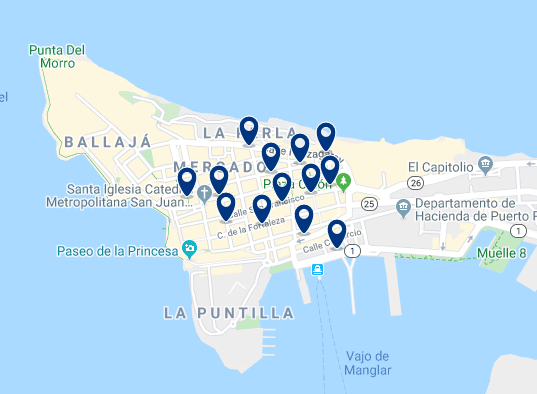 Why is this a recommended area to stay in San Juan, PR:
Best area for sightseeing
Best area for business travelers
Best area for nightlife
Pedestrian-friendly
Old San Juan Pier
---
2. Isla Verde
Isla Verde (or "Green Island") is located about 6,8 miles (11 kilometers) east of San Juan, in the municipality of Carolina.
This area stands out for its exclusive hotels, beaches, nightlife, and proximity to the Luis Muñoz Marín International Airport.
Some of San Juan's best beaches are located in or around this area, including Isla Verde Beach, El Alambique Beach, and Carolina Beach. All these offer free parking.
Furthermore, Isla Verde's west end has many bars, restaurants, food stalls, and souvenir shops.
Isla Verde is also very pedestrian-friendly. That said, you will probably need a taxi to go into Old San Juan.
Because it is close to the airport, Isla Verde is one of the best areas to stay in San Juan during a layover. It is also great for business travelers.
Accommodation options in this area go from private condos to some of the most exclusive hotels and resorts in Puerto Rico.
---
3. Palmas del Mar
Palmas del Mar is another of the most exclusive areas to stay in San Juan.
It is located in the municipality of Humacao, on the southwestern corner of the island of Puerto Rico.
The Pterocarpus Forest and the Humacao Nature Reserve are some of the attractions in this area.
It is a good place to stay in San Juan, PR for nature lovers and for those seeking tranquility during their stay.
Palmas del Mar offers travelers a variety of water activities: Deep-sea fishing, snorkeling, diving, boat chartering, and surfing.
Here are also some of the best spas, restaurants, and shops in all of Puerto Rico, as well as luxury resort hotels, geared at the most demanding travelers.
This area is one of the safest areas to stay in San Juan, and it can be explored on foot easily.
Palmas del Mar does not have the best transport connections, and it is necessary to use a taxi or car to move to the Old Town.
---
4. Ocean Park
Ocean Park is one of the quietest areas of San Juan, and the best area to stay with family or children, especially when compared to the hectic pace of the City Center..
Ocean Park is located on the coast of San Juan, between Condado and Isla Verde, and has numerous cafes, bars, and seafood restaurants.
The great attraction of Ocean Park is its huge beach, where watersport enthusiasts can practice surfing, kitesurfing, or windsurfing.
Transportation in this area is limited to buses and taxis.
Ocean Park stands out for its hotels with sea views. The accommodation offer here goes from small condos to some midrange, family-friendly resorts, and some upscale options.
---
5. Condado
Condado is an upper-middle-class residential area.
Condado stands out for its beautiful natural parks such as Antonio Quiñónez or Laguna del Condado, where you can practise some water sports.
Condado is connected to Old San Juan through the Dos Hermanos Bridge, which can be crossed on foot or by bicycle.
Condado is a good option to stay in San Juan, Puerto Rico since it offers all kinds of hotels, from simple and cheap pensions to luxury hotels with sea views.
In addition to being a chic area with large luxury stores, it is an ideal setting to sample the island's culinary creations, as it has numerous restaurants and fast food establishments to the delight of all travelers.
The best way to get around Condado is on foot, however, there are those who prefer to do it by private or rental car.
Buses connect Condado with the rest of San Juan, Puerto Rico.
---
Read this in other languages