Where to Stay in Cancún – A Guide to Mexico's Premier Holiday Spot
Cancún is a resort city in the state of Quintana Roo, in Mexico. Located on the northeast coast of the Yucatán Peninsula, within the Riviera Maya region, Cancún is famous for its white-sand beaches, legendary nightlife, and for being the main gateway to explore the Mayan Riviera and the area's Mayan ruins. In this post, we will discover the best areas to stay in Cancún, Mexico.
Cancún is one of the most visited tourist destinations in Mexico and the world. From a tourist standpoint, Cancún can be divided into four main areas; Zona Hotelera, an expansive tourist development located on an L-shaped spit of land between a lagoon and the coast and home to the best hotels and resorts; Cancún City Center, the central district home to some sights and many budget accommodation options; Costa Mujeres, an exclusive development in the far north of the Cancún shores; and Puerto Juárez, occupying the coastal area between Zona Hotelera, the City Center, and Costa Mujeres.
The Cancún coast is also home to several small islands with paradisiac white-sand and turquoise water beaches like Isla Contoy and Isla Mujeres. Some of Cancún's most popular beaches include Playa Norte, Playa Delfines, Playa Tortugas and Playa Marlín. Most of these beaches are great for watersports like snorkeling, diving, and kayaking.
The main cultural tourist attractions in Cancún are located along the coast and include the Cancún Underwater Museum, Jardín del Arte, and the Museo Maya de Cancún y Zona Arqueológica de San Miguelito.
If you're traveling with kids, Cancún is home to several family-friendly attractions like the Interactive Aquarium Cancún, Ventura Park Cancun, Xoximilco, and Blu Cancún water park.
Xcaret Park, located 70 km (43 mi) south of the city center, in Playa del Carmen is an ecotourism development, theme park, resort, and one of the top tourist attractions in the Riviera Maya.
Because of its coastal location on the Yucatán Peninsula, Cancún has a tropical savannah climate. Average temperatures are constant throughout the year and hover between 19 and 32 ºC. The wettest season goes from May to November. Thanks to its constantly warm temperature, Cancún is an ideal tourist destination year-round. That said, since the summer is the rainiest season, the best time to visit Cancún is during the winter and spring months (December through April) when it's hot enough to enjoy the beach outdoor activities without having to worry about it raining.
To get to Cancún by air, the city is served by the Cancún International Airport. This major airport, the second busiest in Mexico, is located 12 km (7.5 mi) away from Cancún City Center and offers a wide range of non-stop connections to destinations in Mexico, the United States, Canada, Latin America, and Europe.
Cancún is also well-connected by long-distance buses to the rest of Mexico. See long-distance bus routes, schedules & fares.
Local public transportation in Cancún consists of an efficient bus network. Routes R1 and R2 connect the beachfront area. Both the city center and the beach areas very pedestrian-friendly and you can always choose to rent a car during your stay.
The best area to stay in Cancún is the Zona Hotelera. This seaside tourist development is home to some of Cancún's top resorts and hotels, the best nightlife, restaurants, and shops. Zona Hotelera also offers direct access to the beach and the family-friendly attractions in this Riviera Maya City. See accommodation in Zona Hotelera de Cancún.
Other great options to consider when choosing the best location in Cancún include the City Center, Costa Mujeres, and Puerto Juárez.
Keep reading to find out more about the best location in Cancún for tourists.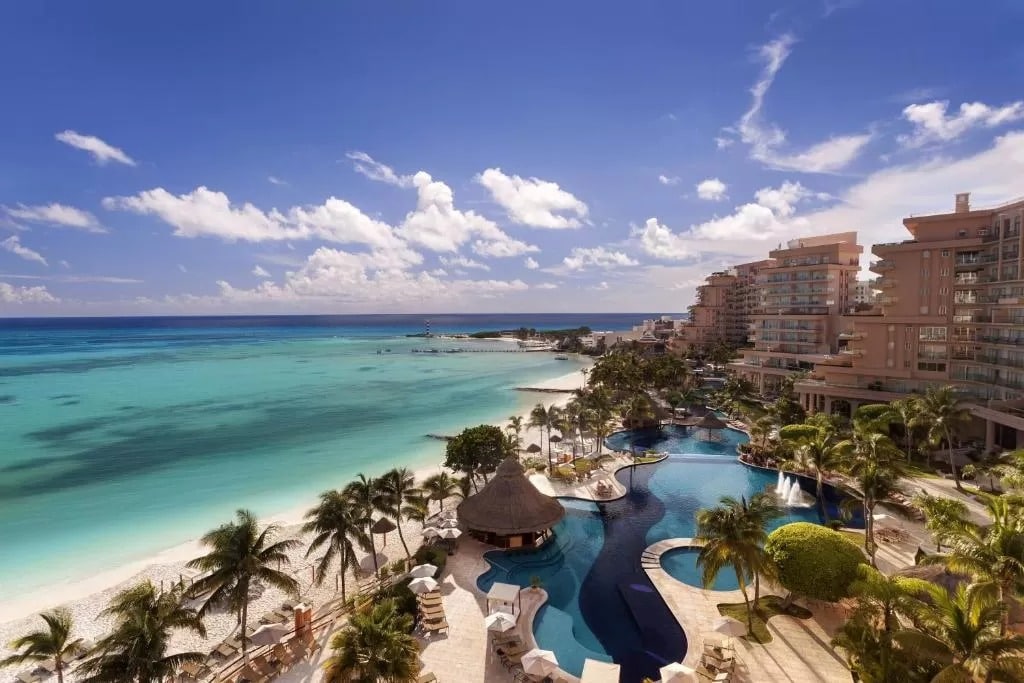 Grand Fiesta Americana Coral Beach Cancun – All Inclusive

This 5-star beachfront Cancun luxury hotel features a 40,000-square-foot full-service spa that offers full-body treatments, hydrotherapy, and beauty services such as hair styling. The El Meco Mayan Ruins is 7 mi. from the hotel.
---
Best Location in Cancún, Mexico: A Quick Guide
Below, you'll find a list of the best areas to stay in Cancún depending on your travel style and what you may be planning to do during your trip. Keep reading below to find all the specific information you need about each particular area mentioned here.
---
Best Hotels in Cancún, Mexico by Theme
Something more specific in mind? Here's a list of some of the best hotels in Cancún. No matter your reason for visiting the city or style, you'll find it here!
---
Best Resorts in Cancún
If you're traveling to Cancún, chances are you want to enjoy the paradisiac Caribbean beaches by the pool and with a relaxing cocktail in your hand. With that in mind, we have gathered a list of the best all-inclusive resorts in Cancún.
---
The Best Areas to Stay in Cancún, Mexico
1. Recommended area: Zona Hotelera (Hotel Zone)
The Zona Hotelera, or Cancún Hotel Zone, is one of the largest and most important tourist developments in Mexico.
Located on the Caribbean coast, on an L-shaped spit of land between the Nichupté Lagoon and the sea and connected north to south by Boulevard Kukulkán, the Zone Hotel de Cancún is home to some of the best hotels and resorts in the entire Caribbean.
This lively area has the best public beaches, tourist areas and residential developments in Cancún.
Some of the tourist attractions in the Hotel Zone include the Interactive Aquarium of Cancún, the Archaeological Zone of San Miguelito, the Mayan Museum and the Wax Museum of Cancun, which makes it an excellent area to stay for family trips.
However, arguably the main attractions in Zona Hotelera are its beaches . In this tourist district you'll find some of the most popular public beaches in all of Cancún, including Playa Tortugas, Playa Caracol, Playa Marlin, Playa Ballenas, and Playa Delfines.
The Hotel Zone is also famous for its excellent nightlife. In addition to the bars and clubs located in the large resorts, Boulevard Kukulkán and the most popular beaches host a large number of cafes, pubs and discos, mostly geared towards tourists.
For all these reasons, the Hotel Zone is the best location in Cancun for tourists.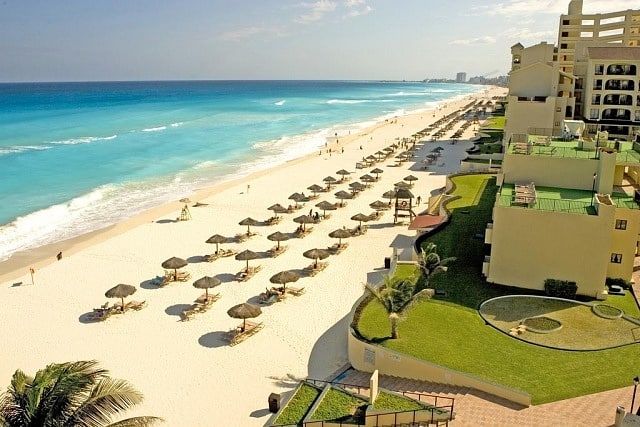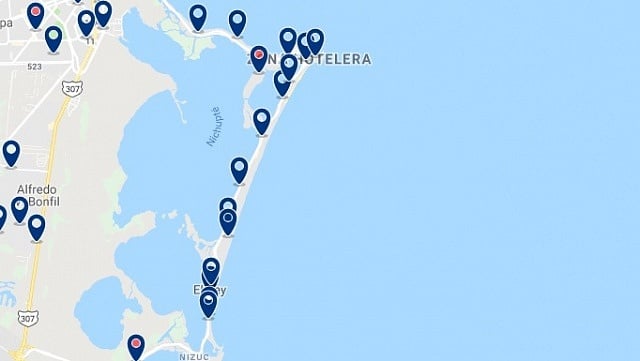 Why is this a recommended area to stay in Cancún, Mexico:
Best hotels in Cancun
Excellent restaurants
Great views of the coast
Best area for nightlife
Close to the attractions
---
2. Cancún City Center
Downtown Cancún is located 30 minutes from the airport and is the administrative area of ​​this Mexican coastal city.
Although it is also a tourist area, the City Center offers perhaps the most local and traditional side of Cancún.
El Centro is an area with many restaurants, handicraft,s and typical clothing shops.
Being the heart of the city, the Center is well-connected by public transport.
This area has buses to the Zona Hotelera and other corners of Cancún.
In the center of Cancún, you'll also find shopping centers, banks, exchange houses, markets, consulates, cultural centers, cinemas, hotels and everything a tourist could need during their stay in the city.
Cancún Centro is a good area for nightlife, as it has a large number of bars, clubs, and cafes.
The best reason to stay in Central Cancún is its costs, significantly lower than those that can be found in the most touristy districts of the city.
The Center of Cancón offers a varied offer of accommodation that ranges from cheap hostels and inns to the most luxurious boutique hotels.
---
3. Costa Mujeres
Costa Mujeres is considered the perfect place to enjoy the Mexican Caribbean thanks to its quiet and relaxed environment.
Costa Mujeres is also an ideal to enjoy the beach and the great variety of marine life in its crystal clear, warm, and transparent waters home to dolphins and turtles.
This area is located at the northern end of the Cancun shores, right in front of Isla Mujeres, which can be accessed by ferry.
Costa Mujeres is home to a large number of resorts. That said, this area is much quieter than the Hotel Zone, since its tourism development is much less intensive and not as crowded.
Most of the luxurious resorts in Costa Mujeres have private beaches offering exclusive access to their guests.
For these reasons, Costa Mujeres is the best area to stay in Cancun for couples, either for a honeymoon or a romantic getaway to the Riviera Maya.
---
4. Puerto Juárez
Puerto Juárez comprises the beach area that stretches between the popular Hotel Zone and Costa Mujeres.
This area of ​​Cancún has little crowded beaches, a great alternative for those seeking tranquility during their stay in Cancún.
Puerto Juárez is also the area where the main pier is located, which makes it an excellent area to stay in Cancún to explore the surrounding islands or if you arrive in the city on a cruise.
Calle López Portillo connects Puerto Juárez from north to south and the City Center.
This area's main cultural attraction is the El Meco Archaeological Site, which contains a pyramid and several buildings from the Mayan period.
One of the most popular public beaches in Puerto Juárez is Playa El Niño, a serviced beach with many bars and seafood restaurants.
Puerto Juárez is an excellent alternative to the Cancún Hotel Zone due to its excellent and less crowded beaches and its wide range of accommodation of all kinds.
---
Read this in other languages