Where to stay in Whistler, Canada – A guide to the snow capital of British Columbia
Whistler is a picturesque mountain town located in the province of British Columbia. The city is one of the main ski destinations in North America. In this post, we will have a look at the best areas to stay in Whistler, BC.
Although the summers in this city are pleasant and warm, the best time to stay in Whistler is during the winter, when there are low temperatures and the mountains are covered by a blanket of snow.
During the winter, Whistler is filled with visitors who are into sports, with outdoor activities such as skiing and snowboarding. However, Whistler can be a year-round tourist destination. In the summer, it offers an incredible mix of adventure sports, hiking, biking and even lake beaches.
Because it is a small town, Whistler can be easily covered on foot. However, it has several bus routes reaching different areas. In order to reach the natural wonders around the main town, you can also chose to rent a car during your stay in Whistler.
Whistler is home to two gondola rides that operate out of Whistler Village, our favourite area to stay. See accommodation in Whistler Village.
Whistler doesn't have its own airport, so visitors arriving to Whistler by air use Vancouver International Airport, located about two and a half hours away.
Whistler attractions include the Whistler Museum, located in the heart of the tourist complex, as well as neighbourhoods full of galleries, fashion shops, cafes, souvenir stores and amazing landscapes.
Here's a guide with the best areas to stay in Whistler, Canada.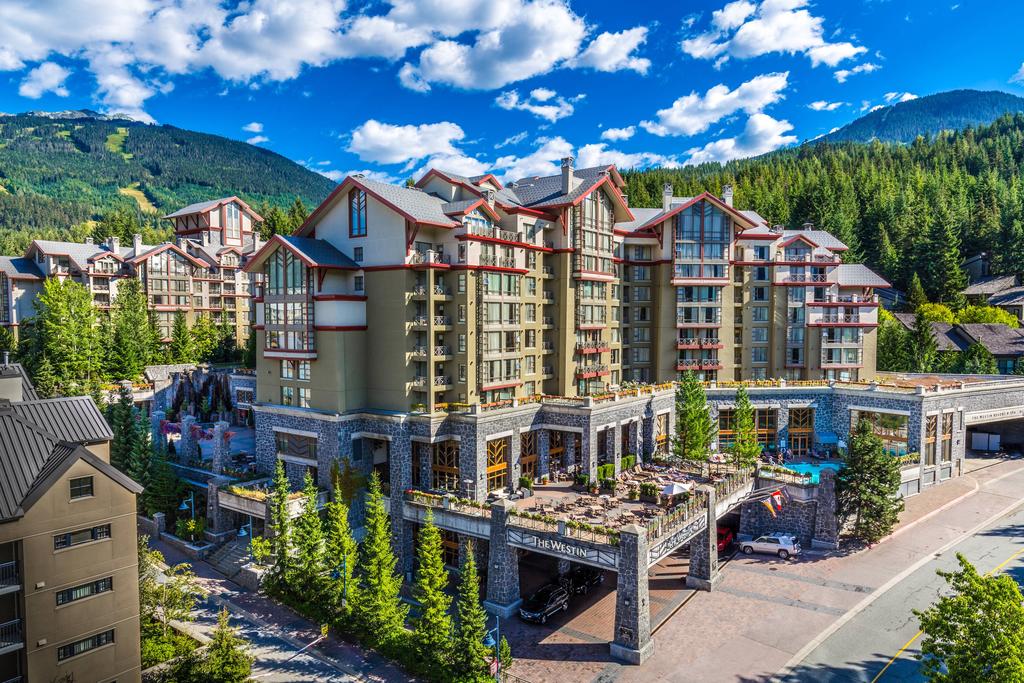 The best areas to stay in Whistler, British Columbia
1. Our favorite area: Whistler Village
Adventures in Whistler start in the central neighbourhood of Whistler Village, located at the base of the Whistler and Blackcomb mountains.
In Whistler Village, you can do different activities during your stay in Whistler such as skiing or walking around its shops, restaurants, hotels and historical centers, such as the Audain Art Museum.
This is the best area to stay in Whistler for a family trip or a romantic getaway, thanks to its many attractions, as well as for its cozy and cheerful atmosphere.
Staying in Whistler Village offers easy access to the best shops and restaurants in town, and is also the best area for nightlife since it has several bars. Furthermore, this pedestrian-friendly town is a great choice to stay without a car.
To move to other areas of Whistler, bus stops are available along the boulevards and streets that surround this entertainment center.
Whistler Village is an excellent place to stay in Whistler if you are looking to stay surrounded by a vibrant community, lively nightlife, great views, shops and restaurants.
---
2. Upper Village
Upper Village is also among the best areas to stay in ​​Whistler, it's located at the foot of the Blackcomb mountain, and it offers the best of two worlds: On one hand, an alpine environment near the heart of the village, and, on the other, many shops and restaurants.
In this area you, will find some of the best hotels in Whistler and other cozy and affordable options for all kinds of budget, which will allow you to enjoy your stay in Whistler, without missing anything.
The Upper Village offers boutiques and food stores, townhouses and access to world-class skiing in the winter months.
During the summer, the Upper Village offers activities such as horseback riding, minigolf or simply enjoying the open spaces with a cocktail in the afternoon.
This area has several bus stops on Blackcomb Way, Glacier Dr and Spearhead Dr to move to other areas of Whistler.
Upper Village offers a combination of alpine adventure and the hustle and bustle of Whistler Village, making it one of the best areas to stay in Whistler.
---
3. Creekside
For those looking for a more relaxing experience in Whistler, Creekside is the ideal area. This neighbourhood has its own gondola, restaurants, shops and five-star hotels to satisfy the most demanding travellers.
Creekside can be visited at any time of the year, but, during the winter, it is especially charming, as you can enjoy its gastronomy, hot drinks and live music.
If you visit Whistler in the summer, one of the favourite activities among tourists is to dive into the Alpha and Nita lakes.
Creekside is the area where Whistler began to form and is home to the first gondola, offering historic sites reflecting the past and culture of this lively village.
Creekside has a gondola to access the Whistler Mountain.
From here, you can take the "Peak 2 Peak" gondola that connects with the Blackcomb mountain.
Creekside is one of the best areas to stay in Whistler for travellers looking for a relaxing environment away from touristy Whistler Village.
---
4. Aspens on Blackcomb
The area that includes the ski resort in Blackcomb is known as Aspens On Blackcomb and it's another of the best areas to stay in Whistler.
This station is the largest in all of North America and has its own gondola called "Peak 2 Peak" located on the top of the Blackcomb mountain. It allows you to move to Whistler Mountain.
This area is visited by millions of tourists a year and is one of the busiest areas in all Whistler, so the accommodation is abundant in the vicinity of the mountain.
In Aspens on Blackcomb, you can enjoy spectacular views and activities designed for the enjoyment of the family on a trip to Whistler, such as ski programs for children, walks and accommodation for any taste.
Blackcomb Mountain is a 7-minute walk from Whistler Village and features upscale shopping, luxury hotels, and restaurants that make Aspens on Blackcomb one of the best areas to stay in Whistler.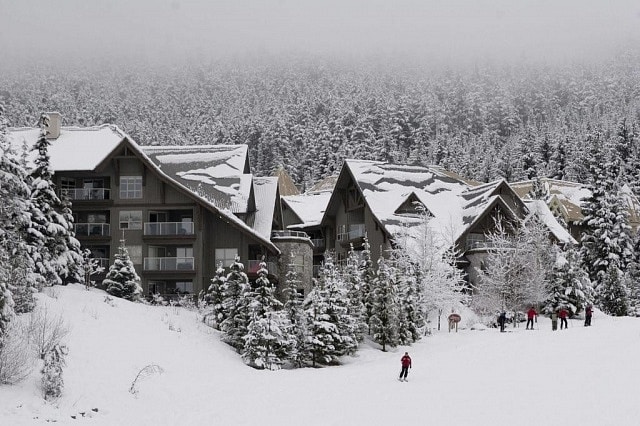 Read this in other languages
---