Where to Stay in Edmonton – A Guide to the Capital of Alberta
Edmonton is the capital city of Alberta. Located in the centre of the province, on the North Saskatchewan River and nicknamed "The Gateway to The North," Edmonton is famous for being one of the main transportation, administrative and business hubs in Canada and for its many annual festivals and events. In this post, we will explore the best areas to stay in Edmonton, AB.
Edmonton is Canada's fifth-most populated urban area and one of the youngest and fastest-growing cities in the country. Its economy is mainly fueled (pun intended) by its thriving oil and gas industry. As such, this Alberta city is considered one of the most popular business travel destinations in Canada.
Downtown Edmonton is located on the North Saskatchewan River's north bank. This business and administrative district is home to Edmonton's top cultural and historical tourist attractions, such as the futuristic Art Gallery of Alberta, the Royal Alberta Museum, the Alberta Legislature Building, the Neon Sign Museum, Sir Winston Churchill Square and the 100 Street Funicular. See accommodation in Downtown Edmonton.
Edmonton is also an extremely family-friendly destination. The expansive West Edmonton Mall, located in, you guessed it, West Edmonton, is home to over 800 shops and restaurants, as well as several kid-friendly attractions such as Galaxyland, World Waterpark, Marine Life and the Ice Palace. This huge complex also has 2 hotels and a casino. See accommodation around West Edmonton Mall.
Other unmissable attractions in Edmonton include the Muttart Conservatory, Fort Edmonton Park, the University of Alberta Botanic Garden, and the Edmonton Valley Zoo.
But of course, Edmonton is far more than malls, museums and galleries. Alberta's capital is the gateway to exploring incredible parks, natural areas and reserves. Some of the most popular natural attractions in and around Edmonton include the Fairy Ring Trail, Elk Island National Park and Twin Brooks District & Nature Park.
Due to its inland location in the centre of Alberta, Edmonton has a humid continental climate. This translates into four very distinct seasons and extreme variations between summer and winter conditions. Summers are warm, with temperatures typically ranging between 12 and 23 ºC. Meanwhile, winters are long, snowy and icy, with temperatures around -15 and -6 ºC. The best time to visit Edmonton is from late May to late September, when temperatures are pleasant, and you can enjoy outdoor activities and sightseeing.
To get to Edmonton by air, the city is served by the Edmonton International Airport. Located 26 km southwest of downtown Edmonton, this airport offers connections to virtually every corner of the country, as well as a few international non-stop flights to some destinations in the US, Mexico and Europe.
Edmonton is also served by train. Edmonton Train Station is 5.5 km northwest of Downtown Edmonton and offers Via Rail connections east toward Toronto via Saskatoon and Winnipeg and west to Vancouver via Jasper. See train routes, schedules & fares.
Additionally, Edmonton is also well-connected through a network of long-distance buses to other Alberta cities and towns. See bus routes, schedules & fares.
To move around town, Edmonton has a very efficient intermodal public transport system consisting of light rail and bus routes operated by Edmonton Transit. This city also offers regular taxis and mobile apps like Uber, and you can choose to rent a car during your stay.
The best area to stay in Edmonton is the Downtown District. Edmonton's City Centre is home to the main cultural attractions and museums, the hottest nightlife venues and the best restaurants in town. See accommodation in Downtown Edmonton.
If you're visiting the city with kids or for shopping, then the area around West Edmonton Mall is the best location for you. See accommodation around West Edmonton Mall.
Other great districts to keep in mind when choosing the best areas for tourists in Edmonton include Strathcona & South Central, Southeast Edmonton, Northwest Edmonton and Northeast Edmonton.
Keep reading to find out more about the best areas to stay in Edmonton, AB.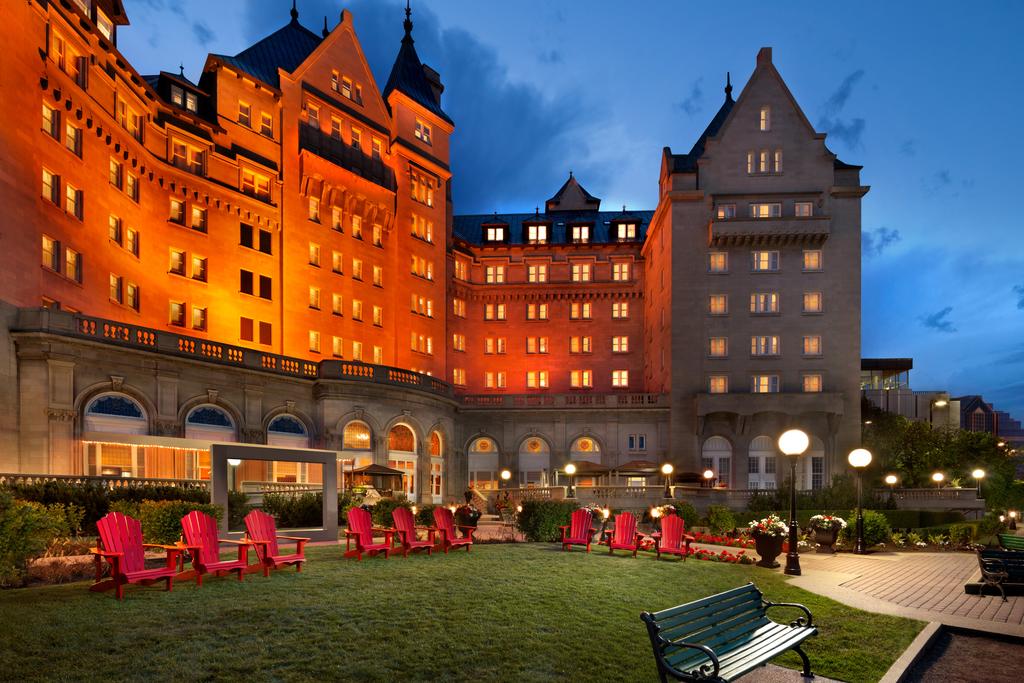 ---
Best Location in Edmonton, Alberta: A Quick Guide
Below, you'll find a list of the best areas to stay in Edmonton depending on your travel style and what you may be planning to do during your trip. Keep reading this guide to find all the specific information you need about each particular area mentioned here.
---
Best Hotels in Edmonton, AB by Theme
Something more specific in mind? Here's a list of some of the best hotels in Edmonton. No matter your reason for visiting the city or style, you'll find it here!
---
The Best Areas to Stay in Edmonton, Alberta
1. Recommended area: Downtown Edmonton
As it couldn't be otherwise, Downtown Edmonton offers the most varied offer of accommodation in town. Here, you can find boutique properties like the Union Bank Inn, big-brand luxury hotels such as the JW Marriott Edmonton and some uber-cool alternative hotels like the Crash Hotel Downtown Edmonton.
Downtown Edmonton is a bustling area located on the north bank of the North Saskatchewan River.
Bisected by Jasper Avenue, this massive district is home to Edmonton's main financial, shopping, entertainment, cultural and administrative areas.
Jasper Avenue, Edmonton's main street offers a stark contrast between being home to Edmonton's oldest buildings and tallest skyscrapers. Jasper Av. and its surrounding streets make up the main commercial, residential and entertainment districts in the city.
Centred around Churchill Square, Edmonton's main meeting point and backdrop to its main festivals, the Arts District is home to some of the city's cultural institutions. Some sights in this area include the Francis Winspear Centre for Music, the Citadel Theatre and the Art Gallery of Alberta.
The Art Gallery of Alberta, an avant-garde building opened in 2010, features an expansive art collection, with a special focus on local and western Canadian works.
Not far, the Royal Alberta Museum offers geological, natural and ethnological exhibitions.
The hip Ice District, located in Downtown Edmonton's north end is a mixed-use and entertainment district. This buzzing area is home to a sports arena, a casino, office towers, retailers and shopping centres.
Occupying the southwestern portion of Downtown Edmonton, Government Centre is home to the Alberta Legislature Building and several parks, fountains and gardens.
Meanwhile, in the nearby Warehouse District, you get the opportunity to have a look at the city's industrial past. Most of the warehouses in this area have been repurposed into residential complexes, cafés, restaurants, designer boutiques and hotels.
As it couldn't be otherwise, Downtown is the best-connected area in Edmonton. The city's Light Rail system offers several stops along 110th St NW, Jasper Avenue and 99th St NW.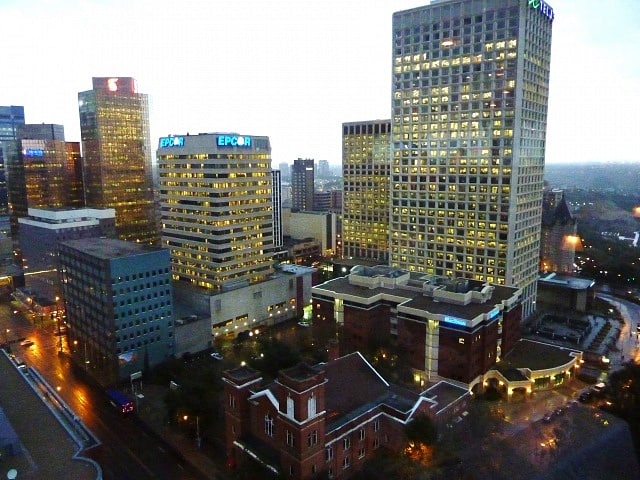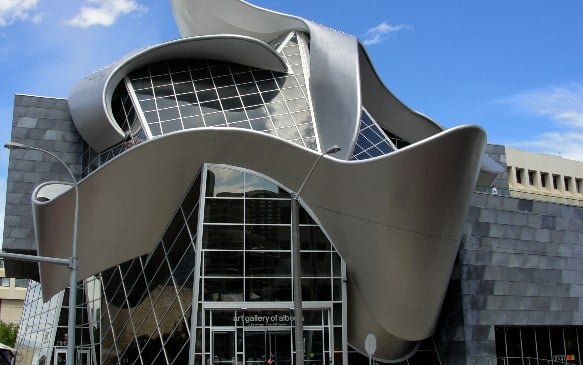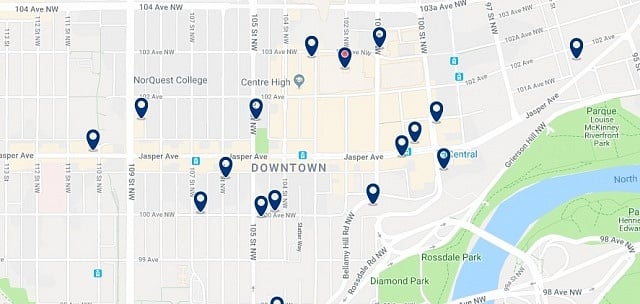 Where to stay in Downtown Edmonton
Why is this a recommended area to stay in Edmonton:
Central location
Best area to stay for sightseeing
Well-connected by public transport
Alberta Art Gallery
Wide variety of hotels
---
2. West Edmonton Mall & West Edmonton
This gigantic shopping and entertainment complex was conceived with two in-house hotels; the themed Fantasyland Hotel and the budget-friendly West Edmonton Mall Inn.
West Edmonton Mall, sometimes abbreviated WEM, is a massive shopping centre located in the Summerlea neighbourhood, about 11 km away from Churchill Square.
With a gross area of about 490,000 square metres, this gigantic complex was the largest indoor shopping centre in the world until 2004 and still holds the title of the largest shopping centre in North America.
It is home to over 800 shops and 100 restaurants, as well as nine tourist attractions and two in-house hotels. WEM is the second-most visited mall in Canada and the most visited tourist site in Alberta.
West Edmonton Mall and the districts around it are by far the best area to stay in Edmonton for families and shopping. Other than its hundreds of shops and dining options, this shopping centre offers kid-friendly attractions such as the Galaxyland theme park; World Waterpark, the second-largest indoor waterpark; the Ice Palace ice rink, Adventure Golf and a replica of the Santa María historic vessel.
There are also several themed areas within the mall. Some of them include New-Orleans-style Bourbon Street, French-inspired Europa Boulevard and Asian-themed Chinatown.
However, WEM is not just about the kids! Adult attractions within the complex include the Wild West Shooting Centre, Jubilations Dinner Theatre, Starlight Casino and a nightclub.
The WEM area is covered by several bus lines and the journey from Downtown Edmonton to the West Edmonton Mall Transit Centre takes about 30 minutes.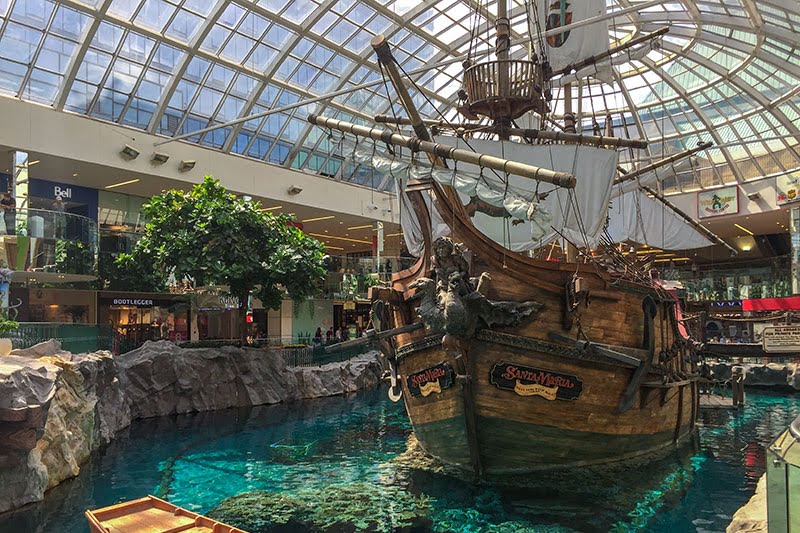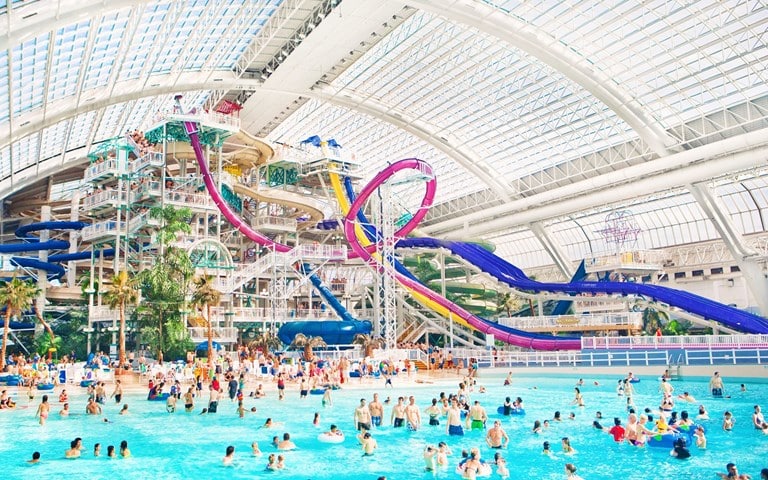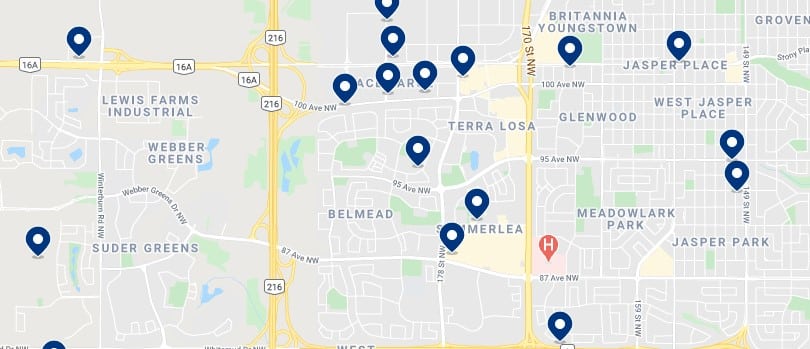 Why is this a recommended area to stay in Edmonton:
Best area for shopping
Best area for families
Tourist attractions
---
3. Old Strathcona, University Area & South-Central Edmonton
This alternative nightlife and shopping district is complete with a few hipster-chic properties like the Metterra Hotel and offers cheaper alternatives by low-cost chains like Days Inn by Wyndham.
Strathcona is an area located directly south of Downtown Edmonton, on the south side of the North Saskatchewan River.
This historic district used to be an independent city from its foundation in the 1870s until the early 20th century.
Today, Strathcona still preserves an old village charm in its historic centre, particularly around Whyte Avenue. The Old Strathcona Provincial Historic Area occupies five city blocks spanning from 80 Avenue north to 85 Avenue, and from 102 Street west to 106 street.
This buzzing district is considered one of Edmonton's hipster areas. Its commercial thoroughfares are packed with alternative retailers and indie shops specializing in everything from vintage clothing to records and books.
Strathcona's busy nightlife and youthful atmosphere are in large part fueled by its proximity to the University of Alberta. This area is home to theatres, lovely cafés, cheap international eateries, alternative bars and a few nightclubs.
The Old Strathcona Farmers' Market is a great place to pick fresh fruit, artisanal products or local crafts.
The University Area, located west of Strathcona, is home to the University of Alberta's north campus. With almost 40,000 enrolled students, UAlberta is one of the leading research institutions in the country.
East of Strathcona lies Cloverdale, home to the Muttart Conservatory, a botanical garden with a futuristic design home to tropical and arid biomes.
South Central Edmonton is connected to the rest of the city via the urban bus network. Additionally, the University area hosts a couple of light rail stops.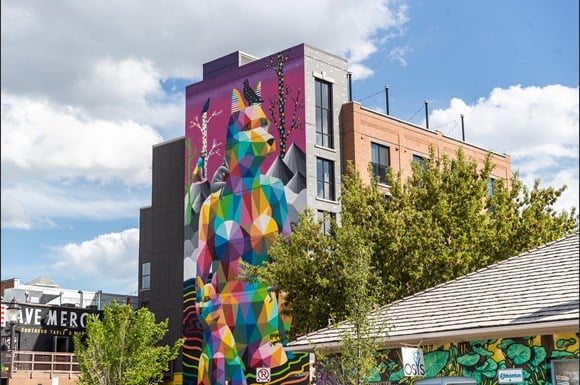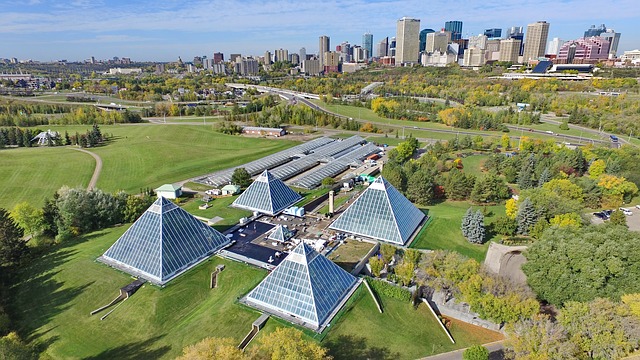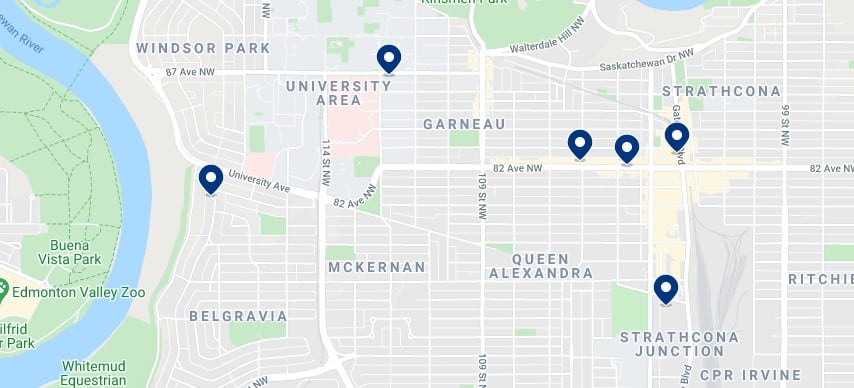 Why is this a recommended area to stay in Edmonton, AB:
Old Strathcona
Great nightlife
Hipster area
Youthful atmosphere
Connected by public transport
---
4. Southeast Edmonton
Southeast Edmonton is an expansive district encompassing several residential, business and industrial districts, as well as a few rural areas.
On its northern edge lies Ritchie, one of the coolest neighbourhoods in Edmonton. This mainly residential area offers access to the hip Strathcona nightlife and Southeast Edmonton's green spaces.
Mill Creek Ravine Park, part of the River Valley parks and trail system offers a natural escape within the city, hiking and biking trails and old wooden bridges.
As you move further out, Southeast Edmonton features a succession of suburban neighbourhoods, green wooded parks and commercial developments.
South Edmonton Common, located at the southern edge of the city, is a sprawling open-air shopping complex with restaurants, bars, and big-name retailers.
Its massive size and suburban atmosphere mean that transportation in Southeast Edmonton is dominated by the car.
That said, many bus routes have stops along the area's thoroughfares and travel time to central Edmonton shouldn't take longer than 45 minutes.
Southeast and Southwest Edmonton are located near the city's international airport.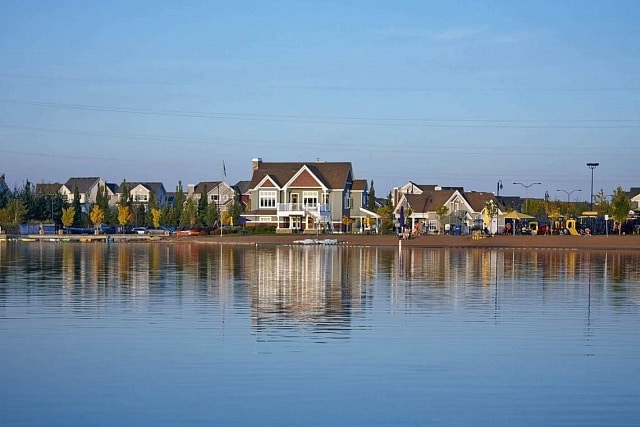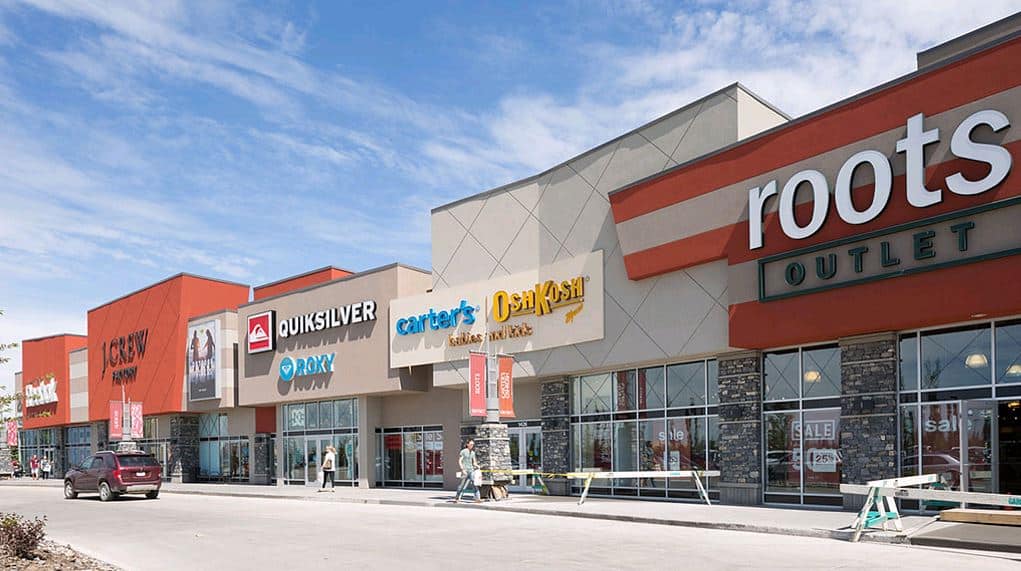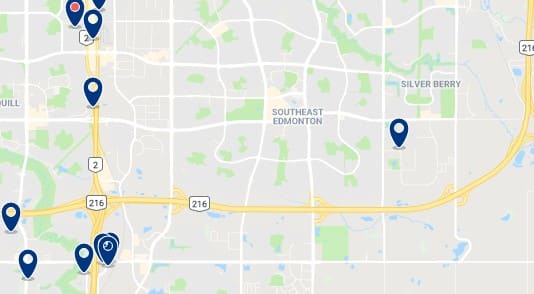 Why is this a recommended area to stay in Edmonton:
Suburban atmosphere
Green Spaces
South Edmonton Common
---
5. Northwest Edmonton
Northwest Edmonton comprises the area between the city of St. Albert and the North Central neighbourhoods of the city.
Considered the most diverse area in Edmonton, this sprawling district is made up of a collection of once-independent settlements that were amalgamated into the city.
Home to a mix of quiet residential areas and business districts, Northwest Edmonton is a great area to stay for those seeking a quiet and peaceful atmosphere within reach of the more exciting downtown neighbourhoods.
The Pembina neighbourhood, located at the heart of the district, is a commercial and dining development offering a wide selection of popular fashion retailers, supermarkets, budget and mid-range eateries and a few bars.
Griesbach Hill is a green park offering nice views of the city and a toboggan in the winter.
To move around Northwest Edmonton and to other neighbourhoods, you are probably better travelling by car. That said, the area is well-connected via buses and Edmonton VIA Rail station is also nearby.
---
6. Northeast Edmonton
Northeast Edmonton is an expansive area known for its many lush parks, green spaces and residential developments.
Rundle Park, located on the North Saskatchewan River is one of Edmonton's nicest parks. It includes several lakes and fountains, multi-use trails, picnic spaces and a popular golf course.
In a city known for its shopping centres, Northeast Edmonton has Manning Town Centre, a large outdoor shopping complex with fashion retailers, home improvement stores, restaurants and a cinema. Likewise, this sprawling area is home to other shopping plazas such as SmartCentres and the Londonderry Mall.
Lake District, located at Edmonton's North End, is an upmarket residential area known for its beautiful homes.
To move around the area, Northeast Edmonton is connected via the city's efficient bus network.
---
Read this in other languages