Where to stay in Kelowna – A Guide to This BC Town
Kelowna is a city in British Columbia. It is located on the shores of Okanagan Lake. It offers a lively promenade, local wineries, craft breweries, hiking trails, and historical museums, so it is safe to say that it is a place worth visiting. In this post, we will discover the best areas to stay in Kelowna, BC.
Kelowna's top tourist attractions in the city's centre include Boyce-Gyro Beach Park, Waterfront Park and the Kelowna Art Gallery. See accommodation in Downtown Kelowna.
If you like wine, this Canadian city is home to several world-class wineries and vineyards, most of which offer guided tours and tastings. Some of the most visited are Mission Hill Family Estate Winery, Quails' Gate, Summerhill Pyramid Winery, Sandhill Wines and House of Rose Winery.
For adventurers and nature lovers, Kelowna has several natural areas and wildlife reserves. Some of the most beautiful include Bear Creek Provincial Park, Myra Canyon Adventure Park, Okanagan Mountain Provincial Park, Knox Mountain Drive and Mount Boucherie.
In terms of climate, summers in Kelowna are usually warm and sunny, with temperatures of up to 30°C (86ºF). During the cold months, temperatures can drop to -14°C (6.8ºF). The best time to visit Kelowna is from June to September when temperatures are warm and the days long and sunny.
Kelowna has an efficient transportation system consisting of buses. Visitors can also choose to use taxis or rent a car in the city.
Kelowna International Airport is located 12 km northeast of the city centre. It has mainly domestic connections to major Canadian cities and some international (US and Mexico) services.
The best area to stay in Kelowna is Downtown. This lively district offers the best transport connections, excellent nightlife and attractions. See accommodation in Downtown Kelowna.
Other great areas to consider when choosing the best location in Kelowna include South Pandosy and Rutland.
Keep reading to find out more about the best areas to stay in Kelowna, BC.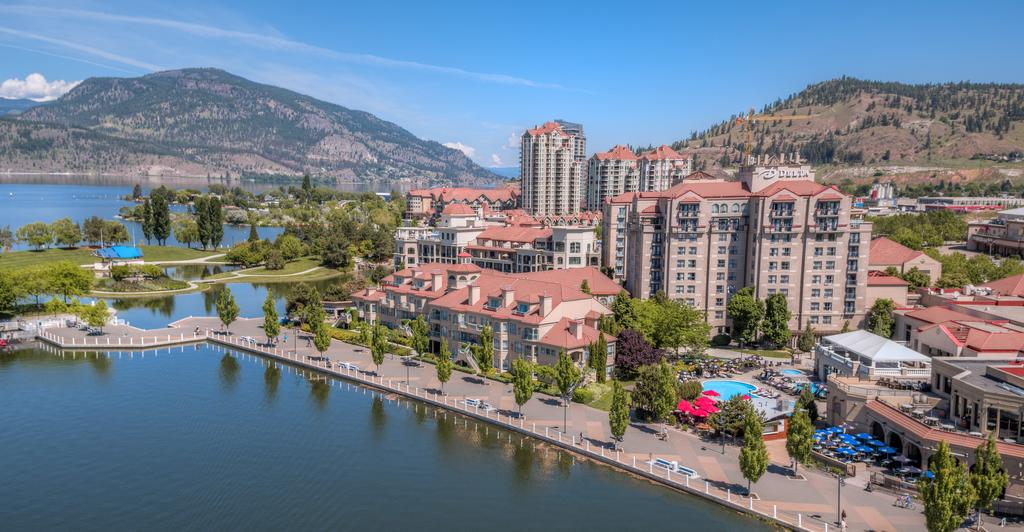 The best areas to stay in Kelowna, BC
1. Recommended area: Downtown Kelowna
Downtown Kelowna is the main tourist district in the city and is located along Okanagan Lake.
This area has two main thoroughfares with attractions, large stores and shops.
On the one hand, there's Bernard Avenue, it has renowned stores, important fashion shops, high-class restaurants, and cocktail bars with the best nightlife in town. Alternatively, Pandosy Street offers a wealth of local designer boutiques.
Downtown Kelowna is home to Kelowna City Park and its beach, a main hangout spot in the summer.
The downtown area is well-served by several bus routes, but its compact size means can easily be explored on foot.
Downtown Kelowna is one of the best areas to stay in Kelowna, with easy access to other neighbourhoods and a wide variety of accommodation options.
---
2. South Pandosy
The neighbourhood of South Pandosy offers a charming mix of old houses, beautiful fountains, shopping centres, and quirky bars and cafés.
It is probably the nicest area to stay in Kelowna.
Among the main attractions in this area, you'll find vintage shops, small stores, cafes and pubs where you can taste delicious wines and tapas in the afternoon.
In addition, near this district, there are hiking and biking trails, as well as places to practice other outdoor sports during your stay.
South Pandosy can be covered on foot. However, transportation to other areas is not as straight-forward as in the downtown district.
South Pandosy will make you fall in love with Kelowna, the lake, and its gorgeous sunsets.
---
3. Rutland
The Rutland neighbourhood is located 7 km. east of downtown Kelowna.
This district is known as a residential neighbourhood, but it also has some historic buildings and small shopping centres.
Rutland is synonymous with tranquillity and hills that give beautiful views to those who stay in this area.
Being a secluded area, away from the hustle and bustle of Downtown Kelowna, Rutland is often a luxury area with some ideal accommodations for the most demanding travellers.
It has little public transport, however, taxis and rental cars are a good option to travel to other places in the city.
Rutland is one of the best areas to stay in Kelowna because of its stylish homes, parks and open spaces that provide peace and serenity.
---
Read this in other languages