Where to Stay in Wichita – A Guide to the "Capital of the Air"
Wichita is the largest and most populated city in Kansas. Located on the Arkansas River, in the southwest of the state, Wichita is famous for its aircraft manufacturing industry and as an important agricultural, industrial, and cattle center. In this post, we will explore the best areas to stay in Wichita, KS.
The main attractions in Wichita's city center include the Museum of World Treasures, Naftzger Park, the Great Plains Transportation Museum, Wichita-Sedgwick County Historical Museum, and Douglas Avenue. See accommodation in Downtown Wichita.
Other important attractions in Wichita are Botanica, The Wichita Gardens, the Wichita Art Museum, and Old Cowtown Museum.
Due to its location on the Arkansas River, Wichita has a humid subtropical climate with humid continental climate influences. That means that winter temperatures typically range between 22°F and 43ºF (-6 to 6 °C). Meanwhile, in the summer, average temperatures hover around 69 – 91 °F (20 – 33 °C). The best time to visit Wichita is during late spring through early summer (from April to June) and again during the fall (September to December); during these times, the temperatures are still pleasant enough to participate in outdoor activities while avoiding the summer's oppressive heat.
To get to Wichita by air, the city is served by the Wichita Dwight D. Eisenhower National Airport. Located 6 miles west of downtown Wichita, this airport is the busiest in Kansas. It offers domestic connections to several US cities like Chicago, Los Angeles, Seattle, Atlanta, or Minneapolis-St.Paul.
Wichita doesn't have any active direct passenger rail services. The nearest railway station is in Newton, 25 miles north. The Southwest Chief line connects this Amtrak station to Los Angeles and Chicago. There's a bus service from downtown Wichita to both Newton and Oklahoma City Union Station station, the terminus of the Heartland Flyer line with destination Fort Worth. See train routes, schedules & fares.
Wichita is also connected by a network of long-distance buses to destinations in Kansas, Oklahoma, Texas, and other cities in the US Southwest and Midwest. See bus routes, schedules & fares.
When it comes to moving around the city, Wichita has a public transportation system consisting of fixed-route buses running into and out of the central Downtown Transit Center. That said, cars are still the best way to get around town. Wichita is also served by Uber and Lyft services, and you can always choose to rent a car during your stay.
The best area to stay in Wichita, KS is Downtown. This lively district is home to the city's main cultural attractions, nightlife, restaurants, and the best hotels in town. See accommodation in Downtown Wichita, KS.
Another great area to keep in mind when choosing the best location in Wichita for visitors is around Wichita State University & Cessna Stadium.
Keep reading to find more about the best areas to stay in Wichita, KS.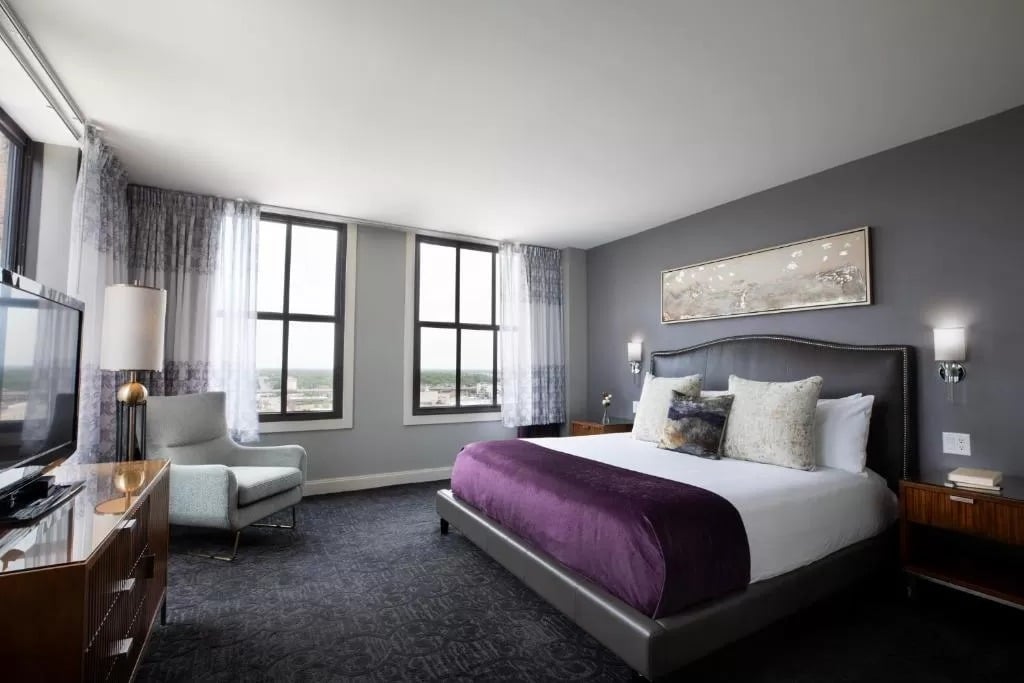 The Best Areas to Stay in Wichita, Kansas
1. Recommended area: Downtown Wichita
Downtown Wichita is the city's financial district.
If you're visiting the city on business, Downtown Wichita is home to the main event venues in town, including the Epic Center, Century II Performing Arts & Convention Center, Intrust Bank Arena.
This central area contains Wichita's historic districts, cultural attractions, and main shopping and nightlife areas.
Downtown, particularly around the Old Town entertainment district, is also the best area to stay in Wichita for nightlife.
The main tourist attraction in this area is the Museum of World Treasures, an eclectic world history museum with exhibits displaying everything from dinosaur fossils, Egyptian mummies, and a section of the Berlin Wall to a shrunken head.
The Wichita-Sedgwick County Historical Museum, housed in Wichita's original City Hall, focuses on local history.
Other tourist attractions in Downtown Wichita include the Catholic Diocese of Wichita, the Kansas African American Museum, and the Great Plains Transportation Museum.
Downtown Wichita's accommodation offer is varied and includes budget, mid-range, and luxury hotels by well-known American chains.
---
2. Close to Wichita State University & Cessna Stadium
Wichita State University and the Cessna Stadium are located northeast of Wichita's City Center, and the surrounding area is ideal for student or business travelers.
In this area, you'll find residences and apartments for young students, and, when it comes to entertainment, the Pizza Hut Museum and the Lowell Holmes Museum of Anthropology are good options.
It is a privileged area due to the proximity to two airports in Wichita, the Colonel James Jabara Airport and the Beech Factory Airport.
Because public transport is scarce around the university and the stadium, this area is best enjoyed with a car. Alternatively, you can use taxis or Uber.
The area of ​​Wichita State University & Cessna Stadium is an excellent area where to stay in Wichita for its hotel offer and the tourist attractions around it.
---
Read this in other languages