Where to Stay in Minneapolis-St. Paul – A Guide to the Twin Cities
Minneapolis is a city located in southeast Minnesota. It is part of the nicknamed "Twin Cities" along with the neighboring state capital St. Paul. This major city has long been an agricultural, financial, and cultural hub of the Midwestern United States region. In this post, we will explore the best areas to stay in Minneapolis, MN.
Some of the most visited tourist and cultural attractions in Minneapolis include the Minneapolis Institute of Art, Minneapolis Sculpture Garden, Mill City Museum, Walker Art Center, Weisman Art Museum, Foshay Museum, and Observation Deck, and Minneapolis City Hall. Many of these sights are located in or near the City Center. See accommodation in Downtown Minneapolis.
Minneapolis is also a very family-friendly destination. The expansive Mall of America, located a few miles south of Downtown Minneapolis, in Bloomington, is home to hundreds of shops and restaurants, as well as several kid-friendly attractions like the Amazing Mirror Maze, The Escape Game Minneapolis, SEA LIFE at Mall of America, The Crayola Experience, Candytopia, or the all-time favorite Nickelodeon Universe. Not too far lies the Great Wolf Lodge Water Park, home to the tallest indoor water slide in the U.S. See accommodation near the Mall of America.
But Minneapolis is far more than museums, malls, and theme parks. This Minnesota city is also renowned for its city parks, natural areas, and reserves. Some of the most popular natural attractions in Minneapolis include Minnehaha Falls, Lake Harriet, Bde Maka Ska, and Fort Snelling State Park.
Ski and winter sports enthusiasts will be also happy to know that Minneapolis is home to several ski areas such as Hyland Hills, Afton Alps, and Buck Hill. All these ski slopes also offer summer activities like hiking, fishing, biking, and live music in the off-season.
Due to its geographical location, Minneapolis has a hot-summer humid continental climate. There's little variation in precipitation between seasons. The summers are humid and warm, with frequent rainfall and temperatures that typically hover around 64 and 83 ºF (18 – 29 ºC). Meanwhile, the winters in Minneapolis are usually extremely cold and snowy. Temperatures in January tend to be around 8 – 24 ºF (-13 to -6 ºC). The best time to visit Minneapolis is from late May to late September when temperatures are pleasant, and you can enjoy outdoor activities. If you're in the city for winter sports, the ski season typically goes from November through March in the Minneapolis-St. Paul area.
To get to Minneapolis by air, the city is served by Minneapolis−Saint Paul International Airport. Located 10 miles from Downtown Minneapolis, this major hub offers connections to virtually every corner of the United States, as well as several international non-stop flights to destinations in the Americas and Europe.
The Minneapolis-St. Paul metro area is also well-served by train. St. Paul-Minneapolis Union Depot, located in downtown St Paul, is the city's main railway hub and intermodal station. Long-distance trains operated by Amtrak connect St. Paul east to Chicago and west to Portland and Seattle. See train routes, schedules & fares.
Additionally, Minneapolis and St. Paul are connected through a network of long-distance buses to other Midwest cities. See bus routes, schedules & fares.
To move around town, Minneapolis has two light rail lines and one commuter rail line. The city also has a comprehensive bus network, regular taxis, and mobile apps like Uber and Lyft. You can also choose to rent a car during your stay.
The best area to stay in Minneapolis is Downtown. This lively district is home to the main historical and cultural attractions, the hottest nightlife, and some of the best restaurants in town. See accommodation in Downtown Minneapolis.
If you're visiting the city with family, most of the kid-friendly attractions are located around the Mall of America.
Other great districts to keep in mind when choosing the best location in Minneapolis include the Warehouse District, Mill District, Downtown St. Paul, and Dinkytown.
Keep reading to find out more about the best areas to stay in Minneapolis, MN.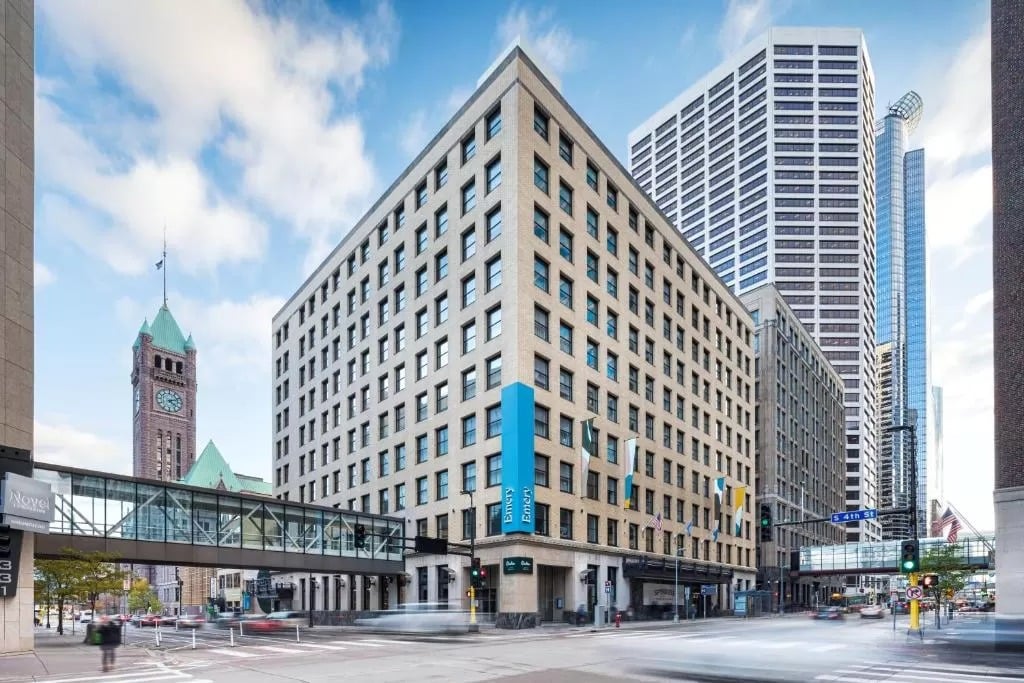 Emery Hotel, Autograph Collection

Centrally located in downtown Minneapolis, Emery Hotel, Autograph Collection hotel is a 10-minutes' walk from the U.S. Bank Stadium. Free WiFi is available in all public areas, as well as complimentary baggage storage. The hotel offers a 24-hour on-site gym access.
---
Best Location in Minneapolis, Minnesota: A Quick Guide
Below, you'll find a list of the best areas to stay in Minneapolis depending on your travel style and what you may be planning to do during your trip. Keep reading below to find all the specific information you need about each particular area mentioned here.
---
Best Hotels in Minneapolis, MN by Theme
Something more specific in mind? Here's a list of some of the best hotels in Minneapolis. No matter your reason for visiting the city or style, you'll find it here!
---
The Best Areas to Stay in Minneapolis, Minnesota
1. Recommended area: Downtown Minneapolis
Downtown is known as the business area of Minneapolis, hosting impressive skyscrapers, office complexes and the most important museums in the city.
Downtown Minneapolis is bordered by the Mississippi River to the east and is an industrial oasis with several well-known attractions such as First Avenue, a live music club, which is a great place to discover the nightlife of the city.
In this area, you will find department stores and boutiques, ideal for shopping lovers. It is also Downtown that concentrates the restaurants, breweries and high-end hotels of Minneapolis.
Downtown Minneapolis has several transport options to move to other districts, including routes 4, 11 and 61 of the bus, which makes it one of the best areas to stay in Minneapolis, since it is very well-connected.
Downtown Minneapolis is a recommended area for business travelers, thanks to the Minneapolis Convention Center, where major events are held frequently.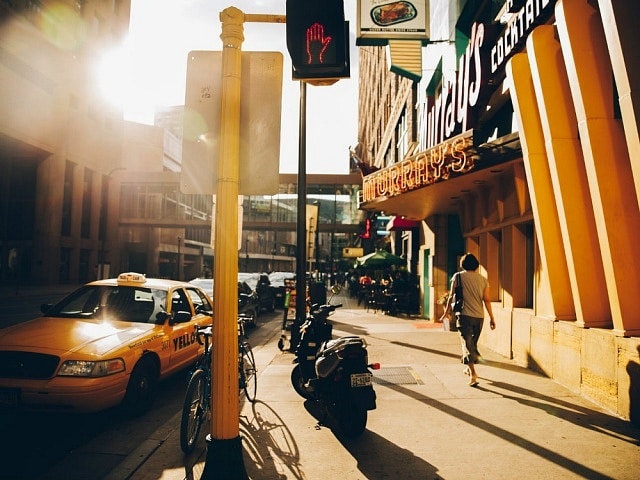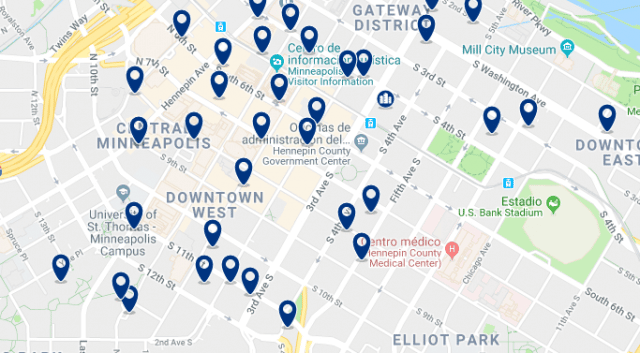 Why is this a recommended area to stay in Minneapolis, MN:
Best area for sightseeing
Wide range of hotels
Connected by public transport
Shopping area
Best area to stay without a car
Best area for business travelers
---
2. Mall of America Area
The Mall of America is the single most visited tourist attraction in the Minneapolis-St. Paul metropolitan area.
This shopping center is located in Bloomington, 10 miles south of downtown Minneapolis and 13 miles southwest of downtown St. Paul.
Home to 500+ shops, a huge food court, and several entertainment venues, Mall of America was the largest mall in the country when it opened in the early nineties and is still one of the world's biggest shopping centers today.
This superlative shopping and entertainment center is where most of the family-oriented tourist attractions in the MSP metro area are located.
The most visited one is Nickelodeon Universe, the largest indoor theme park in the United States. It features roller coasters, rides, a mini golf course, and several other attractions.
The Sea Life Minnesota Aquarium, located within the mall, includes a 300-foot-long observation tunnel and exhibits sharks, rays, turtles, and tropical sea life species.
The Mall of America Transit Station, located directly east of the shopping center, offers blue line light rail connections to the airport and downtown Minneapolis. Several bus lines also connect the mall to other districts and towns in the Minneapolis-St. Paul area.
The Minneapolis-Saint Paul International Airport is located 3 miles from Mall of America, so this area is also a great option for those in transit or with an early flight.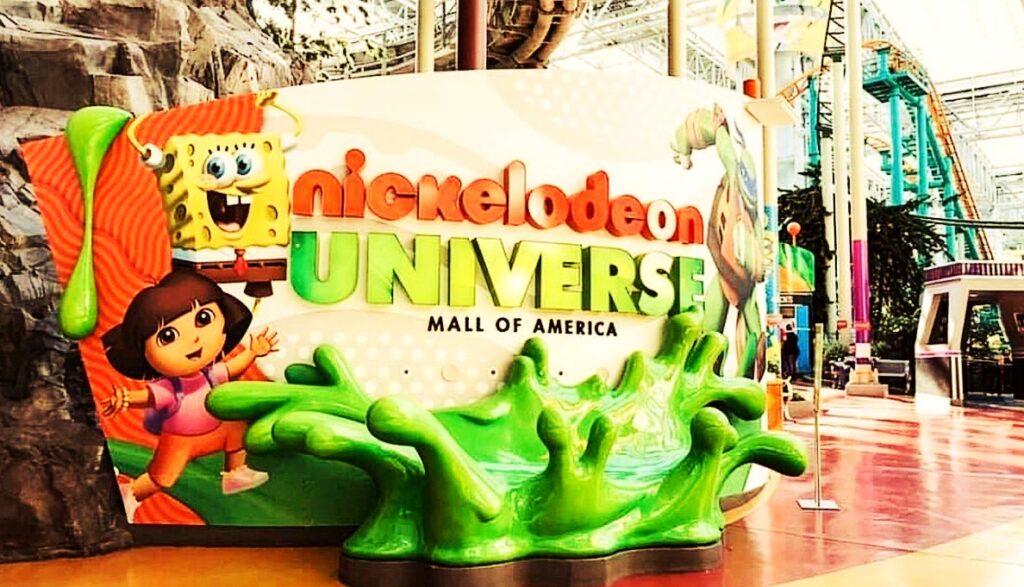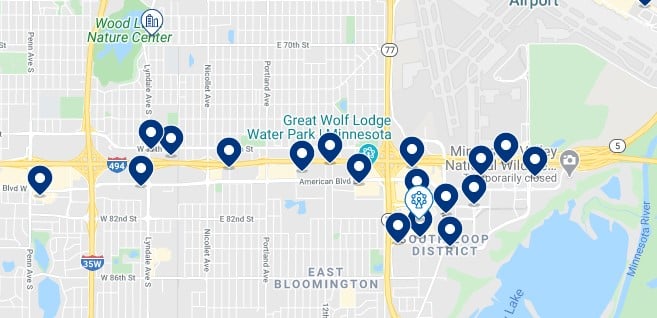 Why is this a recommended area to stay in Minneapolis, MN:
Best area for families
Mall of America
Connected by public transport
Best area for shopping
Nickelodeon Universe
Near the airport
---
3. Warehouse District
The Warehouse District, filled with fashion stores and innovative restaurants, has transformed the old Minneapolis department stores to become a vibrant, ever-growing area.
The Warehouse District is known for its lively nightlife, where the bars and clubs of the city are concentrated, famous for hosting several concerts and festivals
Attractions such as the Target Center stadium, the Bob Dylan mural, Acme Comedy Company and The Lab Theater are part of the Warehouse District, making it one of the best areas to stay in Minneapolis, as there is always something to see and do in its streets.
This shopping district, in addition to boutiques, includes some of the best gastro pubs, ideal to enjoy cocktails at the end of the day.
The buses on route 7 and 14 run through the Warehouse District and go to other areas of the city. For those who visit by car, this district offers parking areas, with availability subject to the day and time.
The Warehouse District is among the best areas to stay in Minneapolis for nightlife, as it is the center of entertainment in the city.
---
4. Mill District
Staying in Mill District allows you to go back in time and travel to the Minneapolis that dominated agriculture.
The area offers views of the flour mills that were converted into condos, as well as attractions such as the Guthrie theater and the MacPhail music center.
Currently, Mill district is the cultural center of Minneapolis, located on the east side of the Downtown area, and home to buildings that are part of the heritage of the city, as well as offices and shops.
This district is ideal for relaxing days, hiking trails and bike rides along the Mississippi River, so it is one the best areas to stay if you're looking for a peaceful time in the great city of Minnesota.
---
5. Downtown St. Paul
St. Paul is the second of the two cities that make up the Twin Cities metropolitan area. It is also the capital of Minnesota.
Located on the east bank of the Mississippi River, this city is home to several local attractions.
The Minnesota History Center is a museum considered one of Minnesota's finest public buildings.
Downtown St. Paul is also home to the Minnesota Museum of American Art, Minnesota Children's Museum, Science Museum of Minnesota, and city squares Rice Park and Miers Park.
A little further west lies the Cathedral of Saint Paul, considered one of the finest examples of Beaux-Arts architecture in the United States.
The Minnesota capital's central districts also offer some great urban parks and nature preserves along the Mississippi.
St. Paul-Minneapolis Union Depot, located in Downtown St. Paul, is the most important intermodal transportation center in the MSP metropolitan area. This major transport hub offers long-distance trains by Amtrak, intercity bus services by Greyhound and Megabus, and local green line light rail connections to downtown Minneapolis.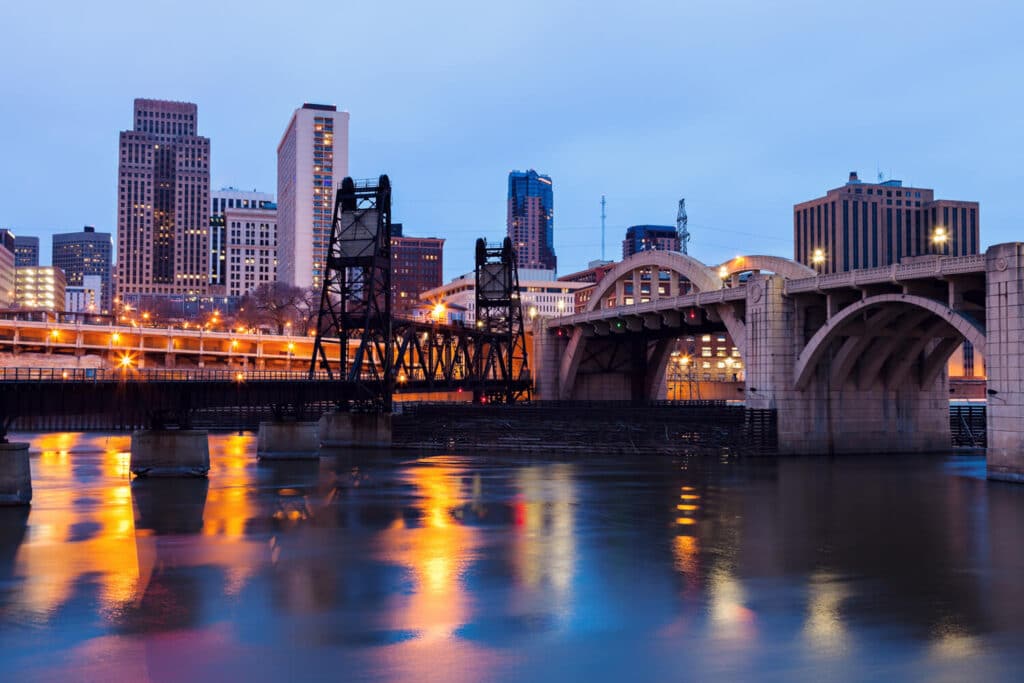 Why is this a recommended area to stay in Minneapolis, MN:
St. Paul-Minneapolis Union Depot
Cultural attractions
Connected by light rail
Squares, parks, and green areas
---
6. Dinkytown
Dinkytown is a commercial district within the Marcy – Holmes neighborhood of Minneapolis.
It is made up of a set of blocks occupied by small businesses, restaurants and bars.
In this area, you'll find the University of Minnesota, which gives a great, youthful energy to Dinkytown.
With a modern atmosphere, in Dinkytown you can enjoy concerts in Varsity Theater, as well as dinner in bars and elegant restaurants like the Loring.
To travel the district or move to other places in Minneapolis, you can take the bus at different stops in the area.
Dinkytown is a small but very lively district, ideal when looking for where to stay in Minneapolis, and recommended for young adults.
---
Read this in other languages