Where to Stay in Worcester – A Guide to the Heart of the Commonwealth
Worcester is the second-most populous city in the state of Massachusetts. Located 46 miles west of Boston, this city is known as the Heart of the Commonwealth and is famous for being home to numerous universities and educational institutions and for its relaxed atmosphere. In this post, we'll take a look at the best location to stay in Worcester, Massachusetts.
Worcester stands out for its student population and its proximity to Boston, which in fact makes it an excellent (and comparatively cheap) area to stay near Boston. Its main cultural attractions include the Worcester Art Museum, the EcoTarium, the American Antiquarian Society, the Hanover Theater for the Performing Arts and the Worcester Historical Museum, many of which are located in the city center. See accommodation in Downtown Worcester, MA.
This Massachusetts city is also home to beautiful urban parks such as Elm Park, Tower Hill Botanic Garden or Green Hill Park, as well as nature spaces in its surroundings such as Wachusett Reservoir, Moore State Park or Broad Meadow Brook Conservation Center and Wildlife Sanctuary.
Being a former industrial center, Worcester has many factories and historic buildings from the 19th century including the Crompton Loom Works, Ashworth and Jones Factory and the Worcester Corset Company Factory.
Worcester's location, in the heart of New England,means it has a humid continental climate with four distinct seasons. Winters are very cold with heavy snowfalls. Temperatures in January are usually between 16 and 31ºF (-8 – 0ºC). During the summer, temperatures hover around 61 – 79ºF (16-26ºC). The best time to visit Worcester, Massachusetts is in late spring to early fall (May through October).
To reach Worcester by air the best alternative is through Boston Logan International Airport, located 48 miles away. Worcester also has good train connections to cities such as Albany, Buffalo and Chicago via Amtrak's Lake Shore Limited line. Likewise, the Framingham / Worcester Line connects the city with Boston and its metropolitan area. See train routes, schedules & fares.
Worcester has a public transport system consisting of several urban bus lines. There are also car rental services, taxis, and mobile apps like Uber and Lyft widely available.
The best area to stay in Worcester is Downtown. This lively district is home to most attractions, the best nightlife venues, restaurants, and the city's best hotels.See accommodation in Downtown Worcester.
Keep reading to find more about the best areas to stay in Worcester, MA.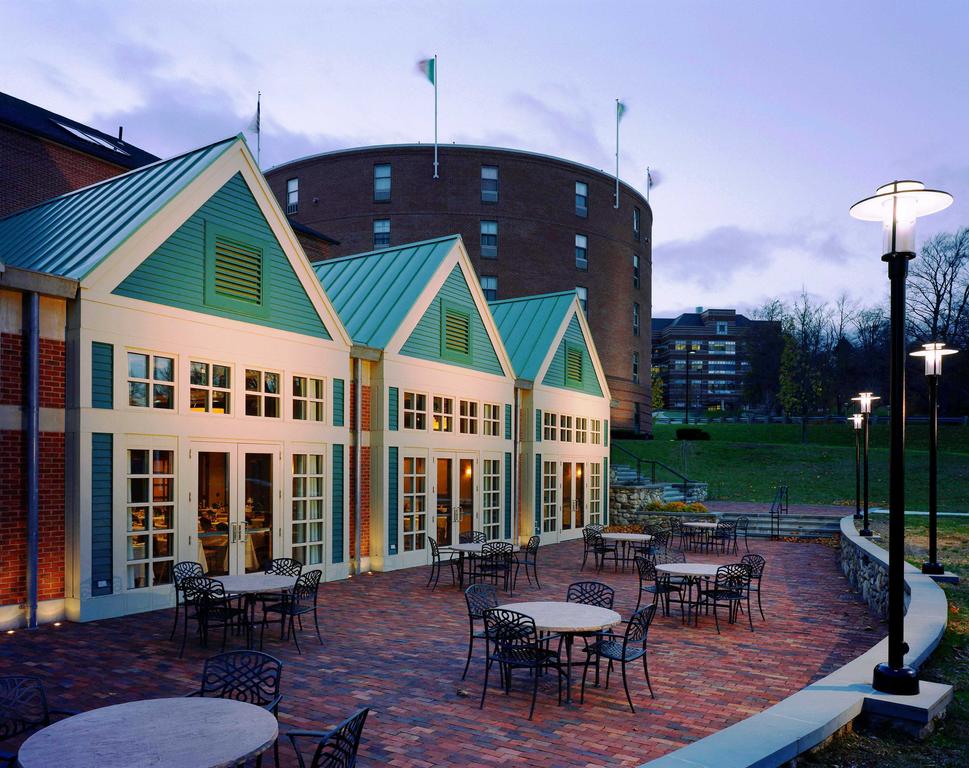 The Best Areas to Stay in Worcester, MA
1. Recommended area: Downtown Worcester, MA
Downtown Worcester is one of the best areas to stay in the city .
This neighborhood is close to Worcester's main historical sites, top shopping areas, and the best restaurants in town.
This area of Worcester also boasts excellent public transport connections, which allow you to move to any neighborhood in the city with ease.
Within this area is the Central Train Station and, adjacent to the main building, the bus terminal, from where you can travel to nearby cities such as Boston, Springfield, Providence, or New York.
The city center is also home to tourist attractions such as the EcoTarium and the Worcester Museum of Art, which makes it an excellent area for tourists.
In addition to attractions and ease of transportation, Downtown Worcester has some of the best hotels in the city.
---
Read this in other languages