Providence is the capital of Rhode Island, a small state in the New England region of the United States. Known for its rich history and picturesque architecture, Providence has become a popular destination for tourists and locals. This post will discover the best areas to stay in Providence, RI.
---
One of the main reasons why people visit Providence is its art and culture scene. The presence of prestigious institutions like Brown University and the Rhode Island School of Design contributes to a vibrant cultural atmosphere, hosting events such as WaterFire and various theater productions. Additionally, architectural landmarks like the historic Benefit Street attract travelers interested in history and well-preserved colonial buildings.
The ideal time to visit Providence is between April and October when temperatures range from 55°F (13°C) to 80°F (27°C), offering pleasant weather for outdoor activities. The city is served by T.F. Green Airport (PVD), located approximately 10 miles south of downtown Providence, and Logan International Airport (BOS) in Boston, around 50 miles northeast of Providence. Interstate 95 connects Providence with major cities on the East Coast, such as Boston and New York City. Within the city, public transportation options include buses and trolleys operated by RIPTA or renting a bike through the local bike-share system.
Downtown is the best area to stay in Providence due to its central location and ample attractions. It boasts a lively atmosphere with easy access to key points of interest, such as Waterplace Park, the Providence Performing Arts Center, and several shops, cafes, and restaurants along Westminster Street. Find accommodation in Downtown Providence.
Other great areas to consider are College Hill, known for its historic architecture and strong connection to Brown University and the Rhode Island School of Design, and Roger Williams Park & South Providence.
To help plan your visit further, keep reading this guide on the best areas to stay in Providence, Rhode Island.
---
---
Where to Stay in Providence, RI: Accommodations Map
---
The Best Areas to Stay in Providence
1. Downtown Providence
Our Recommended Area to Stay in Providence, RI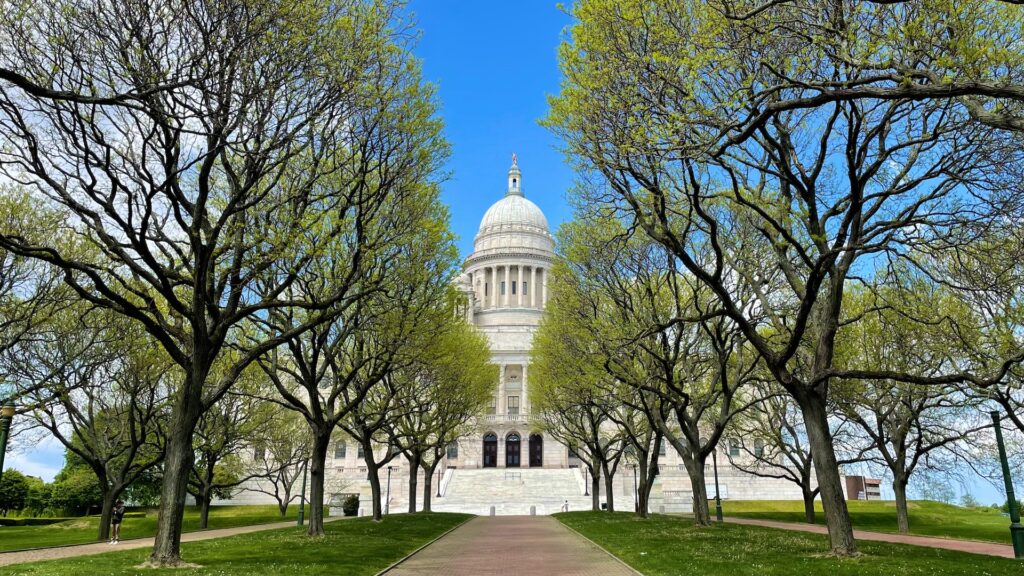 Downtown Providence, the central business district, is the bustling heart of Rhode Island's capital city. This district has a distinctive character marked by its predominantly late 19th and early 20th-century buildings.
Among the numerous attractions in Downtown Providence, the Rhode Island School of Design (RISD) Museum stands out as a prominent institution displaying art and design from ancient civilizations to contemporary works. The natural history-focused Rhode Island Museum of Science & Art (RIMOSA) is another place worth visiting for those interested in science. The district's shopping scene is centered around Westminster Street, a hub for boutique shops and local designer stores. WaterFire Providence is an iconic public art installation along three rivers in the downtown area that provides immersive artistic experiences with its mesmerizing fire sculptures.
As night falls, Downtown Providence comes alive with its thriving nightlife scene fuelled by its large student population. The Trinity Repertory Company offers high-quality theatrical productions, while AS220, a community art space, hosts live music performances alongside visual art exhibitions. From chic bars to lively clubs, there are plenty of entertainment options throughout downtown.
Several options make it convenient to get around downtown and explore other parts of Providence. The Kennedy Plaza Transportation Center is a major hub for local buses (RIPTA lines), offering connectivity to various neighborhoods in Providence. Additionally, Downtown Providence is serviced by Amtrak trains and regional MBTA commuter rail connections via the centrally-located Providence Station.
Hotels in Downtown Providence range from budget-friendly options and boutique accommodations to upscale hotels housed in historic buildings. The best time to visit Downtown Providence is during the summer and fall months when the weather is mild and numerous events are held throughout the city.
Featured Accommodations in Downtown Providence
---
2. College Hill
One of the Best Districts to Stay in Providence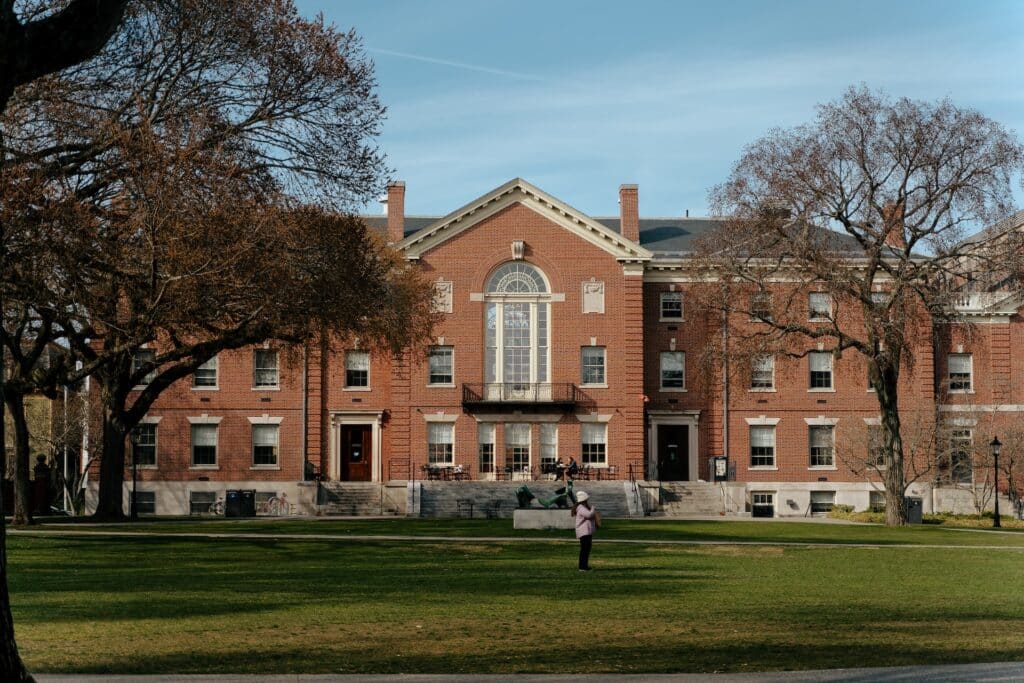 College Hill, an iconic area in Providence, is situated east of the downtown district and covers approximately one square mile. It is well-known for being home to prestigious institutions such as Brown University and Rhode Island School of Design (RISD).
The architecture in College Hill boasts beautiful Georgian, Federal, Greek Revival, and Victorian styles, reflecting its history dating back to the 1700s. One prominent example is the John Brown House Museum at 52 Power Street, which offers insights into 18th-century American history. Other nearby museums include the RISD Museum and the Haffenreffer Museum of Anthropology.
Thayer Street is the focal point for shopping and dining in College Hill. It features locally-owned boutiques, bookstores, and international restaurants. Benefit Street is home to "a mile of history," showcasing gracefully preserved properties lined with cobblestone sidewalks. Key outdoor spaces such as Prospect Terrace Park provide stunning views of downtown Providence, while India Point Park offers a waterfront recreational space.
Nightlife options in College Hill include local bars and restaurants. Several buses serve College Hill, particularly along Thayer Street and North Main Street. Walking or biking around the area is also convenient due to its compact size and walkable layout.
The hotel options within College Hill consist mainly of small boutique hotels and bed & breakfast accommodations.
Featured Accommodations in College Hill & Brown University
---
3. East Providence
A Budget-friendly Area to Stay in Providence, RI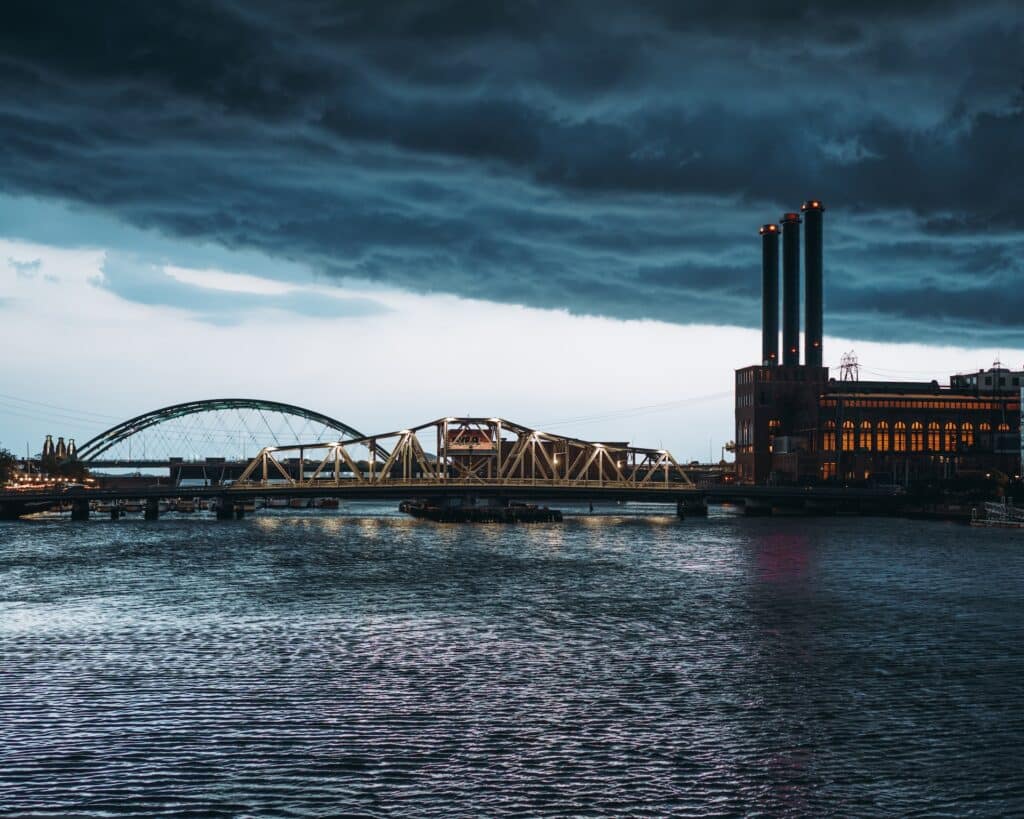 Technically an independent township, East Providence is situated approximately four miles from downtown Providence. It is a budget-friendly area to stay in when exploring the city, and its location offers convenience and affordability. Especially if you have access to a car.
Attractions worth visiting here include the Crescent Park Carousel – a National Historic Landmark operating for more than 120 years; Hunt's Mills – a restored 18th-century gristmill; Haines Memorial State Park – a popular spot for picnicking and hiking along the waterfront; and the James V. Turner Reservoir Loop Trail – offering serene walks surrounded by nature.
Nightlife options in this area are limited but enjoyable. Whiskey on Water and Barrel House Z are good options for craft beers. Buses connect East Providence to the city center.
Hotel offerings in East Providence include budget-friendly options and private vacation rentals. Average prices tend to be lower compared to hotels in downtown Providence.
Featured Accommodations in East Providence
---
4. Warwick
Best Location near Providence Airport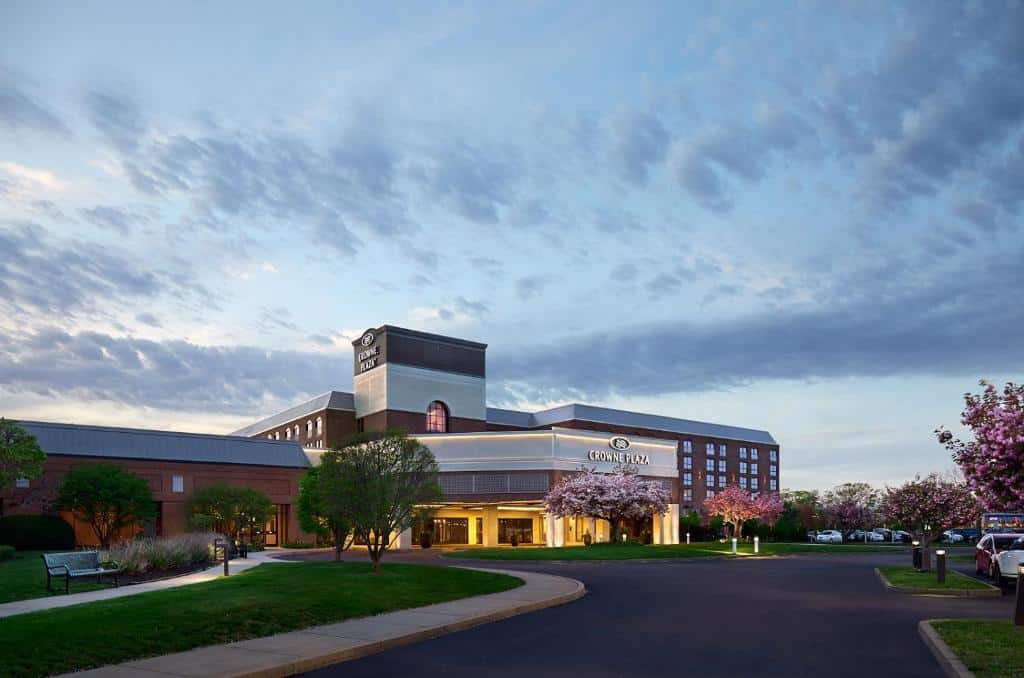 Warwick is about 13 miles south of Providence's city center. It's mainly known for its proximity to T.F. Green Airport, which serves as a regional transportation hub for.
Warwick's transportation network comprises direct interstate highway connections to Boston and New York City via I-95 and I-295. Furthermore, T.F. Green Airport serves various airlines such as Southwest Airlines, Delta Airlines, United Airlines, JetBlue Airways, and American Airlines, which connect Warwick to numerous domestic cities like Orlando, Atlanta, and Chicago. The RIPTA bus system connects Warwick to other parts of Rhode Island, while the MBTA commuter rail links the T.F. Green Airport with downtown Providence and Boston.
The hotel offerings in Warwick include budget-friendly accommodations such as motels and mid-range hotels. Average hotel prices in this area are typically lower in comparison to those in downtown Providence.
Featured Accommodations in Warwick, RI
---
Read this in other languages:
|ES| Las mejores zonas donde dormir en Providence, Estados Unidos.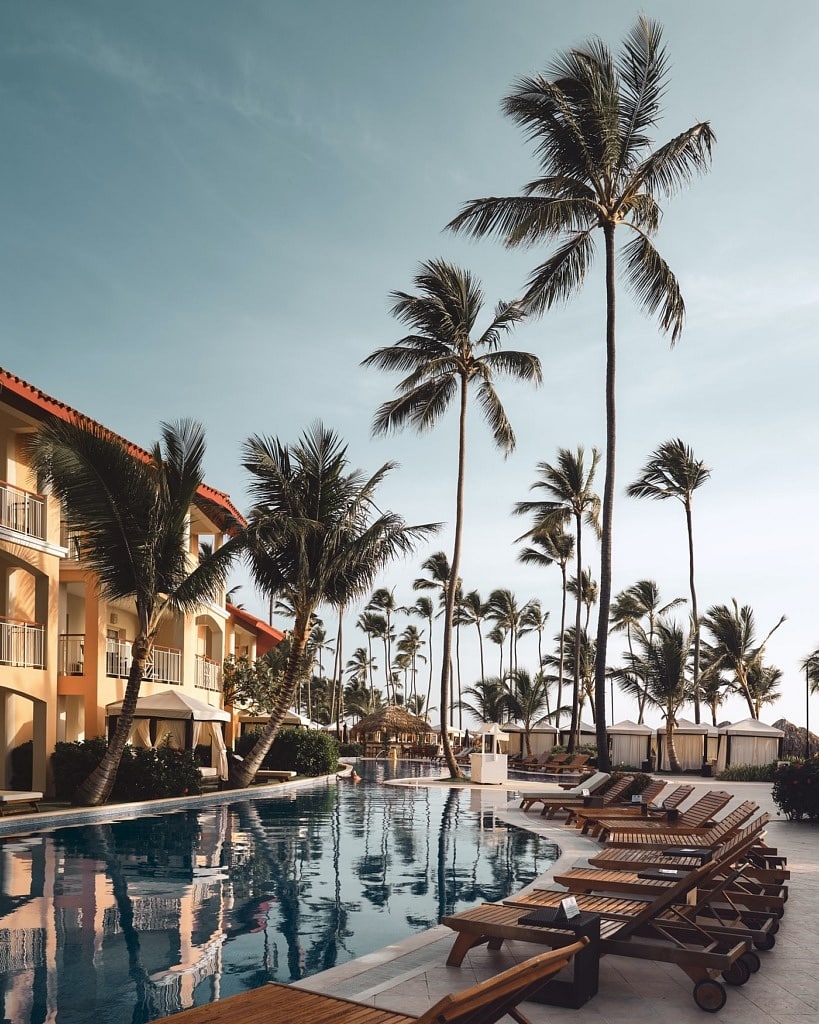 Where to stay in other cities
---